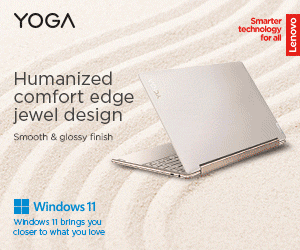 The latest budget phone from Realme, the Realme C11 just costs P4,990 and it has a huge 5000mAh power battery, Helio G35 gaming chipset, and not just a gaming chipset, it also offers connectivity enhancements. That means faster response and more reliable connections to ensure you can always stay connected and very useful for those who have online classes. It has dual cameras and 2GB of ram. So the question is, can it handle graphic demanding games? Is it powerful enough despite its price? At 2GB ram, can we experience its full potential? What about its mobile data speed? Is it fast enough?
Specification
| | |
| --- | --- |
| | Realme C11 |
| Design | |
| | 196g |
| | Plastic back |
| | Mint Green, Pepper Grey |
| Display | |
| | 6.5″ IPS LCD |
| | 720 x 1560, 20:9 ratio |
| | 270PPI, 81.7% STB |
| Camera | |
| | 13MP f/2.2 (Main) |
| | 2MP f/2.4 (Depth |
| | [email protected] |
| Selfie | |
| | 5MP f/2.4 |
| | [email protected] |
| | |
| Performance | |
| | Mediatek Helio G35 (12nm) |
| | Power VR GE8320 |
| | Android 10, realmeUI 1.0 |
| | 2GB |
| | 32GB |
| | expandable storage (up to 256gb) |
| Battery | |
| | 5000mAh |
| | 10W Charging |
| Features | |
| | Wi-Fi 802.11 |
| | microUSB 2.0 |
| | 3.5mm Jack |
| | Bluetooth 5.0 |
| | Face Unlock |
| Price | |
| | P4,990 (2GB+32GB) |
Pros
Large 5000mAh battery
Large Screen
Decent Performance vs Price
Cons
No Fingerprint
micro-USB 2.0
Lacks of video stabilization
Design
This slideshow requires JavaScript.
A budget phone huh? Well, the texture is similar to the Realme 5i and C3 but definitely with a different and new design. It has an aesthetic feel with a huge realme logo and a smooth straight line, then a square-shaped type camera module above, inside is a dual camera with a single flash. They put the power and volume rocker in one place. It has 1 speaker underneath, with a 3.5mm jack, then a micro USB port. But like Realme C3, we don't get a fast-charging capability.
Display
This slideshow requires JavaScript.
On the display, we get a 6.5-inch 720p IPS LCD with 270ppi density. The screen is just fine. It has a color-accurate display, but when we tried to look closer, we saw some pixel lines. Probably because it only has 720×1560 pixels, compared to 720×1600 pixels on the Realme C3. Overall, right out of the box, the screen is in a warmer tone which makes the screen feel like premium. And the viewing angle is great. Contrast is decent and balance.
READ: Realme C11 vs Vivo Y11 vs Samsung A01 – Battle of Cheap Phones!
Camera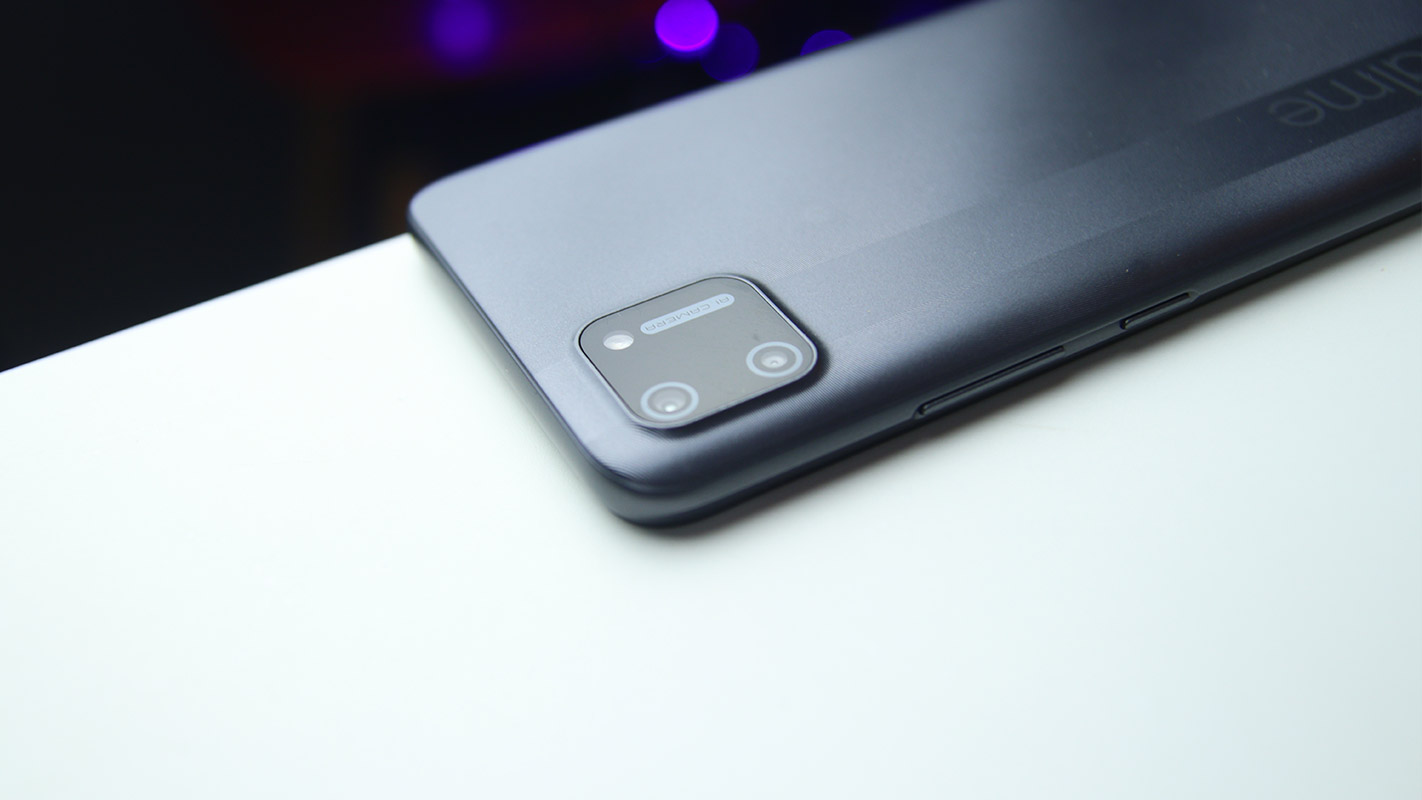 Now for the cameras. We only have dual cameras with 13MP f/2.2 main cam and a 2MP depth sensor for portrait shots.
This slideshow requires JavaScript.
The main cam mostly auto-adjusting the photo to be underexposed but by increasing the exposure value manually the whole image will be properly exposed, though the good side is the quality is sharp and it nearly shoots natural color and thanks to HDR and chroma boost images can be enhanced even further.
This slideshow requires JavaScript.
Now switching to the depth sensor, subject to background separation is 98% accurate and to determine the quality of the blur, well if you look at the image it seems to be moving and that's how it works.
Video recording is ok for decent social media sharing it records 1080p 30fps max resolution, but we don't get EIS. If you want to watch the video version watch it here.
This slideshow requires JavaScript.
Switching to the front-facing camera we have a 5MP selfie camera that sits on the dewdrop notch of Realme C11. Shooting at normal photo mode it outputs pinkish tone but it's quite sharp though and enabling portrait mode it has at least 95% accuracy on detecting the subject to separate it to the background. It also captures and records 1080P @30 frames.
This slideshow requires JavaScript.
For the camera features, we get a night mode, bokeh slider, slow motion, and expert mode that shoots up to 16s Shutter Speed and a max 6400 ISO. Again all reliable camera features are here and it's decent. There are no complaints considering its low price.
Performance
Now, moving to the performance. We conducted some gaming and network tests. Realme C11 is powered by Mediatek Helio G35 made with 12nm architecture with 2GB of ram and 32GB of internal storage, and now, the question which I know you are dying to ask, is this smartphone a gaming-centric phone? No, but it can play graphically demanding games at the lowest to moderate possible settings. And if you want to stream on this device, that could be a problem because it lacks memory for heavy multitasking. On PUBG, we recorded 25fps with 97% stability at low+medium graphics. Although it is pretty stable, we experienced some stutters upon landing but after it loaded the graphics, it stabilized decently. For mobile legends, we get a recommended settings of medium with HFR turned off, but if you want smooth gameplay, we suggest turning on the HFR mode plus smooth graphics but with hd mode and outlines turned off.
For COD, it only offers low graphics + high framerates, and the game is pretty stable. It is still not that smooth but it has 30fps decent frames.
ALSO READ: Samsung Galaxy M31s Gets 25W Charging for 6000mAh, sAMOLED, and 64MP Quad-Cam
This slideshow requires JavaScript.
Software
Realme C11 is running on Android 10.0 with the latest version of the realmeUI, it has a smooth and clean user-interface. It has some useful features such as dark mode, double tap to sleep, raise to wake function, split-screen and face unlock. These features are reliable but, unfortunately, we don't have a fingerprint scanner. Though thanks to realme UI we can experience said features on an entry-level budget phone.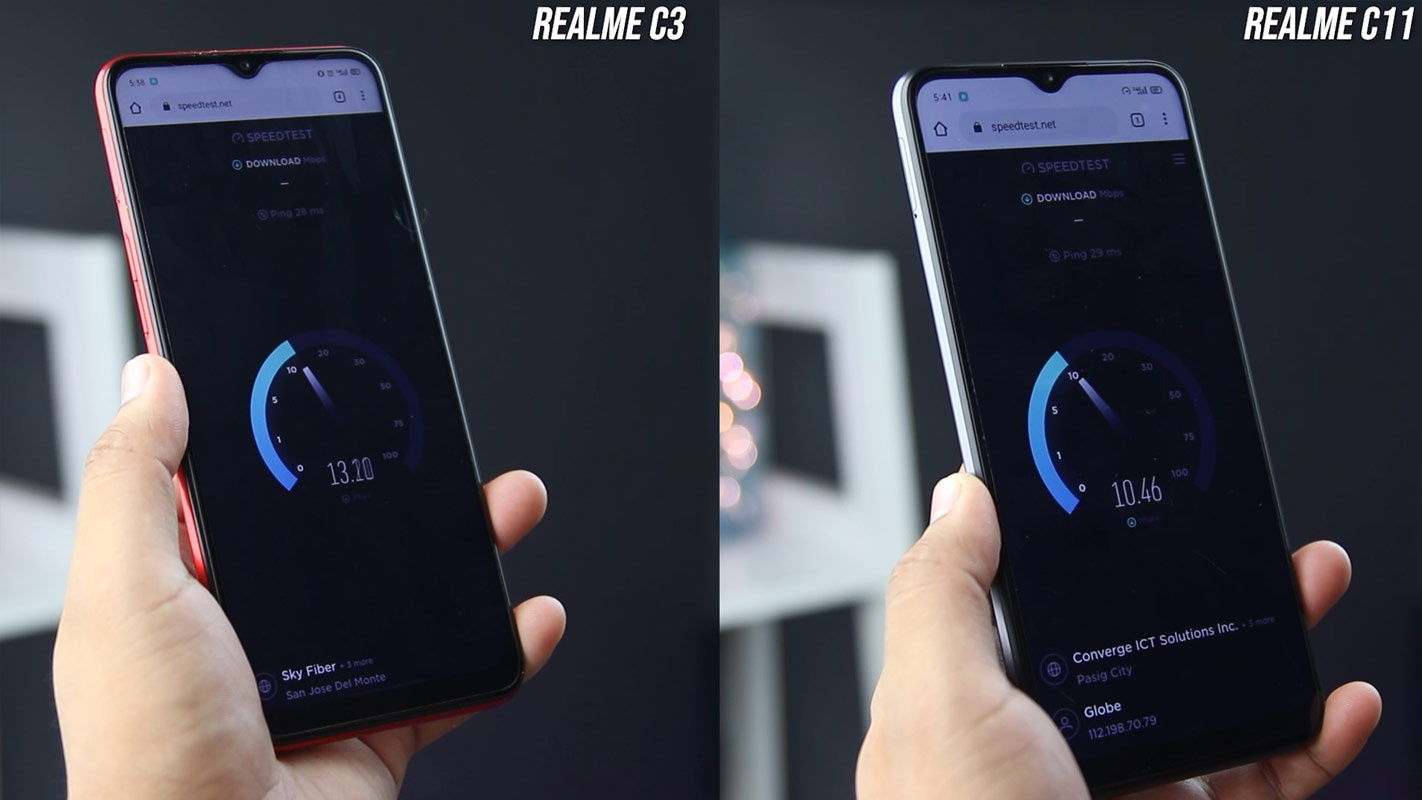 For online classes using a mobile data connection, we tried video conferencing using zoom and file sharing apps, we also opened documents and some websites simultaneously running in the device and, surprisingly, the UI runs smoothly. We got a seamless multitasking experience even if we only have 2GB of ram. The connection is stable and lag-free. We compared the network speed to Realme C3, it still catching up and they have nearly the same ping which is good.
READ: Realme C11 vs Realme C15 Specs Comparison – But Why!?
Battery
For the battery endurance test, Realme C11 is backed by a large 5000mAh power battery and upon doing some endurance test the battery depleted at 8hrs and 54mins and daily usage is good it has 39hrs of average daily usage. As for charging the 10W charger fully charge the 5000mah in 2hrs and 56mins.
Audio
The speaker of Realme C11 is decent it produces more bassy sound but not that solid. It has a loud sound that can fill a single room. The audio output is above its price point if we will talking about the audio alone.
Verdict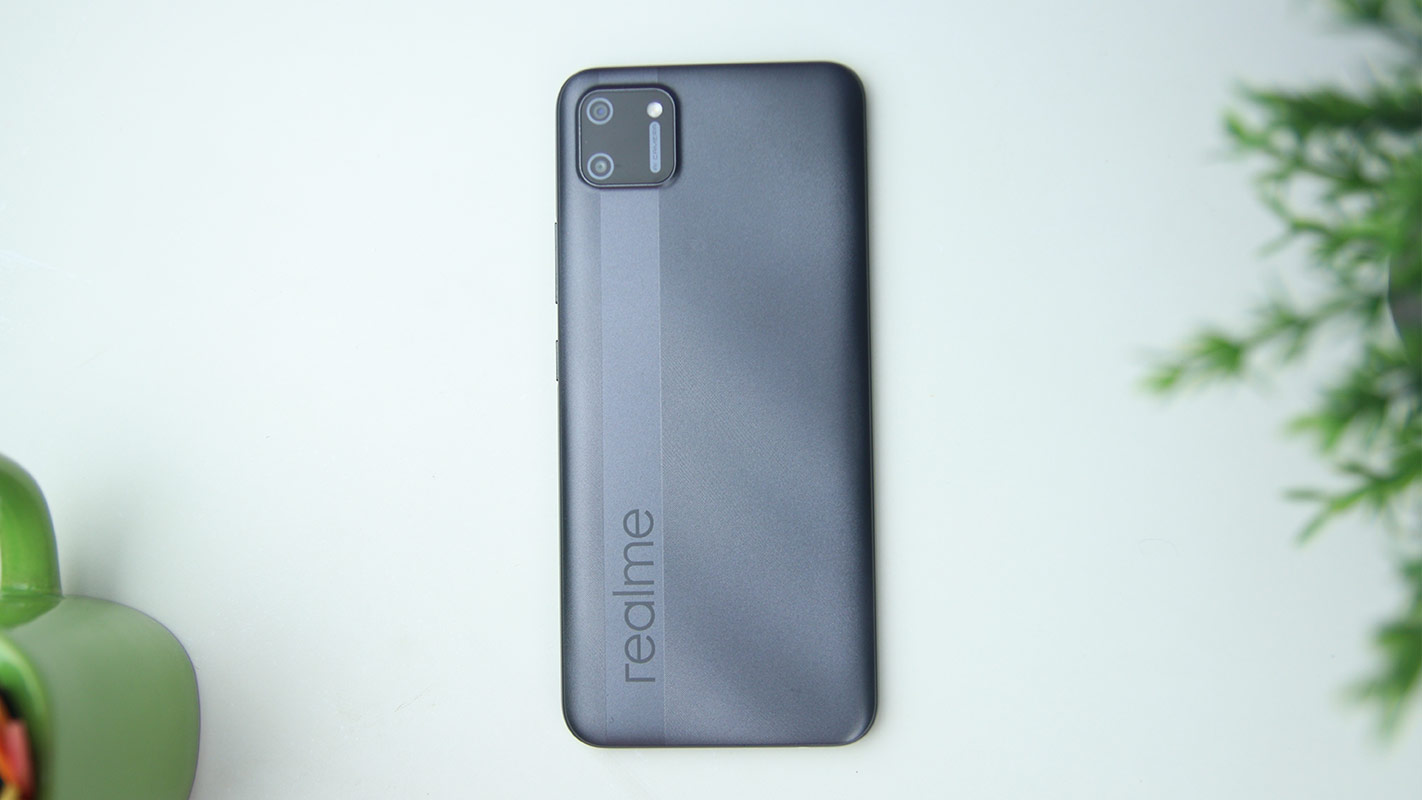 Overall, we don't have complaints on this device. It is powered by a gaming chipset good for casual gaming. Or you can just use it for media consumption, or better yet, for those who need a device for their online classes, you've got all-day battery life. A good connection may still vary depending on your location. But for us, using mobile data works fine. And for the price of P4,990 (2GB+32GB), there's nothing to complain about. The phone works, the phone operates smoothly thanks to the realme UI. It has everything you need. Browsing, gaming, media consumption, and a decent acceptable camera at a very low price.