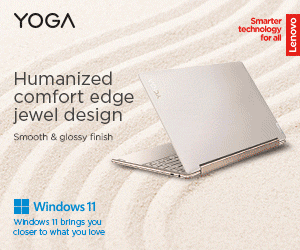 Before 2020 ends, here's our take on the Realme's latest midrange phone, The Realme 7 Pro. Some of you are neat picking on which phones to buy for yourself or as a gift this Christmas Season. But even though lots of new smartphones unveiled this year you can still pick the right phone for you. Since mid-year smartphones are still valuable, the end-year smartphone like the Realme 7 Pro can be a little bit tricky. So the question is, is the Realme 7 Pro a downgrade from the Realme 6 Pro?
READ: Realme Buds Air Pro Review – Best Budget TWS with Active Noise Cancellation So Far?
Design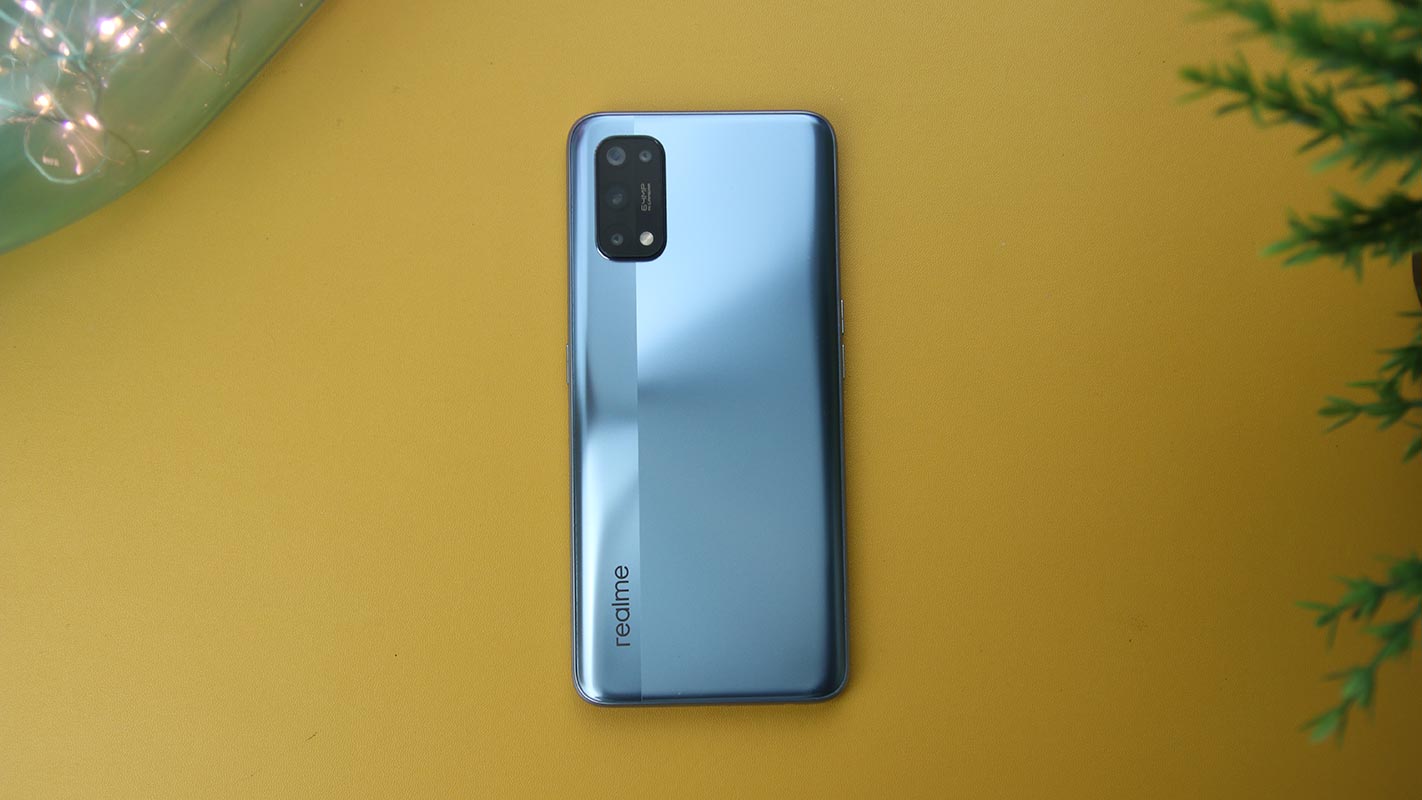 I really like the design and build of the Realme 7 Pro. It has a soft metallic matte texture and looks premium with almost unnoticeable fingerprint smudges if you glance at it. There's a vertical line design on the left that shines opposite to the parallel lines when hit by light. The design is pretty minimal, with a simple realme branding on the lower part and the quad-camera module on the top. The module has small bumps and it is now rectangular, but it's still the reason the device wiggles on a flat surface. The design of the camera is also clean, it consists of four lenses, one LED flash, and a simple text indicating that it has a 64MP AI Camera.
Unlike the Realme 6 Pro, the back of the Realme 7 Pro is only in polycarbonate plastic and is not protected by any gorilla glass but with multiple coatings only. It may be in a cheaper build but it doesn't look low-cost. Upon testing to slightly scratch the surface using a key, the surface got dents. The upside is it has 182 grams which is lightweight with 8.7mm thinner compared to its predecessor, which is why the phone is pretty sturdy and compact.
READ: iPhone 12 is the Top 5G Smartphone in October, iPhone 12 Pro Second
This slideshow requires JavaScript.
The frame has less saturated colors than the Mirror Silver color at the back panel. I honestly like the Mirror Blue as it is more saturated looking than the paleness of the Silver one we have. Button placements are still like the vanilla Realme 7 but without an integrated fingerprint scanner on the power button. The fingerprint scanner is under the display. On the left side along with the volume rocker is the simtray with two nano sim cards and one expandable storage slot that expands up to 256GB. Underneath, is the 3.5mm headphone jack, microphone, USB Type-C port, and speaker grille. And finally on top, is the secondary microphone for noise cancelation.
Display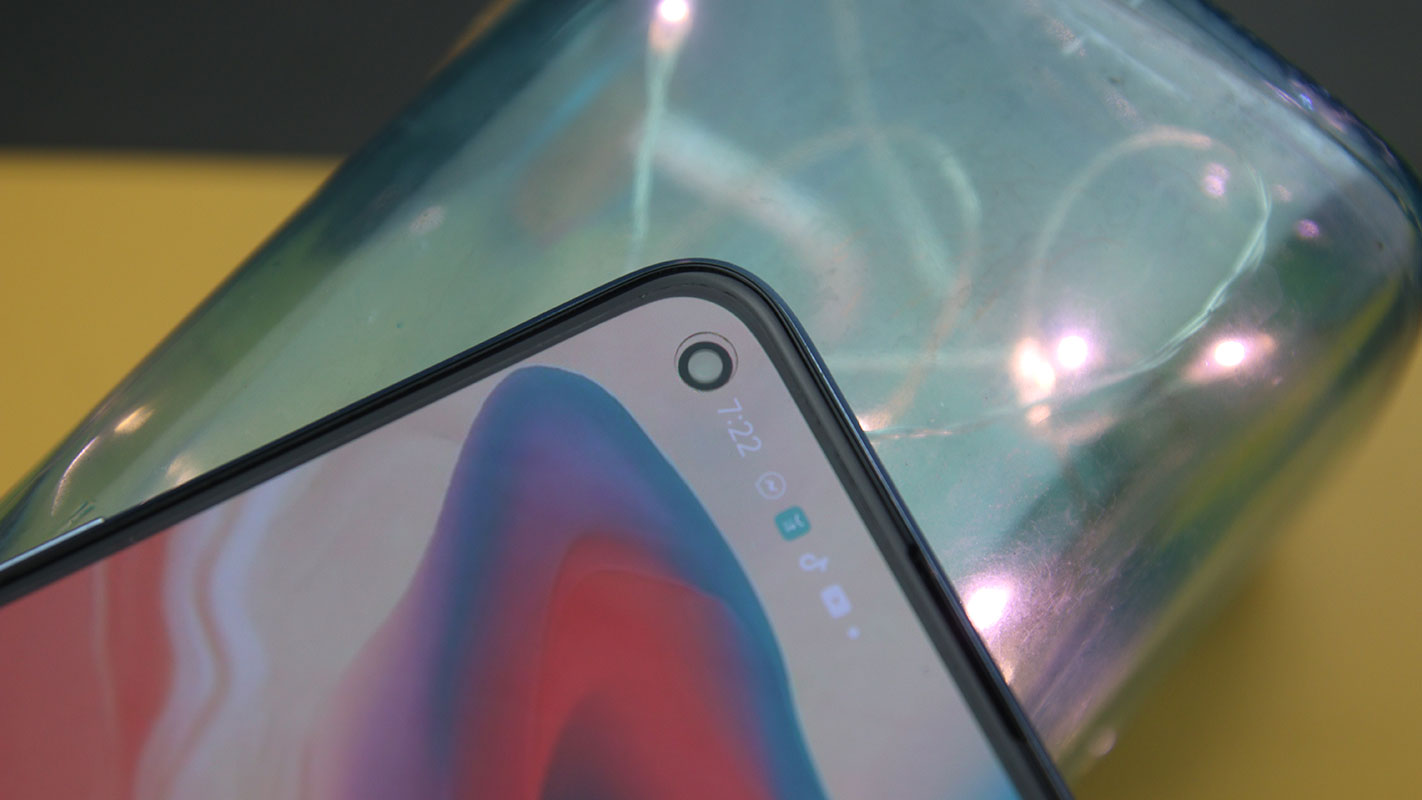 On the top front, Realme 7 Pro hole punch cutout is placed on the top left side of the screen which is the ideal place since it is a bit less distracting when watching movies or playing games. As said, yes it is now in a hole-punch from a pill-shaped dual cam of the Realme 6 Pro. The bezels are somehow small but it still has a large chin.
This slideshow requires JavaScript.
The screen boasts a large 6.4-inches FHD+ (1080 x 2400) pixels, with Gorilla Glass 3+ protection. No 90Hz this time on the Realme 7 Pro but they offered an AMOLED screen to the device. It has a punch in color since it is in Super AMOLED, though the color temperature of the screen for me isn't premium looking as it is in the whitest white. Good thing though it has screen color temperature adjustment on the display settings menu. By setting it to warm will introduce a feel to it but it isn't as premium looking as the other super AMOLED displays on its price point. The viewing angle though is great with a slight contrast shift, brightness level is visible especially outdoors. Sharpness and contrast are up to scratch and since AMOLED is more efficient, the overall quality is a great increment from its predecessor despite not having a faster refresh rate.
READ: Xiaomi Mi 11 is confirmed to feature curved screen, up to 120 Hz, 108MP triple camera
Camera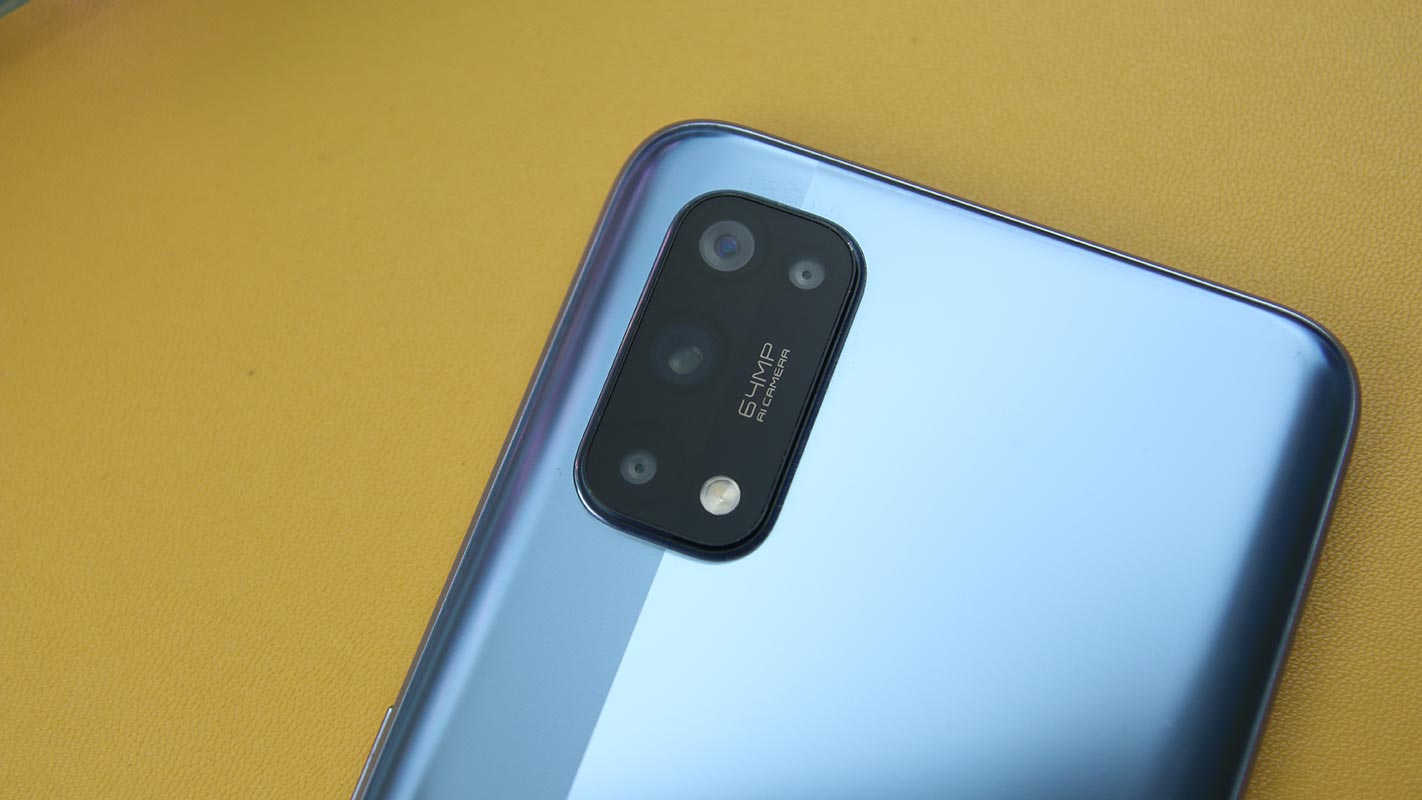 Realme 7 Pro is equipped with a 64MP Sony IMX 682 sensor on the main cam. Then the typical midrange setup of their phones, 8MP Ultrawide, 2MP Macro, and 2MP Depth. Unlike the Realme 6 Pro that has a telephoto lens, they removed it and put the depth sensor instead which is a bummer. All guesses are it was replaced to cut the budget. Despite not having a telephoto camera, image processing, and AI are the highlights here.
On the main camera outdoors, what we noticed at first is the dynamic range and white balance. Realme 7 Pro outputs a higher dynamic range as it can output fewer shadows and balance highlights. Then the white balance is on point with a little bit of saturation in the colors. This means AI recognizes the scene accurately to adjust the whites producing color-accurate pictures, the AI nails it most of the time
This slideshow requires JavaScript.
In a very low light scenario, images are captured with almost no lights. But when we turned on the Night mode feature, we get a brighter image. It outputs soft images due to noise reduction but despite the less quality it gives, the details are there which is one of the most important parts.
READ: Realme X50 Pro 5G Review – What Could Possibly Go Wrong?
This slideshow requires JavaScript.
Next is Ultrawide shots, it outputs less exposure value than the main cam but the colors are almost true to life. It is less sharp as it only has 8MP quality but it is acceptable and the white balance detection is also great and accurate. It will output a balanced image when HDR turned on.
This slideshow requires JavaScript.
In portrait mode, Realme 7 Pro outputs more clearer and balanced sky even shooting with portrait mode. This means that it applied the HDR process first before blurring the background to give a bokeh feel in a balance HDR image. Which is a pretty good AI process. Subject to background separation is almost 100% accurate as well and it is clean and sharp.
This slideshow requires JavaScript.
Last on the rear is the macro lens, which is just an additional lens just to say it is a quad camera setup. It doesn't output impressive images but I guess compared to the budget phones with macro lenses, the macro lens in this midrange is much better but not the best. White balance is in a cooler tone and it somehow outputs grainy images especially at night time.
Video Recording
Realme 7 Pro can shoot up to [email protected] resolution [email protected] is also present in the resolution settings. What stands out with the Realme 7 Pro video is the ease of stabilization on all video resolution even on the front cam however there are some jitters when the scene is unstable. If you want to have more stable footage there's an Ultra Steady feature that shoots more stable clips than the normal UIS. It also has another stabilization feature which is the Ultra Steady Max that shoots a wider field of view plus stabilization. Lastly, it has a live bokeh effect when shooting videos, Generally AI with these features processes great quality.
Selfie
This slideshow requires JavaScript.
Switching to 32MP selfie cam, Realme 7 Pro outputs different results outdoors and indoors. Outdoors my skin tone is a pinkish skin tone while indoors it outputs good natural-looking skin tone colors. Blacks, however, are not deep and the contrast is great it doesn't output dark parts. Bokeh feels unnatural and there's a lot of circles that somehow distracting. But the sharpness is great thanks to the high 32MP lens. I wish that they improve the detection through software updates for the AI to process accurately.
READ: POCO X3 NFC Review – Why it is not the perfect phone for you?
Camera Features
In terms of camera features, if you read my article review on the Realme 6 Pro there are tons of features in that device. Well, Realme 7 Pro's camera features have more. They maintained the wanted and sought after features on all devices including all video stabilization on all video resolution. There's still an Expert mode with 32S shutter speed and 6400 ISO that can also shoot at RAW. There's also 64MP mode and Ultrasteady and Ultrasteady Max. What was added are the Ultra Night for Video Recording and the Pro mode, and Starry Night mode in the night mode tab. The slow-motion is still capturing at 120fps@1080p and [email protected] quality–available in selfie and rear.
Performance
Realme 7 Pro is still powered by the Snapdragon 720g that can be seen on the Realme 6 Pro. It is in an 8nm architecture process which is an efficient and effective chipset architecture. Add it to the power-efficient AMOLED display it will give all-day gaming and browsing. In terms of multitasking, it has an 8GB of ram which is the typical configuration for midrangers plus 128GB of internal storage that is enough to install games and apps.
Performance is great we tried playing the newest demanding games on the market–Wildrift and Genshin Impact–there is no problem playing WildRift even in max settings but on Genshin Impact, can go up to 45fps but you might just stick at 30fps capped since the device's clock speed isn't catching up to the graphics of the game this may result of a sudden frame drops or stutter.
READ: Tecno Spark 6 Series Offers Up to 128GB, Helio G70, 5000mAh for Php6,490
This slideshow requires JavaScript.
Realme 7 Pro is running on Android 10.0 with Realme UI on top. The user interface is lightweight and it is customizable–one of the best skins for us as it is close to stock android. This means that it handles the task efficiently with no lags when browsing and navigating. It also comes with great features and apps such as gamespace, split-screen, dark mode, etc. There is no Realme UI 2.0 update yet on the device.
Overall, there's no complaint regarding the performance of the Realme 7 Pro it has smooth UI's thanks to the fluidity of the skin so even though there is no 90Hz in the screen the fluid animation and punchier colors of the AMOLED display really a standout.
Battery
So it has a power-efficient display and a power-efficient chipset, but how's the performance of its battery? Realme 7 Pro is backed with a 4500mAh battery, a 200mAh more than the Realme 6 Pro. As we mentioned earlier the battery performance will vary depending on the overall specs and since it is in AMOLED display and 8nm chipset–which reduce the heat–we expect more than 8hrs of usage. And on our endurance test, we recorded 8hrs and 35mins of screen time after a video loop test, running some apps, and playing some games. This is pretty impressive already since the battery is efficient thanks to the hardware. No worries about the Software since realme UI is a lightweight OS.
Realme 7 Pro can be fully charged in about 37mins based on our charging test. The 65W Super Dart Charging capability is very impressive.
READ: Doogee S59 Pro with 10050mAh and 2W Speaker To Go Official for P9K
Audio
As for audio, it comes with dual stereo speakers for surround sound. The sound quality is outstanding at its price point. It is loud and the bass and treble or the highs and lows are fairly equal. The overall music quality is crisp thanks to the Dolby Atmos system. Maximizing the volume doesn't get too much distortion and the bass has a thug feel.
Overall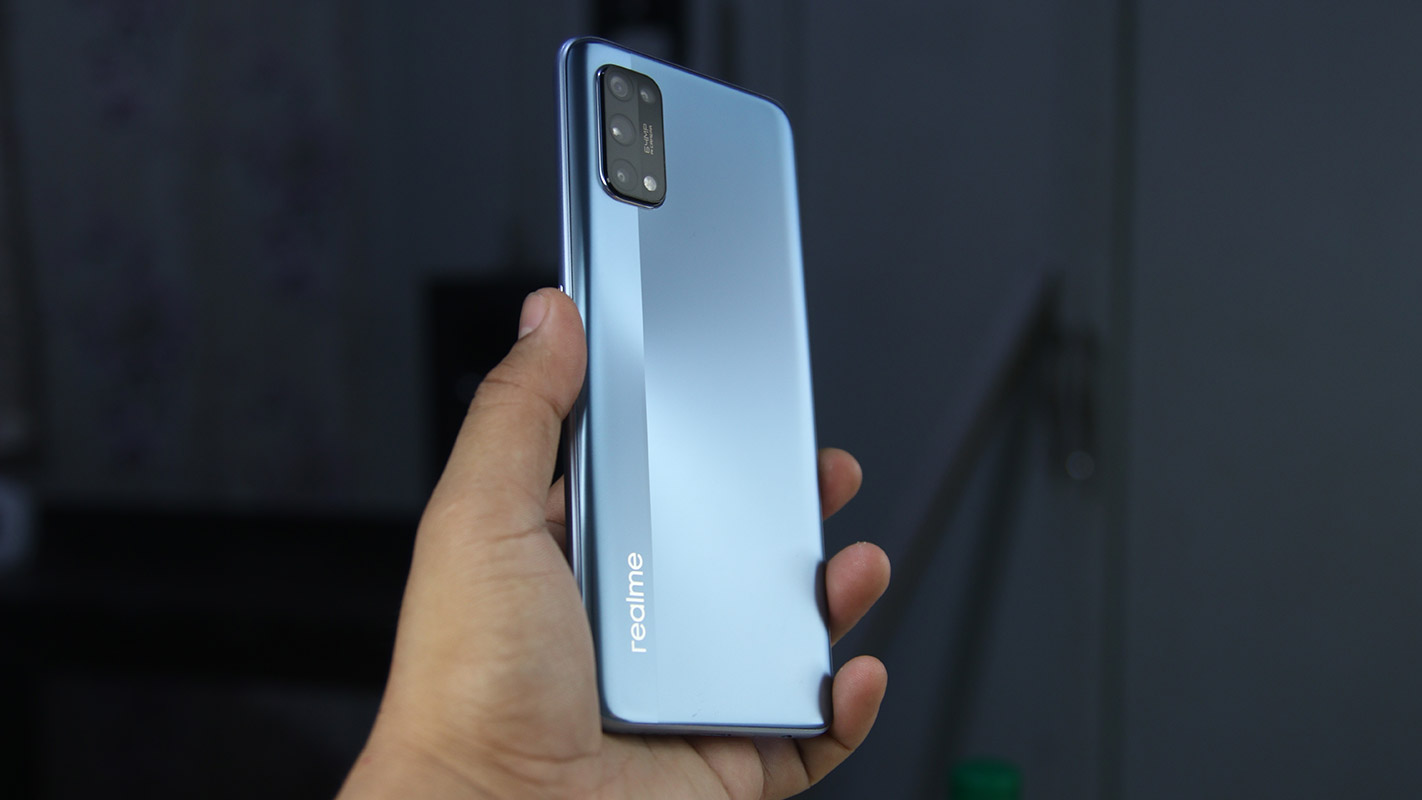 For the price of P17,990 (8GB+128GB), comparing the Realme 7 Pro to Realme 6 Pro, there are some downgrades and upgrades. To explain it as simply as possible, they sacrifice some features to put it in the most needed parts–the Battery Efficiency. Imagine you have a power-efficient chipset and display, then the battery will get more screen time.
This makes the user experience standout. Not to mention that you can juice it in just 30minutes using 65W. That's a pretty impressive overall spec for a mid-range device. So it is not a downgrade at all but a more efficient and power-saving device that still has the power and capability.
READ: Realme 7 Pro vs Samsung Galaxy M51 – Indepth Comparison Review
Specification
| | |
| --- | --- |
| | Realme 7 Pro |
| Design | 182g |
| | 8.7mm |
| | Plastic Back |
| | Gorilla Glass 3+ Front |
| | Mirror Blue, Mirror Silver |
| Display | 6.4″ Super AMOLED |
| | 1080 x 2400 pixels ,20:9 ratio |
| | 441PPI |
| Camera | 64MP f/1.8 Main Camera |
| | 8MP 119˚ Ultrawide |
| | 2MP Macro |
| | 2MP Depth Sensor |
| | [email protected]0fps, [email protected], gyro-EIS |
| Selfie | 32MP f/2.5 |
| | [email protected], gyro-EIS |
| Performance | Snapdragon 720G (8 nm) |
| | Adreno 618 |
| | Android 10, Realme UI |
| | 8GB RAM |
| | 128GB, UFS 2.1 |
| | expandable storage (up to 256gb) |
| Battery | 4500mAh |
| | 65W Fast Charging |
| Features | Wi-Fi 802.11 (5Ghz) |
| | USB Type-C |
| | Bluetooth 5.1 |
| | Fingerprint (under the display) |
| | Gyro |
| | Face Unlock |
| Price | P17,990 (8GB + 128GB) |