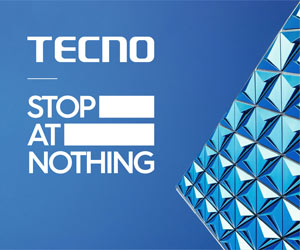 Sudio is a Swedish brand that focuses mainly on mobile accessories. Last time we had the chance to review some of their top-of-the-line TWS like Sudio TOLV, ETT, and even their budget-friendly Sudio NIO. This time we are lucky enough to grab their latest TWS in the market, the Sudio T2. Today we are going to unbox, talk about its specs and features and give our first impression.
Pros
Good Battery Life
Lightweight
Active Noise Cancellation
Cons
Lacks Wireless Charging
Only Supports SBC Codec
First of all, Sudio T2 is an upgrade from the previous Sudio TOLV. It has an active noise cancellation that the TOLV doesn't have, It also has a beamforming microphone, up to 35h of battery life, and it is also sweat and splashproof. Now let's check what's inside the box.
UNBOXING
This slideshow requires JavaScript.
It comes with a squared shape box, and upon opening the box you will be greeted by the device itself. Underneath are the three extra tips, warranty card, USB C cable, manual, and cloth used for cleaning the device.
Read: Sudio Nio TWS Review – Reliable, Simple and Budget-friendly
DESIGN & BUILD
The design and build of the Sudio T2 are made out of polycarbonate, just like TOLV it also has a smooth rubber-ish feel that makes it looks great. It also has a cloth-like strap to help us secure the case.
This slideshow requires JavaScript.
Around the case, unlike TOLV, T2 offers a pairing button at the bottom of the case. It has an embedded Sudio logo at the front and single LED indicators to indicate its battery life. There's also a USB C port above the LED indicator which is a good upgrade since Sudio TOLV only offers micro USB.
This slideshow requires JavaScript.
Sudio T2 offers 4 color variants, which are white, black, jade, and sand. We have all the color variants on our hand, but I like the color white since it is more simple looking, but the downside is, since it has a rubber-ish texture, it can easily attract dirt on its case. Unlike TOLV this one is smaller in build, it is lightweight and can easily be carried around, although TOLV isn't that big, the difference in size is noticeable.
Read: Sudio Femtio Review – Not your Usual Bluetooth Speaker
EARBUDS & SOUND QUALITY
Heading to the earplugs themselves, the ear tips that are attached by default fits perfectly to my ear so I don't find the need to change it, but if it doesn't work out for you, you can replace it with a variety of options. It supports Bluetooth 5.2 with a 10m pairing range. Each earbud weighs about 5.3g. It is also protected by sweat and splash-proof which is great for training and workouts.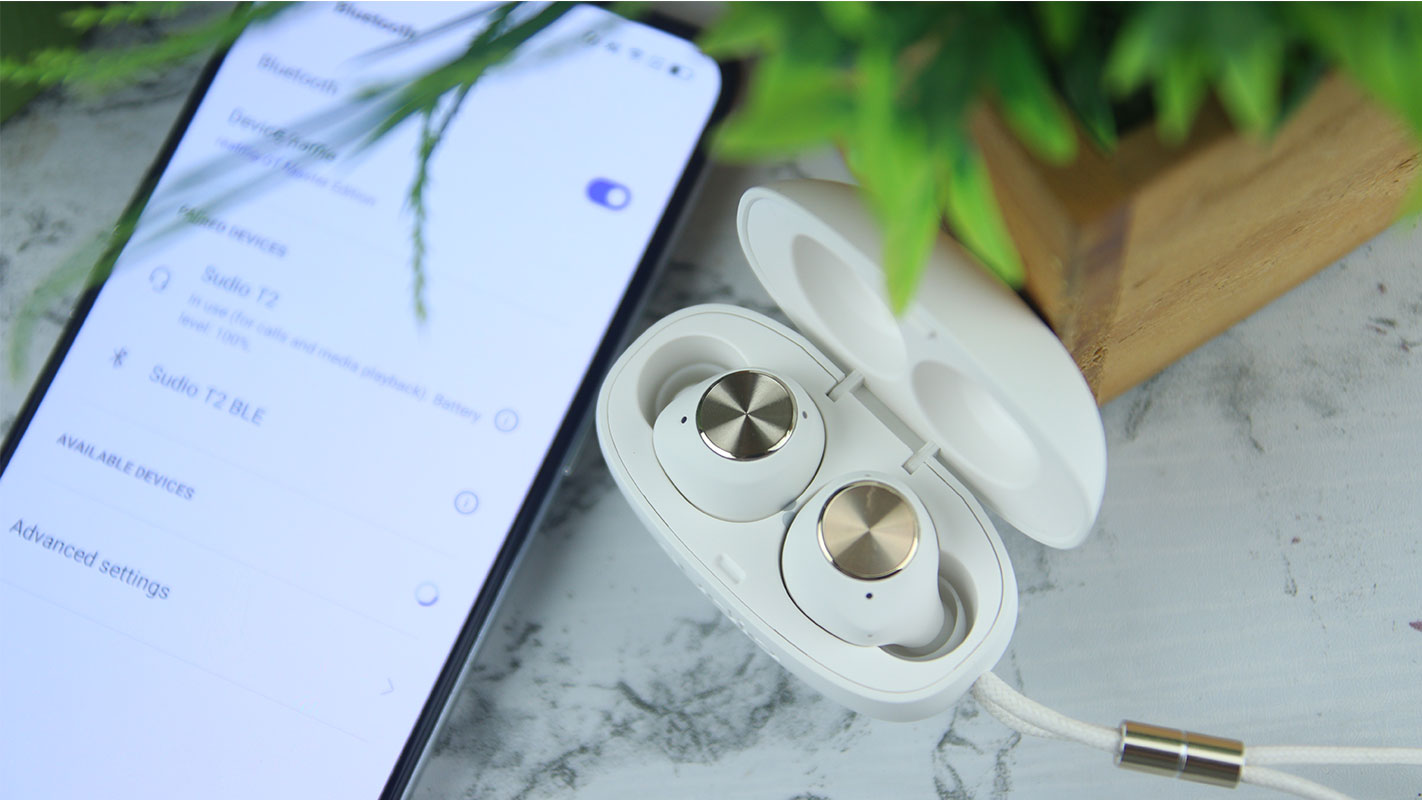 As for its sound quality, it does give out impressive sounds, although it only supports SBC codec so audiophiles might be disappointed, according to Sudio, its sound quality is crisper, cleaner, and robust than the Sudio TOLV. Also, the bass on this is pretty punchy but doesn't sound muddy which is great.
Read: Sudio ETT with ANC – Does it Offer Value Over its Price?
FEATURES
Sudio T2 now supports (ANC) Active Noise Cancellation technology for a more immersive experience. The ANC of the Sudio T2 was pretty good, it offers 2 modes, the transparency mode, and the ambient mode. As for the transparency mode, you can toggle it by holding the side of the earbuds for 2 seconds but if you are on a call or using your microphone it will automatically turn on so that you can hear your own voice while conversing.
Sudio TOLV has a clicky button but the T2 only resembles it but you can't press it. Although it does offer some useful touch functions.
1 Touch on either earbud – Play/ Pause/ Answer Call
2 Touch on left – Previous Track
2 Touch on Right – Next Track
3 Clicks on Right Earbud – Volume down
3 Clicks on Left Earbud – Volume up
Hold for 2 seconds – Reject / Answer Call or ANC on & off
Read: Sudio TOLV Wireless Earbuds – Can It Offer Value at Its Price?
BATTERY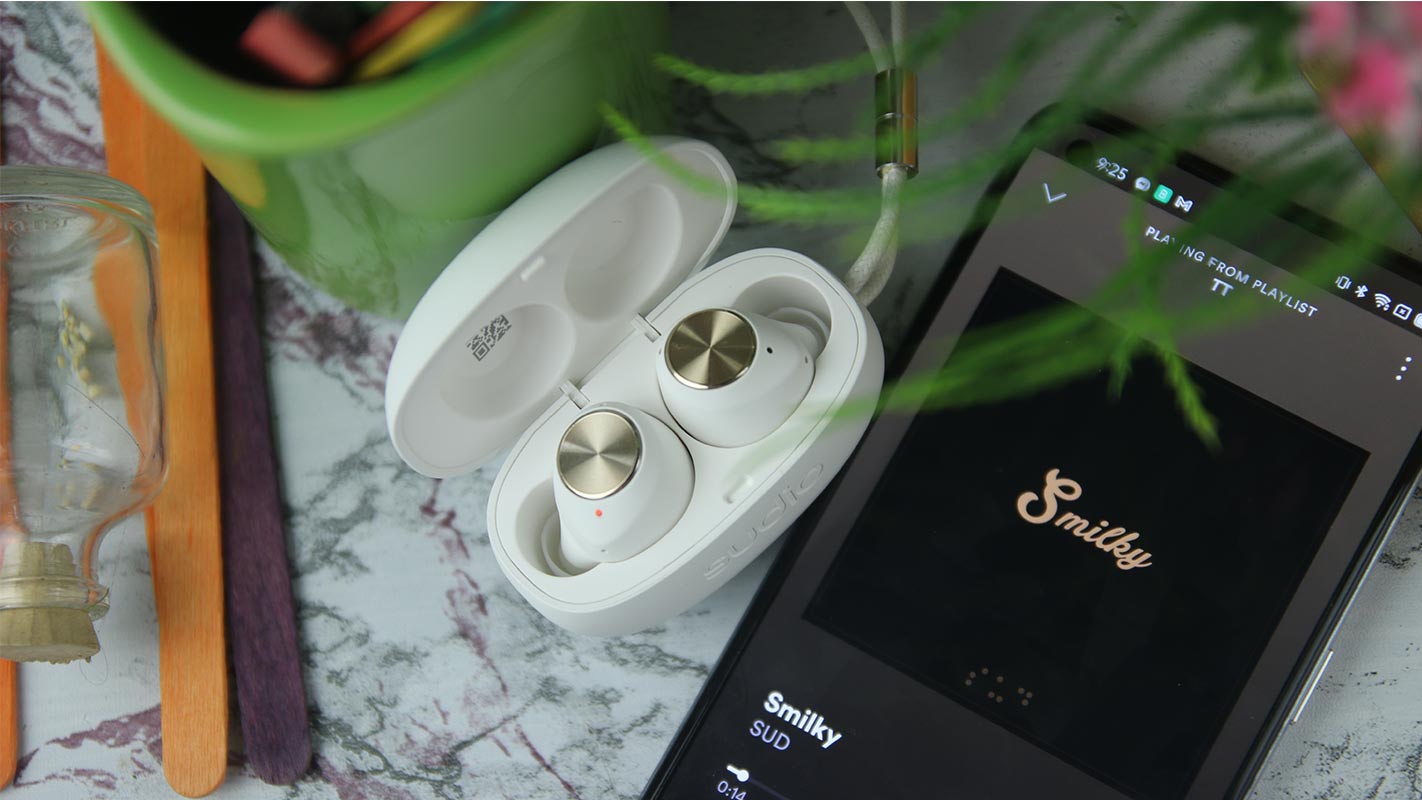 As for its battery, as advertised it is supposed to run up to 7 hours and 30 minutes on a single charge, and around 6 hours and 45 minutes with ANC turned on. The charging case can last up to 35 hours which means you can juice up the earbuds after you use them for a long period of time. Charging both the earphones and the charging case takes about 1 hour before it's fully charged.
VERDICT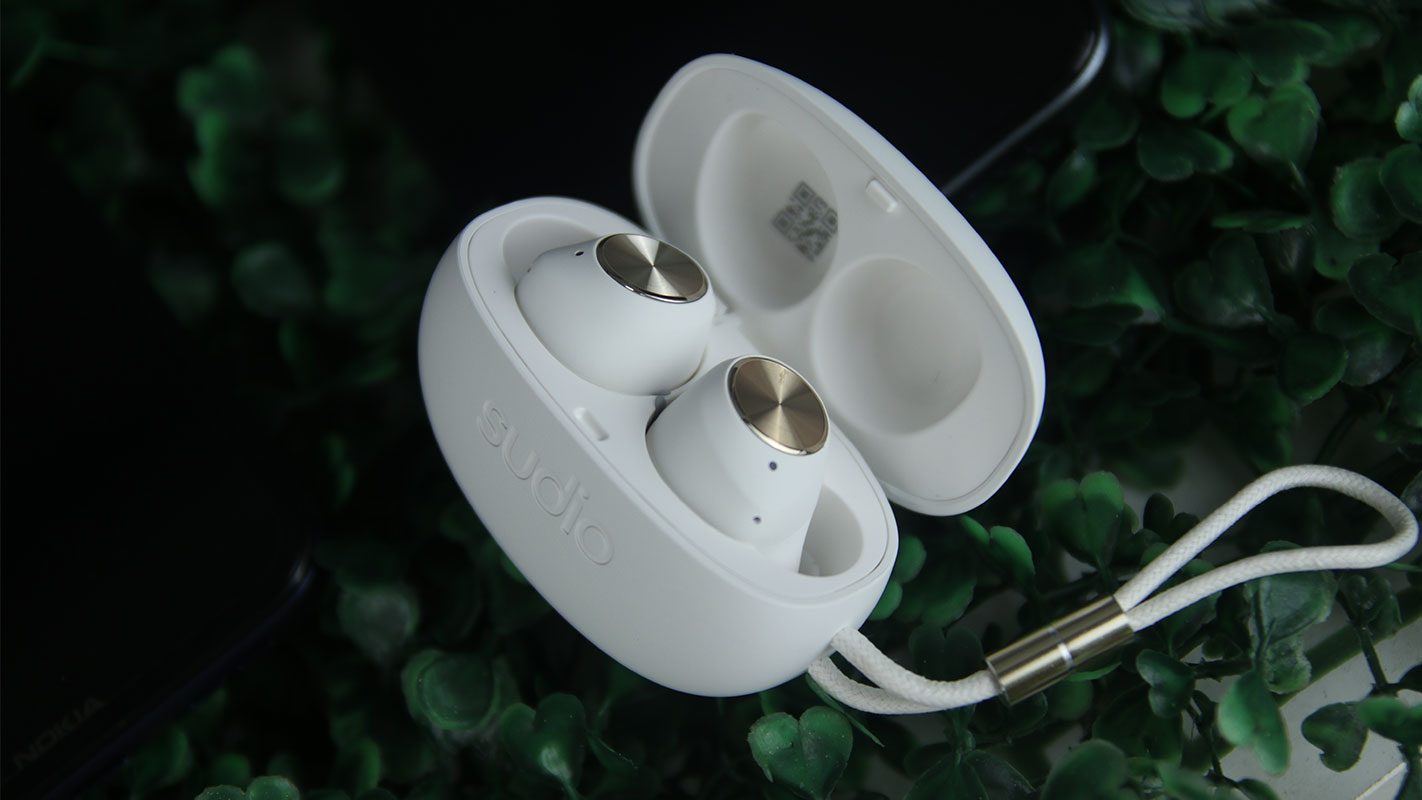 Overall Sudio T2's quality and build are pretty good for its price. It has an impressive sound quality, minimalistic yet attractive design, and colorways. Sudio T2 is priced at Php 6,500, and it is a premium TWS that offers ANC with great battery life. Yes, it is a better upgrade of the Sudio TOLV with fun and reliable features.
if you ever decided to buy one of the 4 colors of the Sudio T2, go to this link http://www.sudio.com/ph and use the code MANILASHAKERT2 to get a 15% discount.
The coupon code is valid from 17 Sep – 30 October 2021 with every purchase.
Read: Sudio Nio TWS Aurora – Limited Edition Colorway