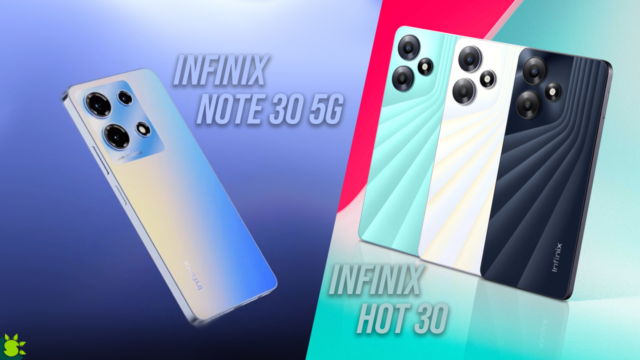 Infinix was founded in 2013 and was once among the top 5 smartphone brands in the Philippines due to its whopping sales growth. One of the reasons why the brand propelled its name on the top 5 list is because of the popularity of the Infinix Note 12 which is one of the best smartphones in the affordable gaming segment. Another reason is that they offer a wide variety of affordable smartphones, from entry-level to midrange devices.
Today we are comparing two Infinix devices from two different series. The first is from the Note series, the Infinix Note 30 5G. Note series devices from Infinix are advertised as multimedia and creator focus devices. We will be pitting it with the Infinix Hot 30 5G which is currently an upcoming device. The Hot series is Infinix's offering in the budget-friendly category. Devices that are priced from Php 10,000 and below offer a huge win when it comes to internal specs. Today we will be comparing the Infinix Note 30 5G against the Infinix Hot 30 5G and let's find out what are their differences.
Specifications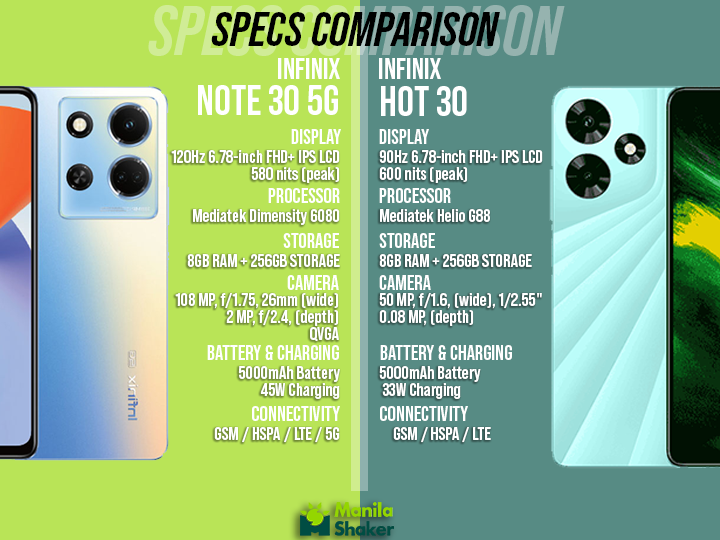 Design
Both the Note 30 5G and the Hot 30 come with a sleek and well-made design and build. The Note 30 5G comes with a plastic back and a polycarbonate frame. The Hot 30 also comes with a plastic back and frame. In terms of flashing looks, the Hot 30 is surely a head-turner because of the shiny, and reflective. As for features around their frames, they both have their Power button and volume rockers on the right-hand sand of the device. The Note 30 has another speaker grille on the top along with the JBL-tuned branding while at the bottom, is a 3.5mm audio jack, microphone, and the USB type-C port. Both are packed with a dual sim slot placed on the left side of the device. As for their weight, they are not far from each other. The Infinix Hot 30 is lighter at 196g while the Note 30 5G is weighing 205g. As for dimensions, they both are closely identical.
Display
As for their display, both devices boast an IPS LCD FHD+ display. The Hot 30 carries a 90Hz refresh rate with a peak brightness of 600nits while the Note 30 5G sports a 120Hz refresh rate display along with 580nits of peak brightness. In terms of experience, they both offer the same display resolution and size. The only factor that is going to make a difference is their difference in refresh rate. Navigating on Note 30 5G is much more smooth and flawless compared to the Hot 30.
Cameras
In terms of camera setup, the Infinix Note 30 5G is equipped with a triple camera setup, while the Hot 30 only packs a dual camera setup. The Hot 30 carries a 50MP f/1.6 main, 0.08 depth sensor, while on its front it has an 8MP F/2.5 selfie shooter. As for the triple camera setup of the Note 30 5G. It packs a whopping 108MP main shooter, 2MP depth, a QVGA, and a 16MP selfie shooter on the front. As for video recording, both devices can shoot up to 1440P@30FPS and 1080P@30FPS. Since the Note series is a more multimedia-centric device, it is understandable why it packs such cameras.
Specs and Features
As for their chipset, the Note 30 5G is running on a 6nm Mediatek Dimensity 6080 with Mali-G57 MC2 GPU. While the Hot 30 is backed with a 12nm Mediatek Helio G88 chipset with Mali-G52 MC2 GPU. In terms of RAM and storage capacity. The Hot 30 offers a variant that is a combination of 8GB of RAM and 256GB of storage, while the Note 30 5G offers a base variant of 128GB with 8GB of RAM and a higher variant with 8GB RAM and 256GB storage.
Battery
As for their battery, both devices are backed with a 5000mAh non-removable battery. The Note 30 5G supports up to 45W of wired fast charging and bypass charging, While the Hot 30 only supports up to 33W of fast charging and according to their advertisement. It can reach 55% under 30mins.
Conclusion
These two Infinix devices are a good choice for users that are on a tight budget. Both devices are priced under the Php 10K price point. The Infinix Note 30 5G is priced at Php 9,499 for the 8GB+128GB variant and Php. 9,999 for the 8GB+256GB variant. While the Infinix Hot 30 is currently priced at Php. 7,299 for the 8GB+256GB configuration. In terms of paper, there is a huge gap between the two devices. Like the difference in cameras, fast charging support, power-efficient chipset, and even the display refresh rate that it offers. However, if you are aiming for a more affordable high RAM and high storage device then the Infinix Hot 30 is clearly a better choice.
---
READ MORE