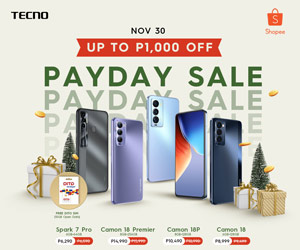 Another device from Sudio is in our hands–the Sudio Tolv. It has a different architecture unlike other sudio devices we reviewed on this website. It is more just like the Sudio Niva–which we didn't manage to get hands-on. But if you want to see other audio devices we tackled on our website, click these links: Sudio ETT, Sudio Nio, Sudio Femtio.
Anyway, the Sudio TOLV, at first look, is like a small elegant audio device. It is advertised to endure up to 35 hours of playtime and it has a pleasing personality in its aura but can it give the sound quality we need? Read along.
Specification
Driver: Graphene driver
Connectivity: Bluetooth 5.0
Microphone: Yes
Battery: Up to 35 hours
Colors: Anthracite, White, Black, Light Pink, Pastel Blue, Green
Dimensions: Charging case (32.5 x 60.5 x 48.8mm)
Weight: Earbuds (4.5 grams), Charging case (42.3 grams)
Build: MicroUSB, Plastic, Physical Buttons
Price: PHP 5,500
What's in the box?
This slideshow requires JavaScript.
The box of the Sudio Tolv is very informative, if you will see the product in a physical store you'll easily distinguish its capabilities and features as they are indicated at the back. Inside the box, you will be greeted with nice minimalist placements of the device itself and the extra compartment box. Inside of the compartment is the user manual, a MicroUSB charging cord, and 3 pairs of different sizes of rubber ear tips.
READ: Vivo X60 Series Going Global with Snapdragon 870 Instead of Exynos 1080
Design and Build
Holding the case of Sudio Tolv is quite deceiving but in a good way, My eyes tell that it is a matte white hard plastic texture but it has a rubber-ish smooth feel to it. Which gives us a nice good impression at the start. It also has a cloth-like strap which is very durable making it look more unique and minimal.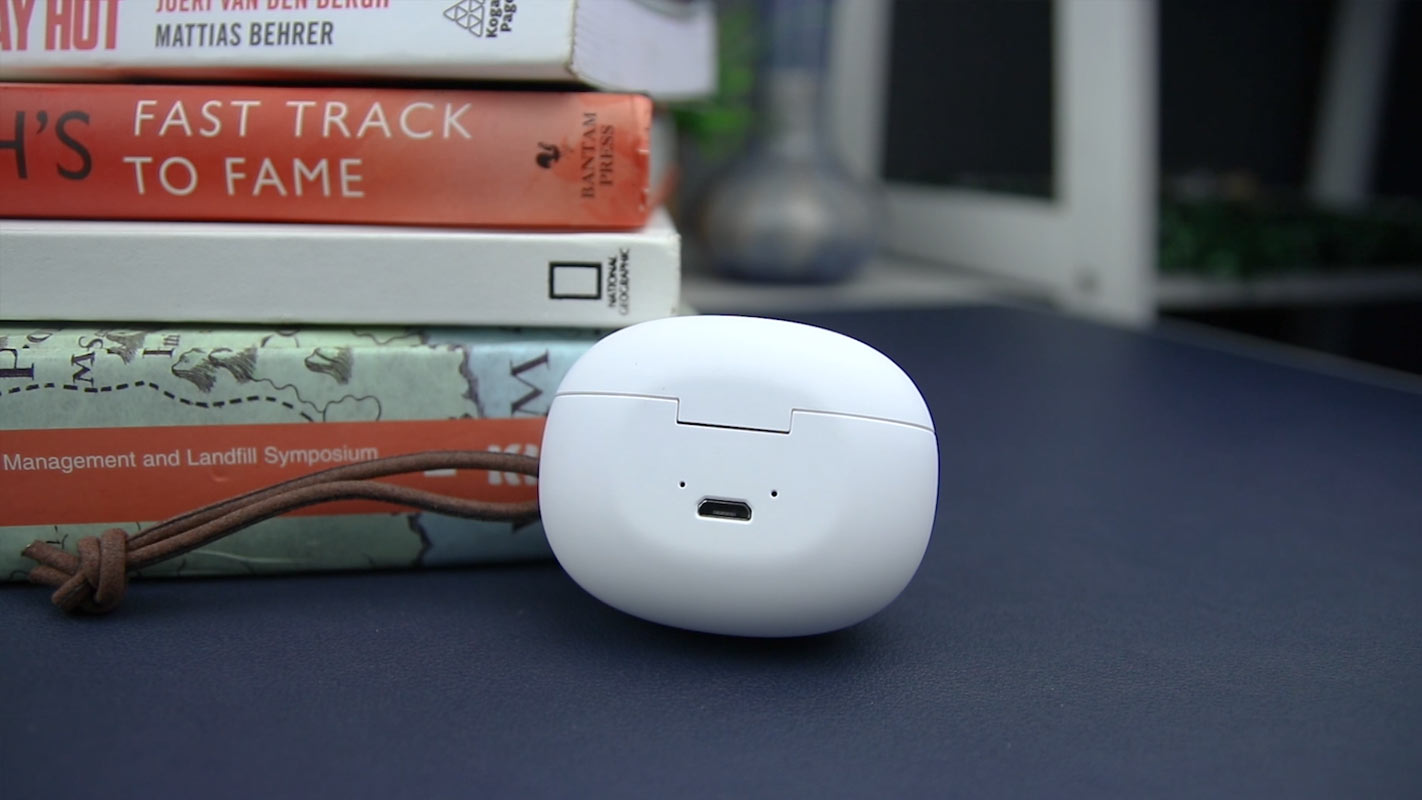 Around the case, it's pretty surprising that there are no buttons to interact with. The front has an embedded Sudio logo and at the back are two LED indicators to indicate the charging status of each earbud which is simply straightforward. There's also a MicroUSB port below the LEDs which would be better if it's a USB Type-C but it's not a big deal since there's a free micro USB cord inside the box.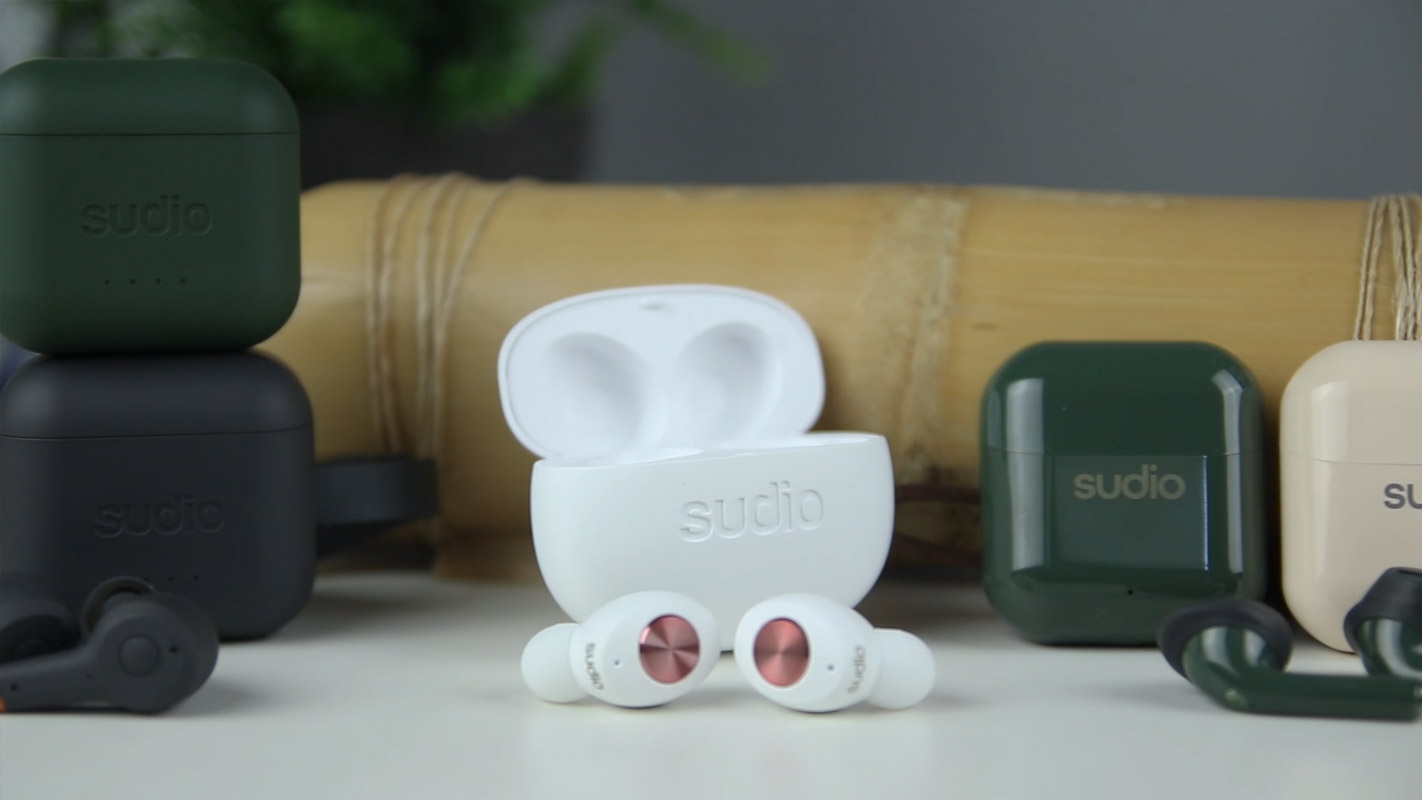 Sudio Tolv has 6 color variants, which are anthracite, black, green, blue pastel, white and pink. In our hand is obviously the white variant though I am starting to like the anthracite color since I started to get hands-on on other audio devices from Sudio with that color variant. The colors, if you look at them on their website, are very charming and have a contrasty look.
READ: Licheers Mini Vacuum Cleaner – Is it great for household use?
Speaking of contrasty look, as you open the lid you will see the Tolv earbuds. It has a small form factor, straight forward shape, and removable and interchangeable rubber ear tips. It also has a pretty simple design–each has led indicators, physical buttons, and logo branding. Just like its case, the texture is in matte white hard plastic with rubber-ish smooth feel but this time with a rose gold color accent on the physical button.
Tricky but Straightforward Controls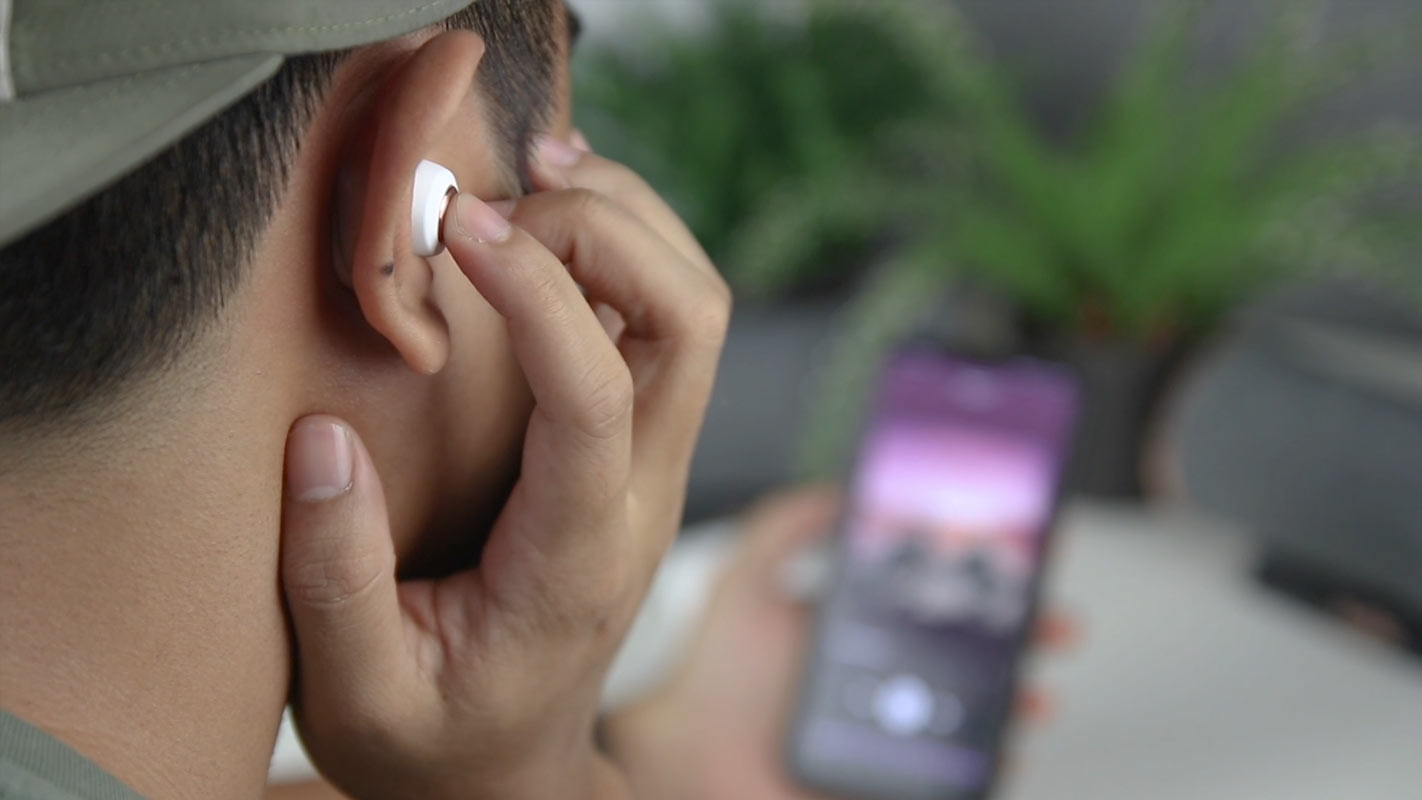 The buttons for each earbud can be used to control music, volume, taking calls, and can even launch Siri and Google Assistant, which is nice and flexible despite its simple form factor. However, the instruction manual only states 2 controls, it's a bit of a flaw so here are all the controls of the Sudio Tolv
Single-press – Play/Pause
Double-press – Next track (right earbud) / Previous track (left earbud)
Triple-press – Increase volume (right earbud) / Reduce volume (left earbud)
Press and Hold – Launch Voice Assistant (If available)
Press and Hold – Power on or off / Pairing mode
Press and Hold (both earbuds) – Power on/off both earbuds
It has Bluetooth 5.0 and a single tap quick pair set up on any device which is great and seamless. It makes it easy to use and be comfortable with. But the thing is, each earbud has a separate on and off function as they don't both communicate when pairing. As we said earlier the case doesn't have any buttons, this means that if you press and hold the right earbud, it will turn on/off and will connect to the device alone. Then pressing and holding the left earbud will make them both connected. So I suggest pressing and holding the pair at the same time will do the job to enable both earbuds with ease. It is quite tricky but it is sensible.
READ: OPPO A74 will have 4G and 5G Variants; features 6.8" Display
Speaking of comfortability, we didn't experience any discomfort using the earbuds for a long time, as long as you have the right ear tips size. Although it doesn't have waterproofing it still provides a sweat-resistant feature so it is still durable and can last you a year or so. Just don't let them fall to the ground.
Sound Quality
Sudio Tolv offers a Graphene driver. As we know so far, earphones with graphene drivers are lightweight and more compact but in contrast, can give better efficiency in sound compared to dynamic drivers. As we tested the sound quality of it is actually good, it is not that bass-heavy earbuds, and the device focuses more on mids and highs but it also gives a sharp vocal. Again the sound will not leak if you will use the right ear tip size.
It is really a premium and lightweight earbuds, but for me, it lacks features such as software boosted quality, companion app, extra features, customization, and ANC which is fairly acceptable since it is priced just on the price point less than what TWS with ANC features can offer.
In fact, it has a 15-meter pairing range which actually works as tested, but if there are obstructions like thick firewalls, will reduce the distance of pairing but the quality is constant even at a max distance away from the paired device.
READ: Fitbit Ace 3 for Kids Available at P4,790 Starting March 31
Battery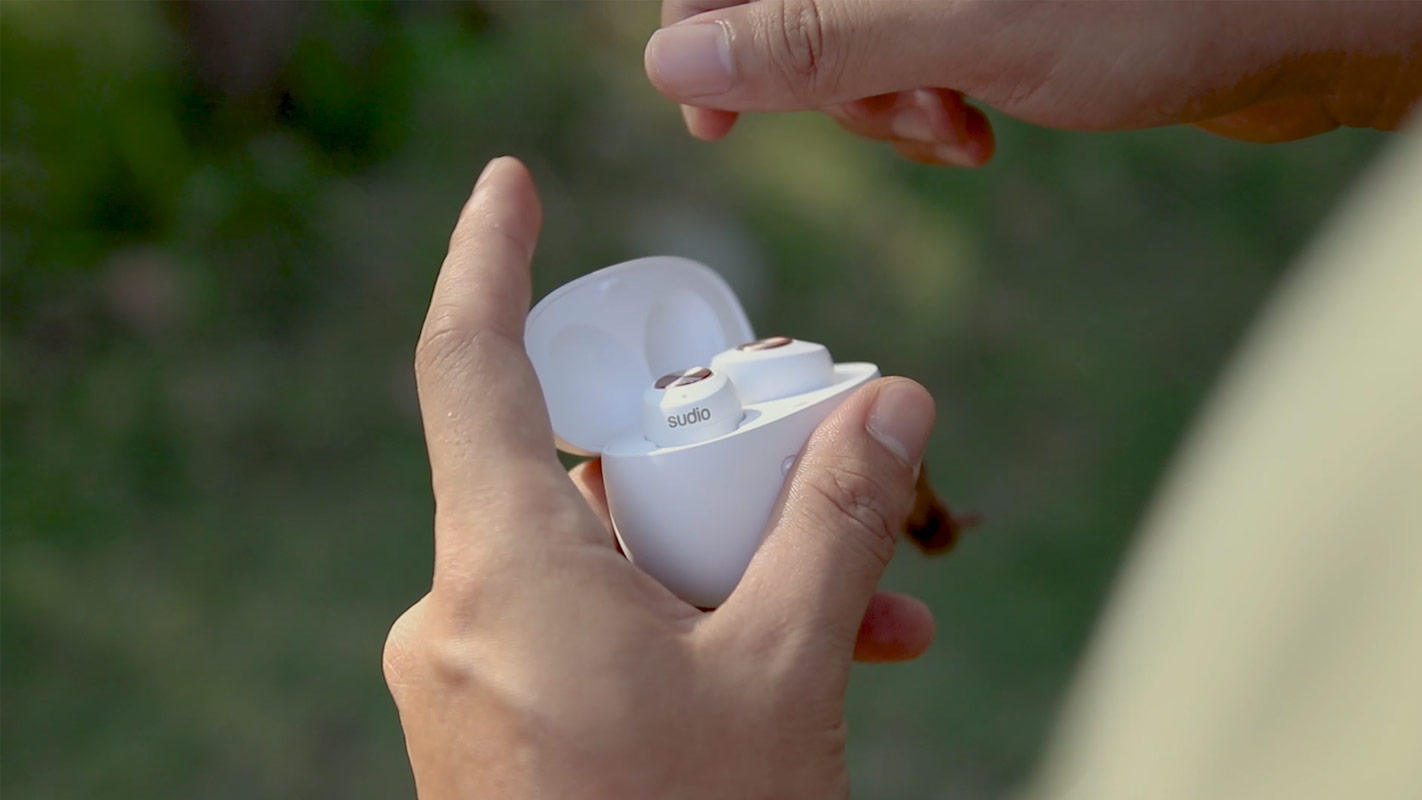 As we said earlier, Tolv offers 35 hours of use on a single charge. It has a massive battery life and this may be the selling point of the Sudio TOLV. It can give 7 hours of playtime to each earbud with 60% volume. It is impressive but will still depend on how you use it.
We tried to drain the battery by using it for a week, and after 2 days or so, it still has juice. For almost 4 days, the case drains out and that's a great battery result. However, it doesn't support fast charging as it only has a MicroUSB port so it could take hours to fully charge the device.
Verdict
For the price of Php 5,500, Sudio TOLV offers a competitive battery life, low profile, and minimal design. It has quite tricky controls, however, for me, it is not a big deal since you will get used to it after using it for weeks. One last thing, it doesn't offer software features but the sound quality is impressive at its price point. The hardware is the most important thing and for me it is recommendable.
Pros 
Lightweight
Elegant Design
Impressive Battery Life
Quality on its price
Cons
If you decided to buy one of the Sudio audio devices, they offer a 15% discount on their website. Visit http://www.sudio.com/ph, and use the coupon code "manilashaker15".
READ: Top 7 Reasons Why the Samsung Galaxy S21 Series Is for Everyone