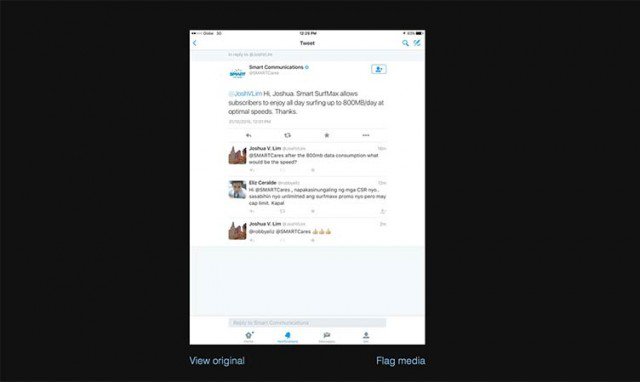 SMART's newest SurfMax and SurfMax Plus have been announced and replaced the unlimited 4G LTE and Smart Bro 3G internet promos.
Alongside with these new plans for both postpaid and prepaid subscribers, SMART confirmed that they will be limiting the speed of SurfMax and SurfMax LTE once reached with the daily data cap of 800MB a day.
More Smart news in the internet
So what will happen to your internet speed once you've reached the limit of Smart SurfMax?
Smart will throttle or limit your internet speed by either downgrading your 4G LTE to 3G signals or by making both 4G and 3G step down to 2.5G/2G speed (EDGE/GPRS) until 12 midnight. As of writing, Smart is yet to announce the exact download and upload speed once user reached the data cap of 800MB per day.
What could you do with an 800MB data per day?
You could either enjoy one or two lines below depending on how you manage your data.
4-5 games of DOTA 2 online
1-2 movie download in 480p/standard definition
2-4 TV series download in 480p/standard definition
1-3 hours of Youtube streaming
Lots of emails, social networking (Facebook, Twitter, Instagram, Vine, Periscope), messaging
Plans and how to register on SurfMax Prepaid:
Use promo code below and send it to 9999 via text/SMS or go to Smart.com.ph dashboard on your browser.
Product
Description
Keyword
Price
Validity
SurfMax 50
P50
1 day
3G All-day surfing
SURFMAX50
SurfMax 299
P299
7 days
SURFMAX299
SurfMax 999
P999
30 days
SURFMAX999
Surfmax Plus 50
P50
1 day
LTE All-day surfing
SURFMAXPLUS50
SurfMax Plus 299
P299
7 days
SURFMAXPLUS299
SurfMax Plus 995
P995
30 days
SURFMAX POSTPAID (Available on November 10, 2015)
Product
Keyword
Price
Validity
SurfMax 995
SURFMAX995
P995
30 Days
SurfMax 995 Autorenew
GO SURFMAX995
P995
30 Days
Other plans specifically for Smart Bro but will still work with normal SMART Prepaid SIM cards:
| Product | Keyword | Price | Validity |
| --- | --- | --- | --- |
| SurfMax 50 | SURFMAX50 | P50 | 1 day |
| SurfMax 85 | SURFMAX85 | P85 | 2 days |
| SurfMax 200 | SURFMAX200 | P200 | 5 days |
| SurfMax 250 | SURFMAX250 | P250 | 7 days |
| SurfMax 500 | SURFMAX500 | P500 | 15 days |
| SurfMax 995 | SURFMAX995 | P995 | 30 days |
Smart says they will throttle the speed or reduce the overall download and upload speed. However, they didn't clarify yet on what exact speed you will be throttled to. Smart will announce more information for this one. So be sure to stick on our Facebook, Twitter and website for updates about the latest SurfMax.
Related posts, news, review: