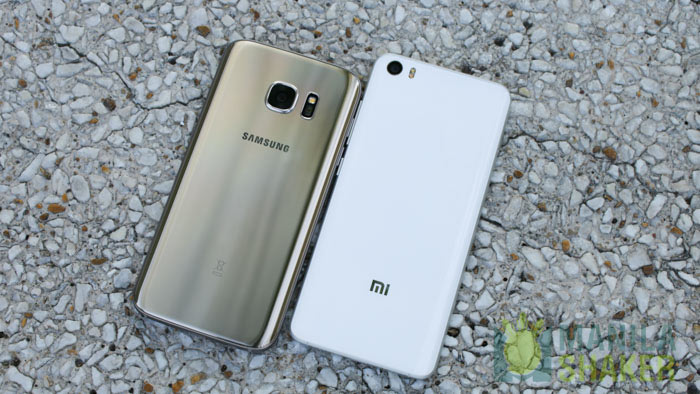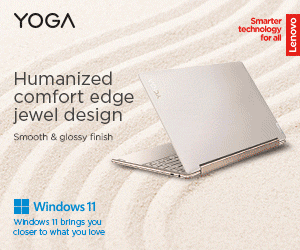 The two of the latest Android flagship phones, the budget Xiaomi Mi 5 (Php19k price in the Philippines), and premium Samsung Galaxy S7 (Php34k price in the Philippines) have finally arrived at our doorstep.
So right out of the box, we put the two in a camera battle and full comparison covering the battery to speed area. So which phone will come out better in our Mi5 vs Galaxy S7 comparison review? Let's find out below.
Read other Galaxy, Mi comparisons and reviews
Design and build quality
Starting off with the build and design, the Galaxy S7 follows the form of the Galaxy Note 5 with curved Gorilla Glass back and metal frame. In addition, it's now water and dust resistance and adds microSD card expansion above its 32GB internal storage.
The Mi 5 back is curved too but it feels a bit plasticky. Maybe it's because it is lighter. Unlike the S7, Mi5 doesn't have microSD card slot, but it has USB type C and they both offer dual-sim support.
Fingerprint scanners work fast and accurate on both phones. Definitely, the Galaxy S7 easily takes the cake here in the design.
Display
The screen is one of the main differences of the two. Galaxy S7 features a 5.1-inch Quad HD Super AMOLED while Mi5 has a 5.2-inch Full HD IPS LCD panel.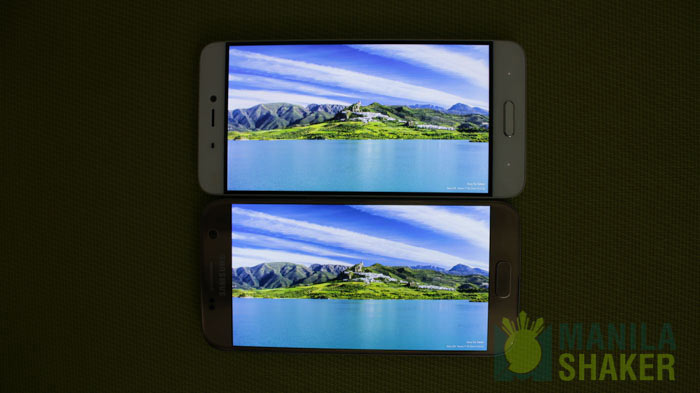 As usual, the Super AMOLED is more saturated and the IPS LCD is more accurate in color rendering. The screen of Galaxy S7 remains brighter than Mi5. But overall, the difference in sharpness and color is not big enough to consider the Super AMOLED a winner in the display.
Camera in low light, 4K video, selfie
In camera category, the 12MP of Galaxy S7 performed better in daylight and night shooting than the 16MP of Mi 5. It produced bright and crisp images too. The Mi 5, on the other hand, showed better color handling in the night. Overall, the Galaxy S7 has a better camera than Mi5 including the 4K video shooting mode.
Daylight shooting and indoor
HDR or High Dynamic Range
Low light and night shots with flash
Selfie front-facing camera
Performance and benchmarks
Our Galaxy S7 variant is equipped with Exynos 7420 octa-core chip and 4GB RAM while the Mi5 is powered by a Snapdragon quad-core and 3GB RAM. There isn't really any huge gap in speed so we think both are tied in performance.
AnTuTu Benchmarks
Samsung Galaxy S7 – 126314
Xiaomi Mi5 – 109843
Battery and charging
The juice on two phones is a 3000mAh non-removable battery pack. We got around 4-5 hours screen-on time on the Galaxy S7 with Always-on display and about 5-6 hours on Mi5. Both could last an entire whole day and really charge fast, thanks to Qualcomm quick charging.
Battery life rating Mi 5
Battery life rating Galaxy S7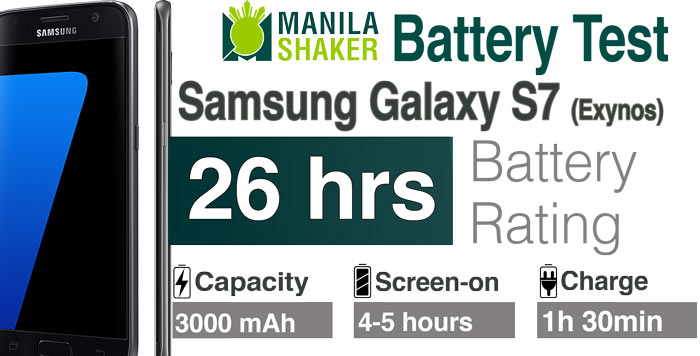 Speaker
The mono speaker on each is positioned on the bottom. Sound output is good but not loud enough as we expected. Surprisingly, audio quality is on par on both speakers.
Pricing and verdict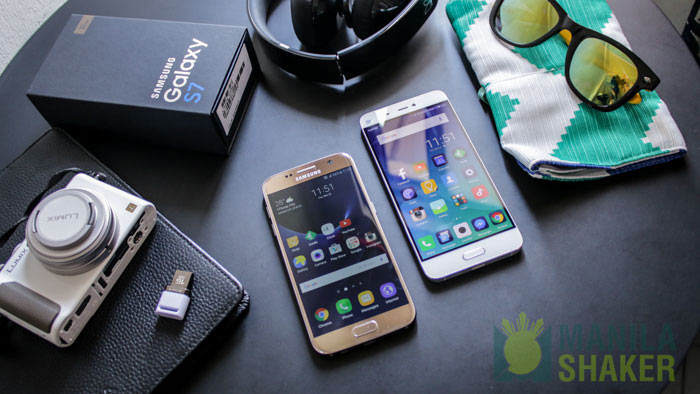 Certainly, the Galaxy S7 did better in most areas than Mi 5 in our comparison. But given the price of latter which is half than the former. We still think that the Mi 5 is really worth your money. But if you want a more premium and waterproof build and a better camera, then the Galaxy S7 is a good choice.
Samsung Galaxy S7 retails for about Php34,990 price pesos in the Philippines while the Xiaomi Mi 5 is sold online at around P19,900 pesos (above its global SRP).
Xiaomi Mi 5 vs Samsung Galaxy S7 Video Review Comparison

| | | |
| --- | --- | --- |
| Specs, PH Price | Samsung Galaxy S7 | Xiaomi Mi 5 |
| Display | 5.1-inch QuadHD Super AMOLED, 577 ppi, Gorilla Glass 4 | 5.2-inch 1080p IPS LCD, 428 ppi, Gorilla Glass 4 |
| Size | 7.9m thick, 152g weight | 7.3mm thick, 129g weight |
| Design | 2.5D Curved Glass + Metal, IP 68 Water and dust resistance | 2.5D Curved Glass + Metal |
| Colors | Gold, White, Black, Platinum Silver | Gold, White, Black |
| Chipset & CPU | Exynos 8890 octa-core | Snapdragon 820 quad-core |
| Graphics | Mali 880MP12 graphics | Adreno 530 graphics |
| Memory | 4GB RAM, 32GB storage, microSD up to 200GB | 3GB RAM, 32GB/64GB storage, no microSD |
| Camera | 12MP main, f1.7 lens, Optical Stabilization, 4k video, LED flash | 16MP main, f2.0 lens, Optical Stabilization, 4k video, dual LED flash |
| Selfie | 5MP selfie front-facing, f1.7 | 4MP selfie front-facing, f2.0 |
| Connectivity | 4G dual LTE nano SIM (hybrid), WiFi ac, Bt 4.1, GPS, fingerprint scanner | 4G dual LTE nano SIM (dedicated), WiFi ac, 4G LTE, Bt 4.1, GPS, fingerprint |
| Software | Android 6.0 Marshmallow, upgrade to 7.0 Nutella | Android 5.1 Lollipop, up to Marshmallow |
| Battery | 3000mAh, Qi wireless charging, Quick Charging | 3000mAh, Quick Charging |
| Ports, quick charge | microUSB | USB Type-C |
| Release date | March 2016 release date | March 2016 release date |
| Price | Php34k price in the Philippines / $760 | Php19 price in the Philippines / $430 |