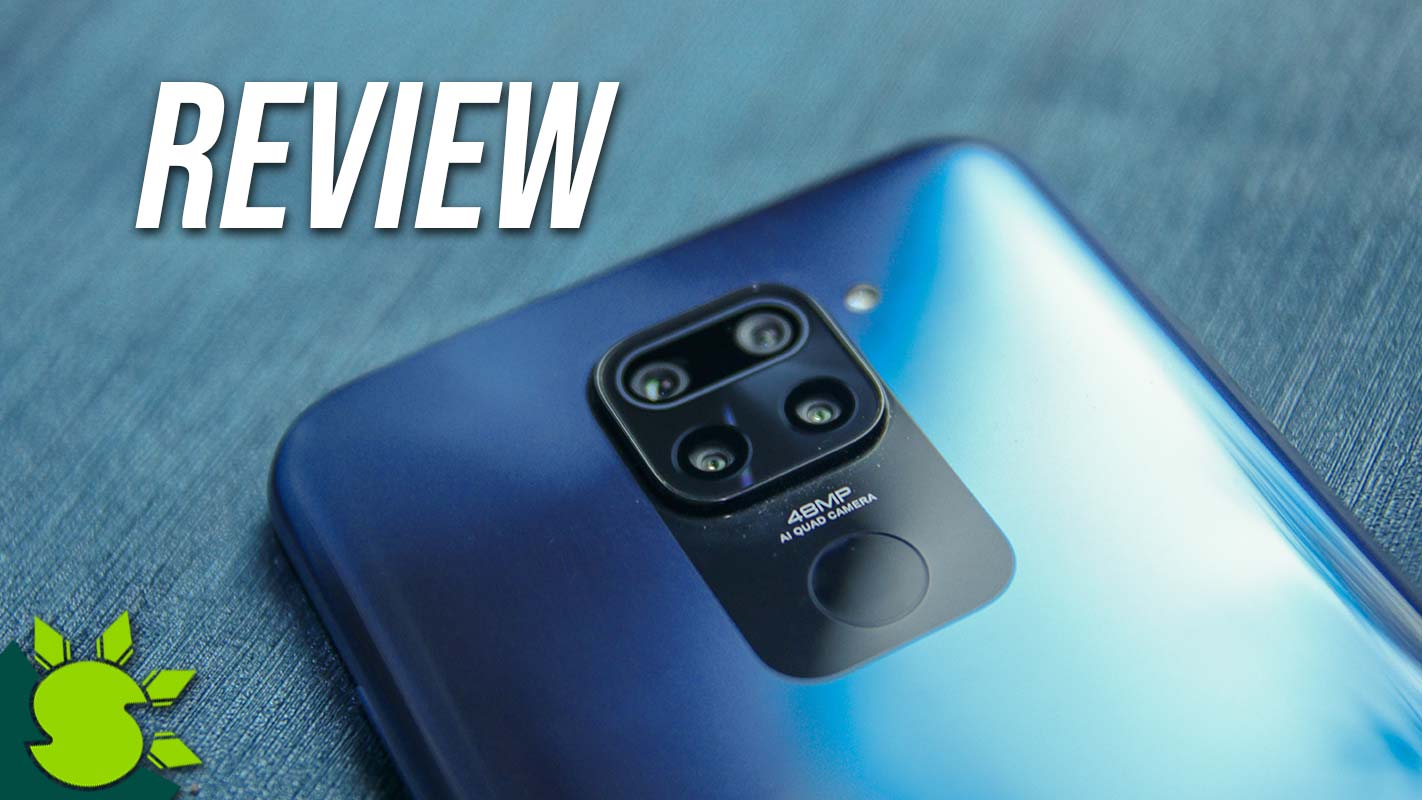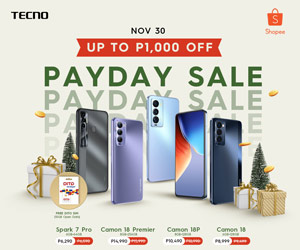 The budget Redmi Note 9 series is something you might want to look at. The Xiaomi Redmi Note 9 isn't just a budget phone, but also one of the sub-P10K smartphones to reach 200,000+ points in Antutu. It is the first phone to powered by Mediatek Helio G85 and it has impressive specs. So it has powerful chipset the question is can it handle 1080p gaming?
Specification
| | |
| --- | --- |
| | Redmi Note 9 |
| Design | |
| | 199g |
| | Plastic back |
| | Glass front (Gorilla Glass 5) |
| | Forest Green, Midnight Grey, Polar White |
| | |
| Display | |
| | 6.53 inches IPS LCD |
| | 1080 x 2400, 395 ppi |
| | 84.9% STB, 19.5:9 |
| Camera | |
| | 48MP f/1.8 (Main) |
| | 8MP f/2.2 (Ultrawide) |
| | 2MP f/2.4 (Macro) |
| | 2MP f/2.4 (Depth |
| | [email protected] |
| Selfie | |
| | 13MP f/2.3 |
| | [email protected] |
| | |
| Performance | |
| | MediaTek Helio G85 (12nm) |
| | Mali-G52 MC2 (1Ghz) |
| | Android 10,  MIUI 11 |
| | 4GB Ram, LPDDR4 |
| | 128GB |
| | expandable via MicroSD |
| Battery | |
| | 5020mAh |
| | 18W Fast Charging |
| Features | |
| | Gyroscope |
| | Wi-Fi 802.11 a/b/g/n/ac – 5G Wi-Fi |
| | USB Type-C |
| | 3.5mm Jack |
| | Bluetooth 5.0 |
| | Fingerprint (rear-mounted) |
| | Face Unlock |
| | |
| Price | |
| | P7,990 (3GB/64GB) |
| | P9,990 (4GB/128GB) |
Pros
1080p on a budget
Punch-hole on a budget
Large Battery Capacity
Unique Camera Features
Cons
Slightly Unoptimized Chipset
Soft Images on daylight
Related: Redmi Note 9 vs Realme 6i – Which is Better in Gaming?
Design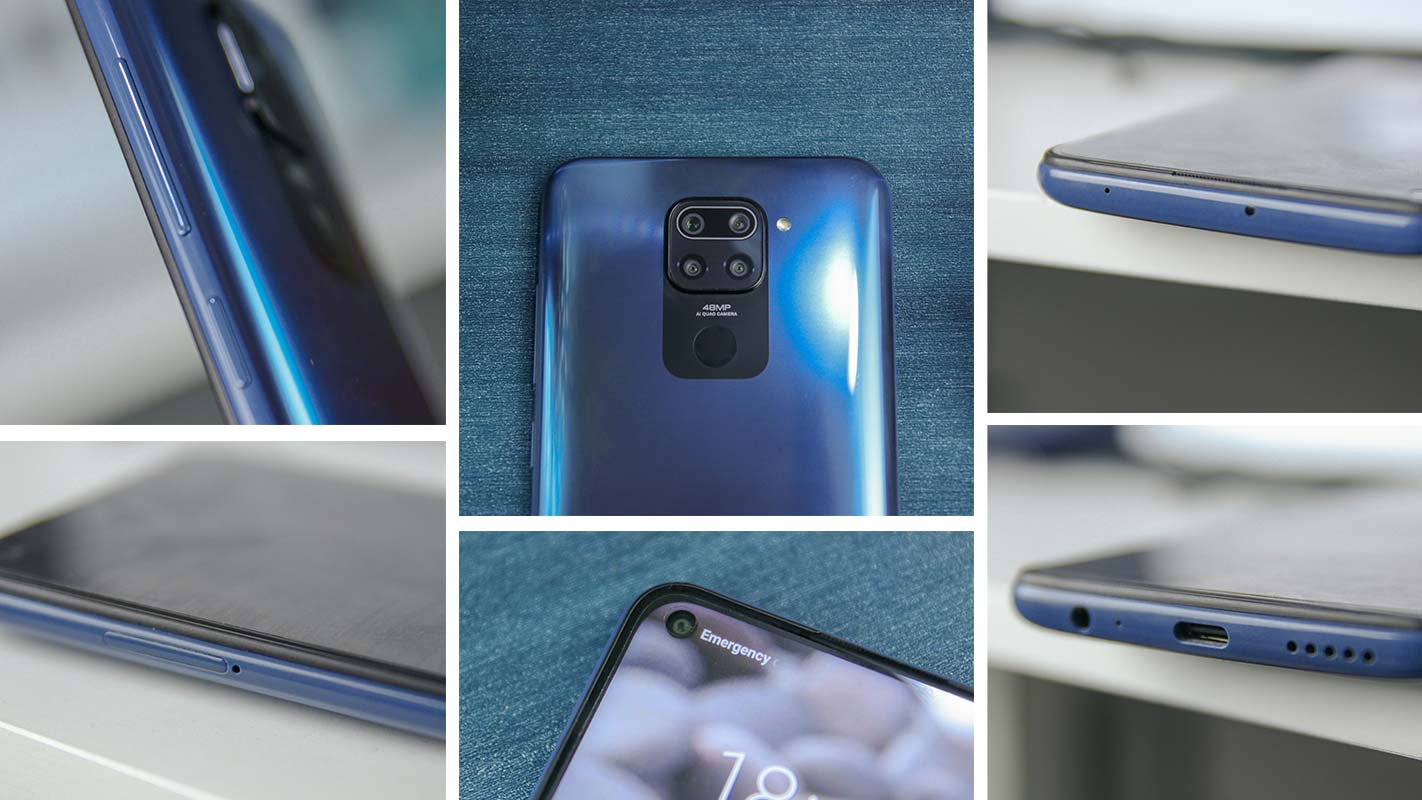 If you are a type of person who loves symmetry, you will find Redmi Note 9 attractive as it has a bit of symmetrical design on the back panel. It also has a glass looking back but it's plastic–Glasstic. It is silky and smooth but it's prone to fingerprint smudges. It also coated with splash resistant protection. Around the frame, we will see the power key and volume rocker in one location, and on the other side is the simtray with dual nano sims and expandable storage slots. Underneath, is the speaker, USB Type-C charging port and microphone and a 3.5mm jack, on top is an IR blaster and a second noise-canceling. The only bummer in the design was the volume rocker placement as it is placed too far to reach with my small hand. Although you might get used to it when you're always doing the reaching motion. It does wobble on a flat surface when touching the screen but the symmetrical design makes it balance and less jiggly. It also has a curved back which makes the phone comfortable to hold.
Display
This slideshow requires JavaScript.
The display boasts a 6.53inch FHD+ (1080×2340) IPS LCD with a hole-punch cutout. It's less distracting because it is on the top left side on the screen. Although the whole device has a wider body because it has a 19.5:9 ratio but the good thing is it has tiny bezels. Add it to the punch-hole display and it feels premium and it doesn't feel cheap. The screen is also protected by Gorilla Glass 5 and we do get a free screen protector right out of the box. The screen is sharp thanks to the 1080p resolution. This is a nice feature on the budget phone as it stands out most of its price range competitors. And luckily we don't see any screen bleeding on our unit. It also has a color-accurate display thanks to IPS LCD.
Camera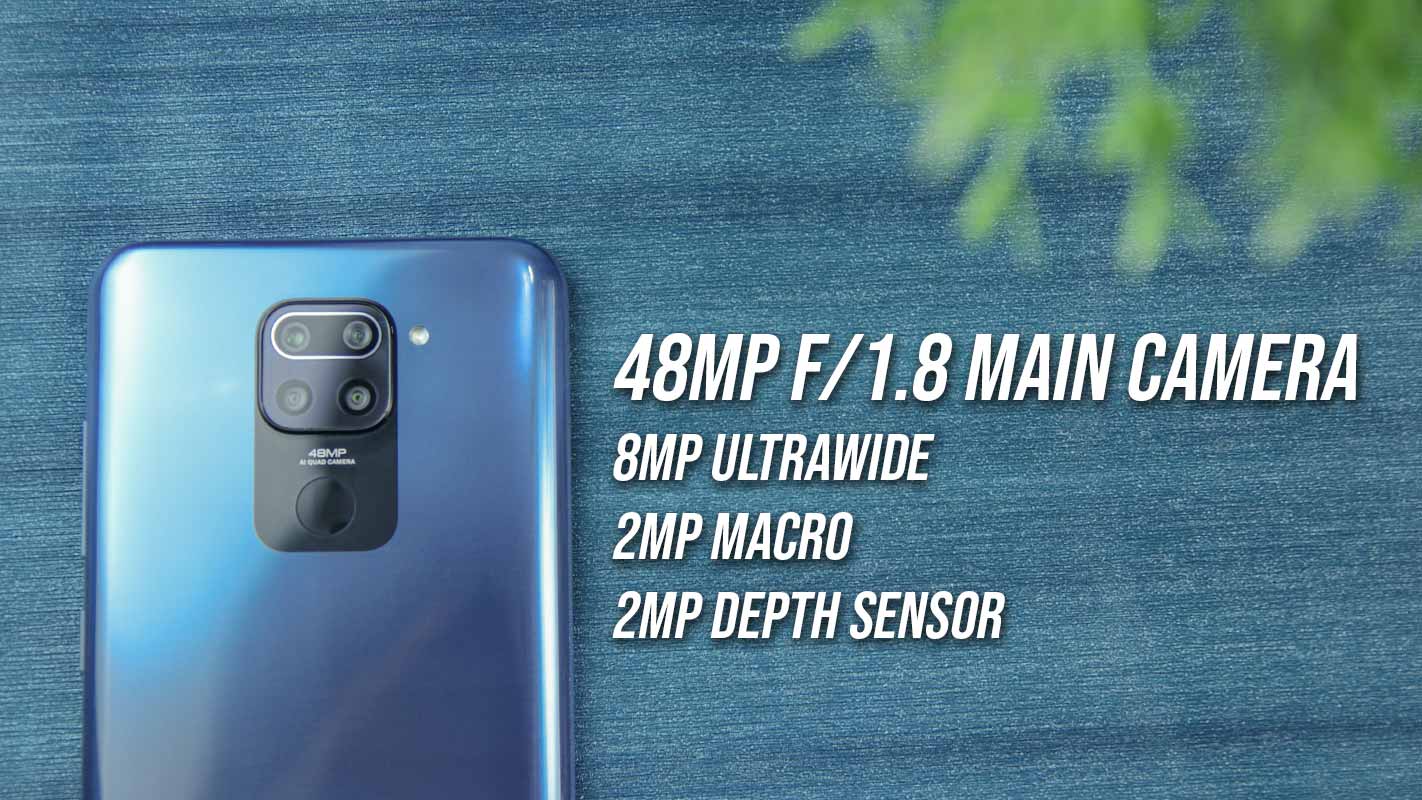 48MP f/1.8 Main Camera PDAF
8MP 118˚Ultrawide
2MP Macro AF
2MP Depth Sensor
Main Camera
The main camera has 48MP f / 1.8 with PDAF, the picture quality is decent it has a great dynamic range as well as natural colors but the whole image is quite soft in daylight. Nighttime shots are really good and have great color reproduction. The amount of exposure in auto mode is a bit dark, especially when shooting in the day but the contrast is acceptable. Turning on HDR mode will enhance the image and it has a great quality as it gives a new perspective by lifting the shadows and reducing the highlights drastically.
Shooting indoors, colors are ok but Redmi Note 9 tend to lose the natural color reproduction as AI chooses a cooler tone over warmer tones in white balance. The images also appear soft.
Ultrawide
This slideshow requires JavaScript.
The Ultrawide lens is still decent, it has the same color reproduction as the main lens but the images are quite soft maybe it is caused by image processing. HDR processing works well with images but tends to be in cooler tones.
Macro
This slideshow requires JavaScript.
Shooting macro on close-up subjects is pretty easy to do as it offers an autofocus system on the lens. This means we can get closer to our subject while our focus is on point resulting in better sharp and detailed macro shots.
Depth
This slideshow requires JavaScript.
Again details are soft as it uses the main lens to capture then it will be assisted by the depth sensor. It sometimes struggles to detect the edges but when the edge detection got good accuracy, it produces a nice and bokehlicious picture.
Selfie
This slideshow requires JavaScript.
Switching to selfie mode, it has a great image process, especially when enhancing my face. It also has good and natural skin tone colors but the field of view of the front camera is a bit tighter. Background separation is actually decent it has a nice blurry effect but the edges are not impressive. It tends to lose accuracy but the overall image is great and acceptable with good contrast.
Video Mode
This slideshow requires JavaScript.
Redmi Note 9 shoots [email protected], it offers EIS or stabilization when shooting at both 1080p and 720p. It also has a movie frame that will put a black bar overlay on your shot when shooting at landscape to give us a cinematic feel effect. You can also shoot macro videos.
Read: Vivo V19 Neo Full Review – The Knight's Owl
Camera features
This slideshow requires JavaScript.
The Redmi Note 9 offers a wide variety of features including a Slow motion of 120fps but on 720p only. It has a short video mode for cool effects. It also got live beautification while on video mode which enhances the face of the subject. You can shoot a hi-res image at 48MP when you enable it through the tab next to normal photo mode. Night mode is present as well as Pro mode which lets you shoot in different lenses while managing to adjust ISO and shutter speed. It also offers shooting at RAW and at full 48MP. The Pro mode has a cool assisted graphic interface like focus peaking, focus verification, histogram, and movie frame.
Overall, even though the normal auto mode produces softer images it offers a wide variety of features. If you know how to shoot at pro mode, then you can just shoot raw and edit in post. This is the best solution for now as we don't have a software optimization yet on the native camera app. Or just download a stable version of Gcam that will work on this device. What I really like about the Redmi Note 9 is the ability to shoot videos on pro mode that let us adjust shutter speed and iso.
Performance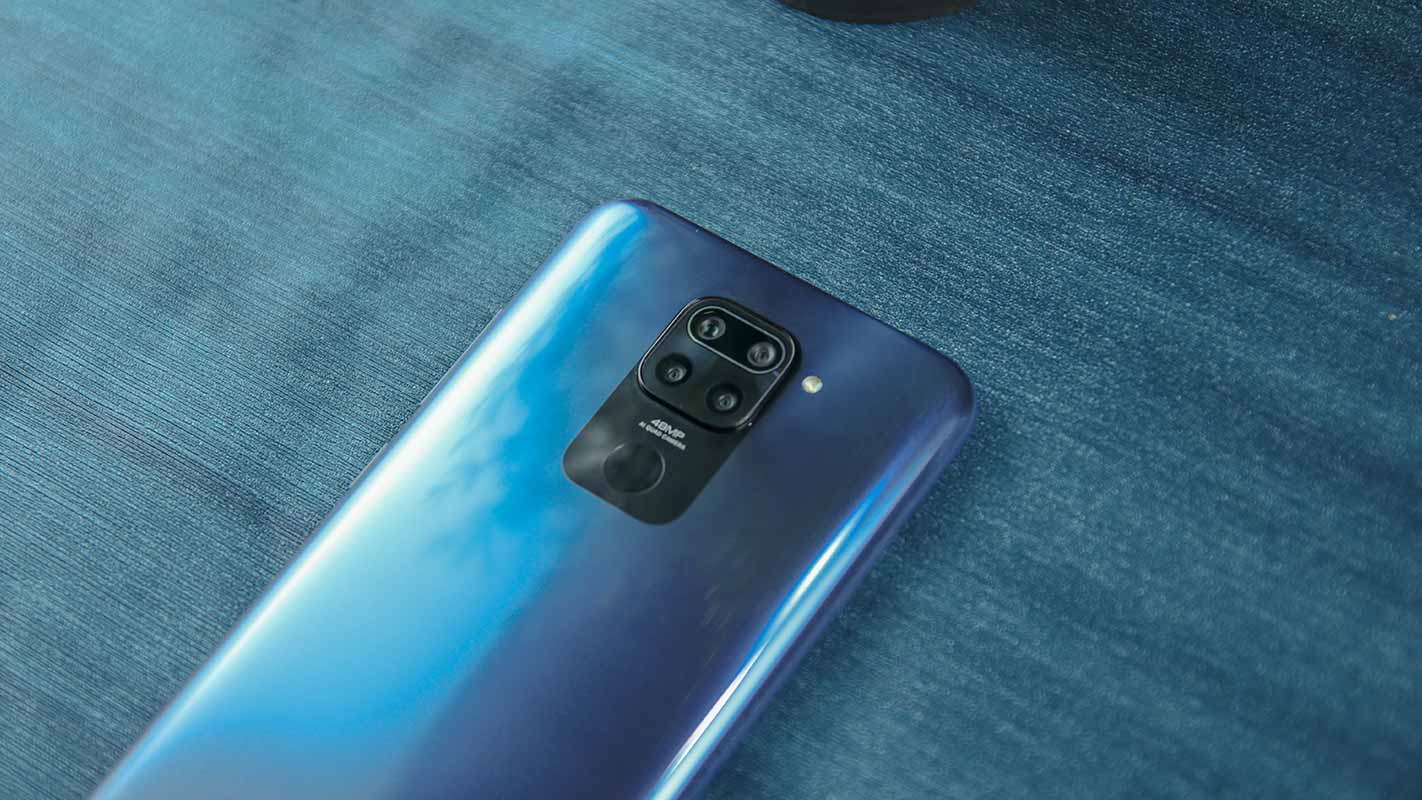 Redmi Note 9 is powered with the newest chip–Helio G85 (12nm) with 4GB of ram and 128GB of internal storage. It doesn't have a power-efficient chip but it still gets a decent CPU temp when playing at high graphic demanding games. So the question is, can it game on a 1080p? Well, yes, and yes?. Yes because the chipset has a 1GHz GPU clock speed means that it is capable of handling most graphic-intensive games. Maybe Yes? because the problem here is the optimization, it has the newest chipset inside meaning we need more optimization to play a little smoother on a 1080p screen. But the good thing is for its price range you'll get a 1080p screen and you can just play at a decent graphic setting to play games smoothly and stutter-free. It takes time to have an optimized chipset but in a long run, you will be comfortable using the phone as it gets an update from time to time.
For the record, we do have a gaming test video, check out, and see the results.
Game Turbo
This slideshow requires JavaScript.
Optimizing the game using game turbo is much needed when playing graphic-intensive games as it optimized the games to avoid overheating and hardware-related issues. What I love about their game optimizer app is we can get useful and reliable features that are unique compare to other game optimizers on the market. It gives a bandwidth priority which prioritizes the bandwidth to the games running in the foreground making it receives lower ping. Enhance audio also present in the performance mode, it reduces ambient noise, especially when in an open mic. Optimized touch controls that increase the touch response and sensitivity for better skill aiming, precise aiming at fps, and faster response on RPG games. We can also set each game's respective touch controls and touch resistance.
This slideshow requires JavaScript.
Game turbo also has an overlay that flashes Infos like CPU and fps counter. And thanks to the large ram capacity we can still multi-task by clicking app icons on the top left side while playing or waiting to respawn. We can also clear the ram, take a screenshot, and record the screen in just one click. Clicking the arrow next to the screen recorder, we will see new features such as turning off the screen while the game is still running in the background, projecting your screen to an external display using Wi-Fi and Bluetooth, and restricting floating apps. These are just the function of the Game Turbo and we can say that this is really much needed when playing games to enable a seamless and solid gaming experience.
This slideshow requires JavaScript.
Redmi Note 9 runs on Android 10.0 with MIUI 11 skin on top. The skin isn't that smooth and feels heavy but it got cool animations and a clean notification panel layout. And it also got a cool feature as well such as Screencast, Notch customization, Themes, Button Shortcuts, Second Space or Multi-User mode, and More.
Read: Entry-Level King Redmi 9 Series Arriving in Official Stores Soon
Battery
It has a large 5020mAh power cell with an 18W fast charge and offers 9W of reverse charging. We tested a full battery depletion from 100-0% while playing games, watching video clips, and benchmarking. The battery dies after 9hrs and 30mins. For the record we played in high settings with 1080p resolution, then on video playback, the clip is also in 1080p. It has good performance on the battery as it has a large mAh capacity. As for charging it took almost 2hrs and 35mins to fully charge the device from 0-100% the device was turned off while charging. It is acceptable since it only offers an 18W fast charging. It is a budget midrange so we didn't expect much on the results. But it is still impressive
Audio
The audio is clear and crisp. It is loud and it has a little bit of sound distortion when listening in a max volume. The best thing about the audio is it has a compact bass sound more than it produces high tones. It is not that clear but it's acceptable.
Verdict
Overall user experience is great and seamless thanks to the wide variety of features it offers. On the skin, we get lots of useful and reliable features as well as customization. On the Camera, we get a versatile feature especially for filmmakers and photographers who wants flexible controls. Although it lacks optimization on stability and camera app, it still provides a bang for the buck experience because of its hardware features and designs. Imagine having a 1080p screen, with 200,000 points in antutu benchmark, with a punch-hole display, with lots of useful features, for the price of P7,990 for 3GB+64GB and P9,990 for 4GB+128GB. A quite head-turner budget-wise smartphone from Xiaomi.
Read: Redmi Note 9 vs Realme 6i Specs Comparison – For the Budget Gamers