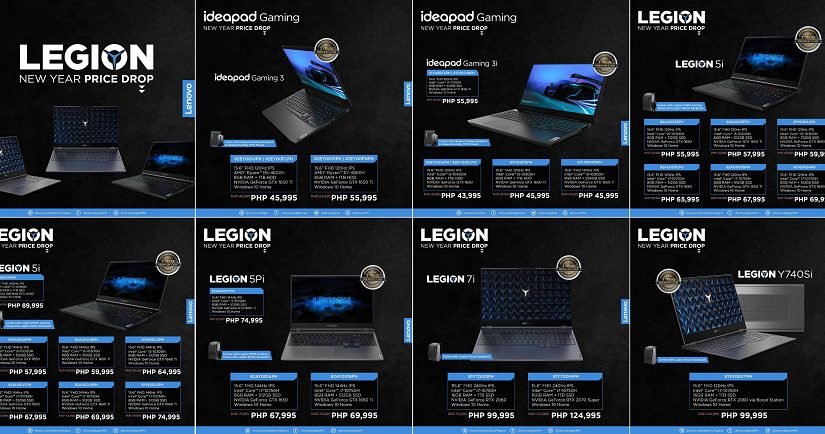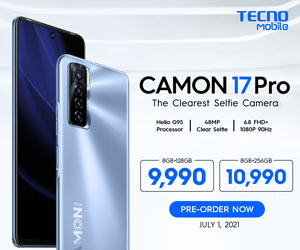 Lenovo showed a strong presence last year, releasing tons of gaming machines for the masses at nearly every price point. In 2021, the brand is starting the New Year with a bang; by that, we mean up to Php45,000 discount on is Legion Gaming laptops and PCs. 
1. IdeaPad Gaming 3i – starts at Php43,995
Originally at Php46,995, the base model of the IdeaPad Gaming 3i is now down to Php43,995. It features up to the 10th-gen Intel Core processor and up to Nvidia GeForce GTX 1650 Ti GPU. You can pair the two with up to 16GB DDR4 RAM and either up to 1TB NVMe PCIe SSD or 2TB HDD. Though the laptop indicates a gaming device, Lenovo also positions it as a perfect mate for online entrepreneurs and business owners.
2. Legion 5Pi – starts at Php67,995
The do-it-all Legion 5Pi gets a discount that sees its starting price go from Php71,995 to Php67,995. The 15″ relatively thin and light laptop creators' laptop features 1080p IPS with up to 144Hz refresh rate and 500 nits of brightness, alongside an accurate panel covering 100% sRGB color. 
READ: 4 Things Why Lenovo Yoga Slim 7 is the Perfect On-the-go Laptop – A Review
3. Legion 7i – starts at Php99,995
Legion 7i still starts at Php99,995, but it's one of the few laptops out there that can transform into a home studio setup for making music. Sure, it has all the gaming chops to deliver a good gaming experience on a thin and light chassis, but the Dolby Atmos speaker system provides cinema-like sound quality and other tools to get that perfect pitch and sound.
4. Legion 5/5i – starts at Php52,995
One of the most popular gaming laptops of 2020 is down from Php56,995 to Php52,995. You have the option to go either for the AMD variant with Ryzen 4000 CPU or Intel with a 10th-gen Intel Core CPU. Regardless, both are capable of handling CPU-intensive tasks like coding. 
5. IdeaCentre Gaming 5i – starts at Php49,995
If you're looking for a powerful desktop that can do almost anything, the IdeaCentre Gaming 5i is down to Php49,995. You can configure the desktop with up to the 10th-gen Intel Core i7 CPU and up to Nvidia GTX 1660 Super. Since it's a desktop, you can pair it with a Lenovo monitor that goes up to 27″ (sold separately).
6. Legion Tower 5i – starts at Php69,995
The best desktop PC for 3D designing is now down from Php72,995 to Php69,995. With the Legion Tower 5i, it features Legion Coldfront 2.0 Cooling System to keep intensive 3D rendering as smoothly as possible. You can literally do all with it, thanks to the presence of up to 10th-Gen Intel Core i9 CPU and up to Nvidia RTX 2060.
Further extending these Lenovo machines is the company's Lenovo's 3-Year Premium Care warranty solution that comes bundled with the devices upon purchase. 
The service includes comprehensive technical support for any hardware and software concerns, a 24×7 direct hotline to Lenovo experts, and On-site Repair. It also includes an annual PC Health Check to maintain the computer's health. 
All these features and services in Legion's newest devices position Lenovo as an integrated solutions provider capable of helping customers address their most critical needs and prepare for the challenges ahead.
Also, buyers purchasing a Legion device from now up to January 31, 2021, will earn corresponding Empire points under the extended Empire Christmas Sale. All of the Legion devices discussed above are part of the sale, and participants buying them can get exclusive items such as a gaming keyboard, mouse, and chair upon redemption of points. To learn more about the mechanics of the promo and to redeem points, visit legion.fan/EmpireSalePH. The Empire is the exclusive gaming community of Lenovo Legion.
READ: Lenovo AMD-Powered ThinkPad T14, E14 & X14 Debut, Starting at Php43,399