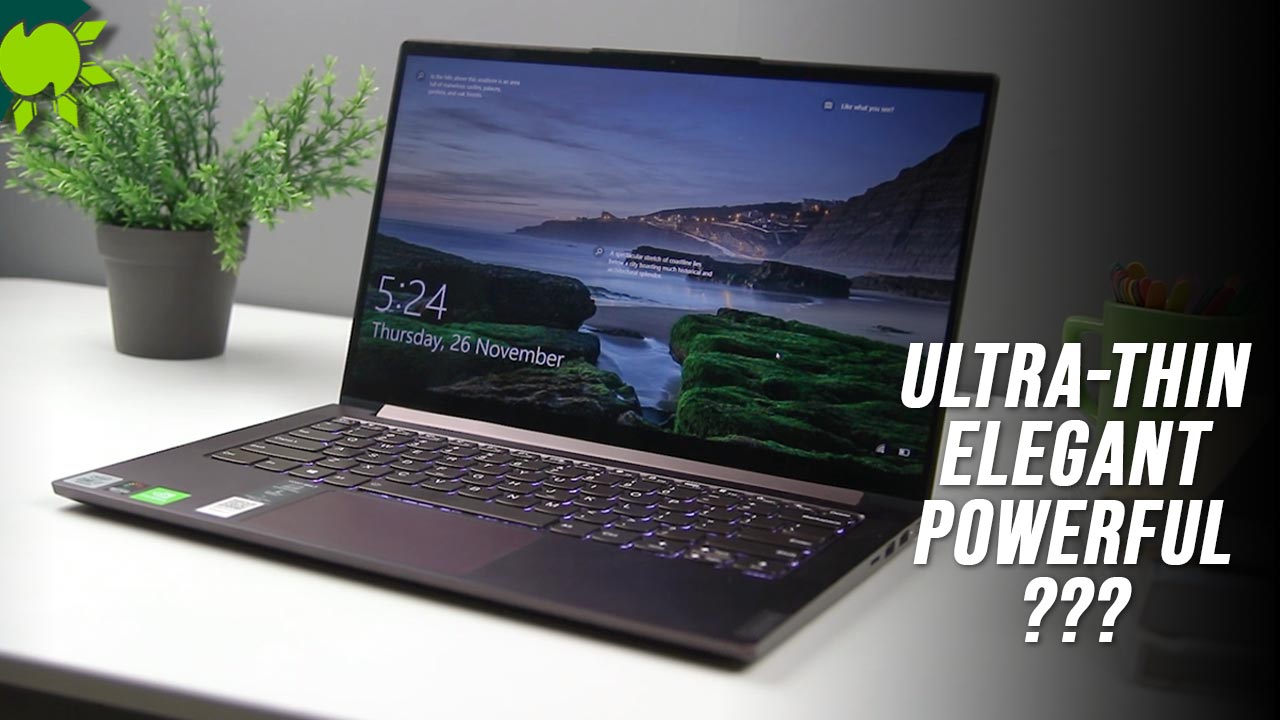 If you are looking for a new laptop to buy what specs do you consider the most reliable to have inside that device? Full-sized laptop for gaming but heavy, Lightweight Laptop but with just an acceptable performance, or a Compact laptop–light yet powerful enough? We know that laptop devices can be compact, slim, and powerful and since it is a compact and ready-to-use device, we need a perfect specs so we don't have to open the chassis for technical upgrades and just use it as is.
There's so many laptop brands and models out there that has eye-catching and has powerful specs. And looking for a perfect laptop is sometimes hard for you since you need to get what you pay for to get that satisfaction. The Lenovo Yoga Slim 7 is one of the all-in-one laptop for that. But How? Well, by looking for a laptop there are many things to consider, from power, design, cooling, and mobility. But why the Lenovo Yoga Slim 7?
I have so many questions and we are still not on the point so here's the 4 things that Lenovo Yoga Slim 7 can offer.
READ: List of Phones Powered by Snapdragon 888 in 2021
Sylish Design and Sturdy Build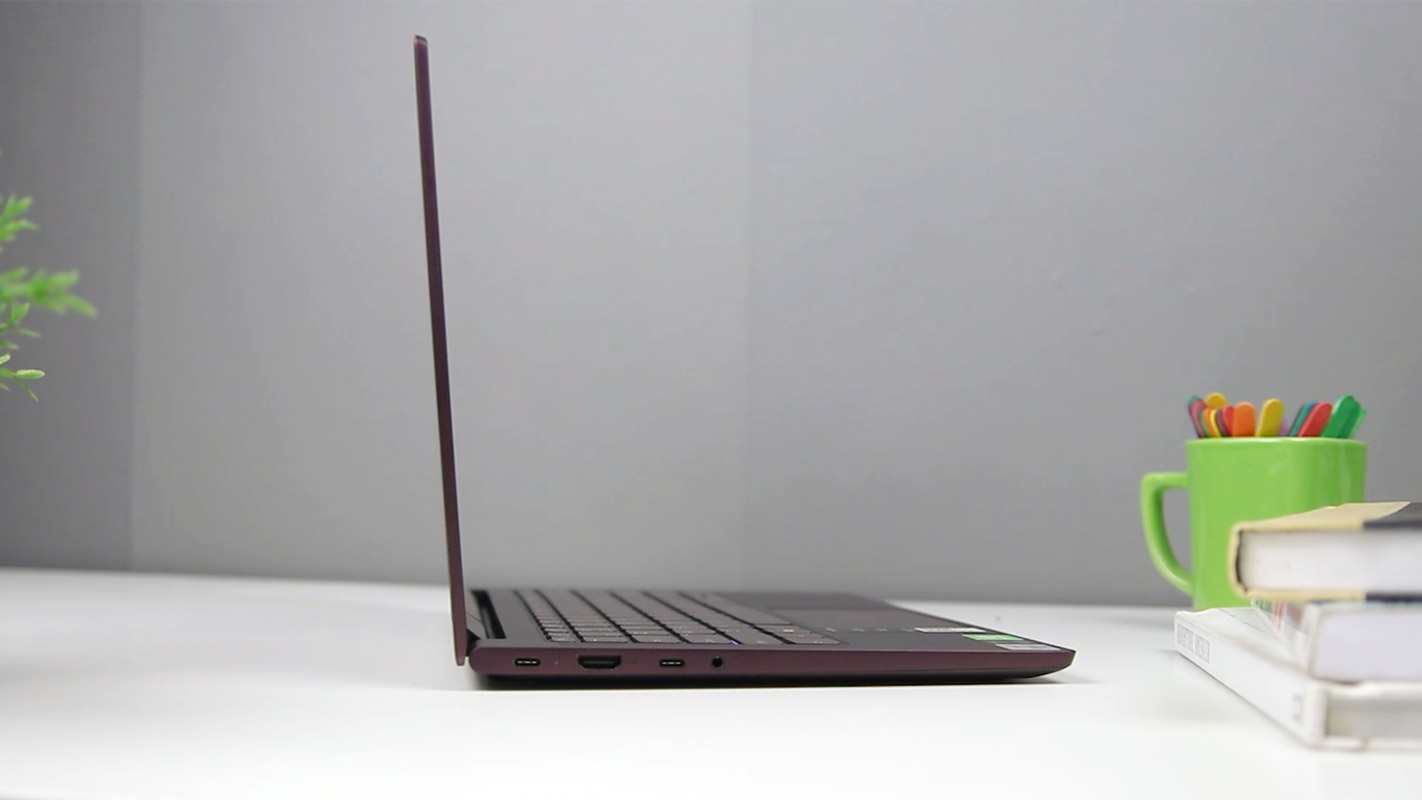 If you find yourself in a coffee shop carrying your laptop it may be a hassle if you have a big hefty and heavy device in your backpack that you can't even lift with one hand. The Yoga Slim 7 from Lenovo gives you comfortability. It's 14.9mm thin and the 14″ LCD panel with razor-thin bezels, have almost no 2nd dimension at all when looking sideways. It weighs 1.43kg and easy to carry even with one hand. It also has a magnetic feel when closing and opening the LCD lid, and it can be lifted with just one finger but sometimes the whole laptop goes along with it when pulled up the wrong way.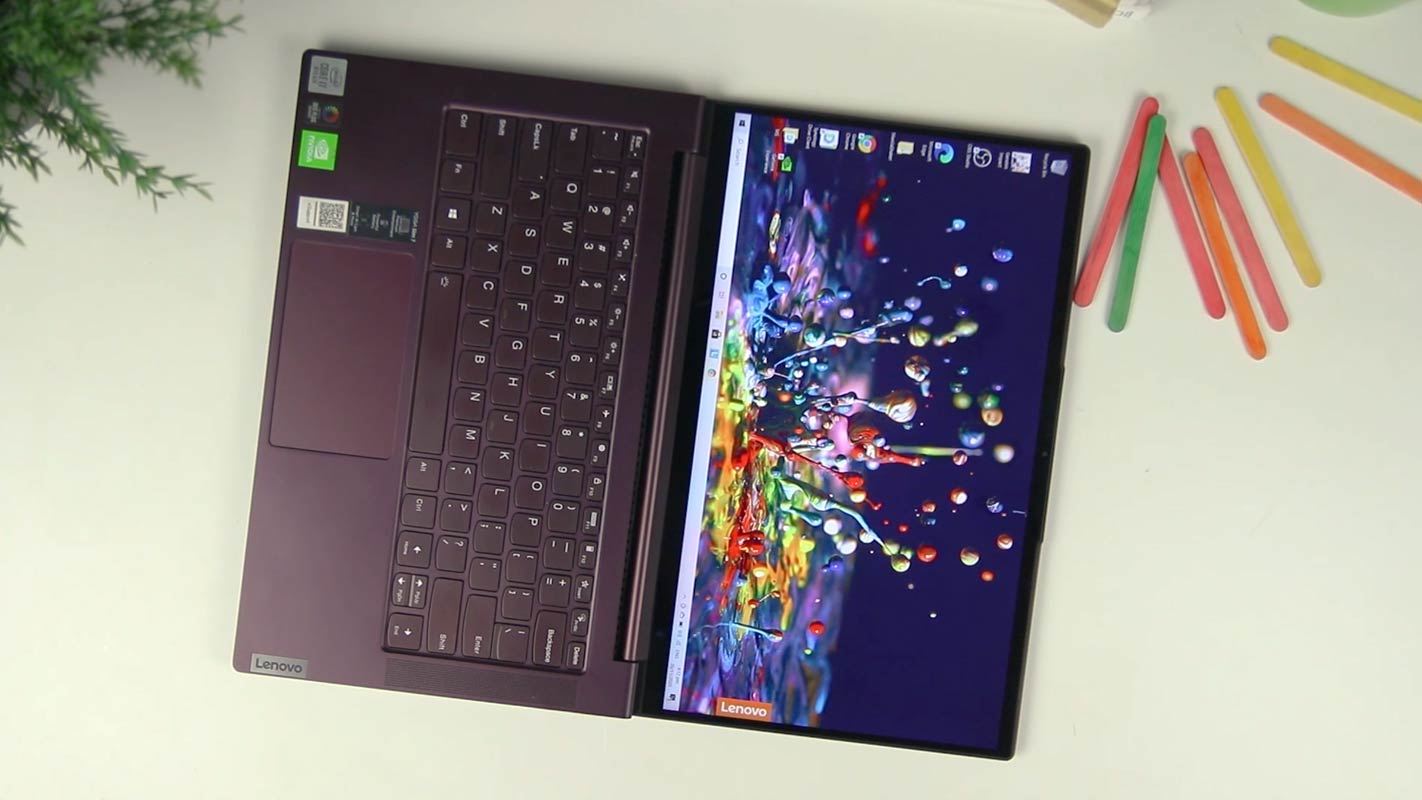 The hinge however, is pretty durable and solid and it offers the LCD to be able to lay flat in the table as it can be rotated up to 180 degrees.
READ: Lenovo Emerged as the Top Brand in the Philippines During Q3 2020
This slideshow requires JavaScript.
While offering a slim build the design is pretty elegant, the surface and texture are enough to say it is premium quality. It has a matte finish in its aluminum chassis with Lenovo and Yoga minimal design branding on the top lid. It gives a stylish design that you will also feel comfortable and relax. The keys are comfortably good and offers stress-free typing and it also comes with two backlit levels to aid your typing in low light. This can be turned on when you press the fn+space bar key. The trackpad is responsive and smooth and it is a bit on the right side but it is perfectly placed as well.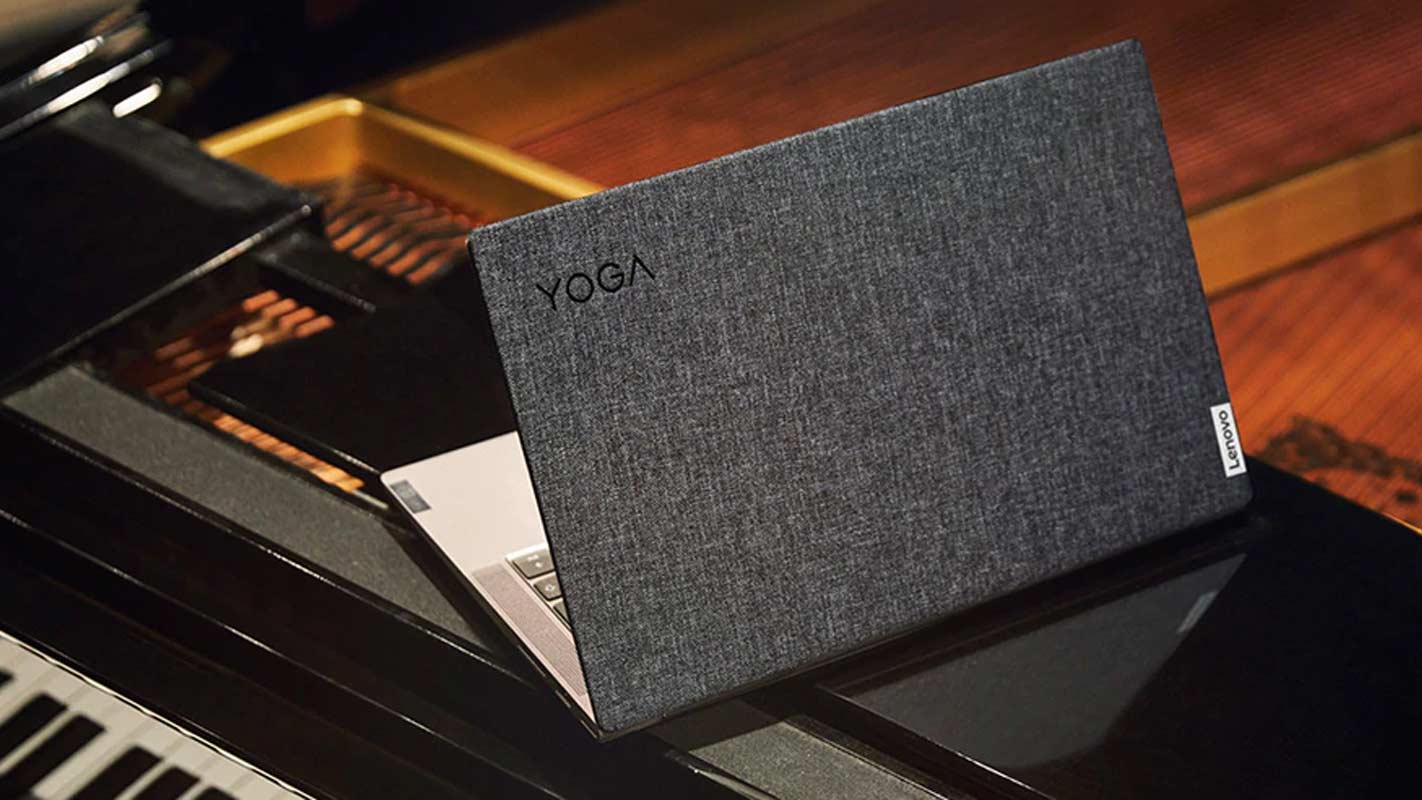 The Ultra-sleek Lenovo Yoga Slim 7 laptop is available in 3 color, Slate Grey, Orchid, and Dark Moss but there's an additional Slate Grey fabric–an optional fabric cover with class that is fire-resistant and stain-repellent. So even you are on the go or just sitting in a coffee shop and sipping your favorite coffee, you will find and glance on its pretty slim and stylish but sturdy looks.
Author's Note: The Orchid color variant we have doesn't come with fingerprint scanner while other color variant has it.
Non-Stop Productivity Anywhere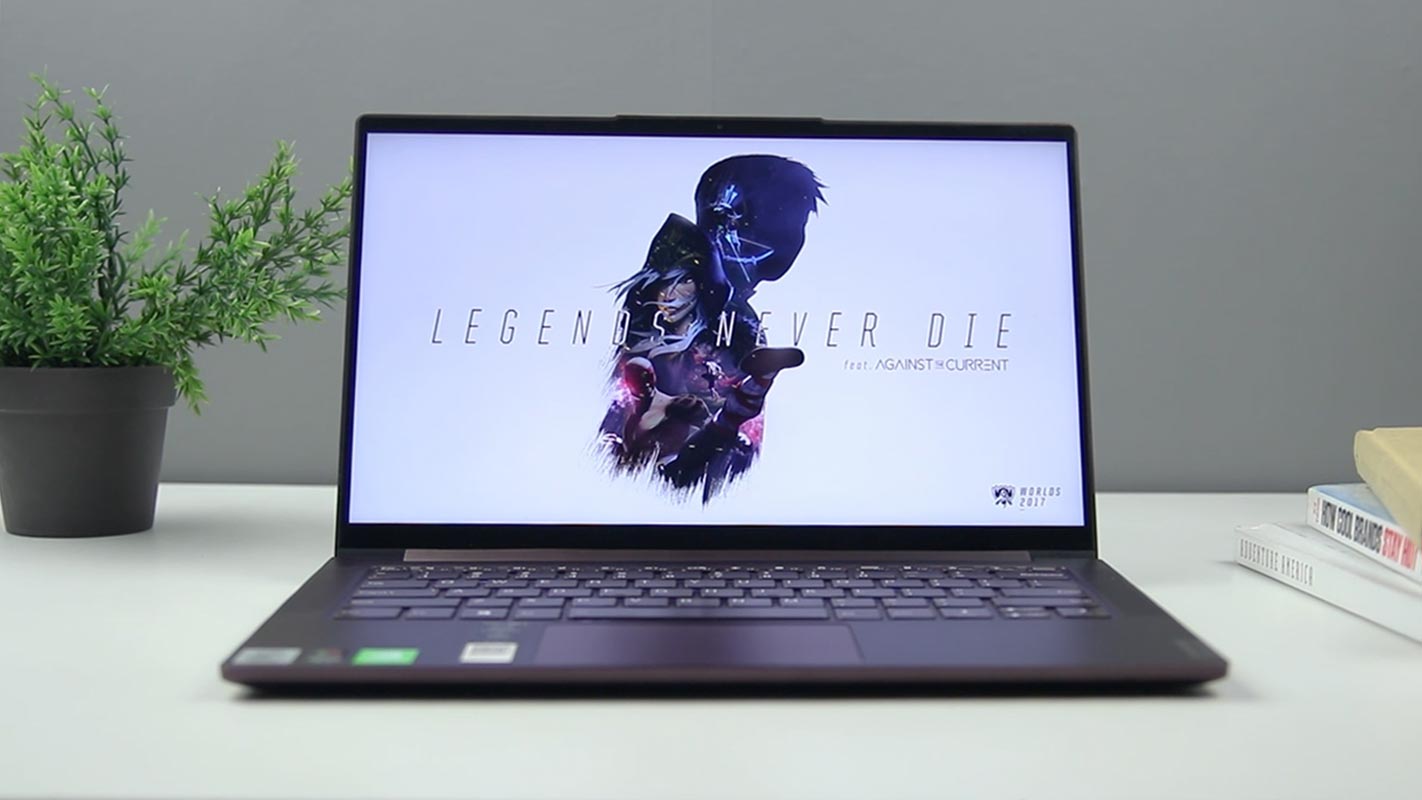 You may be thinking it is just a netbook because of its compact and small build but the power is extraordinary. But I have a question to you, what's the two most important things in Productivity? Its Performance and Connectivity. In order to produce contents we assure that we have a strong connection and a powerful device because it is pretty frustating if our device lack of it. It is something that make our mood change or less productive. The Yoga Slim 7 can give better connection while providing a non stop action.
READ: Lenovo Legion Holiday Gift Guide 2020 – All About Gaming!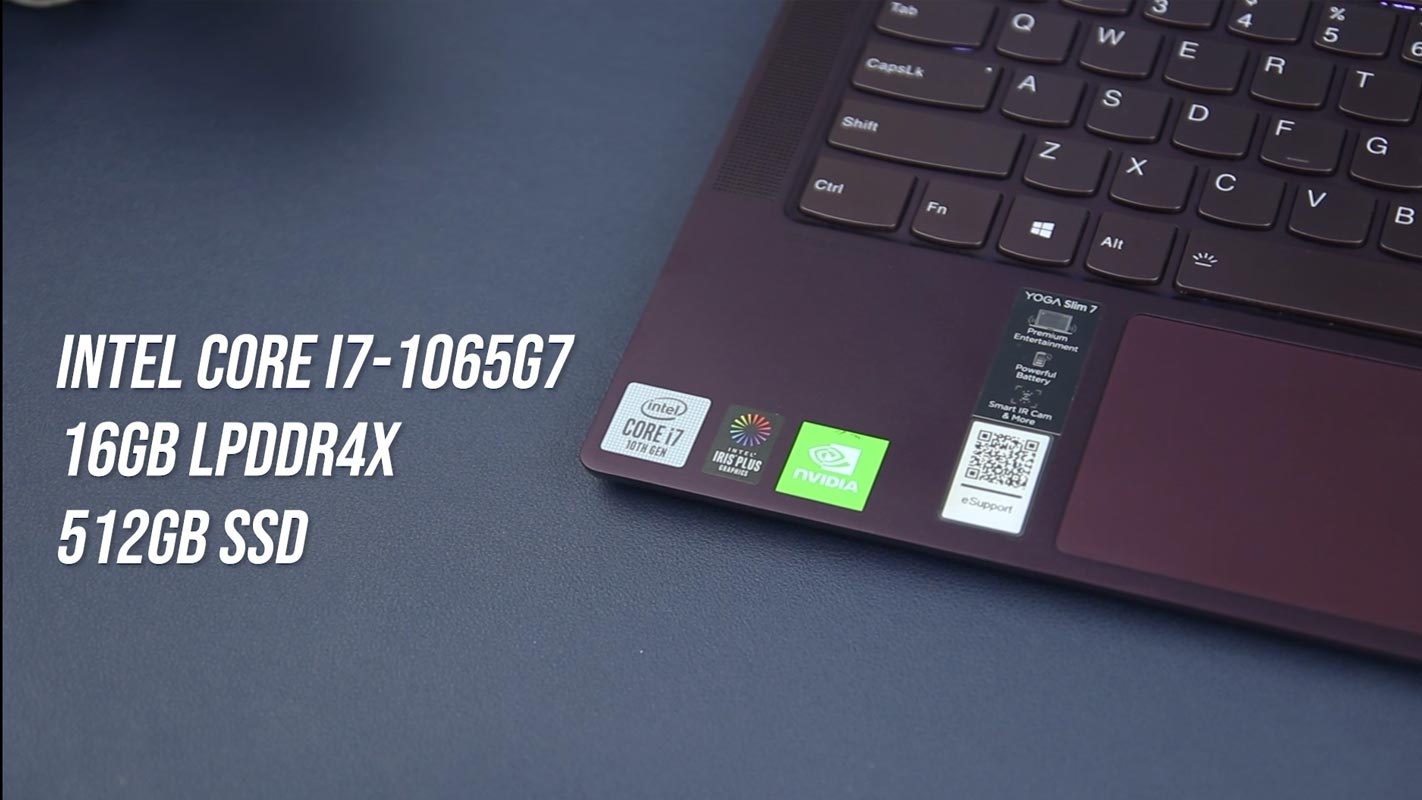 In our real world experience where our GPU busted I can't help but complain about the lack of performance and render times of our System Unit as it process only using the CPU. Our Editing Unit if you don't know have 6 Graphics Core means that it is an APU. However, we still found it frustrating so we decided to use our review unit temporarily. The Lenovo Yoga Slim 7 14IIL05 has NVIDIA GeForce MX350 2GB DDR5 and Intel® Iris® Plus graphics Graphics Processors paired with the 10th generation Intel® Core™ i7 (Ice-lake 10nm) processor–Intel Core i7-1065G7. The Intel Graphics can edit videos up to 4K Resolution and NVIDIA GPU is for rendering.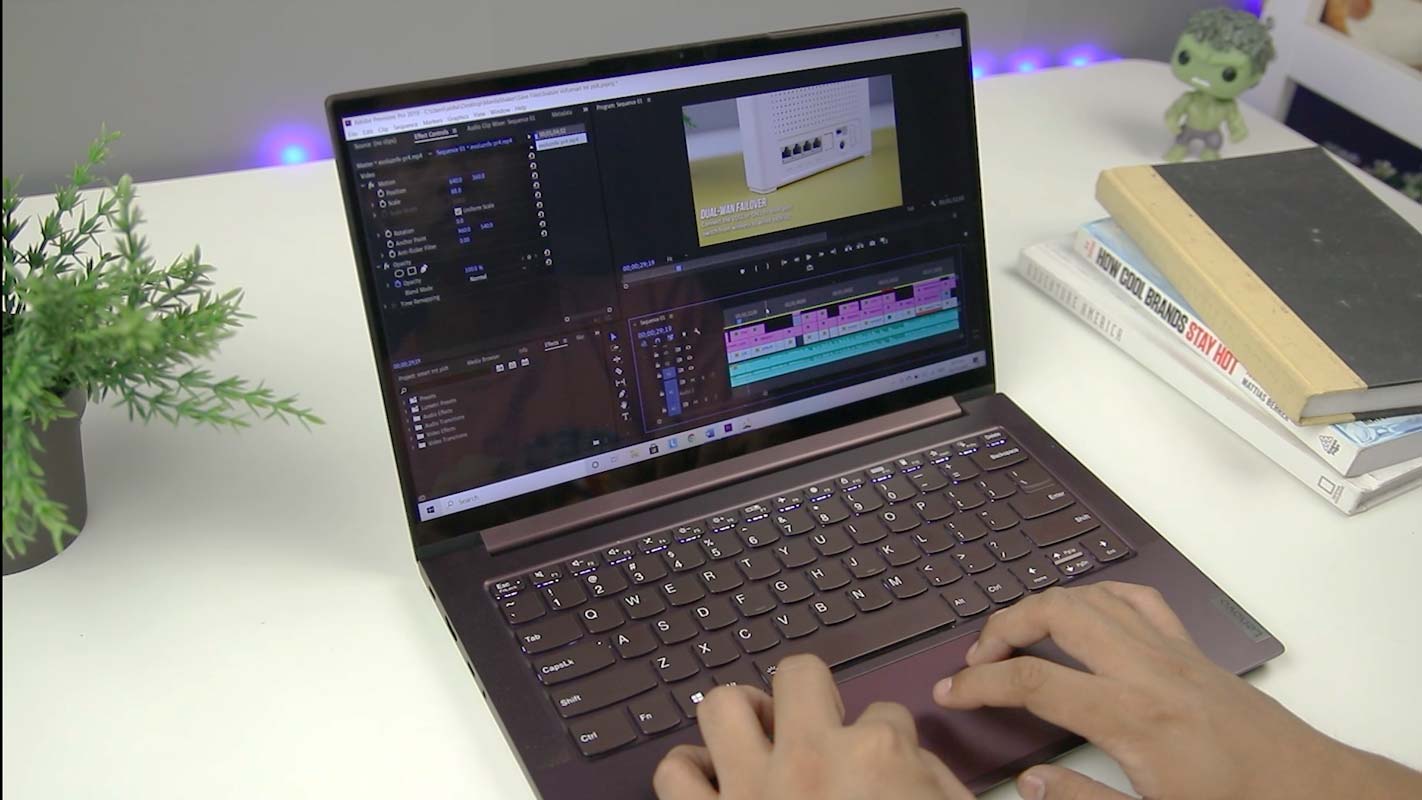 Based on our experience we are satisfied on editing on this laptop. It has the power and capability to edit a 1080P clips with animated overlays and some color grading. The best thing is, it doesn't introduce stutter if we scrub on the timeline while we set the playback to full resolution. That's satisfying and really get me in the mood to edit clips.
About our render time, in a 10-minute video output we only have 8mins of render time thanks also to the 512GB SSD for fast read/write, all media cache and scratch disk improve because of the fast SSD and it makes the render time much faster. While I am rendering the clip, I can still use the laptop to make a Youtube Thumbnail in Photoshop and compose a description on our video, thanks to its 16GB ram, multitasking is much easier with no delays and stutter.
Talking about connectivity, It offers an ultra-fast WiFi 6 connectivity which has 75% lower latency than the previous Wi-Fi generation. That Wi-Fi 6 really is an improved generation, we felt the speed and as I said we used the Yoga Slim 7 to produce some content. Upload speed is fast and reliable.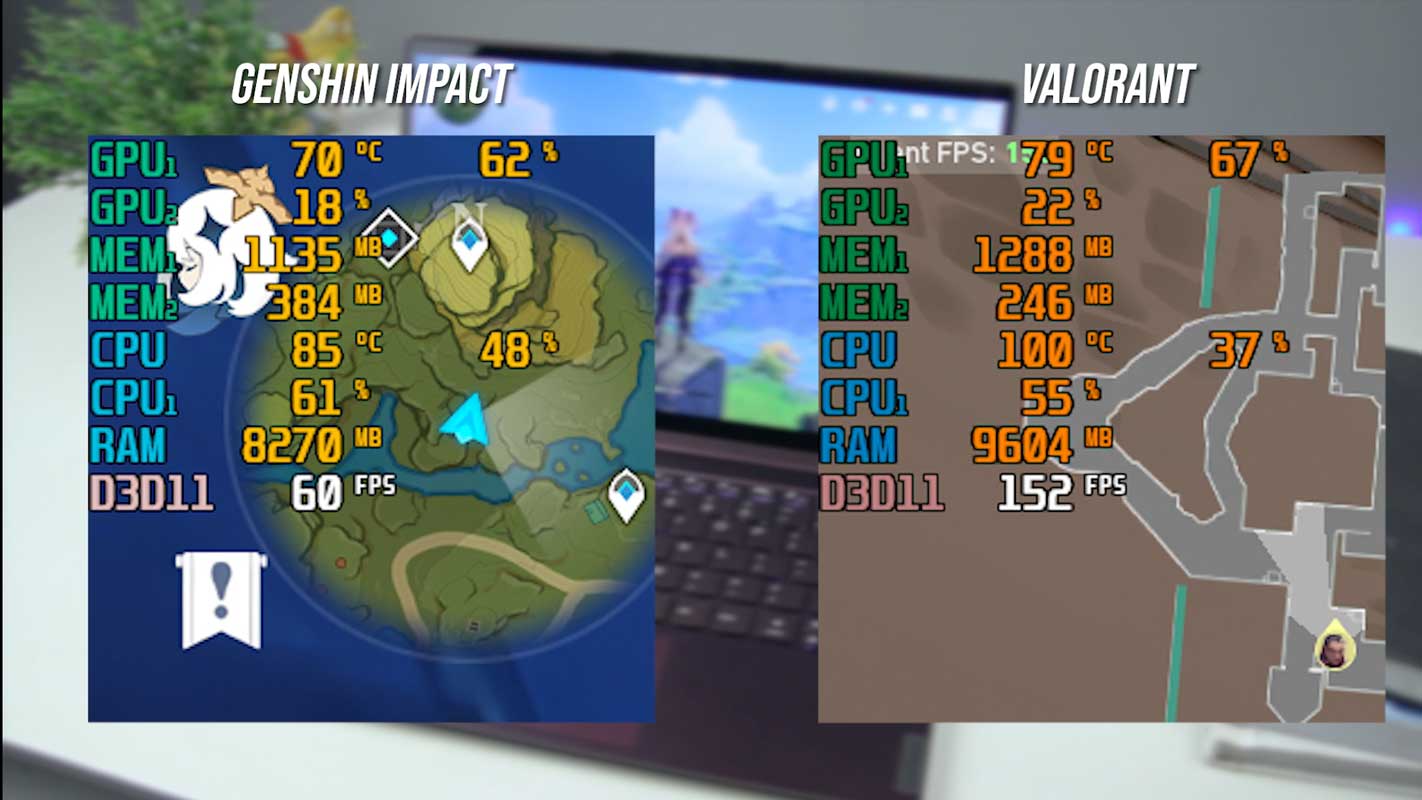 We also tested it in Gaming, I installed Valorant and Genshin Impact. Ping is lower and we didn't experience any disconnection or delays in our gaming experience. Frames per second is pretty great and decent at 1080p gaming with medium on Genshin Impact and max settings in Valorant.
READ: Genshin Impact: Top 10 Tips and Tricks
Lastly, thanks to the 60 watt-per-hour battery it will let you stay connected and will give you almost non stop use. We recorded 10hrs of using the laptop before it completely shutdown. It is enough for a day of productivity. "Non-stop" don't stop there yet, the Lenovo Yoga Slim 7 features a 65W Rapid Charge Pro Technology. It can be fully charged in just 1hr and 10mins, as we tested, and it is a great charging time considering it has a large battery capacity.
Overall the Lenovo Yoga Slim 7 is available in either AMD cpu or Intel cpu, the Intel cpu can have an additional GeForce MX350 that provides additional graphics acceleration for popular AAA games and faster render time.
Intelligent and Secure Companion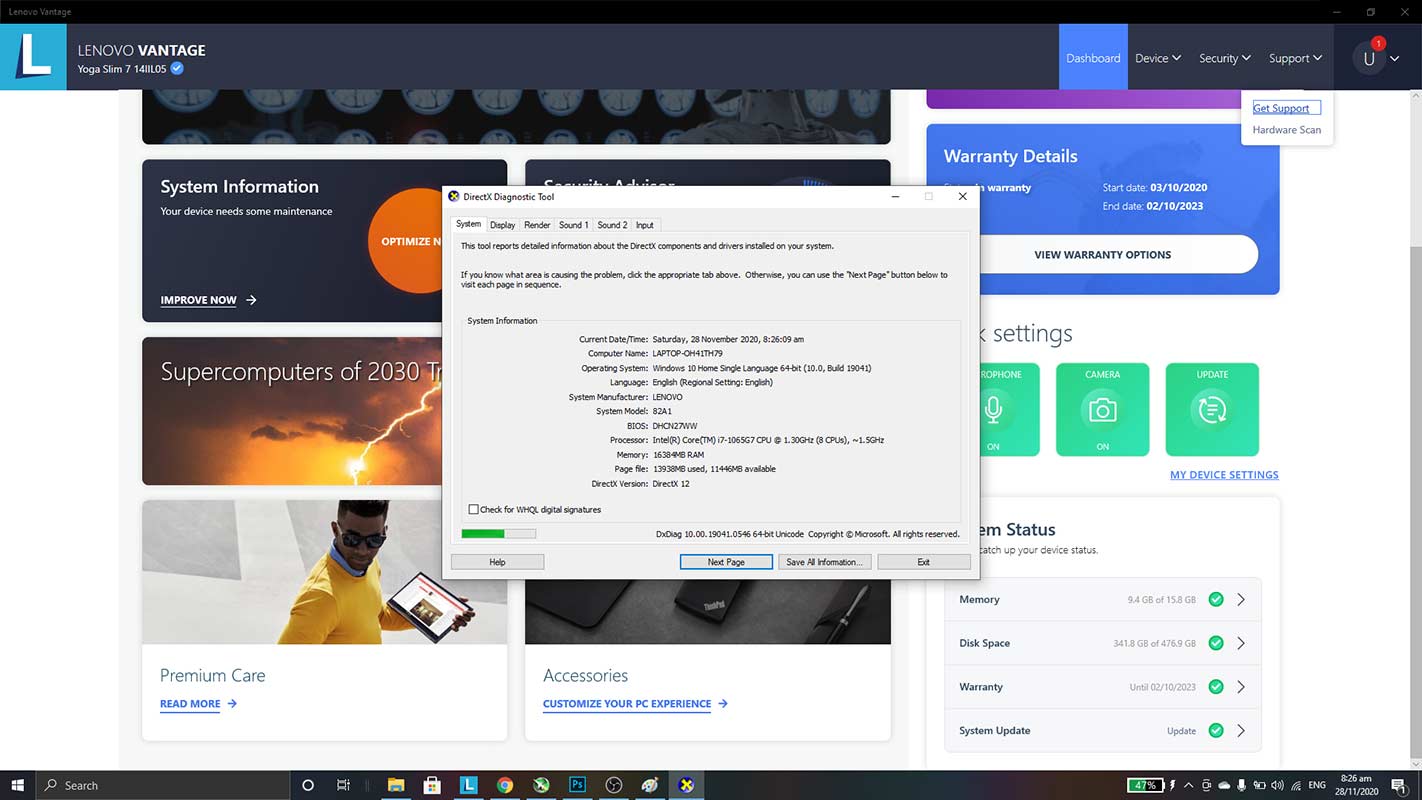 With the help of the Windows 10 Home features that is powering the Lenovo Yoga Slim 7, You can speak to Alexa or Cortana while on the lock screen to complete simple task and even in sleep mode and it gives a really hands-free navigation.
This slideshow requires JavaScript.
Then there's the Exclusive Lenovo Q-Control Intelligent Cooling feature than can be seen on the Lenovo Vantage app. It uses AI to optimize battery life. Basically a power-saving to performance companion that will help the system process with ease. You can easily tell the device's feature is working because you will hear the fans spinning faster and this happens every time I rendered our video output or putting some heavy effects in our clip after some video editing work. Still the performance compensates and the loudness of the fans is just fine and not that so loud. Not to mention it has an intake on the lower lid besides the hinge for greater airflow.
READ: Thought the Airpods Max Was Expensive? This Airpods Pro Case Costs P50K
This slideshow requires JavaScript.
Speaking of AI, it has the most reliable features in security thanks to the IR camera equipped besides the 720p webcam of the Lenovo Yoga Slim 7. By using the Windows Hello feature, it will automatically unlock the device when it recognizes your face and it is fast and secured. It also has a Glance by Mirametrix which recognizes the face of the user if it is looking away, it will automatically blur on-screen content for added security. Privacy Guard–when someone looks in the display both side apart from the user, the display will be hidden. To make it simple it is like the privacy screen protector that was used by many but this time it is built-in and can be turned on and off which is a pretty underrated technology but very useful.
Lastly it has an Eye care mode, certified by TÜV Rheinland, reduces blue light emission, reducing the negative effect of high-energy visible light. However, what really annoys me is when I color grade our videos outdoors, or with a powerful light in the studio, the colors can be blownout and it will be helpless to color grade the clips unless you shelter in cloudy environment. The feature can be turn off though using the Lenovo Vantage app.
ALSO READ: POCO X3 NFC Review – Why it is not the perfect phone for you?
Immersive Audio and Visuals
The 14-inch Full HD IPS display with 100% sRGB color space is crisp and vivid it can also have a 4K VESA400® HDR IPS display with 90% of DCI-P3 color space. The 1080P resolution display is great and sharp the only problem for me is the reflection although it is not that so reflective but when hit by a hard light like the sun it sometimes disctracting. Lenovo Yoga Slim 7 also features Super Resolution that auto-upscales video to Full HD 1080p on Windows Media Player for better viewing and crispier display.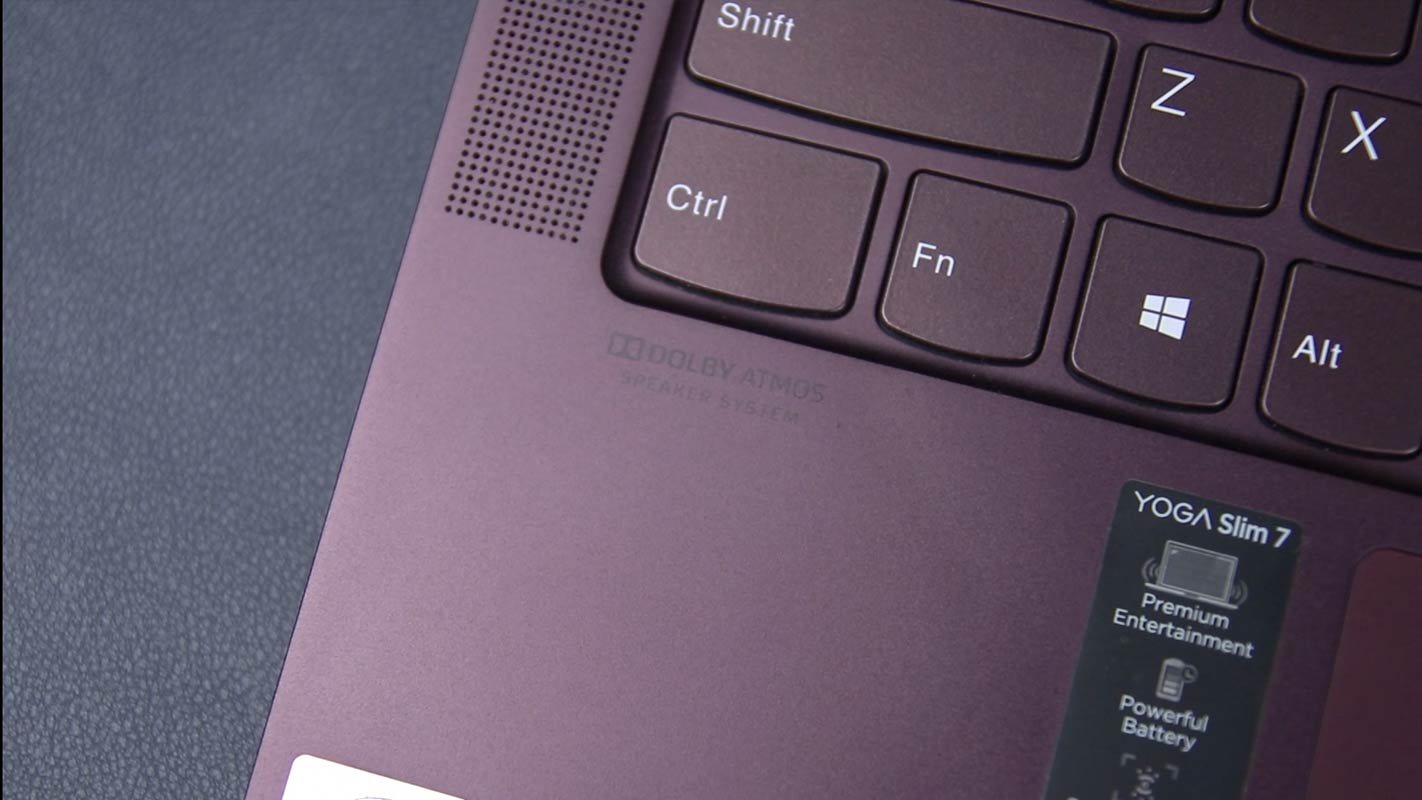 The Yoga Slim 7 speaker is built with front-facing 4.0W Dolby Atmos® Speaker System. It has surround and height virtualizer technologies to create three-dimensional audio. It has a crisp and loud sound the bass is there, the sound quality is pretty impressive but not the highest quality I heard so far.
Verdict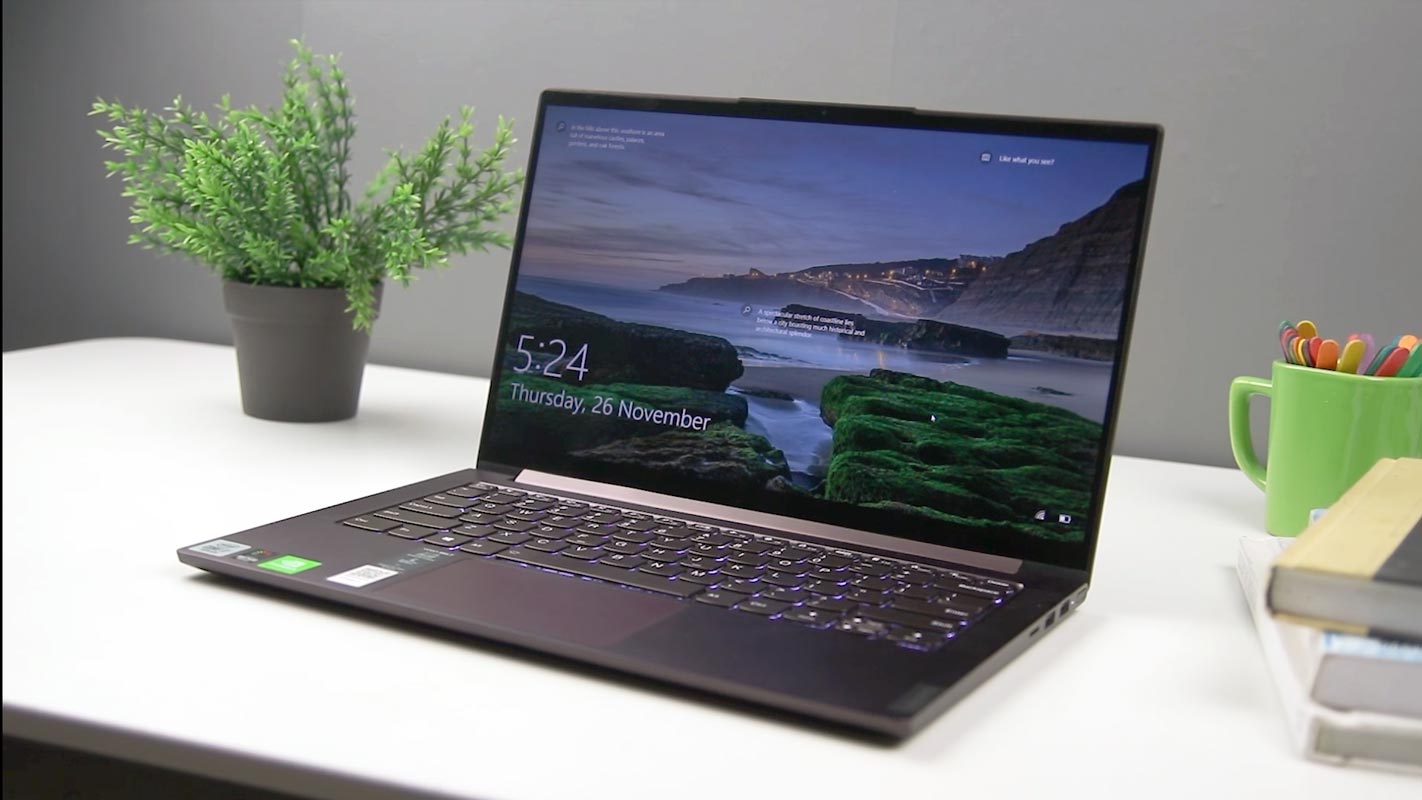 These are the great points for getting a powerful yet compact laptop. Lenovo Yoga Slim 7 has it. There's still downside since there are no perfect device but if you are talking about productivity laptops, Yoga Slim 7 should be on your vocabulary. It has the power to edit up to 4K clips. It has the capability of a gaming PC and it offers a slim and elegant design that is perfect for your travels. An all-rounder companion suitable for on-the-go person.
READ: POCO M3 Review – A Slower (But Better) Redmi 9
Price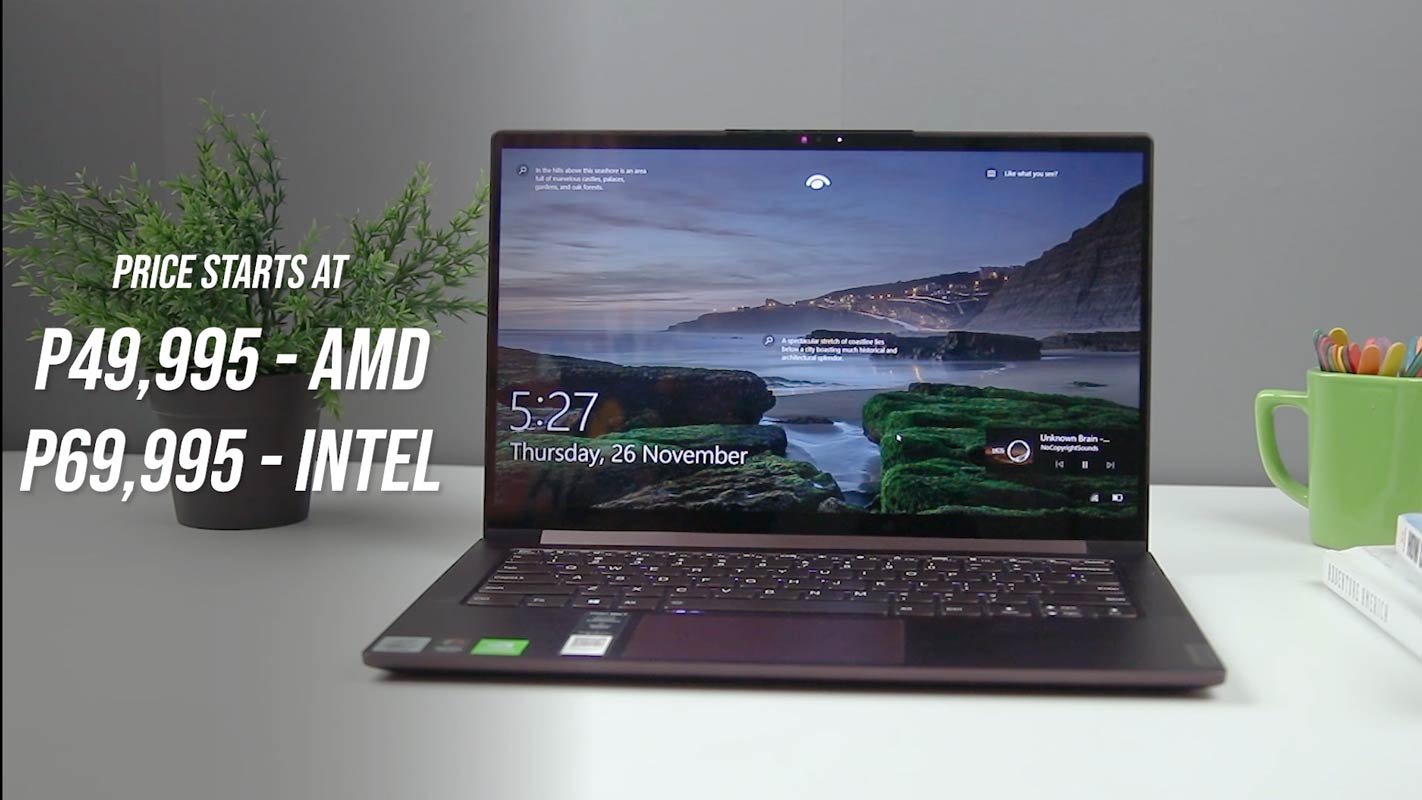 The Lenovo 14-inch Yoga Slim 7 (14IIL05) with Intel Core-i7 10th Gen and Nvidia Geforce MX350 costs P69,995 (Slate Grey, Orchid, Dark Moss) while the Limited Edition Fabric Cover is priced P72,995. There's also the 15-inch Yoga Slim 7 with the same specs and this costs P74,995. Configurable with either 10th Generation Intel® Core™ i7 quad-core U-processor or hexa-core H-processor and up to NVIDIA® GTX 1650 Max-Q processor for remarkable graphics performance in a thin-and-light design.
If you want the AMD Ryzen 5 to Ryzen 7 versions it has a starting price of P49,995 up to P69,995.
Specification
Up to 10

th

Gen Intel® Core™ i7-1065G7 Mobile Processor

Up to Windows 10 Pro

Intel® Iris® Plus graphics or NVIDIA® GeForce® MX350 with 2GB GDDR5 memory

Up to 16 GB LPDDR4X 3200

Up to 1 TB PCIe SSD

14″ UHD (3840 x 2160) IPS HDR 500 nits, DCI-P3 90%, or
14″ FHD (1920 x 1080) IPS, 300 nits, sRGB 100%, optional touchscreen

Weight: Metal – Starting at 1.43kg, Fabric – Starting at 1.55kg

Dimension: Metal (mm) – 320.6 x 208 x 14.9, Fabric (mm) – 321.6 x 208 x 15.4
2 x 2W Front-facing Dolby Atmos® Speaker System

IR Camera

WiFi 6 (2×2 802.11 ax)

Bluetooth® 5.0

Colors: Slate Grey, Orchid, Dark Moss, Slate Grey in Fabric
Ports
2 x USB-A 3.2 Gen 1

1 x Type-C(Thunderbolt3.0+USB 3.2

4

Gen 2+DisplayPort 1.4b+Power Delivery 3.0)

One Type-C (PD 3.0)

Audio Combo Jack

MicroSD Card Slot

One HDMI 2.0b Port
Preloaded Software
Lenovo Vantage

McAfee® LiveSafe™

Microsoft Office 2019

Glance by Mirametrix
NEXT TOPIC: NAS Synology DS920+ Review | Best Backup Solution for Creators Explained