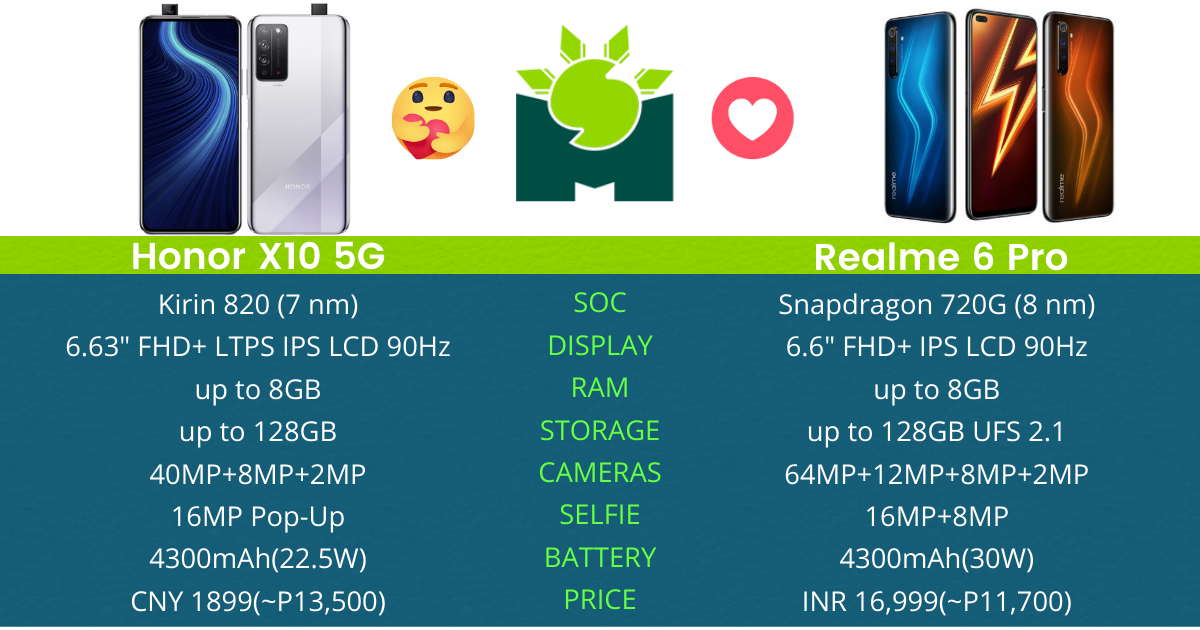 Ever since Realme 6 Pro was introduced, we already knew that it's going to be the mid-range phone to beat in 2020. With the strong presence of the company in the Philippines, it's only a matter of time until the phone arrives. However, there's a new competition in town and you're going to be surprised that it's not Xiaomi nor Redmi. It's Honor. Releasing the Honor X10 5G, it has every feature to challenge Realme 6 Pro. With that said, did Realme finally meet its challenger?
Honor X10 5G and Realme 6 Pro Similarities and Differences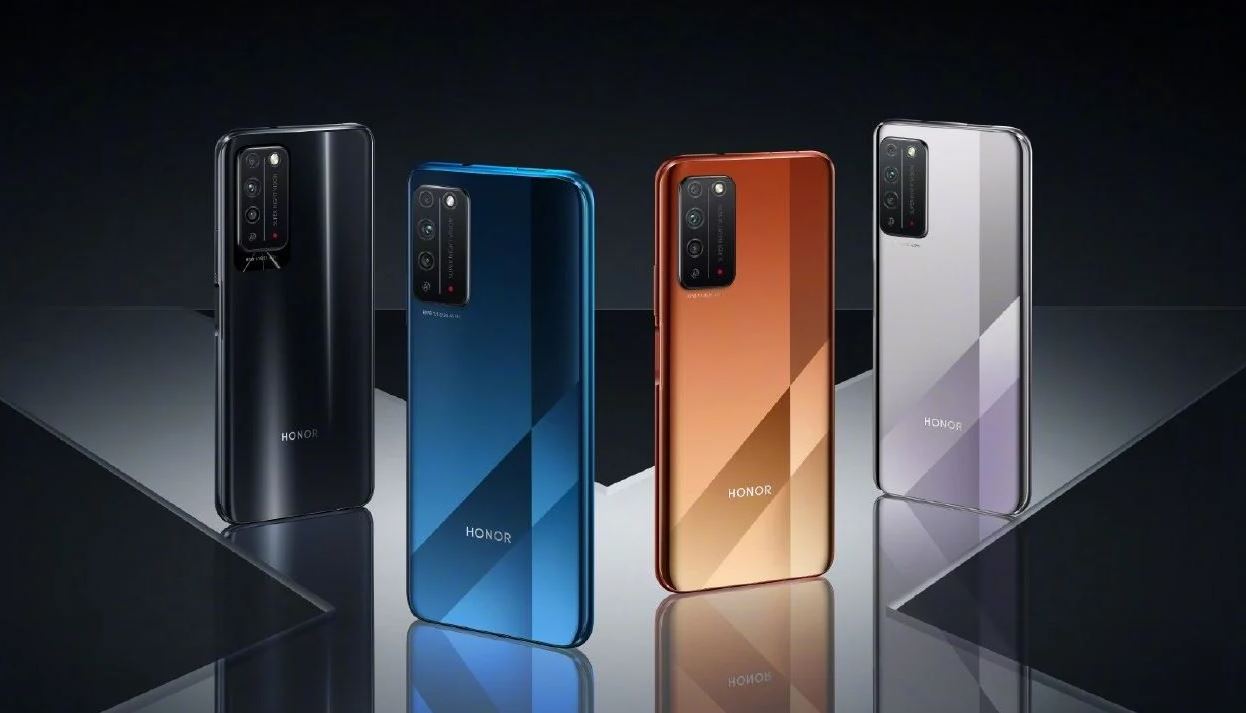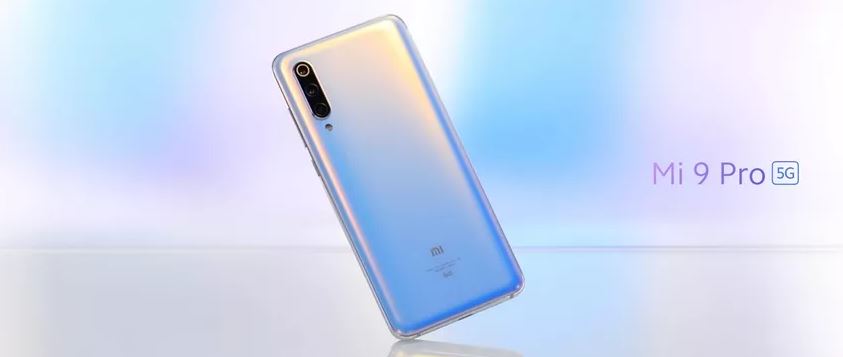 Which is the better buy between the Honor X10 5G and Realme 6 Pro?
Design and Display
There's no denying that both phones are lookers, however, you do have more color options if you do plan on getting the Honor X10. Supposed you want that gamer-y feel, the Realme 6 Pro is the way to go here. Neither is thicker nor heavier than the other, so that may be a good thing or a bad thing to you. There's not a lot to compare in the design department, strictly speaking, but if there's one interesting bit to look at, it's their displays.
Honor X10 has a fullscreen display rid of notch or hole punch. That's because it's using the old-fashioned pop-up selfie camera. It's weird to call it old-fashioned when the design is just a year old, but technology advances fast so there's that. As for Realme 6 Pro, there's a dual selfie camera setup but the pill-shaped cutout obstructs a significant amount of viewing content. Neither are as robust as the Redmi Note 9s' HDR-capable IPS LCD but both are sporting 90Hz fast refresh rate for that buttery-smooth experience. And while Realme 6 Pro is using Gorilla Glass 5 for the front, Honor X10 went for Aluminosilicate glass. Scientifically speaking, both are from the same family of alkali element but we're assuming that both also have the same level of durability.
While Realme 6 Pro is a total eye-candy, we also have to give props to Honor X10 with its fullscreen display. Even with the subdued design pattern, the added benefit of fullscreen and wow factor of a pop-up camera generate more interest  — making it the winner in both design and display.
READ: iPhone SE 2020 vs Redmi K30 Pro – Which Is the Better Flagship Killer?

Performance
Kirin 820 5G vs Snapdragon 720G — for the first time, we're comparing mid-range devices with generational differences in chipsets. For the nerds out there, we all know that Kirin 820 is more superior in terms of performance, regardless if it's CPU or GPU intensive. Based on Antutu benchmarks, Kirin 820 can outscore the 720G by at least 30%! This puts the Honor X10 under the premium mid-range segment. But since we're dealing with a Huawei phone, the caveat of having a faster chipset is the lack of Google services (at least in this comparison). Honor X10 comes with HMS out of the box with AppGallery as the application library, whereas Realme 6 Pro is complete with Google support. On top of that, Realme UI is gaining popularity amongst Android users thanks to its minimal user interface.
Before we end the performance discussion, we do have to mention the built-in 5G modem on Honor X10. This may not be relevant in 2020 since 5G towers are nowhere near accessible in the country. But then again, you're already paying for futureproofing. Who knows, next year, some cities might be supported already. By that time, you don't need to spend on a new phone.
Spec-wise, Honor 10X can easily win this one. The only thing that's holding us back in declaring it the winner is not the absence of Google but the shortcomings of AppGallery.
Cameras
From the lenses alone, Realme 6 Pro has the upper hand already. In addition to ultrawide, it even has telephoto and macro lenses. On top of all that, the 64MP Samsung GW1 sensor can capture incredibly-detailed photos. But if you don't mind foregoing the macro and telephoto lenses, Honor X10 might be able to deliver better photo and video quality, thanks to the 40MP RYYB sensor.
The main camera on Honor X10 is the same sensor found on the Mate Xs and Honor V30 Pro. Those are flagship-grade phones and while we're pretty sure that you won't get the same photo quality, we do believe that it's closer to flagship than mid-range. Aside from the hardware, the software is also assisted by a dedicated NPU and a better ISP. In a nutshell, AI-based processes are off-loaded to NPU for faster execution and Kirin ISP 5.0 supports better post-process enhancements, such as sharpening, noise reduction, and even color matching. Last but not least is the fact that the 40MP sensor is RYYB and not RGB. This means that you can expect the brightest low-light photos (and videos) from a mid-range device.
Moving over to the selfie cameras, Realme 6 Pro, again, has the advantage — sporting an extra ultrawide sensor in addition to the 16MP main selfie.
Deciding which has the better cameras are tough, especially when it's all about the spec sheet. But until we see the actual results of Honor X10's cameras, we're taking the Realme 6 Pro and its versatility.
READ: Realme X50m 5G vs Redmi K30 5G Specs Comparison – Round 2!

Audio
For mid-range phones, we're still lucky enough to see headphone jacks here. Realme 6 Pro, at least in terms of spec, can play 24-bit hi-res audio files for better music experience. As for their loudspeakers, we doubt that either offers stereo-sounding ones. With that said, we're giving this one to Realme.
Battery and Charging
Both are sporting 4300mAh batteries, but Realme 6 Pro can charge at a faster rate thanks to 30W VOOC charging. This gets you to a hundred percent in less than an hour. Honor has not shared how long the X10 fully charges but the 22.5W should be able to fill its tank around 90 minutes. That said, Realme takes this one again.
Verdict
Neither of the two is available in the Philippines but Realme 6 Pro is expected to launch on May 27 in the country. Although the direct conversion of Indian Rupees is low, adding local taxes and other fees will make the official price higher.
Honor X10 5G

6GB/64GB – CNY 1899(~P13,500)
6GB/128GB – CNY 2199(~P15,600)
8GB/128GB – CNY 2399(~P17,000)

Realme 6 Pro

6GB/64GB – INR 16,999(~P11,700)
6GB/128GB – INR 17,999(~P12,400)
8GB/128GB – INR 18,999(~P13,000)

In this rough price comparison, there's no doubt that Realme 6 Pro is still one of the most affordable phones with a 90Hz refresh rate, 64MP quad-cameras, and good chipset. While we don't expect Honor X10 to be the king of the mid-range segment, we anticipate that its key offerings can make some people switch from the Realme 6 Pro. But IF Honor X10 came with Google support, would you still consider it over the competition?
READ: Redmi Note 9 vs Realme 6i Specs Comparison – For the Budget Gamers