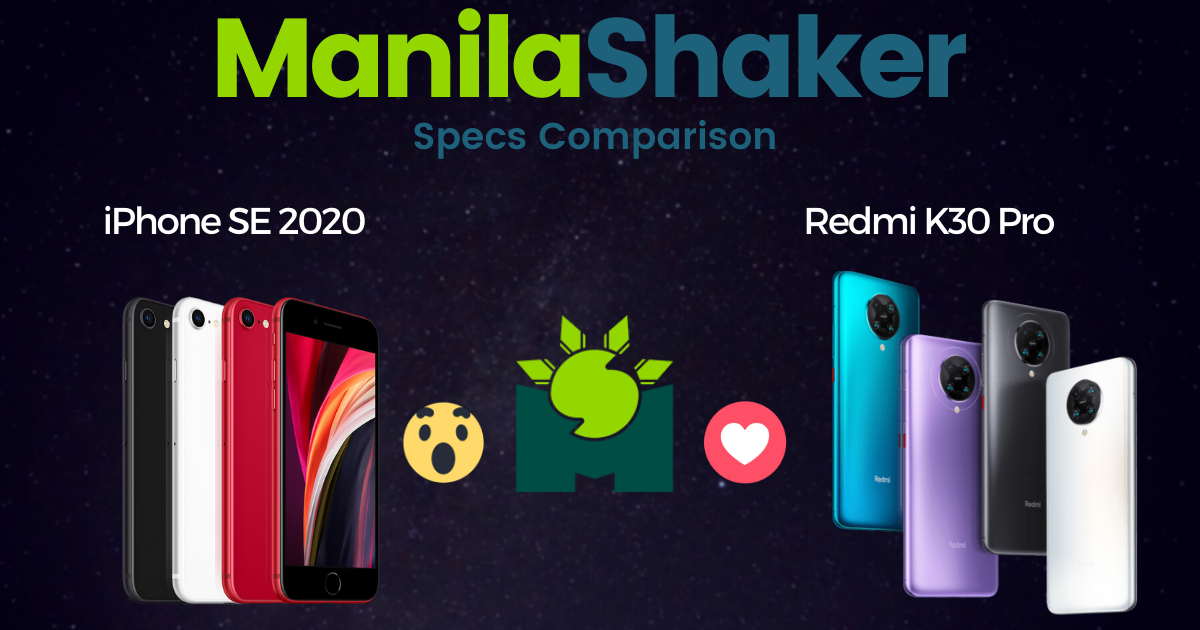 By offering a flagship-level performance at the lowest possible price, Apple has released its version of a flagship killer in the iPhone SE 2020. It took them five years but at least it's already here. But how does it stack up compared to, arguably, the best flagship killer in 2020 which is Xiaomi's Redmi K30 Pro?
iPhone SE 2020 and Redmi K30 Pro Similarities and Differences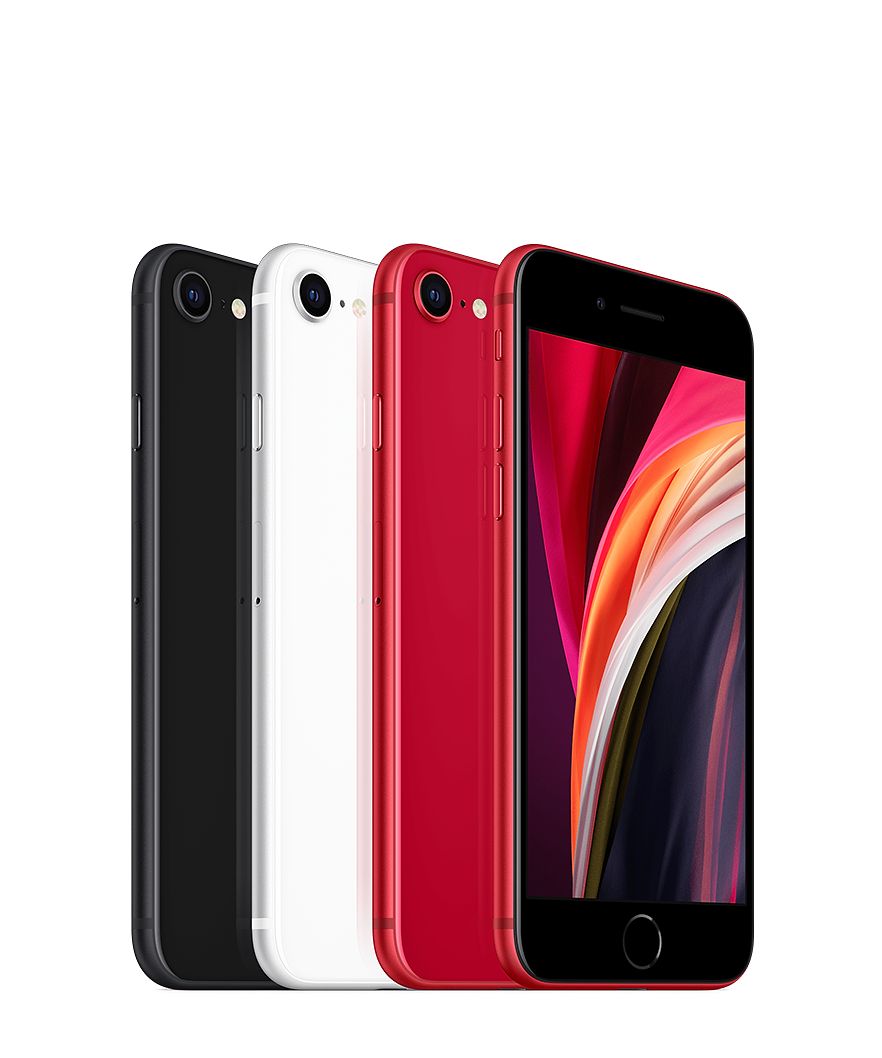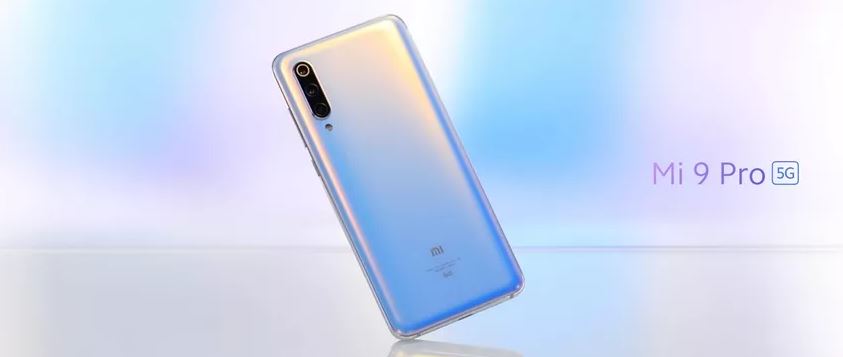 Advantages of iPhone SE 2020
Advantages of Redmi K30 Pro
Similarities

thinner, lighter, and smaller
IP67
guaranteed at least four years of major software update
Apple Pay
A13 Bionic
OIS (main camera)
EIS (Selfie)
stereo speakers
wireless charging

5G
Super AMOLED
bigger display
FHD+ resolution
up to 1200nits brightness
64MP quad-cameras
8K video recording
24-bit audio
audio jack
Infrared Port
aptx HD, aptX Adaptive codec
Bluetooth 5.1
in-display fingerprint scanner
4700mAH battery
33W PD, Quick Charge 4+

aluminum and Gorilla Glass 5 design
HDR10 playback support
single selfie camera
fast charging technology
Which is a better buy between the iPhone SE 2020 and Redmi K30 Pro?
Design and Display
Unlike our most comparisons, this one is like a battle between David and Goliath. The iPhone SE 2020 is a miniature phone (because that's just how it is today) clocking in at 4.2mm and 148g. It still has that aluminum frame, huge bezels, Touch ID, and glass backing that was released three years ago (we're looking at you iPhone 8). However, it's probably one of the cheapest devices with an IP67 rating, meaning, it can be submerged in freshwater up to 1m for 30 minutes. Compared to the Redmi K30 Pro, even with the lack of water and dust resistance, Apple's device sure looks like it's from ages ago. Xiaomi is reasonably thicker and heavier at 8.9mm and 218g. It also has the same material for the body but with a more updated design. Not to mention the pop-up selfie camera and rounded camera module. It'll depend on user preference whether or not you prioritize usability or size.
The story is pretty much the same when it comes to the displays. iPhone SE 2020 may be packing a 4.7″ HD panel but the lack of technical jargon doesn't mean it's a bad one already. Like the iPhone 11 series, it comes with True Tone, wide color gamut support, and 625 nits max brightness which is more than enough to playback HDR videos. In addition to that is Apple's incredible color calibration out of the box. But we wouldn't blame you if you prefer the 6.67″ display of Redmi K30 Pro. It features Super AMOLED, so colors are naturally punchy and blacks are oh-so deep. With a higher pixel density, thanks to FHD+ resolution, content looks sharper. While the average brightness is 800 nits, the peak level is claimed to reach up 1200nits thus getting HDR10+ support.
We love how iPhone SE 2020 makes it easier to navigate around the display as well as the accurate color reproduction especially when editing photos, however, Redmi K30 Pro offers nearly everything you want from a modern mobile display — longer aspect ratio, high-quality screen, and incredibly bright panel.
READ: Xiaomi Mi 10 Pro vs Mi 9 Pro – What's New?

Performance
Apple A13 Bionic vs Qualcomm Snapdragon 865 — if we're talking about numbers, A13 Bionic still has the upper hand by a generation or two. But if we're talking about day-to-day experience, iOS is edging the race by a small margin vs MIUI 11 based on Android 10. The reason we said that is because of the consistency and reliability of iOS. Xiaomi has done a lot of polishing to its skin, but it's not on par with the likes of Oxygen OS from OnePlus or Google's Pixel experience. The presence of ads and micro stutters spoils the users from a smooth experience. But if you're willing to put up with that, Redmi K30 Pro won't disappoint you for the most part.
Comparing RAM won't matter when talking about iOS vs Android, what matters is the amount of storage. iPhone SE 2020 starts with 64GB and goes all the way up to 256GB, while Redmi K30 Pro skips the two-digit storage letting it start with 128GB already. Choosing the right storage for you is important as either offers an option to expand via microSD slot.
While in-display fingerprint scanner and Face Unlock have grown in popularity in the past couple of years, some might still find the iPhone SE 2020's Touch ID more reliable and convenient. With no Face ID in tow, better take care of that Home button.
Cameras
iPhone SE 2020 | Redmi K30 Pro
main – 

12MP f1.8 wide, PDAF, OIS 

vs

 64MP 1/1.72″, 0.8µm wide, PDAF, EIS

ultrawide – 

n/a 

vs

 13MP 

telephoto

 – n/a 

vs

 5MP 

portrait – 

n/a 

vs

 2MP

macro – 

n/a vs 5MP through the telephoto lens

selfie camera – 

7 MP, f/2.2 

vs 

motorized 20MP 1/3.4″, 0.8µm wide    
From the spec sheet alone, Redmi K30 Pro trumps iPhone SE 2020. But then again, Apple has an ace up its sleeve and that's software optimization. Xiaomi may tout up to 8K@30fps video recording and we will still take the iPhone SE 2020. The same goes for the cameras wherein iOS' HDR processing is just a tier above the competition in this price range. However, that's not to say that the Redmi K30 Pro is not relevant already. It may not have the best image processing but the ultrawide and telephoto angles it provides is fun and useful. We also expect the device to come out with better detail in daylight scenarios. Furthermore, it has a dedicated night mode for both the selfie and main cameras, something Apple refused to provide in the iPhone SE 2020. And who doesn't love a pop-up camera? 
At this point, one can easily take the iPhone SE 2020 in terms of cameras. But we wouldn't be surprised if most of you would rather the Redmi K30 Pro given its versatility. 
READ: Realme 6 vs Realme 6 Pro Specs Comparison – 90Hz on a Budget!

Audio
There's no question that Redmi K30 Pro wins the audio department. It has a headphone jack and 24-bit support despite the lack of stereo speakers — a feature that's present on the iPhone SE 2020. Xiaomi even provides aptX HD and aptX Adaptive for the high-fidelity wireless audio experience. 
Battery and Charging
By the numbers, we're looking at 1821mAh vs 4700mAh. In fast charging, the 18W optional Apple charger brick can replenish the small capacity up to 50% in 30 minutes while Redmi K30 Pro bundles the 33W brick out of the box that lets the device go from 0-100% in just 63 mins. You know which is the winner here.
Verdict
Check out the price breakdown below:
iPhone SE 2020 – 64GB – P26,490 

iPhone SE 2020 – 128GB – P30,490

iPhone SE 2020 – 256GB – P36,490

Redmi K30 Pro – 128GB – CNY 2999(~P21,600)

 

Redmi K30 Pro – 256GB – CNY 3699(~P26,700)
If we're to assume taxes at this point, Redmi K30 Pro could be somewhere around P23K starting price. But don't quote us on that. From that alone, we can say that the Redmi K30 Pro still offers the better "flagship killer" package — from the design to the specs, cameras, and price. Nearly everything. But longevity-wise, some might find the iPhone SE 2020 with better value.
Apple provides at least four years of major software updates. This means you're still getting Apple's latest features until 2024. But committing to the phone for that long depends on how willing you are to put up with the older design, Touch ID, and single cameras. By that time, you might be itching for a new iPhone.
The Redmi K30 Pro might be a good buy if you want the latest. It's an easy recommendation. But if you're looking for a phone that will reliably work for the next five years, assuming you don't care about the caveats, you're better off with iPhone SE 2020.  
READ: OnePlus 8 Pro vs Samsung Galaxy S20 Ultra – Why It's Still A Flagship Killer