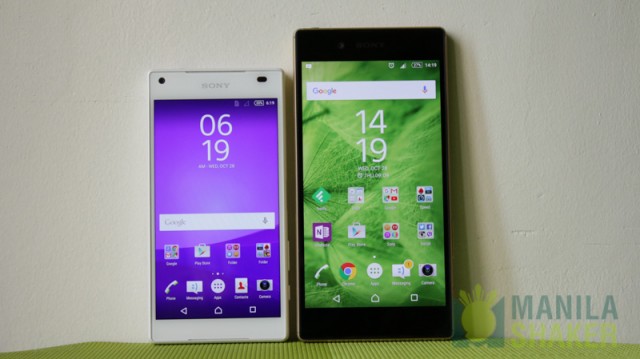 We paired of Sony's new Z5 devices in this ultimate comparison, as the Sony Xperia Z5 (priced at Php 35,990) faces off with its little brother, the Xperia Z5 Compact (priced at Php 29,990). Check out their specs , features and overall performance to find out which of these Z5 brethren fit you most.
Design
Both devices carry an all new signature button system and fingerprint scanner, which is highly effective in providing utility and security in using these devices. The Xperia Z5 incorporates metal and glass back cover, while the Xperia Z5 Compact carries a polycarbonated back design, which kinda gives it its "toyish" look.
Both devices are rugged-looking and has IP 68 certification, which is a trademark of Sony mobile devices, which gives their devices water – resistant and dust proof features. However, in terms of handling, we were thinking that the Xperia Z5 Compact's petite and simple design was undoubtedly something more easier to handle with, however in terms of design the Xperia Z5 offers more in elegance and design than the Xperia Z5 Compact could have offered, which gave the Xperia Z5 the overall victory in the design department.
The winner: Sony Xperia Z5 for its elegant and greater design
See also: Top Five Reasons Why the Xperia Z5 Compact is a Better Buy Than The iPhone 6S
Display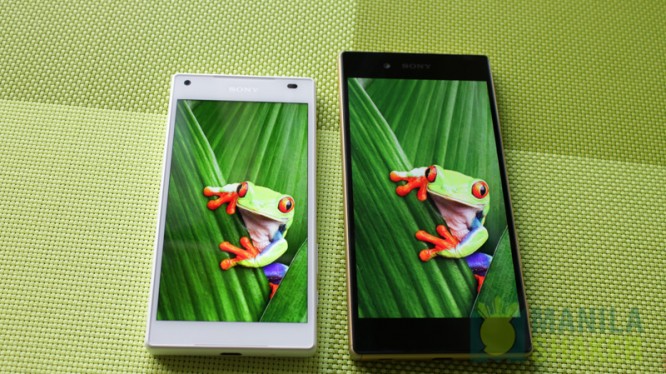 The Xperia Z5 Compact offers probably the best display performance that a 4-incher can deliver, with its Triluminos HD display, which showcases a really excellent display quality, despite being a 4-incher.
The display quality is relatively similar to the 5.2-inch Xperia Z5. However, there were things seen on the Xperia Z5 Compact that was a bit lower than the Xperia Z5, which is the vibrance of the color, though in terms of color sharpness, detail accuracy and overall image display quality, differences won't be much noticeable on both Xperia devices. Little change is seen on the display overall, so we thought that Sony did a tremendous job in maintaining consistency in display quality, despite having relative differences in screen size and display resolution.
The winner: Tie for equally excellent and consistency display quality

See also: iPhone 6s vs Sony Xperia Z5 Compact Comparison, Camera Review, Speed and Battery Tests
Camera
For still images, nothing much is seen that is changed on shooting in both devices, since both devices did carry the same 23 megapixel value in their camera sensors. We were actually shocked of how consistent the shots were with one another, since, despite these devices carrying the same megapixel count, there still was no possible way for them to deliver the exact same quality in their outputs, which got us flabbergasted.
Daylight and lowlight images were seen to be pretty much the same with one another , with excellent detail preservation, as well as a sharp and clear shots, with spot-on white balance and accurate colours all in all, the Xperia Z5 phones really do have something new to bring to the table and consistency is one of them.
The winner: Tie for consistent still image outputs
For video performance, the Xperia Z5 and Z5 Compact were at par with one another, yet again, with their excellently accurate color blending and pinpoint white balance, which gave us the impression that these phones were pretty much the same all in all, too good to be true, yet astounded our thoughts overall, the Xperia Z5 and Z5 Compact are one to have and we can assure you, you don't have to worry about jeopardizing image quality when you have your mind set to purchase the compact version, because it simply delivers the same quality as the original Xperia Z5.
The winner: Tie for consistent video performance
See also: Sony Xperia Z5 Compact Specs Comparison VS Xperia M5 and iPhone 6S
Performance, benchmarks and speed tests
Both Xperia Z5 phones are running on an Android 5.1.1 Lollipop, which is expected to be upgraded into a Marshmallow in the near future. For chip, the Xperia Z5 and Z5 Compact are both carrying a pretty decent Snapdragon 810 SoC, which is pretty rad, since they were able to maintain system consistency, despite the devices, heavily differentiating in size, STB ratio and what not. For RAM, the Xperia Z5 holds a bit of larger ground than the Xperia Z5 Compact, since it has 3GB of RAM, in comparison to the much smaller 2GB of RAM that the Xperia Z5 Compact has.
For the conducted benchmark test on both phones, it was seen that these devices are almost similar, with their balanced and consistent scores in the two out of three benchmark tests, with the exception on AnTuTU. this might mean that both these devices might actually be as consistent as it could possibly be.
Here are the benchmarks ratings for both device
AnTuTu ratings: Sony Xperia Z5 – 50381, Sony Xperia Z5 Compact – 56655
Basemark OS II ratings: Sony Xperia Z5 – 1342, Sony Xperia Z5 Compact – 1351
Geekbench ratings: Sony Xperia Z5 – SC: 1233, MC: 4017, Z5 Compact – SC: 1348, MC: 3953
For the actual speed test conducted on both devices, the Xperia Z5 was able to move ahead of the Xperia Z5 Compact and load up more a bit more quicker, thanks to its better 3GB of RAM, which carried the Xperia Z5 towards victory in the actual speed test.
The winner: Sony Xperia Z5 for better RAM capacity, which resulted to faster loading speed
See also: Five Highlights of The Xperia Z5 VS Galaxy Note 5 Comparison
Battery
Using our standard battery tests of putting both devices on 50% brightness, while on flight mode and zero volume, while playing a loop of a 2-hour movie, the Xperia Z5 Compact lasted for approximately 11 hours and 6 minutes, while the Xperia Z5 lasted for approximately 11 hours and 45 minutes, which clearly shows that Xperia Z5 could last longer than the Xperia Z5 Compact, though to be honest, they were pretty much on the 11-hour period, which is actually pretty awesome.
On charging tests, we were able to determine that the Xperia Z5 could be fully charged up to 100% for approximately 2 hours and 15 minutes, or get 25% of battery charged for 30 minutes. We haven't exactly tried to test out the Xperia Z5 Compact's charging capabilities, though it will be one our primary objectives to get it done ASAP, to help you guys determine which phone shines better in charging.
The winner: Sony Xperia Z5 for longer battery longevity
See also: Sony Xperia Z5 VS Samsung Galaxy Note 5 Comparison, Camera Review, Benchmarks, Speed Tests
Speaker 
The Z5 siblings has the same speaker positioning, built to maximize power and quality of audio outputs, so technically speaking, both should deliver the same quality of outputs, which is technically the truth. Both the Xperia Z5 and Z5 Compact delivered great outputs overall and showcase the power of their front-facing stereo speakers.
The winner: Tie for consistent and excellent audio outputs
See also: Five Similarities of The Sony Xperia Z5 Trio
Price and conclusion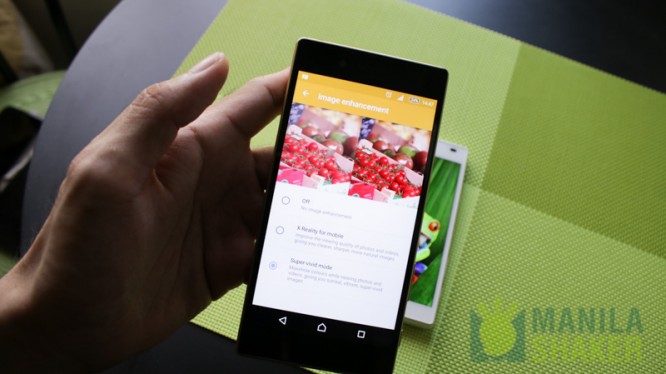 The Xperia Z5 and Z5 Compact are devices that deliver the same excellent performance, system-wise and shooter-wise, true to Sony's words, they're both powerhouse devices that deserve all the credit and actually owning one will depend on your monetary capabilities, whether you'll want a more affordable Xperia Z5 Compact or the more prestige Xperia Z5 is your decision and yours alone.
The Xperia Z5 and Z5 Compact are now available here in the Philippines, with the Xperia Z5 priced at Php 35,990, while the Xperia Z5 Compact is priced at Php 29,990, which are now available through online stores, official Sony stores and retail stores nationwide.
Please leave your comments and suggestions on what you think about these two Xperia phones. Just hit us up on the comments section below and we'll gladly share our thoughts with you guys.
And also, checked out the video version of this ultimate comparison

| | | |
| --- | --- | --- |
| Specs/ PH price | Sony Xperia Z5 specs, PH price, features | Sony Xperia Z5 Compact, specs, PH price, features |
| Display | 5.2-inch 1080p IPS FHD Triluminos display, 428ppi | 4.6-inch 720p HD IPS Triluminos ,323ppi |
| Size | 7.3mm thickness, 154g weight | 8.9mm thickness, 138g weight |
| Color | White, gold, green, black | Yellow, Pink, White, Black |
| Protection | scratch-resistant, oleophobic coating, metal frame, water and dust proof | Scratch resistant glass, triluminos display, X-reality engine |
| Chip | Qualcomm Snapdragon 810 chip | Qualcomm Snapdragon 810 chip |
| Graphics | Adreno 430 GPU | Adreno 405 GPU |
| Processor | Quad-core 1.5GHz Cortex-A53 &   quad-core 2GHz Cortex-A57 processor | Quad-core 1.5GHz Cortex-A53 & quad-core 2GHz Cortex-A57 processor |
| Memory | 3GB of RAM, 32GB of internal storage, microSD card up to 200GB | 2GB of RAM, 32GB of internal storage, microSD card up to 128GB |
| Main Shooter | 23MP f/2.0 rear shooter, single LED flash, | 23MP rear shooter, phase detection autofocus, LED flash |
| Multimedia | 2160p video, HDR | 2160p video, 1080p video, 720p video, HDR |
| Front facing shooter | 5MP selfie shooter, 1080p video | 5.1MP, 1080p, HDR |
| Connectivity | Dual 4G LTE cat 6, WiFi ac, BT 4.1, FM Radio, GPS, NFC | Dual 4G LTE cat 6, WiFi ac, BT 4.1, FM Radio, GPS, GLONASS/Beidou, NFC |
| OS | Android 5.1 Lollipop , upgradable to Android 6.0 Marshmallow | Android 5.1 Lollipop upgradable to Android 6.0 Marshmallow |
| Software features | Ok google, Android TV | Ok google, Android TV |
| Battery Capacity | 2900mAh battery | 2700mAh battery |
| Ports and charging | microUSB v2.0 (MHL 3 TV-out), USB Host, Quick charge 2.0 | microUSB v2.0 (MHL 3 TV-out), USB Host |
| Released date | 23-Oct | 23-Oct |
| Official price | Official PH price of Php 35,990, as of October 21 2015 | Official PH price of Php 29,990 as of October 21 2015 |
| Where to buy | Official Sony stores or retail stores in the country, Online stores and grey markets. | Official Sony stores or retail stores in the country, Online stores and grey markets. |
Related posts and reviews