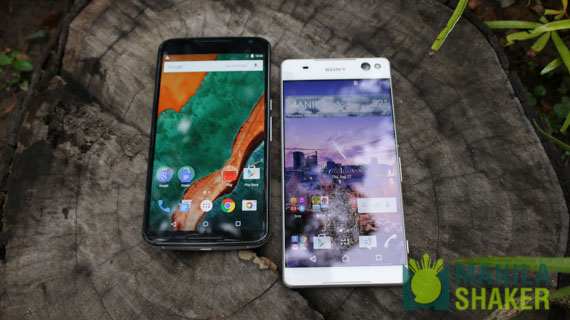 We put the latest Sony Xperia C5 Ultra (P18k price) in a comparison against the Nexus 6 (P20k price) made by Motorola. Between these two phablets, which do you think is a better buy? Find out in our ultimate comparison covering camera, benchmark, speaker, display and design.
Design and build
The water-resistant and wireless charging-enabled Nexus 6 flagship is still a top contender in smartphone industry sporting a solid and attractive construction. The front area flaunts a 2.5D curved glass and two metal speaker grilles while the back is made of rubbery polycarbonate material. Backing the entire construction is a metal frame producing a sturdy and elegant feel on the phablet.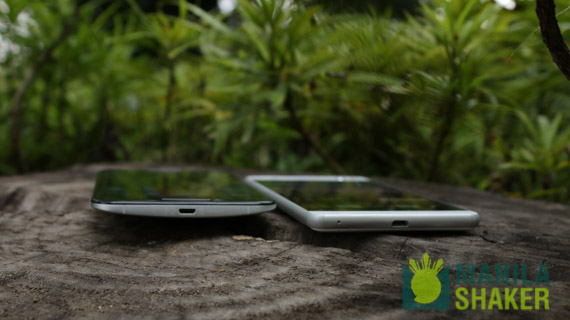 Sony has improved the Xperia C5 Ultra by leaps from the previous C-series. Bezel on the Xperia C5 is very thin measuring at 0.8 mm thick while the back is protected by glass coating. Despite these changes, the Xperia C5 remains a slick phablet.
Both are utilizing the space efficiently. The front areas have excellent screen-to-body ratio making the two compact despite having large displays.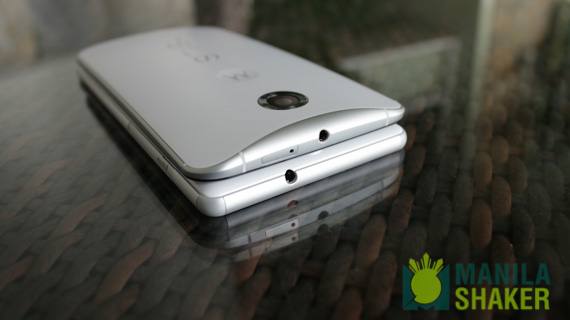 Though the Nexus 6 has 10.1mm thickness, its back is tapered and curved making it comfortably to hold in hands and minimizing the thickness at its edges.
Though Nexus 6 and Xperia C5 rely mostly on on-screen controls, Sony didn't forget to include a dedicated shutter key for Xperia C5.
The two phablets remain attractive and solidly built, so in my case, I like both design and constructions of the two.
Winner: Tie
Display
In terms of sharpness and color, the QHD screen of Nexus 6 edges out the FHD of Xperia C5 Ultra. Colors on the AMOLED screen of Nexus 6 is much saturated and lively compared to the IPS LCD of Xperia C5 Ultra.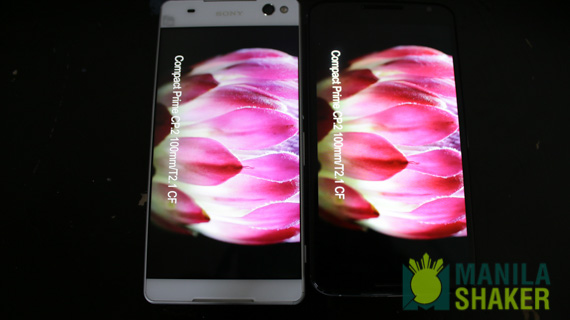 Brightness are on par while viewing angles and sunlight readability are superior on Nexus 6.
Winner: Nexus 6
Camera
The results from the two shooters are kinda mixed. We got half of the shots of Nexus 6's 13MP camera showing more detail preservation and ample amount of brightness. The other half showed that the Xperia C5 Ultra is a capable contender too in camera department with its shots being bright and sharp during day and night scenes.
Video quality is close with Xperia C5 having sharper video while the Nexus 6 demoed a bright (slightly overexposed lighting) video footage.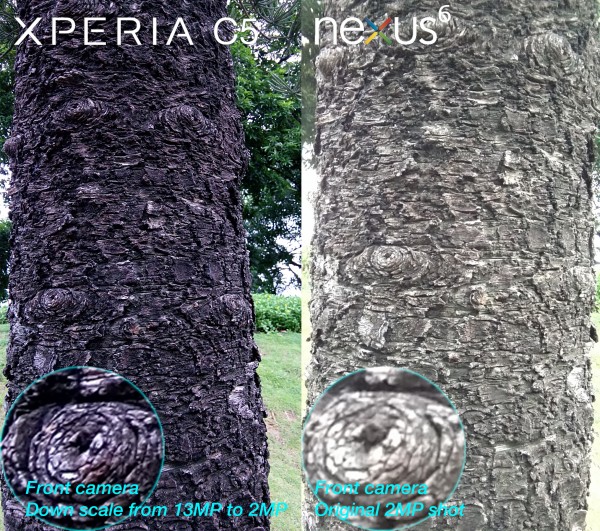 The 13MP front camera of Xperia C5 beats the 2MP of Nexus 6 in details but its white balance is slightly off creating a bluish shot.
I rated the two shooters as tie in image and video quality. Both take decent images and reliable videos.
Winner: Tie
Benchmark and performance
The Snapdragon 805-powered Nexus 6 beats the octacore MediaTek 6752 of Sony Xperia C5 Ultra in benchmark numbers, this is due to the faster clock speed of the quadcore CPU of the Snapdragon 805. Amount of RAM is also larger on the Nexus 6 with 3GB compared to the 2GB of Xperia C5.
Our actual tests showed that despite lagging in benchmark numbers behind Nexus 6, the Xperia C5 was able to rival and even beat the Nexus 6 in game and browser test.
AnTuTu benchmark:
Sony Xperia C5 Ultra – 46065
Nexus 6 – 50579
Basemark OS II benchmark:
Sony Xperia C5 Ultra – 957
Nexus 6 – 1101
Geekbench 3 benchmark:
Sony Xperia C5 Ultra – 800 single core, 4223 multi-core
Nexus 6 – 1066 single core, 3153 multi-core
Winner: Nexus 6
Speaker
From our previous comparisons and reviews, the Xperia C-series and almost all latest Xperia smartphones of Sony have performed well on speaker test and provided decent audio output. The Xperia C5 has slightly disappointed us with its front-facing mono speaker. Yes, there is no stereo speakers on the Xperia C5 because the top speaker grill serves an earpiece, not the speaker no. 2 some of you have expected.
The audio output of Xperia C5 speaker is loud but the treble and bass are unbalanced when putting besides the stereo speakers of Nexus 6. We prefer the speaker quality on Nexus 6 because it is clearer with no tinny sound.
Winner: Nexus 6
Price and verdict
Pricing of the two devices are close. The 32GB Nexus 6 has a price of P22.9k to P23k pesos from online stores while you can get Xperia C5 Ultra dual 4G for as low as P18.7k pesos as of August 31.
It is really hard to choose between these two phablets. If I want more power, then I will go for Nexus 6 but if I want to save few thousand pesos and still get pretty close performance and premium exterior then the Xperia C5 Ultra is a sweet bargain.

| | |
| --- | --- |
| Sony Xperia C5 Ultra specs | Nexus 6 specs |
| 6-inch 1080p FHD IPS display, 367ppi | 6-inch AMOLED 1440p QHD, 493ppi |
| 8.2mm thin, 187g weight | 10.1mm thin, 181g weight |
| Scratch-resistant glass | Gorilla Glass 3, water-resistant |
| Mediatek 6752 octacore chip, 1.7GHz Cortex A53 CPU | Snapdragon 805 chip, quad 2.7GHz Krait 450 cpu |
| 2GB RAM | 3GB RAM |
| 16GB internal, microSD card up to 128GB | 32/64GB internal, no microSD card slot |
| 13MP camera, HDR, 1080p video, LED flash | 13MP camera, OIS, dual LED ring flash, HDR, 2160p video |
| 13MP selfie camera, 1080p video, LED flash | 2MP selfie camera |
| Dual nano SIM, 4G LTE, WiFi a, Bt 4.1, NFC, FM Radio, GPS, ANT+ | 4G LTE Single/dual SIM, WiFi ac, Bt 4.1, FM Radio, GPS, wireless charging, NFC |
| Android 5.0 Lollipop | Android 5.0 Lollipop, upgradeable to 5.1 |
| 3000mAh | 3220mAh battery |
| White, Black, Mint green | Blue, White |
| P18, 700 for dual 4G as of August 26, 2015 | P22,990 as of August 24, 2015 |
Related posts and reviews: