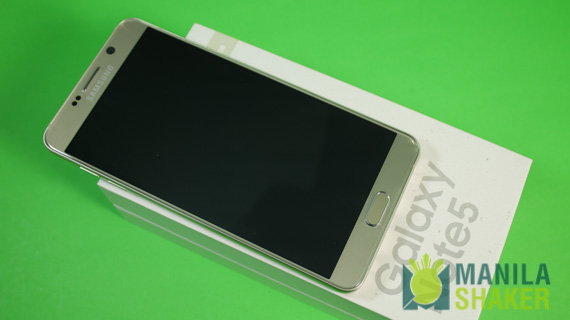 Samsung took the digital stage once again with the introduction of its newest addition to the Galaxy Note series, the Galaxy Note 5. Surprisingly, the Galaxy Note 5 is already available in the Philippines through online starting from P33k price upwards.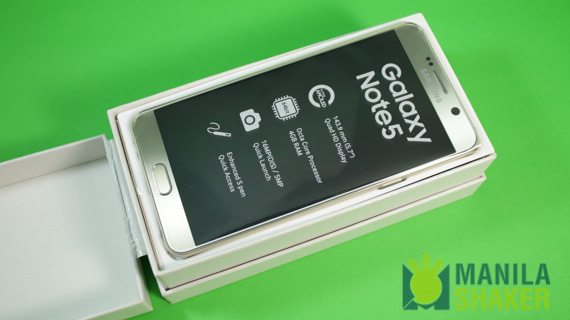 The new galaxy Note 5 retains many of its beloved features, with additional improvements. From its premium metallic and glass frame, to an improved S-pen, as well as an octa-core Exynos 7420 chip.
The one most noticeable difference of the Note 5 to its predecessor is its curved back glass wrapped with metal frame, which was heavily influenced by Galaxy S6 and Galaxy S6 edge.
Samsung was able to utilize Exynos 7420 chip for the Note 5, similarly used for the Galaxy S6. With the Galaxy Note 5's octa-core processor combined with a 32GB/64GB storage and 4GB RAM, top notch performance is sure to be expected.
The note 5's back camera retains its 16-megapixel capability while the front camera was upgraded to 5-megapixel from its original 3-megapixel capability.
The company promises that there is an improvement to the note 5's battery span, despite the decrease in battery capacity from 3200mAh to 3000mah. This is due to the 14nm chip. Which has proven to be more efficient in handling the Note 5's power system.
Locally, the Note 5 is scheduled to be released in September 5 in the Philippines for approximately P36,990 for the 32GB version. However, some online stores are already selling the Note 5 at P33,900 for the 32GB version.
Samsung Galaxy Note 5 specs
5.7-inch Super AMOLED QHD, 518ppi
 7.6mm thin, 171g weight
Corning Gorilla Glass 4, curved back
Exynos 7420 octacore, quad 1.5GHz Cortex-A53 & quad 2.1Ghz Cortex-A57
4GB RAM
32/64GB internal, no microSD card slot
16MP camera, f/1.9 aperture, OIS, single LED flash, HDR, 2160p@30fps video
5MP selfie, 1440p video
4G LTE Single/dual SIM, WiFi ac, Bt 4.2,NFC, FM Radio, GPS, heart rate sensor, wireless charging, Fingerprint sensor, S-pen
Android 5.1 Lollipop
3000mAh
White, Black, Silver, Gold
P33,900 price as of August 24, 2015
Related posts and comparisons: