Two meets One in this ultimate comparison review, as OnePlus 2 (priced at P20,900 for 64GB) takes on its big brother, the OnePlus One (priced at P13,900 for 64GB). Whom of the OnePlus brothers would you choose?
Design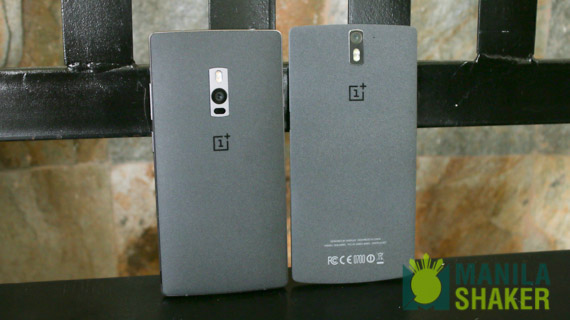 On our unboxing review for OnePlus 2, we had a quick comparison on both OnePlus phones, we highlighted many similarities on both phones. Namely, its sandstone black handset theme, which shows off a musculine and unique look for both OnePlus phones.
An easily seen difference in terms of features is the OnePlus 2's new metal framing, a fingerprint sensor and an alert toggle. Features that were not present on OnePlus One.
In regards to dimension and mass, the OnePlus 2 is 1mm more thicker and 13g more heavier in comparison to its older brother, with a measurement of 9mm compared to the OnePlus One's 8mm measurement and a weight of 175g in comparison to OnePlus One's 162g weight.
Overall, the changes in design and exterior features were pretty minor, yet is considerably an upgrade from the OnePlus One's original design.
The Winner: OnePlus 2 for its upgrades in design and features
Display
For display, the same 5.5-inch 1080p LTPS display feature can be found on the OnePlus 2, image quality remained the same for the OnePlus 2. Although, the configured screen for OnePlus 2 was a little bit warmer.
The OnePlus 2 is protected by Corning's Gorilla Glass 4, while the OnePlus One has Corning's Gorilla Glass 3.
Viewing angles for both phones are similar and in excellent quality.
The Winner: Tie for similar display specifications and quality
Camera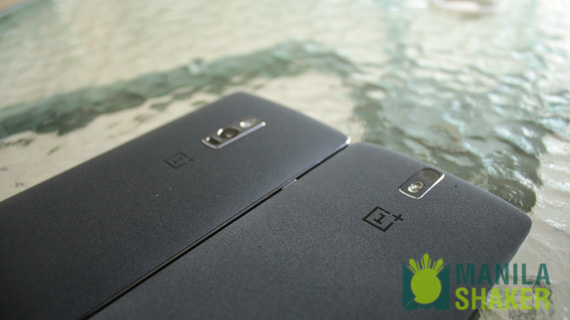 13-megapixel camera resolution is retained for the OnePlus 2, but shots taken with it are more sharper and brighter in comparison with the OnePlus One.
The downside on OnePlus 2's camera performance is its more narrow angle. despite of this, OnePlus 2 was able to take the camera round.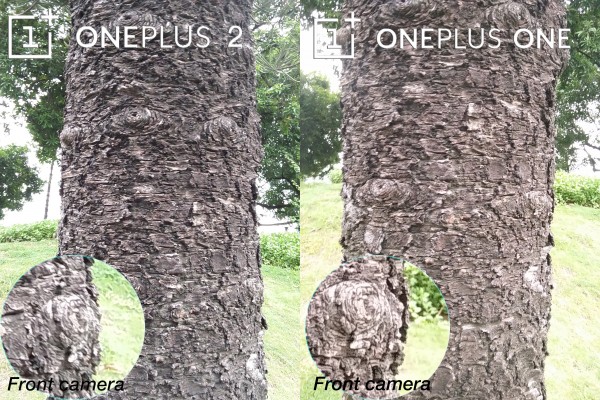 Both phones had minor differences in terms of white balance accuracy and warmth on its front cameras.
The Winner: OnePlus 2 for still image
Video brightness for the OnePlus 2 is much more higher in par with the OnePlus One, because of its HDR (high dynamic range) capability.
The Winner: OnePlus 2 for video performance
Performance
The OS present on the OnePlus 2 is an Android 5.1 Lollipop, while the OnePlus One has an Android 4.4.2 KitKat which can be upgraded into an Android 5.0.2 Lollipop.
The OnePlus 2's chipset is powered by Qualcomm's Snapdragon 810 octacore, while the OnePlus One's chipset is powered by Qualcomm's Snapdragon 801 quadcore.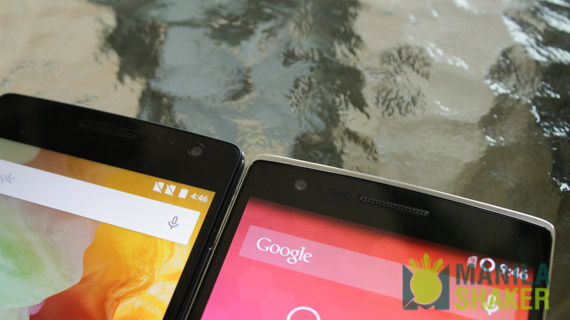 On the boot up speed test conducted on the two phones, the OnePlus One showed faster boot up loading speed, surpassing the OnePlus 2.
For the benchmark test, OnePlus 2 showed its superiority by beating the OnePlus One on 2 out of 3 benchmark tests conducted.
On the last conducted benchmark test using GeekBench 3, bench mark rating for both phones were balanced.
AnTuTu rating:
OnePlus 2-54311
OnePlus One-46977
Basemark OS ll rating:
OnePlus 2-1454
OnePlus One-1210
GeekBench 3 rating:
OnePlus 2- single-core score:764, multiple-core score:2992
OnePlus One- single-core score:1020, multiple-core score:2256
For the actual speed test, OnePlus 2′s application loading speed and browser loading speed was far better in comparison to the OnePlus One's, both phones were excellent in terms of loading speed capacity though.
Speakers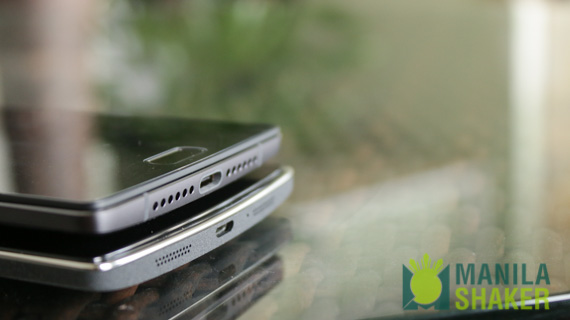 An obvious thing to notice while comparing both phone's speaker quality is that OnePlus 2's audio delivery is more clear and powerful in par with the OnePlus One's. For audio volume, the audio control is slightly more balanced on the OnePlus 2.
The winner: One Plus 2 for excellent audio volume and clear and powerful sound delivery.
Price and conclusion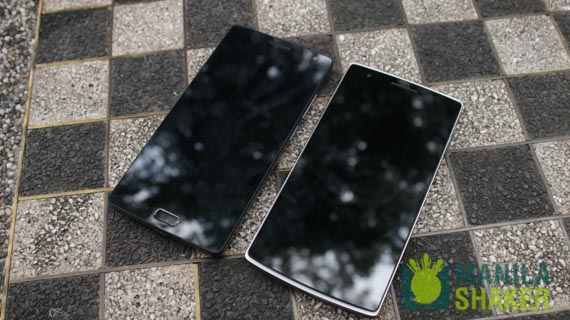 The OnePlus 2 and OnePlus One have clear and obvious differences and similarities. Both phones have their own specific strengths and weaknesses that will set them apart, it'll depend on your preference of use on what phone will you pick.
The OnePlus 2 and OnePlus One are available in the Philippines, online stores are offering reasonable offers, with the OnePlus 2 (64GB) priced at P20,990 and the OnePlus One (64GB) priced at P13,990.
Please leave your comments and suggestions down below, we highly appreciate feedbacks.
Also, check out the video version of this ultimate comparison

| | |
| --- | --- |
| OnePlus 2 specs | OnePlus One specs |
| 5.5-inch 1080p FHD LTPS, 401ppi | 5.5-inch 1080p FHD LTPS, 401ppi |
| Corning's Gorilla Glass 4 | Corning's Gorilla Glass 3 |
| Qualcomm Snapdragon 810, octacore | Qualcomm Snapdragon 801, quadcore |
| 3/4GB RAM, 16/64 GB ROM | 3GR RAM, 16/64GB ROM |
| no microSD card | no microSD card |
| 13-megapixel, HDR, dual LED flash, laser focus 2160p video | 13-megapixel, HDR, dual LED flash 2160p video |
| 5-megapixel selfie camera, 1080p video | 5-megapixel selfie camera, 1080p video |
| Dual 4G LTE,WiFi ac, BT 4.1, GPS | 4G LTE, WiFi ac, Bt 4.1,GPS,NFC |
| 3300mAh battery | 3100mAh battery |
| Android 5.1 Lollipop | Android 5.0 Lollipop |
| P20,900 price for 64GB (dual nano 4G SIM) as of August 29 | P13,900 price for 64GB (micro 4G SIM) as of August 29 |
Related posts and reviews