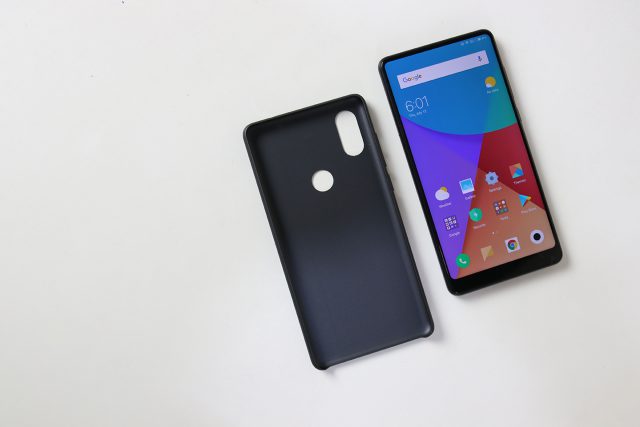 Last May, Xiaomi released the Mi Mix 2S in the Philippines along with the Redmi Note 5. Just like other smartphones, a lot of speculations about the design has surfaced.
Now that we have one of the most anticipated all-screen smartphones this year, we'll see if Xiaomi Mi Mix 2S can compete against the other flagship this year. Let's find out in this full review.
SPECS
Xiaomi Mi Mix 2s
Display
5.99" IPS LCD, 18:9 display (2160 x 1080) FHD+
Chipset
Qualcomm Snapdragon 845
GPU
Adreno 630
Memory
6GB of RAM, 64GB/128GB internal storage
Rear Camera
Dual: 12 MP Sony IMX363 (f/1.8, 1.4 µm) + 12 MP Samsung S5K3M3 (f/2.4, 1.0 µm), 2x optical zoom, dual pixel phase detection autofocus, 4-axis OIS, dual-LED dual-tone flash
Front Camera
5 MP (f/2.0, 1.12 µm)
Colors
Black, White
Battery
Non-removable Li-Ion 3400 mAh battery, Quick Charge 3.0, 9V/2A, Qi standard wireless charging
OS
Android 8.0 (Oreo)
Price

Php 27,990 (6GB + 64GB storage)
Php 29,990 (6GB +128GB storage)
Design
The Xiaomi Mi Mix 2s bears this black ceramic built as well as a curved aluminum alloy frame. It also has a gold outline around its vertically aligned dual cameras with an LED flash between the lenses and a text with the same color that says "MI MIX DESIGNED BY XIAOMI" which I think is unnecessary but we cannot blame them for being proud of their design. Aside from that, the fingerprint sensor can also be found at the back portion.
The microphone is placed at the top while at the sides are the SIM tray, volume rockers, and power button. At the bottom are the speaker grille, microphone, and the USB Type-C port. Sadly, they didn't include a headphone jack this time but the package comes with a dongle so going wireless is not needed.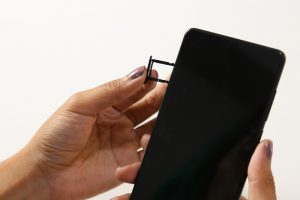 It still resembles the Mi Mix 2 except the placement of the rear camera. With a bezel-less display and thick chin.
But going to the front-facing camera, its location is a bit awkward. Yes, it flips when you use the phone's camera app, but using other mobile application like Instagram and Snapchat is weird specifically when you're up for a selfie.
Given that it has a stunning design, it can also have its downsides. Like a smudge on back panels that isn't easy to wipe off.
Display
With the 6-inch IPS LCD display with FHD+ resolution. This 18:9 screen is indeed nice for scrolling and web browsing. However, it is not as vibrant as compared with other flagship smartphones but it won't be an issue for gaming and watching videos.
MIUI 9.5 gives the user a satisfying feeling because of the right spacing and comforting design. All the elements of the display go well with the Mi MIX 2s particularly the fact that front design is symmetrical since it doesn't have a notch. Although to give a solution to all-screen display, they placed the front camera at the bottom which kind of annoying.
Aside from that, MIUI introduced the full-screen gestures. Pretty much the same from what Apple did to iPhone X. We tried this feature and surprisingly, it went well. At first, it was a bit difficult but eventually, you'll get used to it.
Camera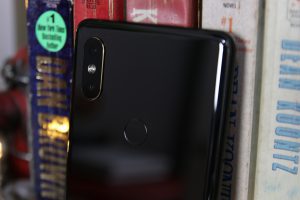 The Xiaomi Mi Mix 2S features a dual 12 MP Sony IMX363 with an aperture of f/1.8 + 12 MP Samsung S5K3M3 with an aperture of a f/2.4 camera lens with 2x optical zoom, dual pixel phase detection autofocus, 4-axis OIS, dual-LED dual-tone flash. As for the selfie-camera, it carries a 5-megapixel with a f/2.0 aperture.
On this shot, we can clearly see how gloomy the weather is and how dull the surrounding looks like in this weather. This shows that the rear camera of Mi Mix 2S can capture such details.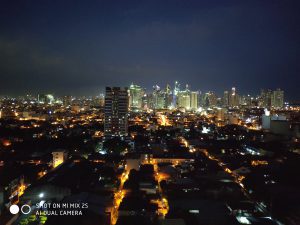 For the night shot, we'll see the how lively the city is even when the sun isn't up. Lights aren't overexposed and some details are still noticeable. This device has captured how stunning the cityscape is.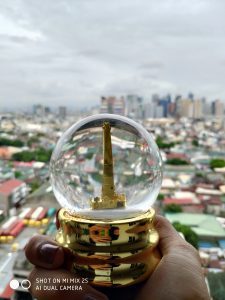 Without the use of Portrait mode, the camera automatically focused on the subject. Xiaomi Mi Mix 2S has read well the subject that it stood out without having blurred edges.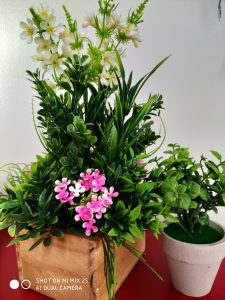 AI was used on this shot, and it quickly read the subject as a plant. However, what's off on this photo is the saturation of the plants. It went a bit overboard for the green hue.
On this, we didn't use the AI function on the camera and compared to the shot with AI this came out better than expected. The color of the subject looks more accurate and also it has captured the details of the plant.
Going to this shot, we can clearly see that Mi Mix 2S color rendering is raw and vibrant. And when you look closely, the popsicle sticks' texture is noticeable. Overall this device has a capability to capture delicate photos using HDR mode.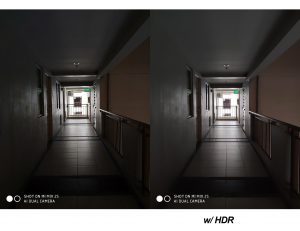 Clearly, HDR has captured the photo with more exposure as compared with the other one. But what we liked with the photo without the help of HDR mode is it has this eerie atmospheric feel that makes it IG-worthy.
Yes, this is what the user will look like when the front-facing camera opened without flipping the screen. It is awkward and frustrating for video calling and using other mobile application when taking pictures.
Xiaomi has provided a camera function that detects the user's age and gender, and what we can say is that the company needs to work on the accuracy of this one.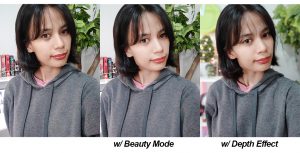 Despite its awkward placement, we cannot deny that this can take a decent photo from the normal selfie to the selfie with depth effect. The beauty mode really did its purpose to fully enhance the subject however it went overboard with the skin texture. Meanwhile, the photo with depth effect has made the subject stood out with the right amount of blurriness on the background.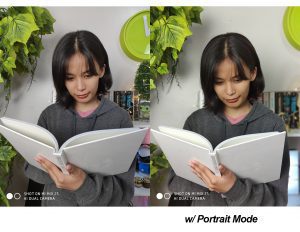 The photo without any effect has a nice vibrancy but what is noticeable is the change from a cool tone to warm with the portrait mode. Although we prefer the colors on the portrait mode, it failed on reading the photo. As you can see, the leaves on the upper left corner of the photo are clearly visible as compared to the book on the background.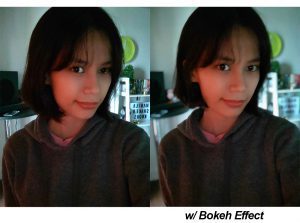 Lastly, selfies on lowlight have a bit of noise and softness with the subject's texture. This reveals that the 5-megapixel front camera is struggling on lowlight situations, same as the photo with Bokeh Effect.
Features and User Experience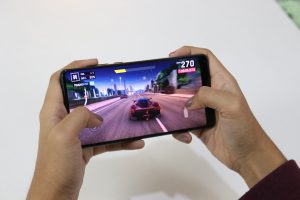 The Xiaomi Mi Mix 2S is fueled by Qualcomm Snapdragon 845 along with Adreno 630 GPU. It contains 6GB of RAM and 64GB/128GB internal storage that can be expanded via micro SD card. This device runs on the latest Android 8.1 Oreo.
The first thing we tried is gaming, we played Arena of Valor and it went as smoothly as what we expected on its specs. We didn't occur any lags on any heavy-graphic games.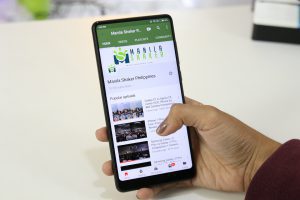 Web browsing, reading articles, watching videos and other things that we do every day is fun and more efficient using this device. Large screen size with 18:9 ratio really is a great advantage when reading and browsing because a large part of the page fits in it.
Going on to the security feature, the fingerprint sensor is quick to respond and I have no problem with it.
Taking selfies is part of our daily lives, we use apps such as Snapchat and Instagram. Well, if you're one of those people who's an active user of both networks then this phone may not be for you.
It was annoying and awkward since it doesn't flip when using the rear camera unlike when it's on the camera app itself. So we ended up taking on the camera app first then reposting it on Snapchat and Instagram.
Benchmarks
We tested the Xiaomi Mi Mix 2s handset using the following benchmarking tools and here are the results:
| | |
| --- | --- |
| Benchmarks | Xiaomi Mi Mix 2s |
| Antutu | 154054 |
| Geekbench (single-core) | 1822 |
| Geekbench (multi-core) | 6226 |
| PCMark Work | 7875 |
Battery
This device is fueled with 3,400 mAh battery and base on the user's experience, it has a good battery management. This was used as the main driver which means all throughout the day, this was used for games, social media browsing, and video playback. And surprisingly, it took a day for Mi Mix 2S to completely drain its battery.
| | |
| --- | --- |
| Battery | Xiaomi Mi Mix 2s |
| Battery | 3400 mAh |
| Battery Life | Approx. 24 hrs |
| Charging Time (0%-100%) | 2 hours and 30 minutes |
Audio
The Xiaomi Mi Mix 2s produced a decent and loud sound. When using the mono speakers, it is still clear on maximum volume. Its loud enough that you can watch a movie without using speakers. You can listen to it for yourselves.
Verdict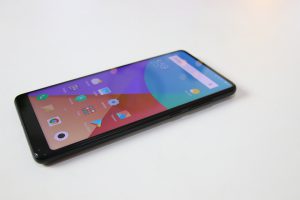 For a price of Php 27,990 (6GB + 64GB storage) and Php 29,990 (6GB +128GB storage), this device is worth it if you're the type of person that uses the phone for gaming, watching videos and web browsing.
It may not have the brightest screen display, but other tasks can be efficiently done with this device. It was able to withstand heavy-graphic games and can take decent photos. However, it will always be based on the user's perspective.
How about you? What do you think of this all-screen smartphone? Comment your thoughts down below!