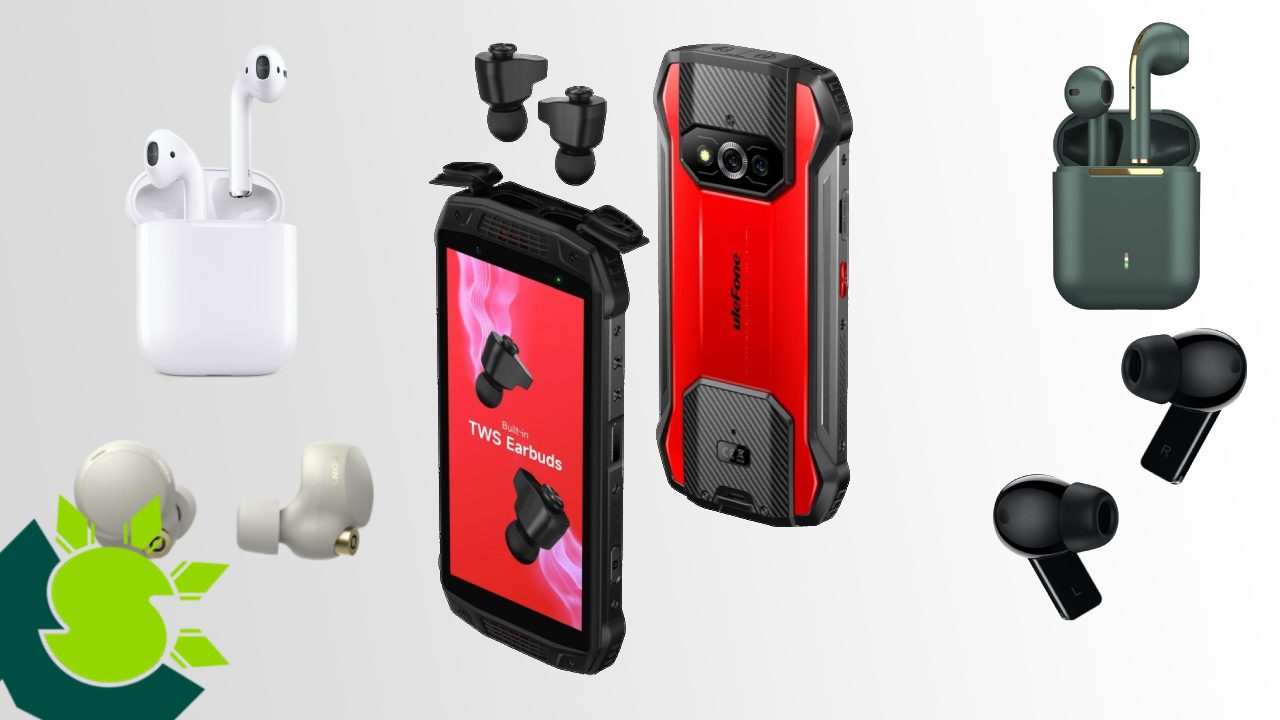 With the advent of Bluetooth technology, a wide range of wireless headphones were available to the public. Wireless earbuds, as opposed to corded earphones, allow users to listen to music without the burden of connections. Several popular TWS earbuds on the market might be listed from the present market. Airpods 3, Airpods 2, Airpods Pro, Xiaomi Buds 3, Sony WF-100XM4, Redmi Buds 4 Pro, and others are popular. However, a new competitor has lately entered the market. Enter uBuds Inside, which is incorporated inside the tough model Ulefone Armor 15. What are the benefits of the integrated TWS earbuds? Perhaps a comparison test among all of them will reveal the answer.
Weight and size are the two basic comparative categories. First, the Ulefone uBuds Inside is placed on a tiny scale, which reads 3.2g on the LCD. The Airpods 2 (4.0g), Airpods 3 (4.4g), Airpods Pro (5.5g), Xiaomi Buds 3 (4.6g), Sony WF-100XM4 (7.4g), and Redmi Buds 4 Pro follow in that order (5.4g). According to the weight test results, Ulefone uBuds Inside has a significant weight advantage over other prominent rivals. Now let's talk about size. The uBuds Inside is just 20.00mm thick, while the Airpods 2 (41.31mm), Airpods 3 (30.14mm), Xiaomi Buds 3 (39.07mm), Sony WF-100XM4 (26.73mm), and Redmi Buds 4 Pro are all larger (25.92mm).
Related: Realme Buds Q2s Review – Is it The Best Budget TWS Earbuds of 2022?
Pure 2-In-1 Value for Money
Aside from that, the uBuds Inside has some incredible specifications to compete with other popular wireless earbuds. It provides 5 hours of listening time on a single charge. While the battery life may be increased to 505 hours with the Armor 15 case. Because the earphones are built-in, you can buy TWS earbuds and have a fashionable tough phone. And the pricing of this 2-in-1 gadget makes it much more appealing. Furthermore, it allows you to take only the necessary technological equipment and travel lighter. As a result, Ulefone officials advise leaving your AirPods or other wireless headphones in a separate charging case at home when going out. The uBuds Inside may be simply connected to a variety of devices thanks to Bluetooth 5.0. And it can do so at breakneck speed.
In most ways, the uBuds Inside beat the popular wireless earbuds. For starters, it appears to be quite inviting to outdoor enthusiasts. They may listen to music or make calls by simply removing the earphones from the Armor 15 case while jogging, cycling, hiking, and other activities. And the Armor 15 is strong and resilient enough to protect the earphones from accidental drops or scratches. The Ulefone Official Website has further information about the Armor 15.
---
READ NEXT