Through an online press media briefing, Lenovo unleashed its long-list of Legion gaming products consisting of laptops, monitors, towers, and even an eGPU. Partnering with Intel, Lenovo is bringing the chipset maker's 10th-gen Intel CPUs that features up to eight cores, 16 threads for a desktop-class experience on mobile. for team red, this is the first time that Legion is partnering with AMD. For select gaming laptops, you can finally experience the full power of the new Ryzen 4000 Series. Last but definitely not least is Nvidia, the graphics card manufacturer that brings better RTX performance and longer battery life on powerful laptops through the new Advanced Optimus technology. Expected to launch not later than the 2nd quarter of 2020, check out the Lenovo Legion product price list in the Philippines for 2020.
Lenovo Legion 7i – starts at P119,995 (June 2020)
Starting from the top, Lenovo Legion 7i the no-holds-barred gaming laptop from the PC maker. The CPU configuration starts from Intel Core i5-10300H up to the unlocked Core i9-10980HK. You can pair it with GTX 1660Ti up to the RTX 2080 Super Max-Q GPU. The 15.6″ IPS display goes up to 500 nits brightness, up to 244Hz refresh rate with <1ms response time for gamers, and an option for 100% Adobe sRGB for content creators. And yes, it comes with NVIDIA G-sync technology.
Aside from powerful innards, Legion 7i introduces Legion Coldfront 2.0 with Vapor Chamber Technology that keeps the temperature in check to prevent either the CPU or GPU from thermal throttling during intense workloads. And to make sure you're always on top of your game, Lenovo is debuting its TrueStrike Keyboard that offers soft-landing switches with 1.33mm key travel while featuring 100% anti-ghosting and <1ms response time. Of course, it fully supports over 16M colors for your RGB needs. The gaming laptop is bundled with Legion M500 Mouse, Legion H300 Stereo Gaming Headset, and 15.6″ Legion Recon Gaming Backpack.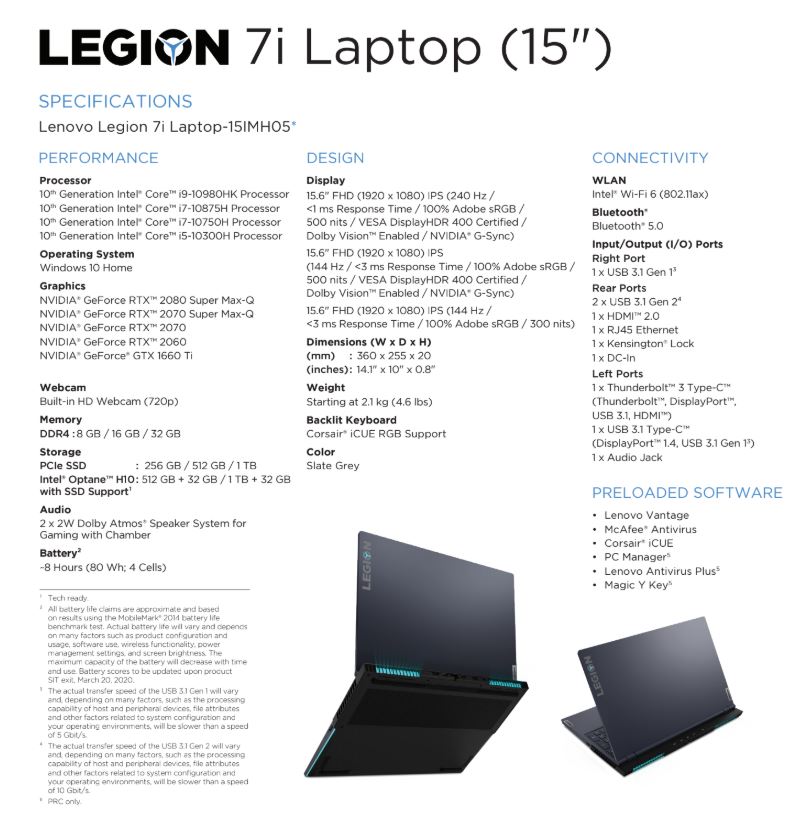 READ: Lenovo Reveals "Creator Edition" Laptops, Monitors, & PC with 18K Starting Price
Lenovo Legion Y740Si – starts at P144,995 (2Q 2020)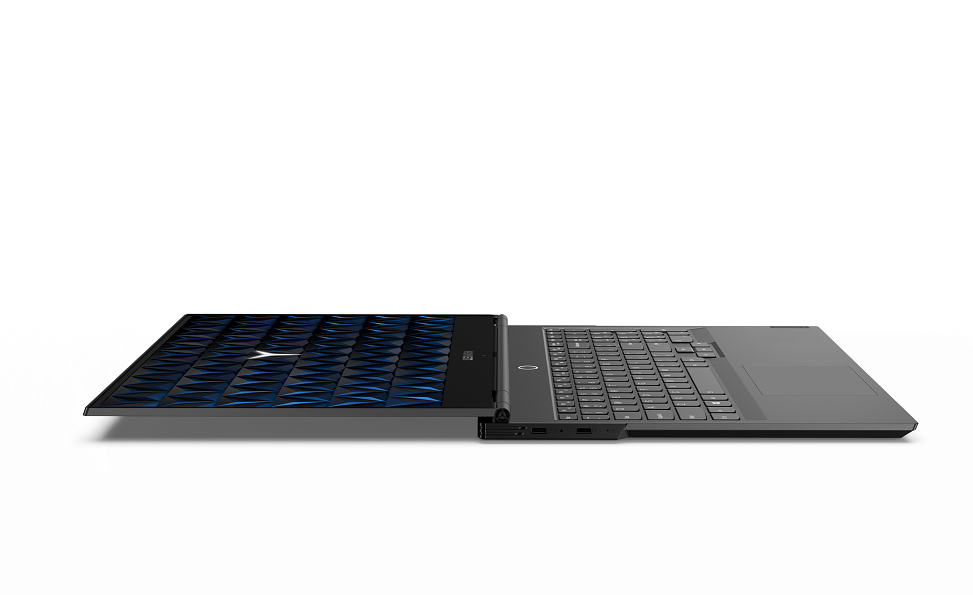 While the Legion 7i is incredibly thin and light for a gaming laptop in 2020, the Legion Y740Si pushes the envelope a bit further for those who are always on-the-go. Clocking in at 1.7kg and 14.9mm thick, the ultraportable laptop sports up to Core i9-10880H that can support an eGPU through the Thunderbolt 3 Type-C port. RAM configuration comes in either 16GB or 32GB 3200Mhz. As for the 15.6″ display, you have the option to go up to 4K that offers professional-level of color accuracy. Otherwise, you can always settle for the FHD that goes up to 300 nits. Like Lenovo's best gaming laptop yet, the Y740Si features Coldfront 2.0 with Vapor Chamber technology. Purchasing this laptop will get you a free Lenovo Legion BoostStation for eGPU(RTX 2060 6GB or RX 5700XT 8GB), Legion H500 Pro 7.1 Surround Sound Gaming Headset, and Legion M500 RGB Gaming Mouse.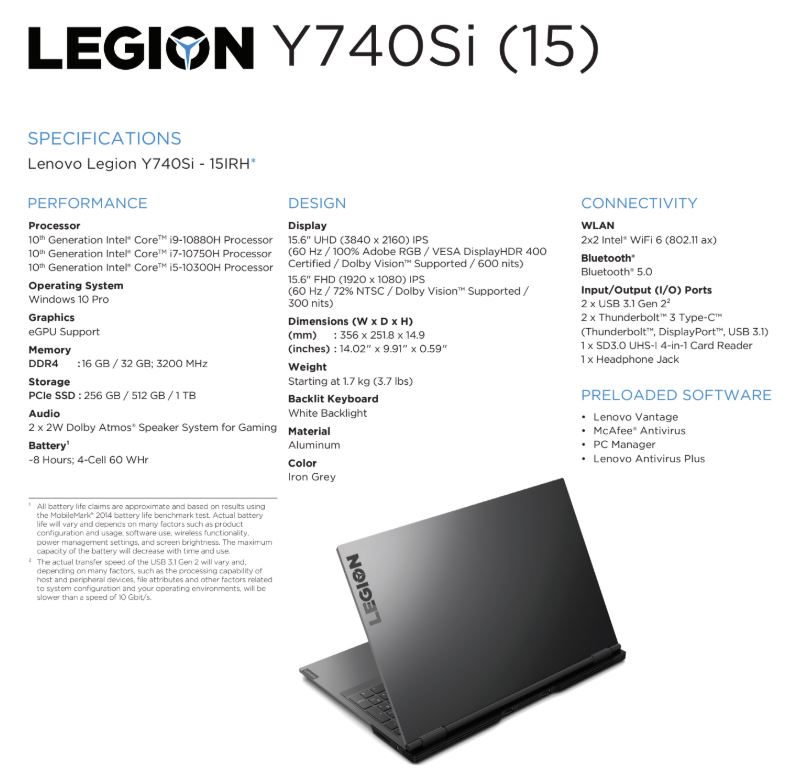 Lenovo Legion 5Pi – starts at P74,995 (June 2020)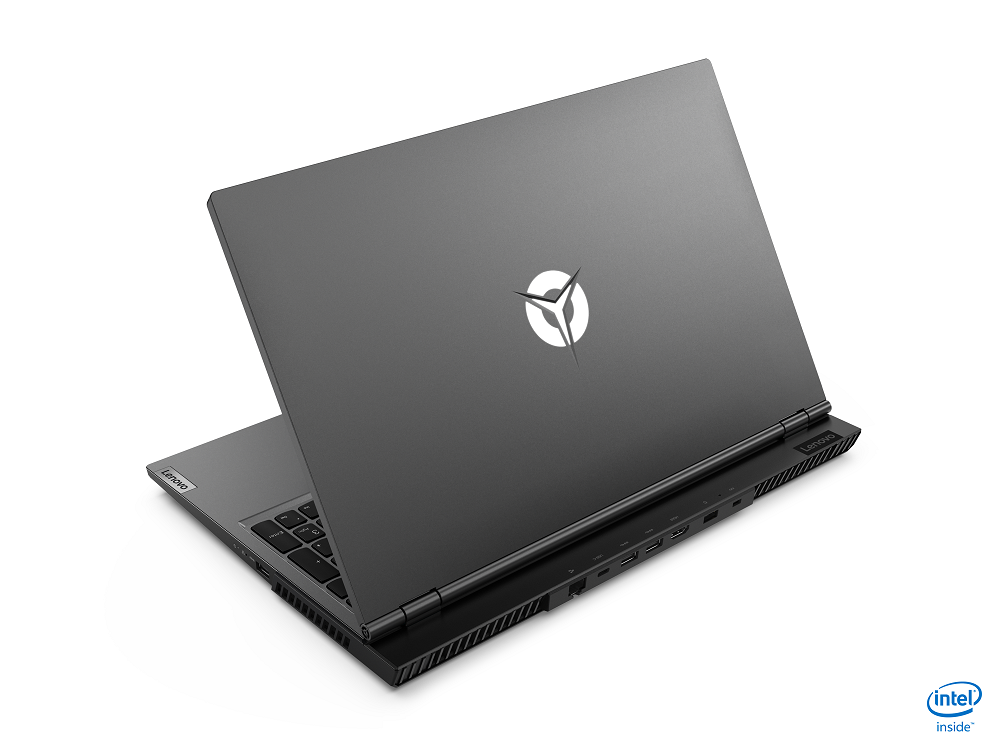 During the creation of the new Legion lineup, the company asked gamers about the things they want in a laptop. In terms of the design, a good percentage shows that gamers want power and style in one. That's exactly what the Legion 5Pi has to offer. In a clean Iron Grey chassis, this laptop is something you can carry in business meetings. Aside from TrueStrike Keyboard and Legion Coldfront 2.0, Legion 5Pi also supports RTX GPUs which you can configure up to the RTX 2060. The 15.6″ FHD display supports up to 500 nits, up to 240Hz refresh rate, with Dolby Vision enabled. Content creators will also love its 100% Adobe sRGB coverage. As per usual, you get a free mouse, H300 headset, and a backpack.
Lenovo Legion 5i (15″ and 17″) – starts at 62,995 (June 2020)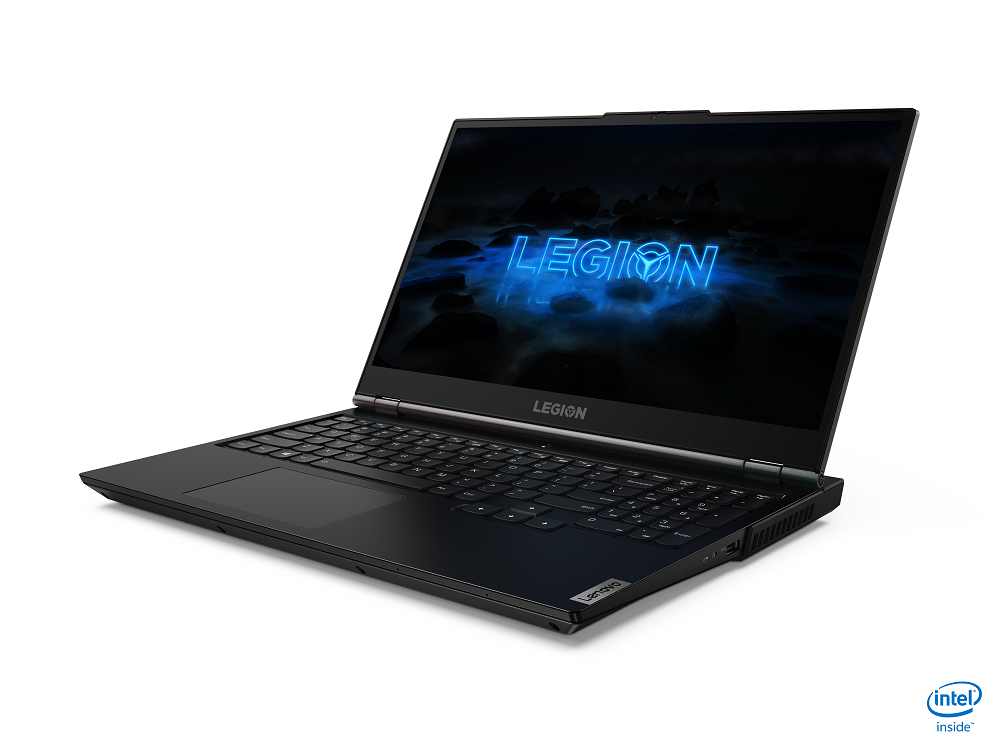 For the mainstream consumers, Lenovo Legion 5i comes in 15″ and 17″ sizes. Starting with the smaller model, the FHD screen can provide up to 240Hz refresh rate, 100% sRGB, and up to 500 nits brightness. You can pair it with up to RTX 2060 GPU and up to Core i7-10875H. Available in Phantom Black, the TrueStrike Keyboard can shimmer in white or 4-Zone RGB backlighting. As for the bigger model, the experience nearly stays the same except for a few areas. You have a white backlight-only keyboard option and the large 17.3″ FHD IPS display reaches up to 144hz with 300 nits brightness and 72% NTSC coverage. Buying either of the two will get you the M500 mouse, H300 headset, and 15.6″ Recon backpack(not available on the 17″). The price of the 17″ is yet to be revealed.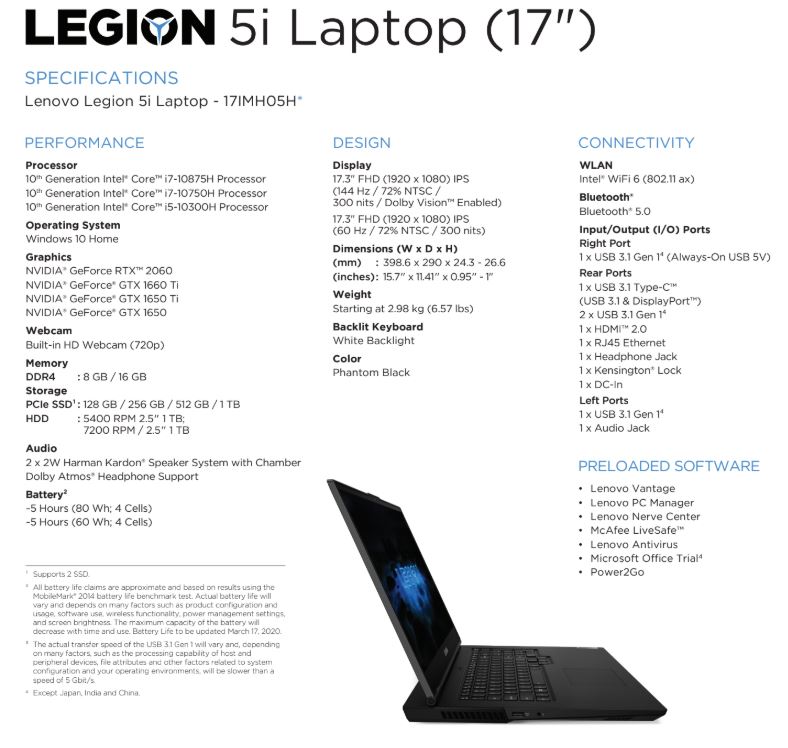 READ: Lenovo ThinkPad X1 Yoga Gen 5 For P82K Price, Announced
Lenovo Legion 5 (Powered by AMD) – starts at P56,995 (June 2020)
Introducing the first-ever AMD-powered Legion gaming laptop, the Legion 5 brings revolutionary performance thanks to the AMD Ryzen 4000 Series. Available in Ryzen 5 4600H (6 cores, 12 threads) and Ryzen 7 4800H (8 cores, 16 threads), you can work and play as if you're on a gaming desktop. A powerful RTX 2060 enables ray tracing in games with better fps performance this time. As for the 15.6″ display, the IPS panel supports up to 144hHz, 300 nits, and 100% sRGB coverage. The typical bundle of mouse, headset, and backpack is present here.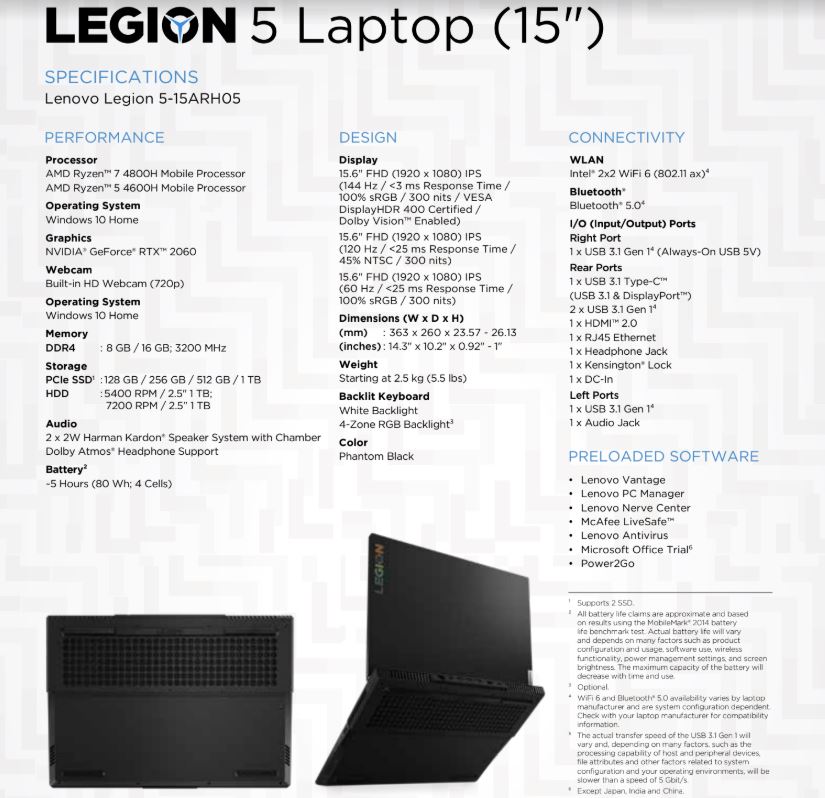 Lenovo IdeaPad Gaming 3i – starts at P52,995 (June 2020)
The company has a gaming laptop for every budget consumer, that's why the IdeaPad Gaming 3i is probably the ideal device for most of us. The least expensive Legion laptop features either the Core i5-10300H or Core i7-10750H with NVIDIA GeForce GTX 1650 or GTX 1650 Ti. Impressively, you can experience buttery-smooth gaming with its 15.6″ FHD display that supports up to 144Hz refresh rate. Coming in Chameleon Blue and Onyx Black chassis, the IdeaPad Gaming 3i is bundled with Lenovo 600 Wireless Media Mouse, 15.6″ Urban Laptop Backpack, and Lenovo 100 In-Ear Headphone. The Ryzen 4000 version will be available later this year.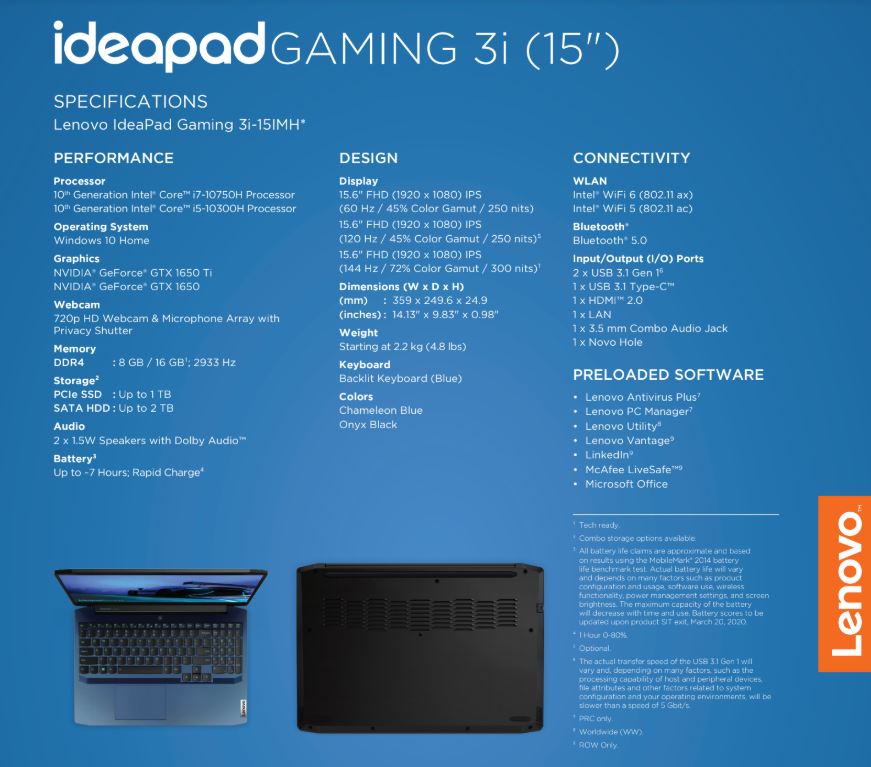 Lenovo Legion BoostStation – starts at P44,995 (2Q 2020)
Made for Thunderbolt 3-compatible laptops, the Legion BoostStation can house an optional desktop-class GPUs should you wish to boost your FPS number. The portable dock station features up to 500W ATX power supply unit, up to 100W laptop power deliver via USB-C, up to RTX 2080 Super or an AMD Radeon RX 5700 XT with complete VR support.
Lenovo Legion Tower 5i – starts at P72,995 (June 2020)
If what you seek is a ready-to-use gaming desktop tower, Legion Tower 5i can provide exactly that. Optionally, you can get it with a liquid-cooled system for a cool and quiet performance. Now, we wouldn't be calling this one a gaming tower if not for its looks. Featuring the Phantom Black chassis, the transparent side panel comes equipped with ARGB lighting setup. The spec configuration will depend on your needs, but you can always go full out with Intel Core processors and up to RYX 2080 Super 8GB GPU. Getting the Legion Tower 5i also means getting a free Legion K500 Gaming Keyboard, M500 mouse, and H300 gaming headset. An AMD-based version will be available later this year.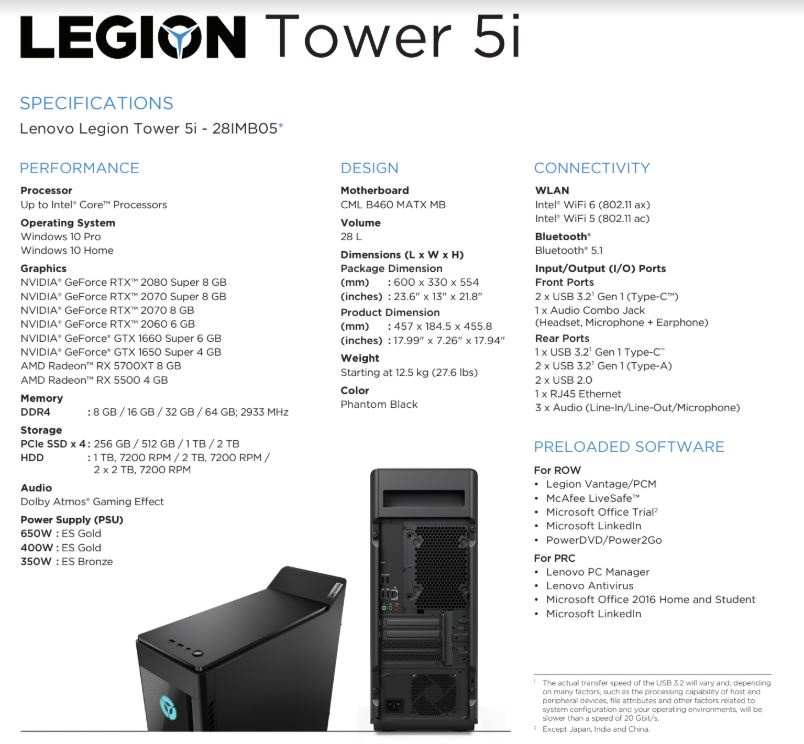 Lenovo IdeaCentre Gaming 5i  –  (TBA)
Whether you're gaming or working, Lenovo IdeaCentre Gaming 5i can get the job done in a cool way. Its simple yet elegant chassis that features blue ambient lighting might be the perfect setup for those who want it minimal. In a Chameleon Blue chassis, this desktop tower is capable of up to RTX 2060 with the latest Intel Core processors. AMD Radeon RX 5500 is also an option for e-sports gamers. The IdeaCentre Gaming 5i is bundled with M300 mouse, K300 gaming keyboard, and H300 stereo gaming headset.
Lenovo Legion Y25-25 Monitor – P14,995 (June 2020)
Last but definitely not least is the Legion Y25-25 gaming monitor. Featuring 24.5″ IPS panel with 1ms response time and 240Hz refresh rate, the display is also capable of HDR Decoding with 400 nits brightness and AMD Radeon FreeSync technology. Aside from gaming, creators will appreciate the 99% sRGB color gamut coverage here.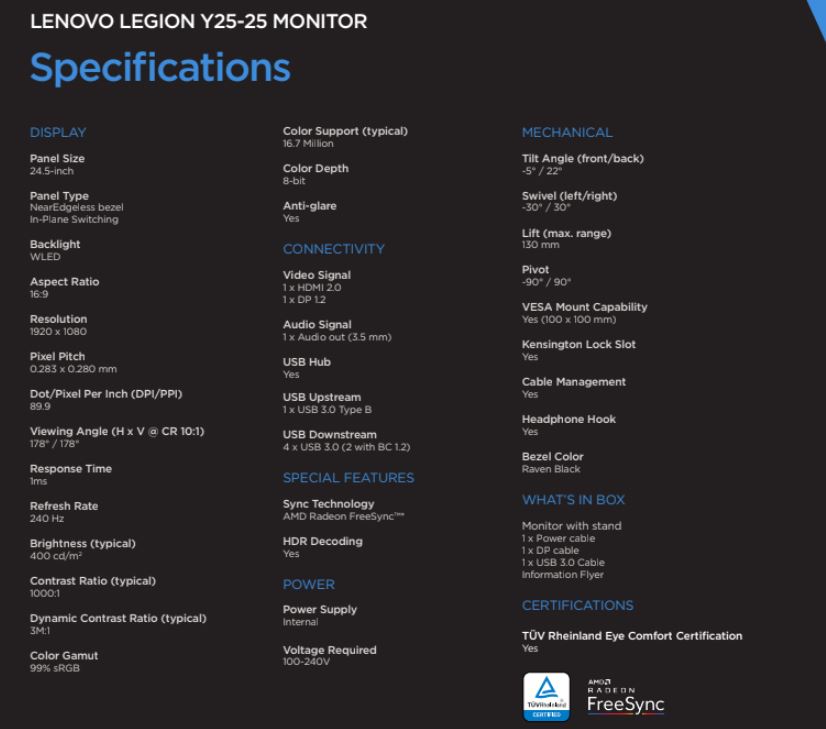 READ: Lenovo Legion Gaming Phone to feature 90W Charging; OPPO Ace 2 Who?