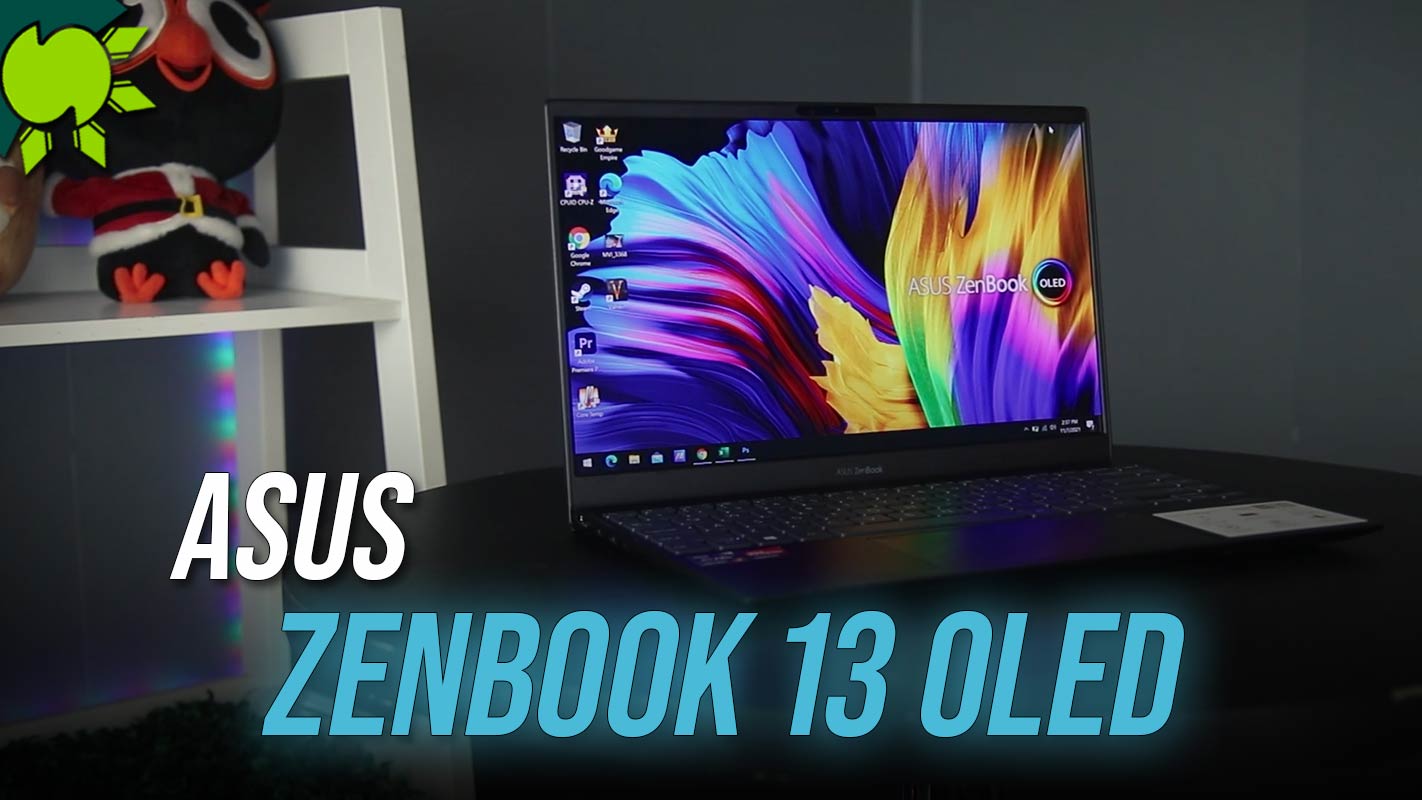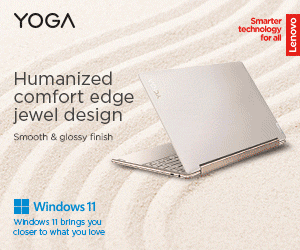 The Asus Zenbook 13 OLED laptop has unique abilities and capabilities that most productivity laptops don't have. A tiny but powerful laptop with a smart design and true-to-life OLED display. It is small, compact, sleek, and looks premium perfect for people who are always on the go. Read along to see what the best features of this laptop are.
READ: Xiaomi Redmi Note 11T 5G with Dimensity 810 chipset, 90Hz display now official
Design and Build
This slideshow requires JavaScript.
The appearance of the spun-metal finish is aesthetically pleasing and stylish. The lid is plain, with an Asus logo and an asymmetric circle ZenBook design. It weighs only 1.14kg and is 13.9mm thin, making it ultra-portable. It also comes with a laptop sleeve so you can take it everywhere.
This slideshow requires JavaScript.
Its slim form factor still allows for multiple IO ports; on the left side, there are two thunderbolt USB type C ports with a 3.2 gen 2 for 4k display and a full-sized HDMI port, and on the right, there is a USB A 3.2 gen 1 port, a micro SD card slot, and an LED indicator.
This slideshow requires JavaScript.
The Asus Zenbook 13 OLED also has a clever design and build while giving convenience to users. There's a brilliant design on its body whenever we lift the screen. The chassis will raise from the surface, to give a better typing position so it can provide better stress-free typing. It also provides better airflow control as the intake grille is located below, then the speaker has more room below and it can easily bounce sound to the surface to scatter audio better in a small room. The technology is called the Ergo Lift Hinge and it gives many purposes making the overall look sleek and premium while having a smart functionality.
Unlike gaming laptops with hefty and heavy builds, This laptop's compact size is very convenient, and you can bring it freely to a coffee shop or anywhere, thanks to its slim form factor.
READ: Qualcomm outs Snapdragon 8 Gen 1 SoC built on a 4nm manufacturing process
Keyboard and Trackpad
This slideshow requires JavaScript.
Typing on the keyboard on the Asus Zenbook 13 OLED is stress-free, and the slant position makes it even more comfortable to type in. It also has an LED-backlit to help position your hand even better in low light. The trackpad is also quite unique; it has a larger size due to the number pad 2.0–an LED numeric keypad with basic math functions–it also has a shortcut at the top right to launch the calculator app. this feature enables easy typing of data entries and numeric numbers into documents. It's useful in our office or WFH setup because we do a lot of excel stuff, and you can still use the trackpad while typing numbers, for example, in the cells, which is very convenient. The sensitivity is excellent, and both the Numpad and keypad functions seamlessly. There is no fingerprint scanner, but facial recognition is reliable for quick unlocking.
Display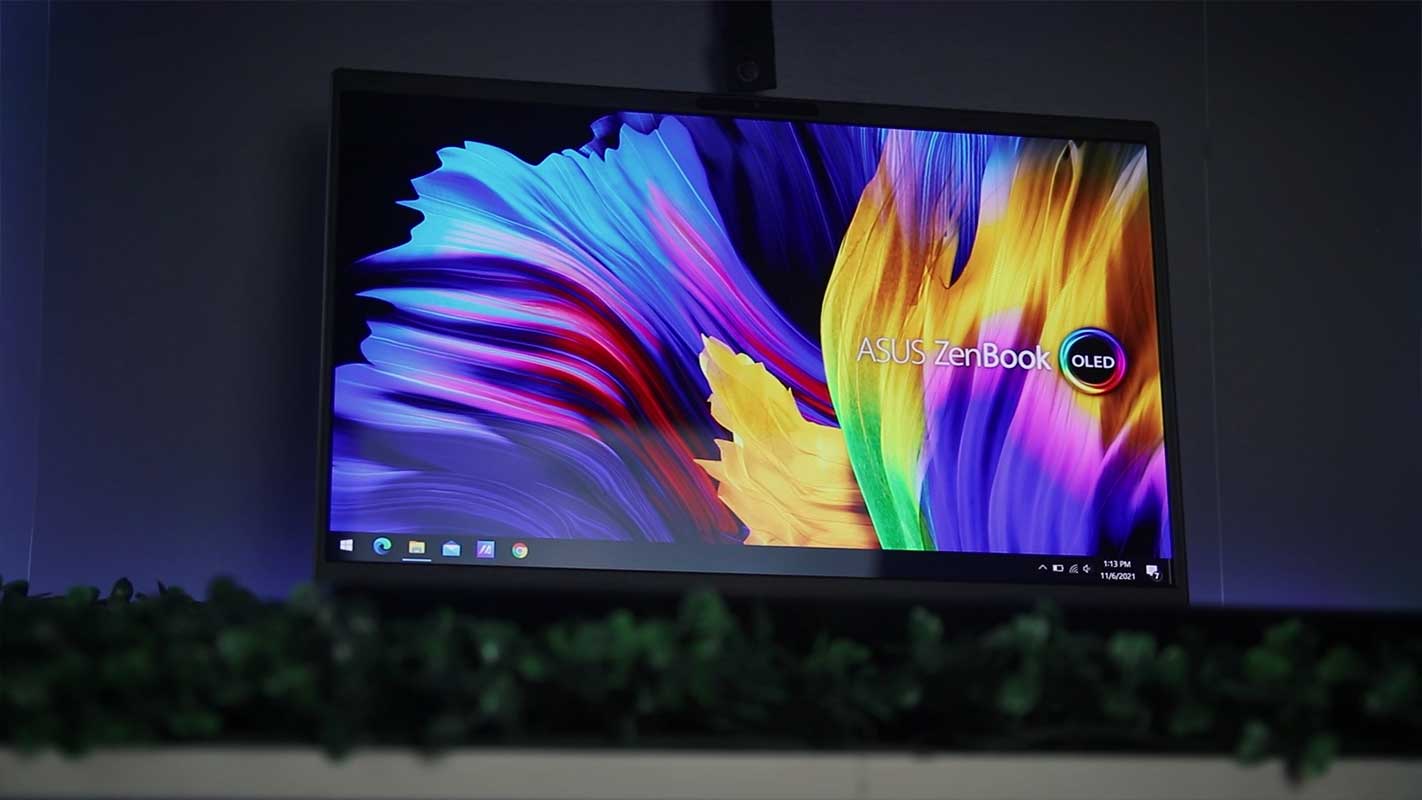 Let's talk about the main reason why choosing the Asus Zenbook 13 OLED. It's a 13-inch laptop with a FHD resolution and a 4-sided nano edge display means that it has slim bezels. It has a sharp overall compact look, and the OLED panel provides a bright and colorful visual experience with a wide viewing angle.
It has stunning detail and realistic visuals, and the panel has an HDR display and 400nits of brightness with true-to-life color Pantone validated color accuracy and a cinema-grade 100 percent DCI p3 color gamut. This means that the colors you see in movies are the actual colors directors want you to see. The colors are vibrant and alive, and the contrast of colors is very detailed due to different color shades.
READ: ASUS Vivobook Pro 14/15 OLED now available in the Philippines, Starts at PHP 47,995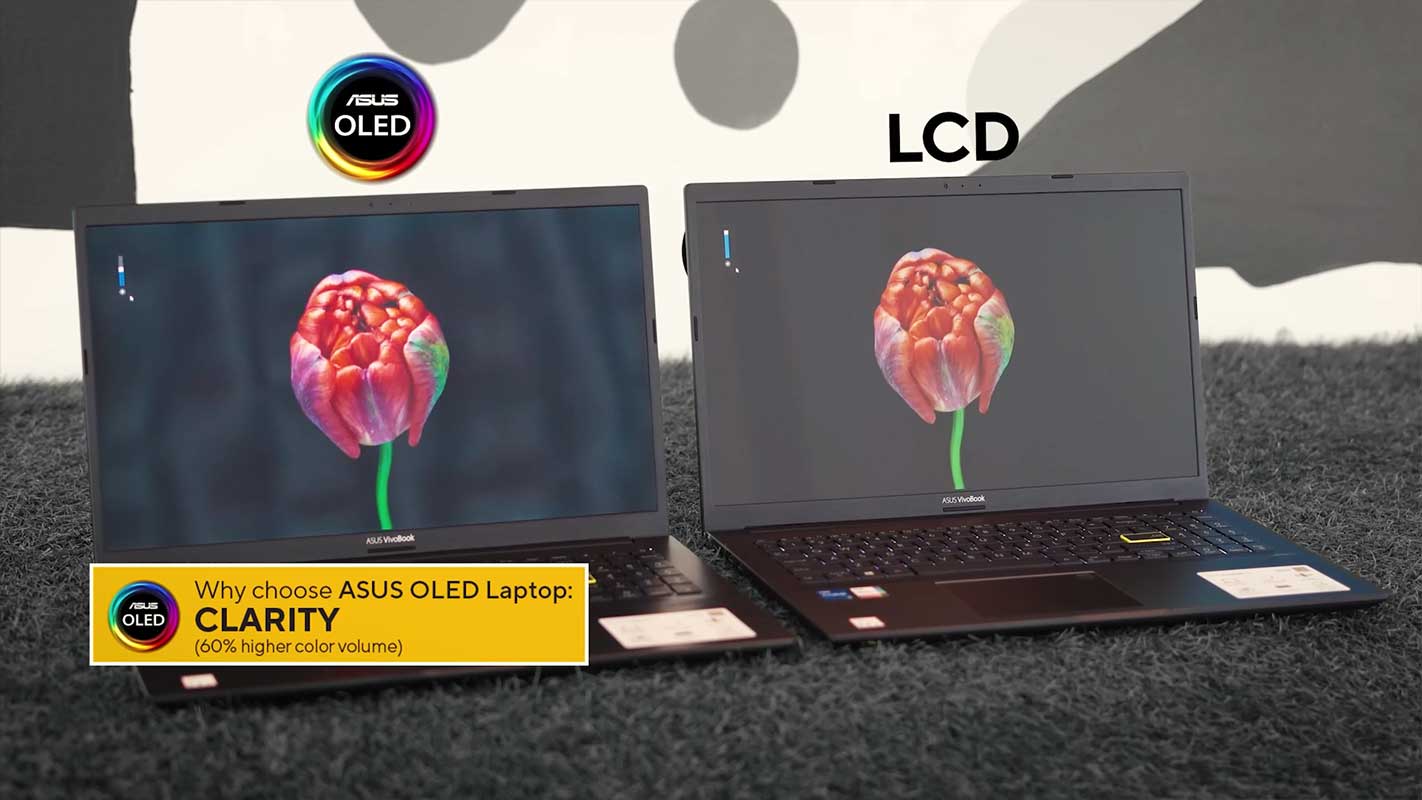 The Asus Zenbook 13 OLED also provides clarity. When compared to standard LCD laptops, it has a 60% higher color volume. Indicates that this laptop has more colors and even when different levels of brightness are used, it still provides better color performance. We're impressed after binge-watching in various brightness levels, the colors didn't have a pale or oversaturated appearance.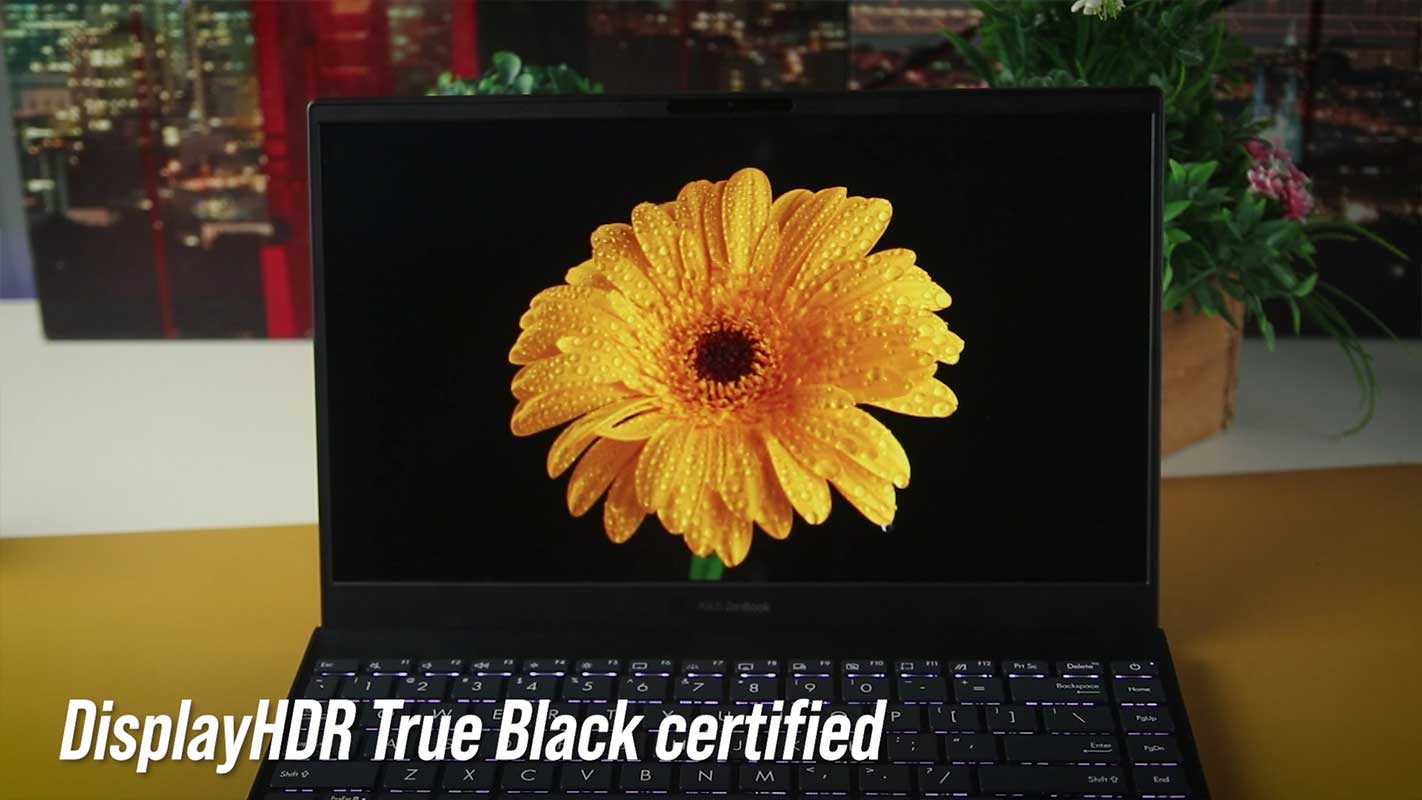 The blacks are truly outstanding. Because it is an OLED panel, it can produce true and deeper blacks. The Asus Zenbook 13 OLED has a high contrast ratio, which adds depth to the scenes. To achieve true black and save power, the OLED display can automatically turn/on and off the pixels on the screen. It's one of the reasons the display looks so good, especially in dark mode.
The display also has a Blur-Free ultrafast 0.2 ms response time, which is 50x faster than an LCD laptop. As a result, even when watching fast-paced action scenes or playing action games, details and clear images can be seen frame by frame. Even without the high refresh rate, scrolling provides a great visual experience.
This slideshow requires JavaScript.
Now all of these technologies are useless if we get eye fatigue after prolonged use. Fortunately, the Asus Zenbook 13 OLED is TUV Rheinland certified, with Eye Care technology that reduces harmful Blue light by 70%. It only shifts the color spectrum, so there is no compromise in color accuracy.
OLED Burn-in Fix
Although there's a lot of technology on the display, the Asus Zenbook 13 OLED has more up its sleeve. It has a clever solution to OLED burn-in issues. For those who are concerned, ASUS has already taken a step forward with their ASUS OLED Care feature. This is to ensure that your ASUS laptop is not affected by the burn-in issue by simply activating the ASUS OLED Care screensaver on your laptop via the Pixel refresh on MyASUS App. It will launch a special screen saver after 30 minutes of inactivity; it will help screen burn-in by keeping pixels moving.
It also employs Samsung OLED burn-in refine technology, which improves the current degraded pixel color to compensate for color accuracy. a clever solution to keep the quality over time.
READ: Synology unveils DSM 7.1, Surveillance Station 9.0 and SRM 1.3
Performance
The Asus Zenbook 13 OLED laptop is not only for entertainment, you already know that the design provides users with a comfortable feel and ease of use, but the display, which provides a color-accurate screen, is better for productivity even though it is a compact laptop. Young professionals will benefit from the OLED panel when color grading and color correction because of the features it can offer to improve the user experience. It is sure to get the job done.
This slideshow requires JavaScript.
It can also do moderate editing at 1080p, and the OLED screens will undoubtedly benefit social media managers. ideal for posting on social media and writing articles
Even though the laptop is small and thin, the hardware inside the chassis is quite powerful. Under the hood is an AMD Ryzen 7 5700U Mobile Processor with 8core 16 threads to maximize productivity (8-core/16-thread, 12MB cache, up to 4.3 GHz max boost), and the configuration we have is the 8GB of ram with a 512GB SSD storage that boots in seconds.
Features and Connectivity
This slideshow requires JavaScript.
Another advantage of the Asus Zenbook 13 OLED is that it comes with a pre-installed Microsoft office suite on its Windows 10 Home operating system. Furthermore, the MyAsus app provides better admin controls for the entire device, such as performance control, fan profiles, WiFi smart connect, and Asus OLED care, ensuring better controls and optimization with a single click.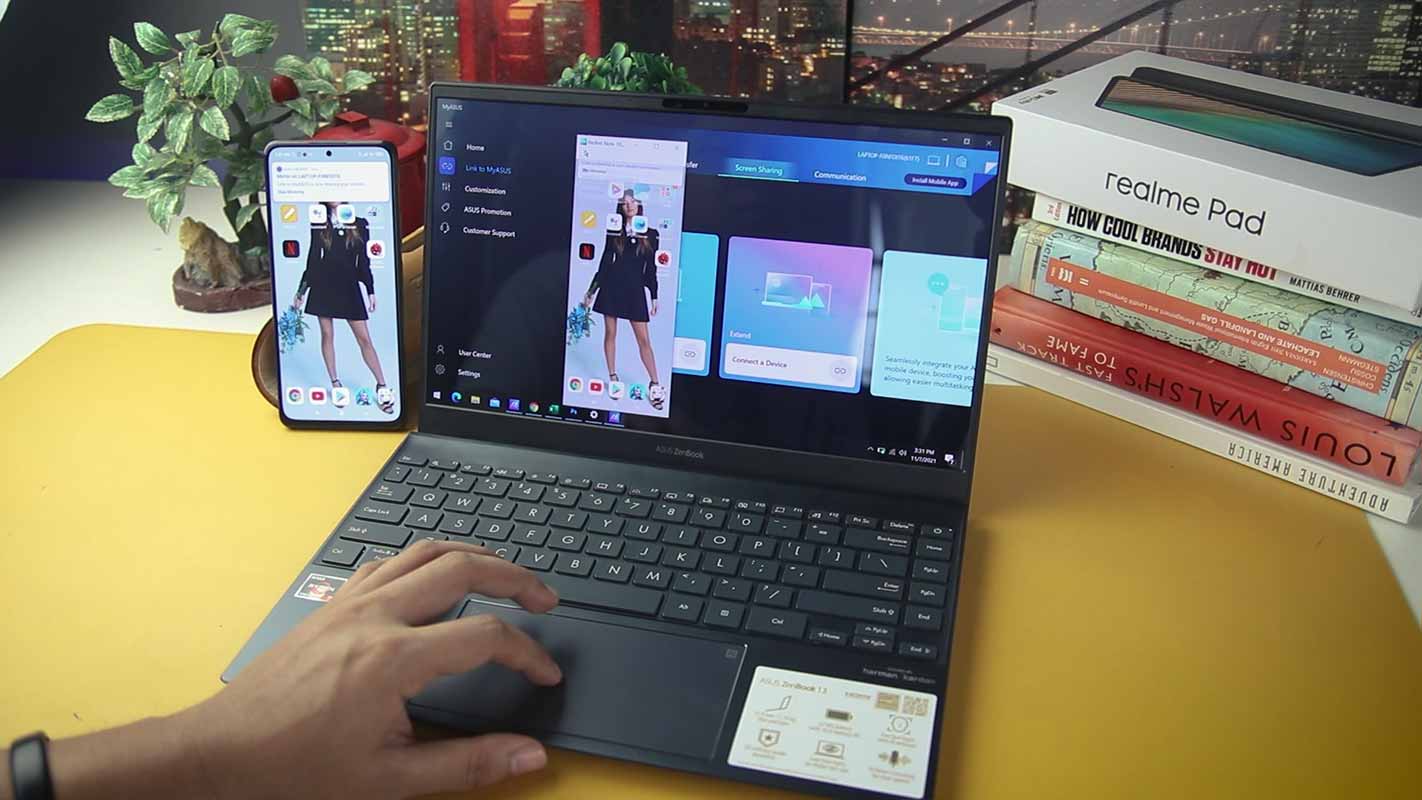 The laptop also has cross-platform sync, so you can mirror your phone's screen to your laptop's screen and vice versa, or use your mobile device's camera as your PC's webcam.
READ: Samsung Galaxy M22 Review – Affordable Device with Ups and Downs
For connectivity, It has ASUS WiFi Master Premium Technology and WiFi 6 for ultra-fast downloads, smooth streaming, and stable connection. It also has Harman Kardon for its speakers that blast enough sound to fill a small room. Lastly, it has an AI noise-canceling for video calling to ensure clean communications.
Battery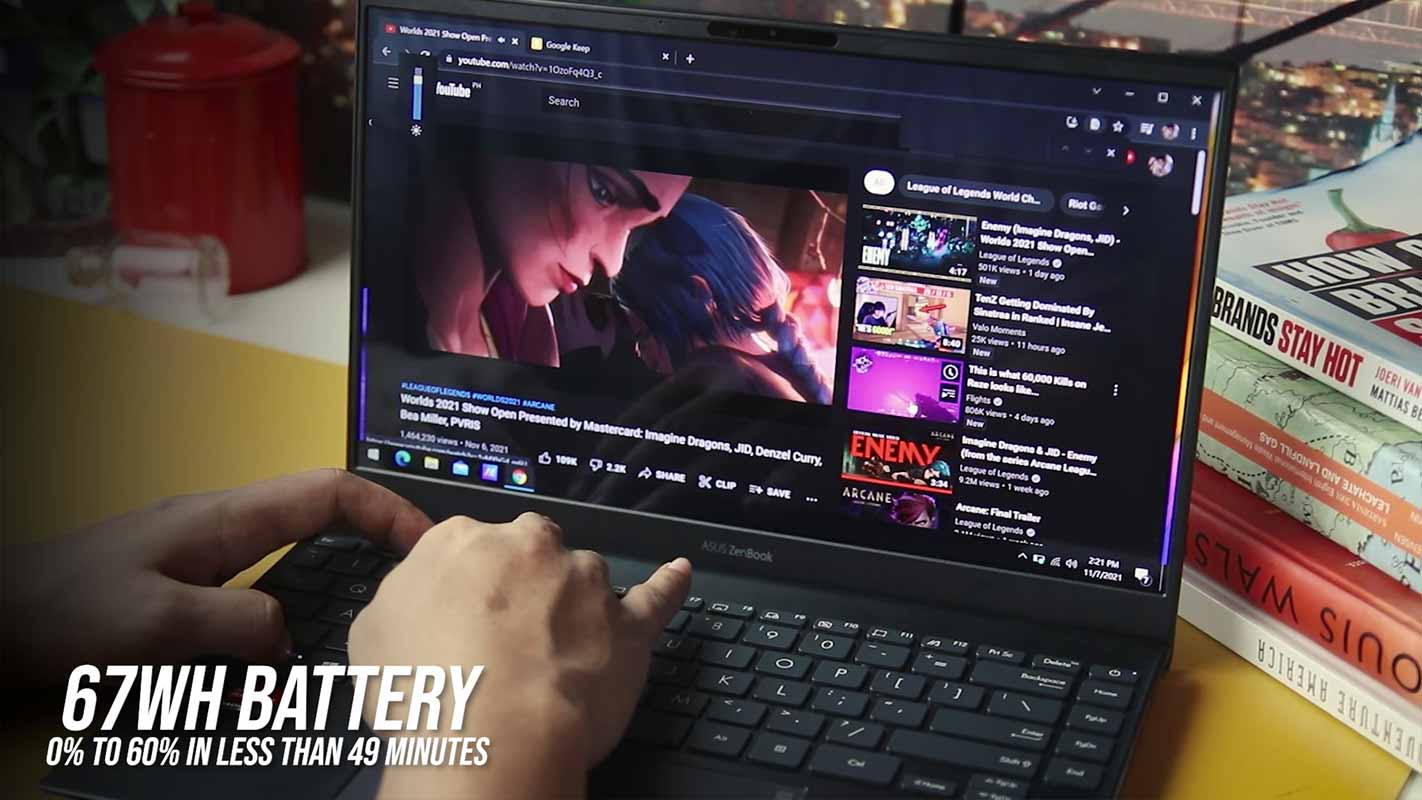 Finally, the battery is a 67Wh advertised to last up to 16 hours of battery life, but we tested it in heavy usage and got 5 hours of screen on time at 75% brightness. Because of the OLED panel, it lasts longer than competitors. Charging the battery took about 51 minutes to reach 60% which is not bad for the price.
Price and Verdict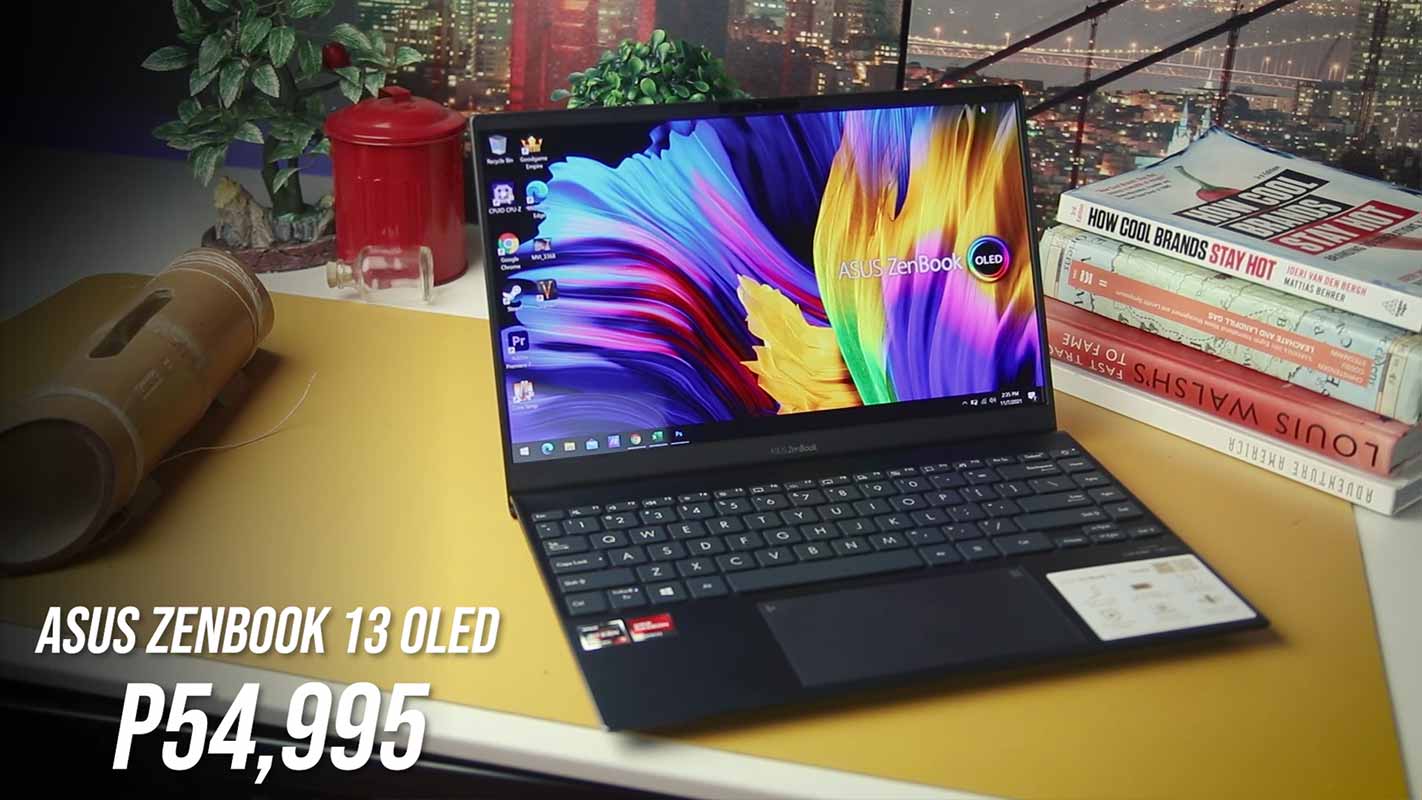 The Asus Zenbook 13 OLED starts at P54,995 and is available nationwide through official Asus Shopee and Lazada stores, as well as ASUS Concept stores. The goal is to provide users with the best entertainment while also ensuring stress-free productivity. The OLED panel is the cherry on top that provides numerous advantages, particularly for young creatives. The Asus Zenbook 13 OLED laptop offers a combination of entertainment and productivity on the go.
READ: ASUS Zenbook 14X OLED now in the Philippines, priced at PHP 64,995