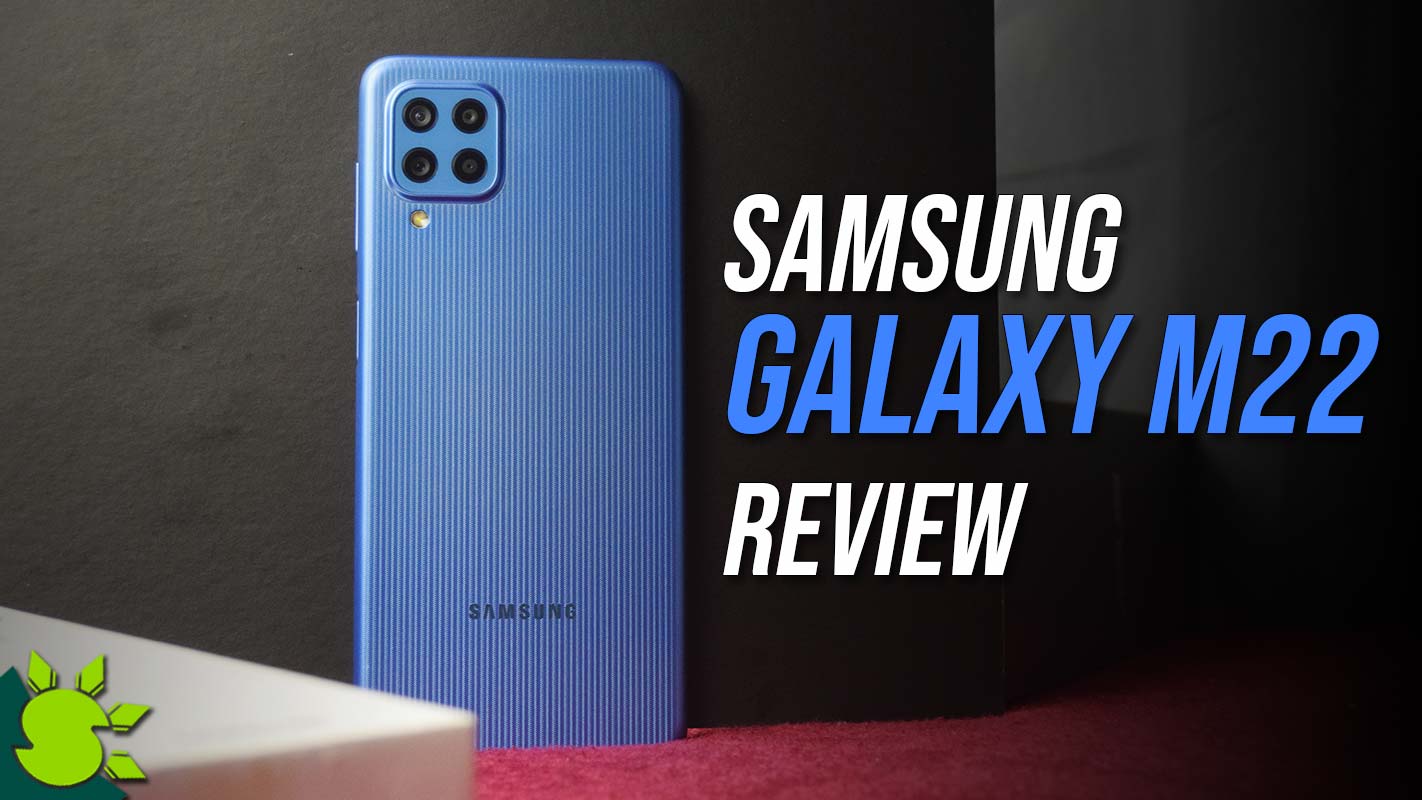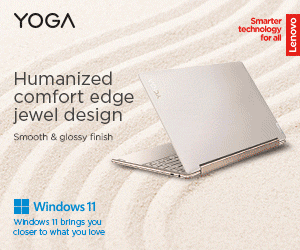 The M series is Samsung's entry-level Galaxy phone and the company isn't done releasing low-cost devices. And before the year ends, there's another entry-level smartphone that is already in our hands–the Samsung Galaxy M22. It has a Mediatek Helio G80 processor, a quad camera setup, a Super AMOLED display with 90Hz, 128GB storage, and a large 5000mAh battery. For us, it provides more value than its price, but what are the drawbacks? Follow along as you read.
READ: Top 5 Foldable Phones You Can Buy Right Now in the Philippines
Design and Build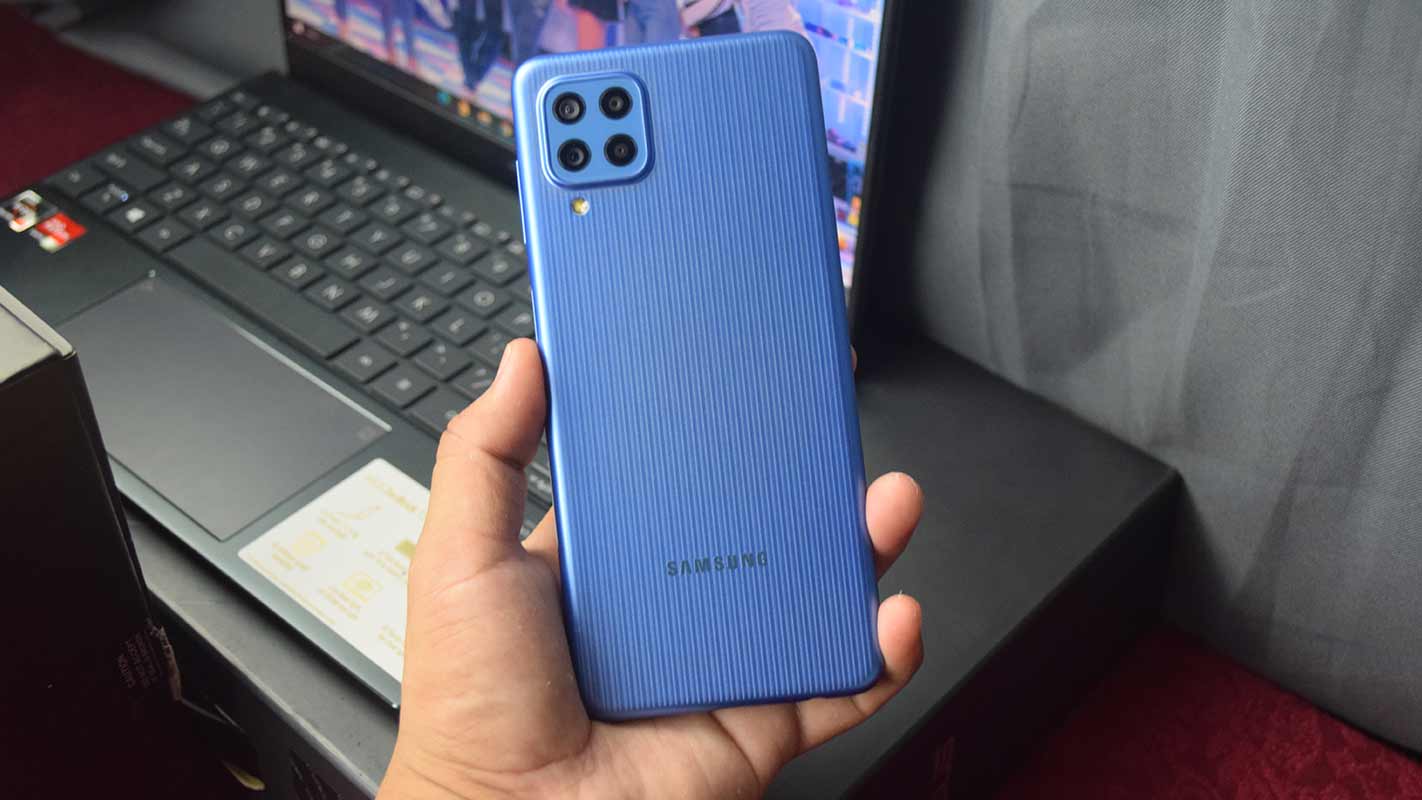 When we look at the overall design, we can't help but notice that it has a similar structure to other budget phones, such as the 8.4mm thickness and 3D curved plastic back. Though even with a 5000mah battery, it only weighs 186g. We can definitely say that it has a solid and sturdy build, as the back does not bend or crack when pressed. It has a nice series of parallel lines that add grip, a curve pattern on every line, and we can say it has a nice texture back that doesn't get smudges despite being made of polycarbonate plastic.
The camera module is square in shape and contains four cameras. It has a small bump and is visually appealing. The flash is located outside, below the camera array. The square-shaped module gives it the appearance of a realme smartphone. However, it is distinguishable because the module is similar to the overall variant's color, similar to other Samsung smartphones nowadays. We have the light blue color variant, but it is also available in white and black.
This slideshow requires JavaScript.
Around the frame, the volume rocker and power button are situated on the right, the power button also acts as a fingerprint scanner. The simtray is located on the top left side, it has a dual nano sim slot and an expandable slot that expands up to 1TB via microSD. The secondary microphone is located at the top, while the single down firing speaker, USB type C port, main microphone, and 3.5mm jack are located at the bottom.
READ: TOP 5 5G Smartphones under P13,000 (late 2021)
Display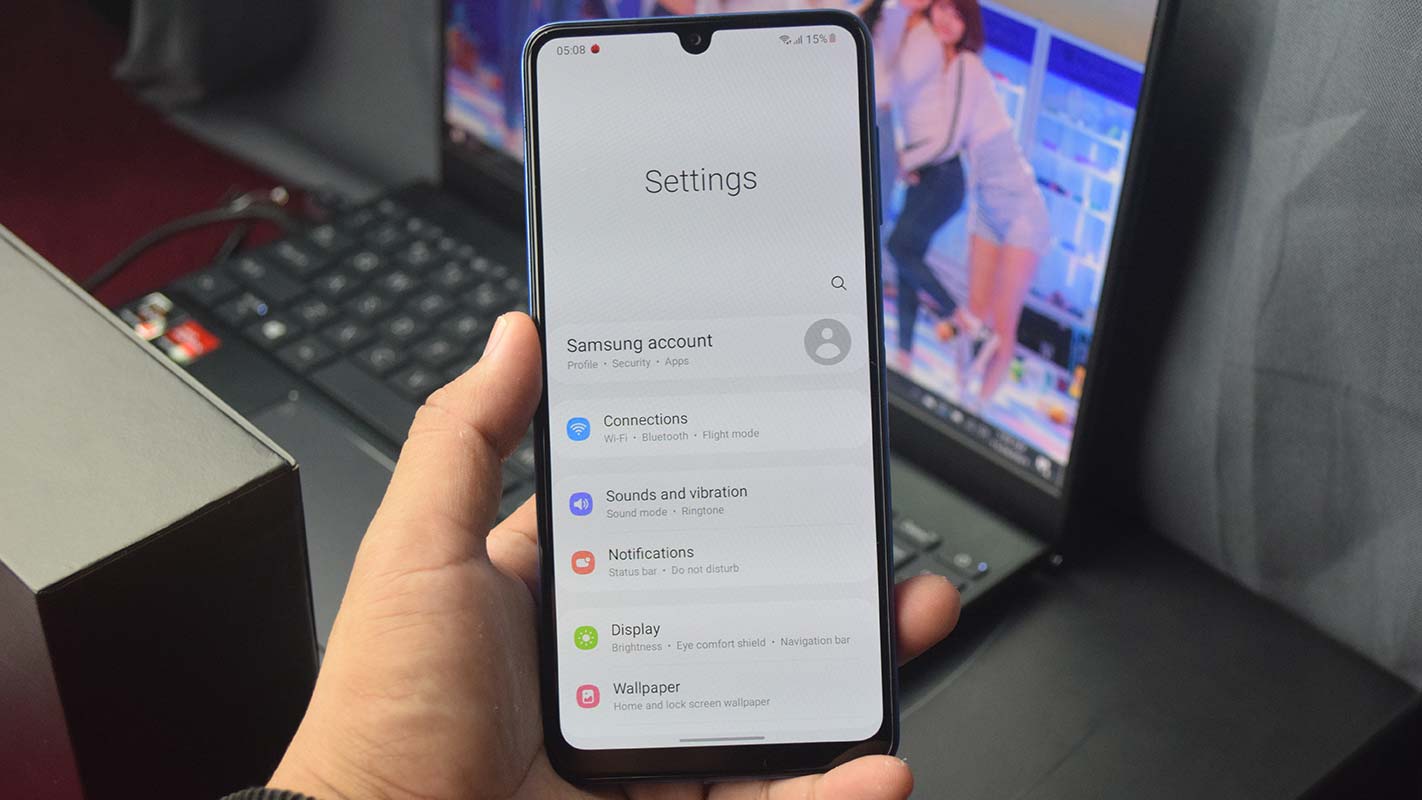 In terms of display, the Galaxy M22 has a 6.4-inch HD+ Super AMOLED display with a 90Hz refresh rate. The bezels are adequate, but the chin bezels are noticeably thicker than the rest. The Infinity U notch and the chin bezel are quite distracting when in landscape mode. It's time for Samsung to include a punchole cutout on every smartphone that costs more than P10,000 in order to make a better impression, as this is the sweet spot between the entry level and midrange categories.
It's also a bummer on the display that it's only in HD+ resolution, which gives a poor impression in papers. However, in our experience, the pixels are compact and the display does not appear soft, and we initially mistook it for being a FHD+ display due to the super amoled colors. However, when compared to 1080p, we can clearly see the difference. Because of the Super AMOLED and 90Hz, the display is acceptable.
This slideshow requires JavaScript.
In terms of quality, the colors are good and vibrant, with sharp colors, and it compensates for the 90Hz smoothness, so even though we are only getting 720p, it still provides a great viewing experience.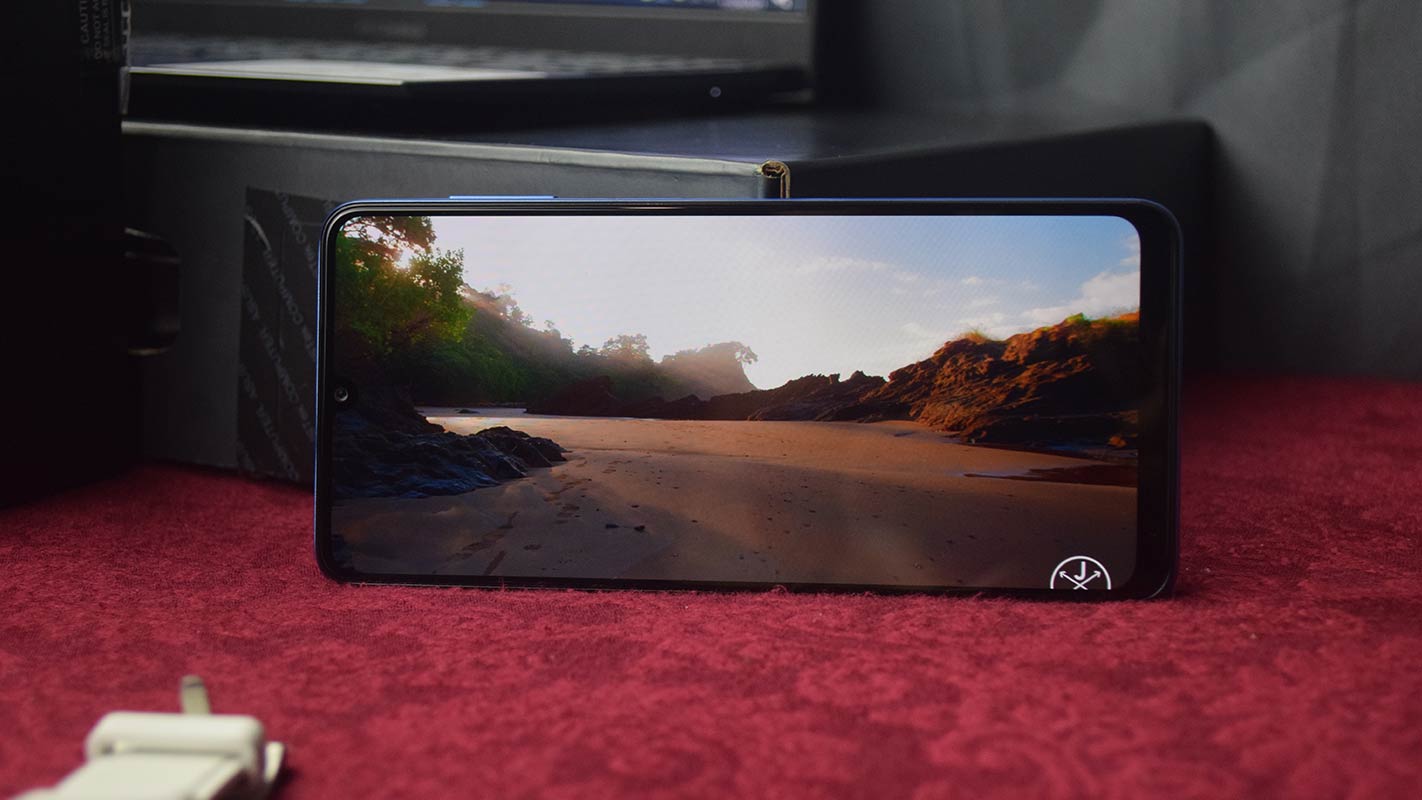 The brightness is at a high 600nits, making it ideal for outdoor use, thanks to the Super AMOLED panel, which provides a brighter and punchier display. It does not have adaptive refresh rate in the display settings, which is not surprising given the Samsung phones.
This slideshow requires JavaScript.
But even though the device only runs on OneUI Core, it still has a screen mode. This means that you can still set the screen colors to vivid and natural for more accurate colors. It is unquestionably a power-saving display, simply use dark mode all of the time.
READ: Samsung Galaxy A52s 5G Review – How's the Durability?
Camera
The Galaxy M22 is equipped with a quad camera setup, a 48mp main snapper with OIS, an 8mp ultrawide camera, and 2mp for both macro and depth. The selfie camera has a 13MP f/2.2 sensor and shoots 1080p at 30fps. The main camera can also only record in [email protected], which is fine given the price. The real drawback for us will be the galaxy m22's pro mode. It has a pro mode but lacks the ability to adjust the shutter speed. Other features that are useful for everyday photography include panorama, food, slow motion, and hyperlapse.
This slideshow requires JavaScript.
As for the quality of the main camera, it outputs a natural-looking color with nice contrast. Blacks aren't deep and still have details. It produces natural-looking color with good contrast. Blacks aren't deep, but they do have details. Even at sunset, white balance detection is excellent, and colors are still accurate. There are no grains or noise in the dark areas, however, we think it needs optimization on the night mode feature as it doesn't process a noise reduction. We can say that the quality of the main camera is excellent and produces true to life quality images. The level of detail is excellent, and it processes photos faster than expected.
This slideshow requires JavaScript.
Even with a 2MP selfie, the macro shot is excellent and detailed. Despite the fact that it only has fixed focus, we were able to capture sharp images that were in focus. There are no visible grains or noise as well. When compared to other entry-level devices, the quality is superior.
This slideshow requires JavaScript.
Moving on to the 8MP ultrawide, it outputs excellent ultrawide shots with lesser distortion on the edges even though it captures with a 123-degree field of view. There is no color fringing as well and the distortion is visible near objects. The colors are the same with the main cam and white balance detection is also on point.
This slideshow requires JavaScript.
In terms of selfies, the 13MP selfie produces flattering images but with less contrast. It gives the photo a dreamy appearance. The sharpness and blacks are also impressive.
and the subject-to background separation is excellent, with a high degree of accuracy in detecting the subject.
Overall, we think the camera quality has a good value for money. We didn't expect the output to be quite overwhelming.
READ: Xiaomi Mi TV P1 55″ Review – What Can We Expect?
Performance
Even though it uses the Helio G80 chipset from last year, this device has features that will improve the user experience. The first point to mention is the resolution. As previously stated, it has an HD+ resolution, which means there are fewer pixels to process in order to provide stable performance rather than a sharper viewing experience. Then the OS is a one UI core, a lighter version of the one UI. This means that there are fewer features available to improve OS-to-chipset communication. Then there's the 6GB of RAM, which means there's more room for multitasking. Not to mention the 128GB storage space for additional games and media.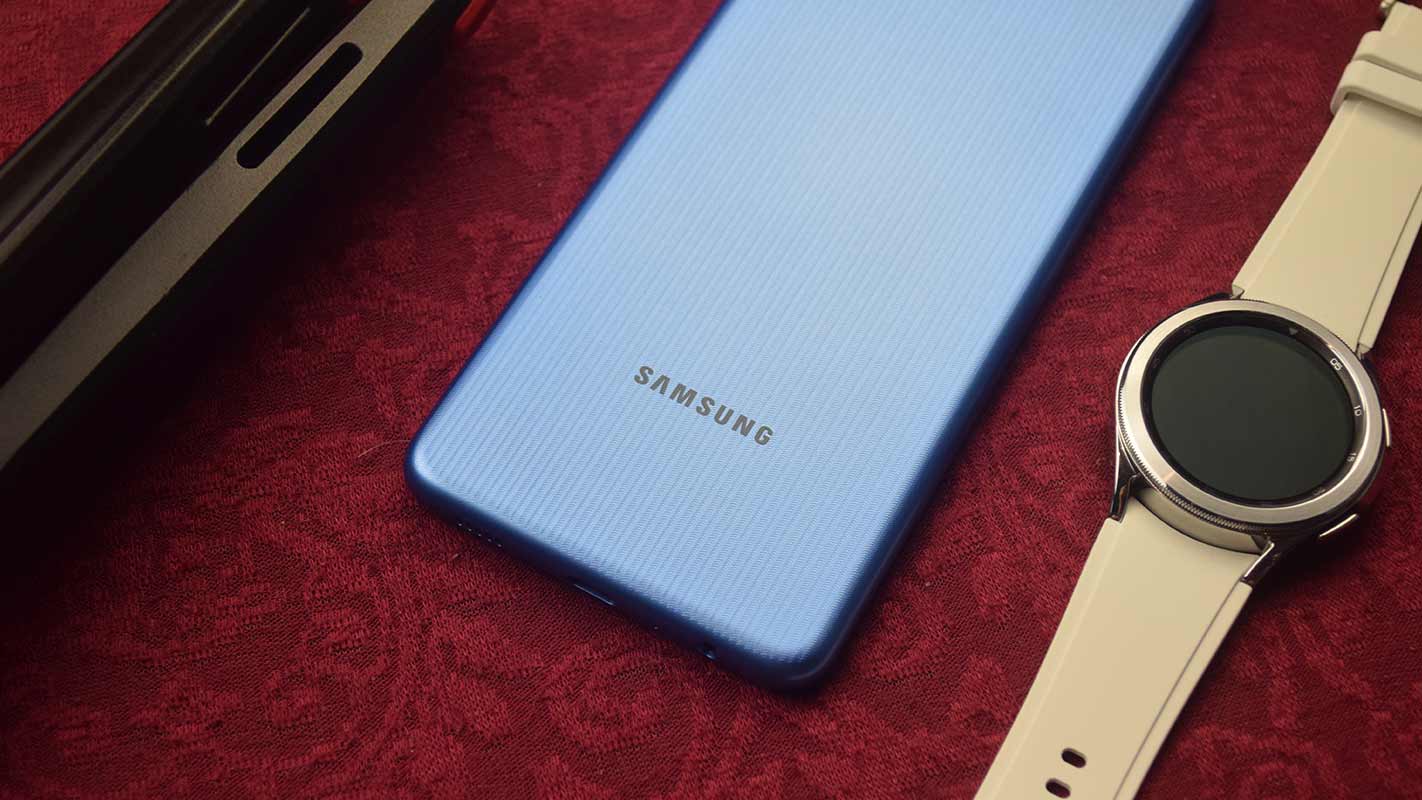 The Galaxy M22 may have had a less impressive display, but it gets the job done without a hitch. The performance is excellent, and multitasking is stable without the worry of other apps closing automatically. Though app launch and loading times are slower due to eMMC 5.1, it is important to note that there are few to no stutters.
Software
This slideshow requires JavaScript.
The One UI Core has fewer features than the full One UI OS, but we can still feel the light process that the current OS provides to the device. Screen gestures and other reliable features, such as one-handed mode, motions and gestures, and side key functions, are still present. It has stock Samsung and Google Apps that aid in tasks, particularly productivity, and they do not lag at all. The fingerprint scanner is quick and accurate in terms of security, whereas the face unlock suffers in low light. In daylight, however, it works and is dependable.
READ: OPPO ColorOS 12 – Everything We Know About the Latest Update
Gaming on the Galaxy M22
This slideshow requires JavaScript.
In terms of gaming, it can run esports titles such as Pubg Mobile, Call of Duty Mobile, Mobile Legends, and Wildrift at maximum settings. However, when testing Honkai Impact 3's stability, it is not normal at recommended settings, but at very low settings with 60fps in both combat and non-combat, it has stable frames with 98 percent stability. The game runs smoothly and is enjoyable to play.
It can run the game on genshin impact, but don't expect smooth gaming even at the lowest settings. The game is mostly playable on midrange and higher devices, so it's not surprising that it has a lot of stuttering rather than smooth gaming, as all entry level devices have difficulty running the game. Nonetheless famous games works fine and it is a recommended phone for gaming on a budget. Nonetheless, well-known games run smoothly, and it is a good phone for low-cost to moderate gaming.
Battery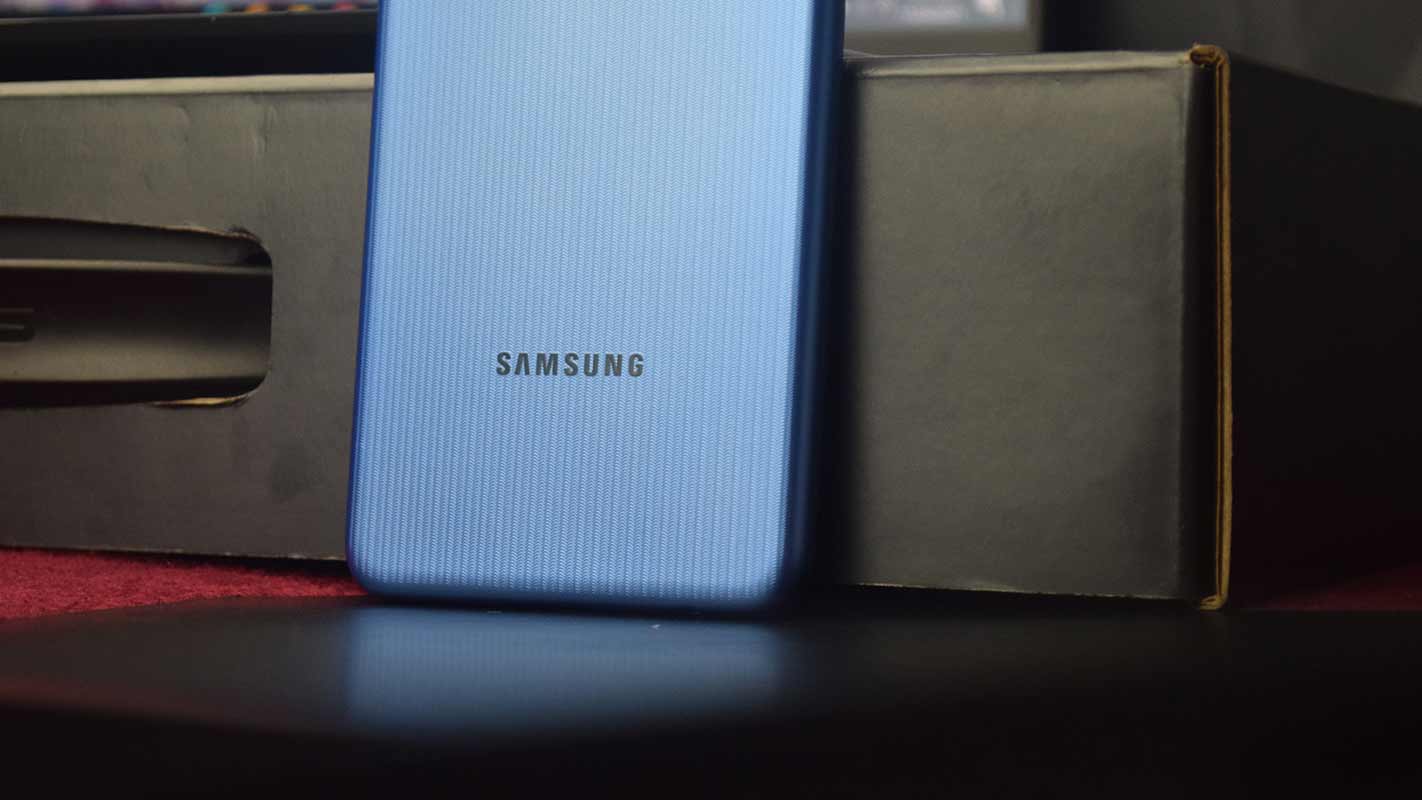 Even with 90Hz turned on, the battery does not appear to drain quickly. It endures a day or two of daily use. The 5000mAh battery lasts longer than expected. It only takes 15 minutes less than other phones with 720p and 5000mAh batteries, which we believe is due to the 90Hz eating some of the battery. It's a good thing it runs a lighter version of the operating system so processes don't pile up. Heavy usage is expected to drain the battery faster. We recorded 7hrs and 45min of screen on time and these are impressive figures.
READ: Samsung Galaxy M52 5G now available in the Philippines
When it comes to charging, the Galaxy M22 can take up to 25W of fast charging and it took about 1hr and 23mins to fully charge the 5000mAh battery. Some phones we reviewed that have a Helio G80 only have 18W, so the Galaxy M22 is faster. However, for the price, they should equip it with 30W. Our calculation was 20 minutes slower but actually, it's not that bad at all.
Verdict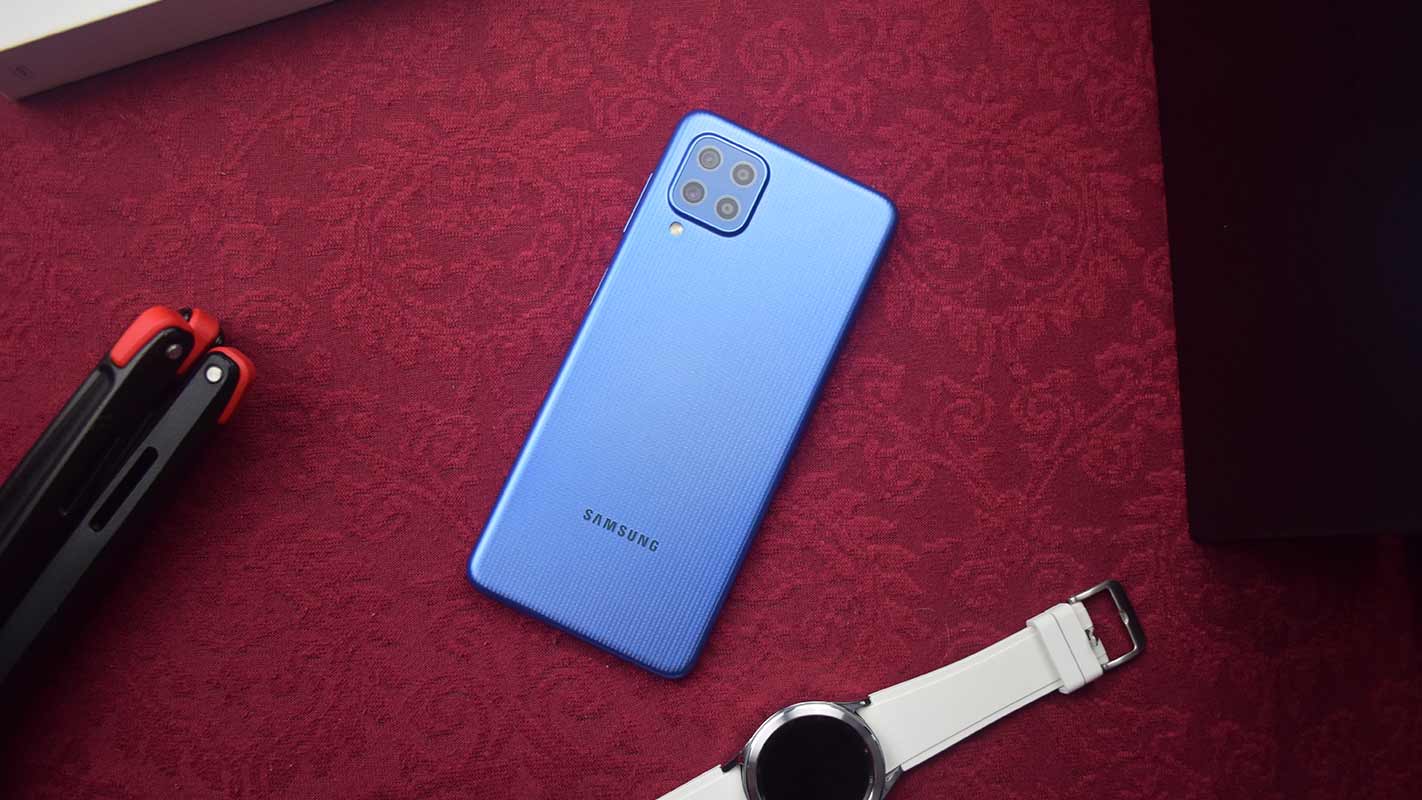 Overall, the Galaxy M22's cameras are impressive, and it has the ability to play esports titles at high quality settings. When you consider the price range, at P10,590, it is only 600 pesos more than the sub-10,000 entry level devicse. So, for the price, we get a Super AMOLED display rather than a FHD+ resolution. It's a shame, but it's nearly perfect. We can say that the Helio G80 will suffer from instability when the resolution is doubled, so opting for the Galaxy M22 is still a good choice with a slight compromise on the viewing experience.
It's also a good thing that they used the One UI core OS rather than the main OS to improve the Helio G80's performance and process handling. It demonstrates exactly what we expected on paper. The 128GB storage and 5000mAh battery are additional features that make this phone a worthy buy.