Foldable screens are the latest bleeding-edge technology, and smartphone companies are still working to improve a perfect and right foldable phone for users. Bigger screens mean a better viewing experience, but the user experience is what is needed. The ability to have these devices is a head-turner, and it's a real thing now. So If you are looking for the top foldable smartphones, you're in the right place.
Starting with the highest price, the Huawei Mate XS 5G is the last year's second-generation foldable phone from Huawei. It is priced at P139,999 for 8GB ram and 512GB of storage, and if you are looking for a complete all-screen display that folds in the opposite direction, The Huawei Mate XS 5G is the one you are looking for.
The overall size of the screen is 8.0-inches diagonally, with 2200×2480 pixels, and it's an OLED screen. When folded, the display will turn into 6.6-inch, 1148×2480 pixels with a 19.5:9 ratio. It also uses flexible bionic graphite to ensure adequate heat dissipation in a foldable device.
Furthermore, it runs on Kirin 990 5G (7 nm+) with an ample 512GB storage. The camera is a 40MP main, 8MP telephoto, 16MP ultrawide, and TOF 3D sensor. When folded, it enables you to capture selfies using the primary camera, the next level of flexibility. The device is backed by a 4500mAh battery paired with a 55W Huawei supercharge.
The following device is the Samsung Galaxy Z Fold 3 5G. For the past years, Samsung has received criticisms throughout the generations of their fold phones. But that doesn't end there, the Z Fold 3 is their 3rd increment. They made it more durable with more capability at a lesser price of P87,990 for 12GB/256GB configuration and P95,990 for 12GB/512GB.
READ: Top 5 Multitasking Stuff You Can Do In The Galaxy Z Fold 3
The third-gen Galaxy Z Fold 3 5G consists of 2 screens, the cover and the main display. The cover screen boasts a 6.2-inch 832×2268 pixels, Dynamic AMOLED 2X, with 120Hz and Corning Gorilla Glass Victus protection. While the larger foldable screen has a 7.6-inch Dynamic AMOLED 2x display with 2208×1768 pixels resolution also with 120Hz refresh rate.
It has five sets of cameras, three rear cameras with 12MP on all primary, telephoto, and ultrawide. Then the 10MP selfie is on the cover screen, and it has a 4MP selfie under the display on the main screen. It runs on a flagship chipset, Snapdragon 888 5G (5 nm), with 12GB of ram and up to 512GB of storage. The battery is 4400 mAh paired with a 25W fast charging. It is also the first fold phone to have an IPX8 rating for water resistance, and it is now compatible with the s-pen.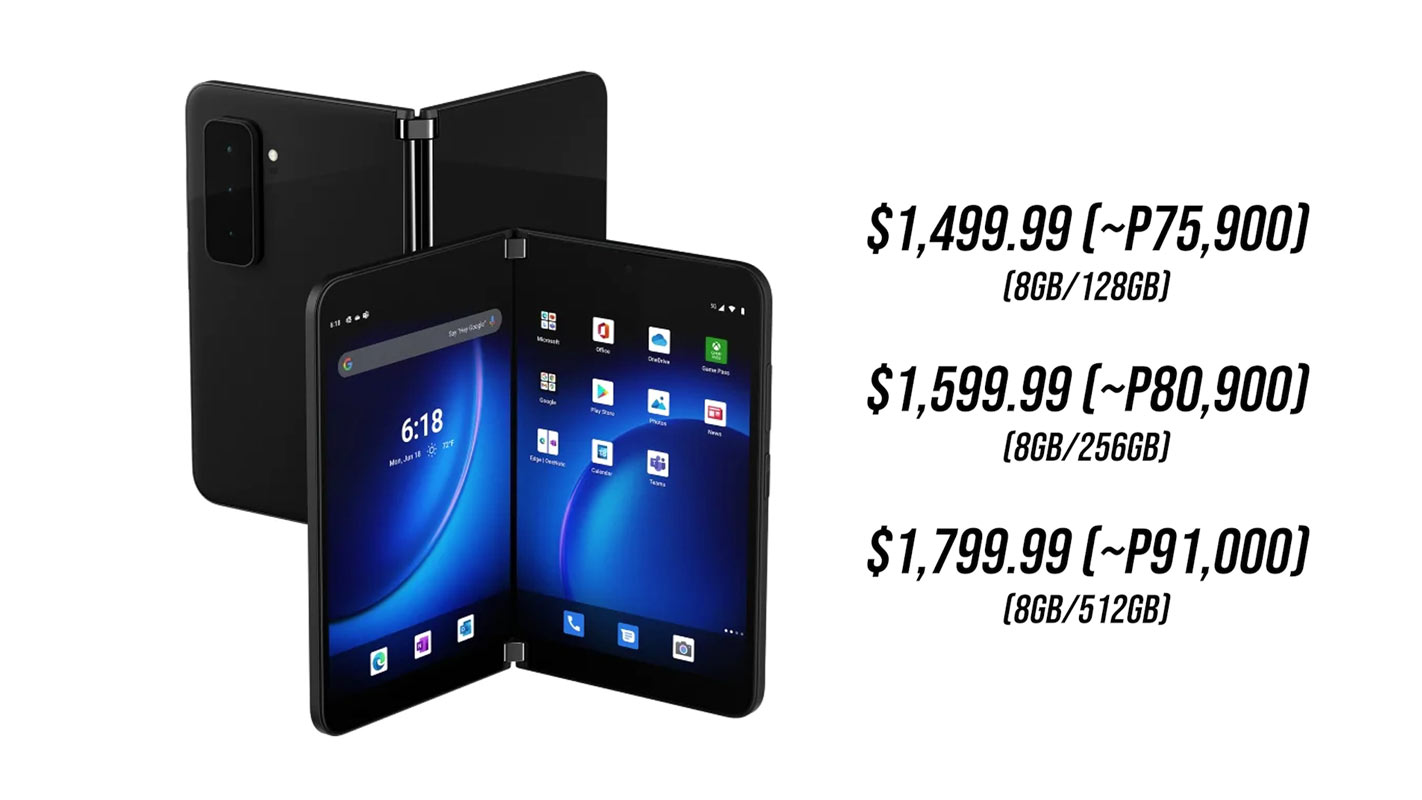 The next big foldable phone is the all-new Microsoft Surface Duo 2. it has a lot of improvements from its predecessor and is an excellent choice for the Microsoft ecosystem thanks to the sync and connect function with Microsoft 365. It's a foldable phone with two separate screens.
When unfolded, the overall diagonal size of the screen is an 8.3-inch Dual PixelSense Fusion AMOLED main display with a 90Hz refresh rate. Individually each screen has a 5.8-inch Single PixelSense AMOLED, with rounded edges to show a notification indicator when folded. Hence, it adds a more user-friendly experience, and it's a bit safer than the all-screen foldable thanks to the Gorilla Glass Victus protection for both screens.
Moreover, the Surface Duo 2 is priced at $1,499 for 8/128, $1,599 for 8/256, and $1,799 for 8/512, and you can buy it on the Microsoft official website. It packs a Snapdragon 888 5G (5 nm) with up to 512GB storage. The camera consists of 12MP primary and telephoto, 16MP ultrawide, and a TOF 3D sensor, while the selfie is a single 12MP. It is backed by a 4449 mAh battery and a 23W fast charging. It also supports a slim surface pen for extra productivity.
READ: ZTE nubia Red Magic 6, 6S Pro, 6R now available for purchase in PH
This next device folds horizontally. The Motorola Razr 5G is the iconic flip phone that made a comeback last year, and it is priced at P72,990 for the 8GB + 256GB configuration. It consists of two separate screens. The small cover screen, when folded, boasts a 2.7-inches, 600 x 800 pixels G-OLED display, while the foldable main display is a 6.2-inch 876 x 2142 pixels Foldable P-OLED screen.
It is already a 5G capable device thanks to the Snapdragon 765G 5G (7 nm) chipset. Meanwhile, it only has one 48MP primary camera with OIS and a 20MP selfie. It is backed by a 2800mAh battery paired with 15W fast charging.
The 2nd type of foldable phone from Samsung is the Galaxy Z Flip 3. It can also unfold horizontally, pretty much like the iconic foldable keypad phones. You will also love this device and compared razor flip if you love multiple color options. It is available in Phantom Black, Green, Lavender, Cream, White, Pink, Gray. It's a stylish, unique foldable phone the sports a 6.7-inch FHD+ Foldable Dynamic AMOLED 2X with a 120Hz refresh rate. it also has a small cover screen when unfolded with a size of 1.9 inches super AMOLED with 260 x 512 pixels.
For P56,990 on the 256GB storage, it comes with the latest flagship Snapdragon 888 5G (5 nm) chipset, 12MP dual camera with ultrawide, a 10MP selfie, and backed with a 3300 mAh and 15W charging. It also supports 10W wireless charging and features an IPX8 water-resistant just like the Z Fold 3.
Overall
These foldable devices matter in durability, design, and user experience. Most apps are starting to adopt the Screen Continuity function, which enables seamless window compatibility in every screen orientation for maximum user experience. At the same time, every foldable phone OS is also optimizing its UI. All of them are working and will push you to maximize productivity. So you decide which foldable phone you will buy.