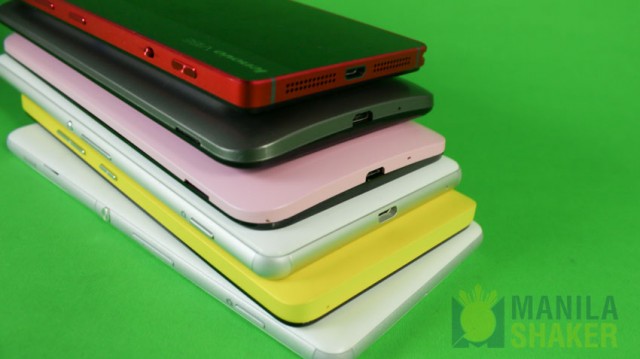 On October and November, there are a lot of expected handsets to land the market, lets take a closer look on what are these handsets that'll take the stage on the following months. check out their specs, features and overall performance to expect the unexpected.
 Samsung Mega On and Grand On
These new handset coming in from Samsung are truly something to wait for. Not much is said on these devices and its obvious that Samsung wants to keep these handsets a secret from everyone, as much as they can.
The Galaxy Mega On aka Galaxy O7 is a featured handset, with its partner the Samsung Grand On. Both these phones are expected to be either budget phones or mid-rangers, base on their specs. The Galaxy Mega On is, from the looks of things the bigger brother of the two sibling, with its 5.5-inch screen size. For budget-phone goer's, these devices are truly to look forward to.
Huawei Nexus 6p and LG Nexus 5X
Similar in a few things, the new arrival from the Nexus series, takes aim to LG and Huawei, with their upcoming handsets the Huawei Nexus 6p and LG Nexus 5X.
The LG Nexus 5X packs a few new things, mainly on its Android 6.0 Marshmallow system, which is considered to be awesome. The LG Nexus 5X was announced just today, and many smartphone users, necessarily don't like the latter's specs overall, with its 16/32GB internal storage and 2GB RAM capacity, which they think could have delivered a few more than the set given. However, it still something to look forward to, this upcoming months, since this is a Nexus phones, and whether its high-end or low-end, its still worth the attention.
Now, lets move on to Huawei's Nexus 6p, to be honest, Huawei's upcoming Nexus handset, felt like its something more to look at, than the LG's. Not to sound a bit biased here, but in terms, of overall specs and features, i would likely to consider the Huawei's Nexus phone, since it delivers a bit more new things than the Nexus 5X. The Huawei Nexus 6p has a pretty good line of storage options, with the latter having 3GB of RAM, as well as a 32GB, 64GB and 128GB possible options on its internal storage, which is relatively a better offer than of the Nexus 5X. So, its best to expect that these Nexus phone's will take the wave, upon its launch on the following months.
Sony Xperia Z5, Z5 Compact and Z5 Premium
We've been keeping a close eye on the Z5 handsets, and its arrival is imminent. the Xperia Z5 and its other siblings will be something to truly look forward to on the following months.
The Xperia Z5 is highly anticipated and is currently on the top of our list, in checking out, once launched. For personal opinion, i don't think theres anything that new on the Xperia Z5, though its way too early to assume and i could only be mentioning this, because of its specs, although, the Xperia Z5's ability to respect its predecessors heavily is amazing, and its something that'll look forward to especially. On the Xperia Z5, there is a 23MP main shooter, which sounds really good and we're really can't wait to get our hands on the handsets to try 'em  out ourselves.
The Xperia Z5 Compact, as the name states, is a more compact version of the Xperia Z5. the 5.2-inch screen of the Xperia Z5 is lessened on the compact, to make it more, 'compact', with its screen now carrying a 4.7-inch display, which isn't technically a bad thing, but to some, people might consider the Xperia Z5, in terms of utility. The Xperia Z5 compact is build for those who wanted to experience the Xperia Z5 magic, but with for a lower cost, so, it'll be something to look at, by budget-wise smartphone users, just like myself.
The Xperia Z5 Premium is the big brother of the siblings and packs a more bigger punch overall. Theres nothing much that was changed on the Z5 Premium, other than the screen size of 5.5-inch, from the original 5.2-inch of the regular and to be honest, i don't think its much of an improvement, though, some may argue about that. Something to be taken accord, for those who like they're Xperia Z5 premium-like, it is also something to look forward to, upon its release.
Microsoft Lumia 950 and 950XL
The upcoming Lumia phones are considerably one, to make way with, since Microsoft's innovations on handsets have all landed upon these beauties. Microsoft aims to step it up a notch on these upcoming handsets, with both devices carrying in a Windows 10 Mobile system, which is the first in their kind.
The Lumia 950 and 950 XL will also test out the Windows Continuum feature, which is typically transforms your smartphone into a pc, relatively speaking of course.  Whats not to love, on the upcoming Microsoft handsets. its gonna be worthwhile experience, when we get our hands on them.
Apple iPhone 6s and 6s Plus
Apple's new flagship has recently reached grey markets and online store's premises here in the country, however, they are yet to be launched officially in the Apple store, so that'll something to look forward to. the iPhone 6s and 6s Plus are truly something to look forward, simply because they're "iPhones" and being an iPhone alone can attract many attention.
Overall, iPhone 6s and 6s Plus are really doing good, in terms of sales, so i guess, its safe to assume that the iPhone 6s are top notch, in terms of delivering in performance. The iPhone 6s and 6s Plus are expected to be official in the Apple PH store on the following months, and they might offer a few promos for its officiality.
HTC One A9
Many have ridiculed the HTC One A9's look, to be remotely close to the iPhone series. This could either be coincidental or purposely done, though many didn't like the HTC One A9's design, however, if you remove all the iPhone-like exterior, you'll eventually see that the HTC One A9 is actually an excellent device, specs-wise and system-wise. The HTC One A9 packs an Android 6.0 Marshmallow and, in terms of overall specs, looks like it can par up with some of the upcoming devices on this list. Nevertheless, whether we like it or not, the HTC One A9, should be something to look forward to.
LG Class
LG already has an upcoming handset, in the form of the nexus phone, the LG Nexus 5X. however, LG seems to bring more than the expected nexus phone. The LG Class isn't your typical LG phone, though by the looks of things, the LG Class should be a mid-ranger, rather than a flagship, however, in terms of mid-range specs capability, the LG Class is something to look forward, given that it should deliver a few more surprises, before its made official, in the following months.
Moto X Play and X Style
The highly anticipated Motorola devices, these phones are already out, however, the Philippine market is yet to experience these device's glory. These phones are a bit late, in terms of specs, when they arrived at our country on the following months, however, they still pack a decent punch, in which Motorola loyals or non-Motorola loyals would surely be contented with. Both the X Play and X Style sports huge screen capacity ranging from 10.9mm of the X Play and the 11.1mm of the X Style. These phones should really be taken into consideration, when thinking about upcoming devices in the country.
Conclusion
These devices were chosen, because of their great impact on the smartphone community. We'll be expecting to hear more news and updates on these devices and we here, at manilashaker will be ready to give 'em to you guys.
Please leave your comments and suggestions regarding this article or any, other content on our comment's section below. Feedbacks are always obliged.
| | |
| --- | --- |
| Samsung Galaxy Grand On specs, PH Price | Samsung Mega On specs, PH Price |
| 5-inch 720p touchscreen display | 5.5-inch 720p HD display, 294ppi |
| 8.5mm thickness, 140g weight | 8.2mm thickness, 145g weight |
| NA | NA |
| Exynos 3475 chipset | Qualcomm Snapdragon 410 |
| 1GB of RAM | 1.5GB of RAM |
| 8GB of internal storage | 8GB internal storage |
| 8MP rear shooter | 13MP rear shooter, |
| 5MP selfie shooter | 5MP selfie shooter |
| NA | NA |
| Android 5.1 Lollipop | Android 5.1 Lolipop |
| 2600mAh | 3000mAh battery |
| NA | NA |
| TBA | TBA |
| | |
| --- | --- |
| Huawei Nexus 6p specs, PH Price | Sony Xperia Z5 Premium specs, PH Price |
| 5.7-inch 1440p AMOLED display, 515ppi | 5.5-inch 2160p IPS LCD display, 806ppi |
| weight and dimension is yet to be announced | 7.8mm thickness, 180g weight |
| Cornings Gorilla Glass 4 | Scratch-resistant glass, oleophobic coating |
| Qualcomm Snapdragon 810 | Qualcomm Snapdragon 810 |
| 3GB of RAM | 3GB of RAM |
| 32/64/128GB internal storage, no microSD card slot | 32GB of internal storage |
| 13MP rear shooter, 4128 X 3096 pixels, OIS, dual-LED (ring) flash | 23MP rear shooter phase detection autofocus, LED flash |
| 5MP selfie shooter | 5.1MP selfie shooter, 1080p video, HDR |
| 4G LTE cat 6, WiFi ac, Bt 4.1, GPS, GLONASS, NFC, USB – type C | 4G LTE cat 6, WiFi ac, Bt 4.1, GPS, GLONASS, NFC, FM radio |
| Android 6.0 Marshmallow | Android 5.1 Lollipop |
| battery is yet to be determined | 3430mAh battery |
| Silver, Black, White, Gold | Chrome, Black, Gold |
| possible PH price is around Php 23K, as of September 29 | estimated possible PH price of Php 45K, as of September 29 |
| | |
| --- | --- |
| Lumia 950 XL specs, PH Price | Lumia 950 specs, PH Price |
| 5.7-inch 1440p OLED display, 515ppi | 5.2-inch 1440p WHQHD display, 564ppi |
| 8.6mm thickness | 9mm thickness |
| Cornings Gorilla Glass 3 | Cornings Gorilla Glass 3 |
| Qualcomm Snapdragon 810 octacore chipset | Qualcomm Snapdragon 808 hexacore chipset |
| 3GB of RAM | 3GB of RAM |
| 32GB internal storage with microSD card slot | 32GB of internal storage with microSD card slot |
| 20MP PureView camera, triple-LED flash | 20MP PureView camera, double-LED flash |
| 5MP wide-angle selfie shooter | 5MP wide-angle selfie shooter |
| WiFi, Bluetooth, Qi charging capabilities,USB Type- C connectors | WiFi, Bluetooth, Qi charging capabilities,USB Type- C connectors |
| Windows 10 Mobile | Windows 10 Mobile |
| 3300mAh battery | 3000mAh battery |
| matte White, Black | matte black, white |
| Price is yet to be determined | Price is yet to be determined |
| | |
| --- | --- |
| Sony Xperia Z5 specs, PH Price | Sony Xperia Z5 compact, PH Price |
| 5.2-inch 1080p FHD IPS Triluminos, 428ppi | 4.6-inch 720p HD IPS Trilumunos, 323ppi |
| 7.3mm thickness, 154g weight | 8.9mm thickness, 138g weight |
| Scratch-resistan, oleophobic coating, metal frame, water and dust proof | Scratch-resistan, oleophobic coating, metal frame, water and dust proof |
| Qualcomm Snapdragon 810 chipset | Qualcomm Snapdragon 810 chipset |
| 3GB of RAM | 2GB of RAM |
| 32GB of internal storage, microSD up to the 200GB | 32GB of internal storage, microSD up to the 200GB |
| 23MP f/2.0 camera, single LED flash, 2160p video, HDR, steady shot | 23MP f/2.0 camera, single LED flash, 2160p video, HDR, steady shot |
| 5MP selfie camera, 1080p video | 5MP selfie camera, 1080p video |
| Dual 4G LTE cat 6, WiFi ac, Bt 4.1, FM radio, GPS, NFC | Dual 4G LTE cat 6, WiFi ac, Bt 4.1, FM radio, GPS, NFC |
| Android 5.1 Lollipop | Android 5.1 Lollipop |
| 2900mAh battery | 2700mAh battery |
| White, Gold, Green, Black | Yellow, Pink, White, Black |
| Php 25K estimate price, as of September 29 | Php 20K estimated price, as of September 29 |
| | |
| --- | --- |
| Apple iPhone 6s Plus specs, PH Price | Apple iPhone 6s specs, PH Price |
| 5.5-inch IPS, 1080p LED-backlit LCD display, 401ppi | 4.7-inch IPS, 750p LED-backlit LCD display, 326ppi |
| 7.3mm thickness, 192g weight | 7.1mm thickness, 143g weight |
| Sapphire crystal glass, oleophobic coating, ion-strengthened glass, oleophobic coating, 3D Touch display, display zoom | Ion-strengthened glass, oleophobic coating, 3D- touch display, display zoom |
| Apple A9 chipset | Apple A9 Chipset |
| expected; 1GB of RAM, 16/64/128GB internal storage | 1 GB of RAM?, 16/64/128 internal storage |
| no microSD card | no microSD card |
| 12MP main shooter, 4608 x 2592 pixel, OIS, phase detection autofocus, dual-LED flash (dual-tone) | 12MP main shooter, 4608 x 2592 pixels, phase detection autofocus, dual-LED flash (dual tone), 2160p video |
| 5MP selfie shooter, 1080p video, face detection, HDR, panorama | 5MP selfie shooter, 1080p video, face detection, HDR, panorama |
| dual-band WiFi 802.11 a/b/g/n/ac, Bt 4.1, GPS, GLONASS, NFC | dual-band WiFi 802.22 a/b/g/n/ac, Bt 4.1, GPS, GLONASS, NFC |
| 2915mAh battery | 1810mAh battery |
| Space gray, silver, gold, rose gold | Space gray, silver, gold, rose gold |
| iOS 9 | iOS 9 |
| Php 57,995 at lazada PH for the 64GB variant, as of September 29 | Php 39,995 at lazada PH price for the 16GB variant, as of September 29 |
| | |
| --- | --- |
| LG Nexus 5X specs, PH Price | LG Class specs, PH Price |
| 5.2-inch 1080p FHD display, 424ppi | 5.7-inch touchscreen display |
| 7.9mm thickness, 136g weight | 7.4mm thickness 108g weight |
| Cornings Gorilla Glass 4 | TBA |
| Qualcomm Snapdragon 808 | Qualcomm Snapdragon 410 chipset |
| 2GB of RAM | 2GB of RAM |
| 16/32GB internal storage, no microSD card slot | 16GB expandable storage |
| 12MP rear shooter, 4608 x 2592 pixel, OIS, phase detection autofocus, dual – LED flash (dual tone) flash | 13MP rear shooter with LED flash |
| 5MP selfie shooter | 8MP selfie shooter |
| 4G LTE cat 6,WiFi ac, Bt 4.1, GPS, GLONASS, NFC USB Type-C | 4G LTE, WiFi, Bluetooth, GPS, NFC |
| Android 6.0 Marshmallow | Android 5.1 Lollipop |
| 2700mAh battery | 2050mAh battery |
| Black, White, Blue | Gold, Silver, Black |
| possible PH price is around Php 18K, as of September 29 | KWN 399,300 or Php 17-18K possible Philippine intro price if launched |
| | |
| --- | --- |
| Moto X Play specs, PH Price | Moto X Style specs, PH Price |
| 5.5-inch 1080p FHD touchsreen display, 401ppi | 5.7-inch 1440p FHD touchscreen display, 520ppi |
| 10.9mm thickness, 169g weight | 11.1mm thickness, 179g weight |
| Cornings Gorilla Glass 3 | Cornings Gorilla Glass 3 |
| Qualcomm Snapdragon 615 chipset | Qualcomm Snapdragon 808 |
| 2GB of RAM | 3GB of RAM |
| 16/32GB internal storage, microSD up to 128GB | 16/32/64GB internal storage, microSD up to 128GB |
| 21MP 5248 X 3936 , dual-LED (dual tone) flash | 21MP 5248 X 3936, phase detection autofocus, dual-LED (dual tone) flash |
| 5MP selfie shooter | 5MP selfie shooter, flash |
| 4G LTE, WiFi n, Bt 4.0, GPS, NFC | 4G LTE cat 6, WiFi ac, BT 4.1, GPS, GLONASS, NFC |
| Android 5.1.1 Lollipop | Android 5.1.1 Lollipop |
| 3630mAh battery | 3000mAh battery |
| Black and white | Black lens/ Dark gray frame and accents/ Black soft feel inlay, white lens/Silver frame and accents/ bamboy inlay |
| Possible PH Price is around Php 21K, as of September 29 | Possible PH Price is around Php 18K, as of September 29 |
HTC One A9 specs, PH Price
5-inch 1080p AMOLED display
TBA (dimension and weight)
TBA (protection)
Qualcomm Snapdragon 617 chipset
2GB of RAM
16GB internal storage, microSD expandable up to 128GB
13MP rear shooter, OIS, autofocus, LED- flash
4MP selfie shooter
WiFi 802.11 n, BT 4.1, GPS. GLONASS,
Android 6.0 Marshmallow
2150mAh battery
Acid Gold, Opal Silver, Deep Garnet, Carbon Gray, Rose Gold, Cast Iron
Price is TBA
Related posts and reviews