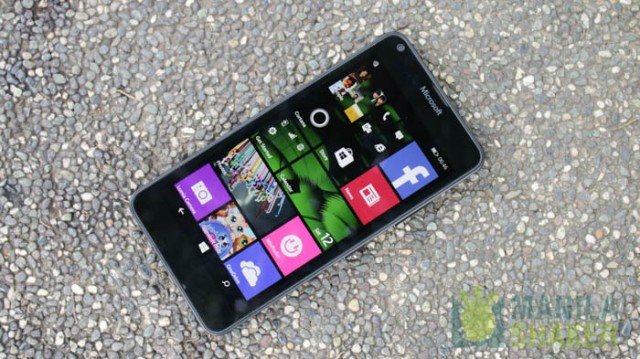 Launched few months ago, the Microsoft Lumia 640 4G LTE is a Windows Phone 8.1 (upgradeable to Windows 10) smartphone that comes with a potent combo of 5-inch HD screen, 8MP main camera and Snapdragon 400 chip, all for an attractive price tag (roughly under $100 in the US and Php 6k-8k in the Philippines). Let's see if the Lumia 640 will impress us in our review.
Design and build quality
The Lumia 640 is a plain-looking smartphone. Its exterior doesn't hold any stunner sight except for its bold black facade and colorful back cover options. However, that impression is different when I start holding the phone. The Lumia 640 feels solid and I love how refined its all-glass front backed by Gorilla Glass 3. The removable plastic cover feels good in my hands. It is such a surprise that this budget phone from Microsoft offers Gorilla Glass 3 protection which is mostly found from high-end devices this year.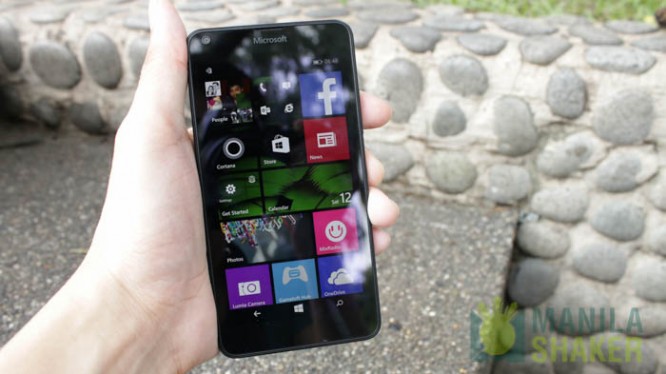 Like the Lumia 640 XL, Lumia 640 also relies in on-screen buttons. So on front, you will notice a very small fine mouthpiece at the bottom. Across on top is a fine strip of earpiece and the 1MP 720p front-facing selfie camera. Both light and proximity sensors are hard to spot. Just below the earpiece is the Microsoft logo.
Left side is left bare while the right side houses the volume rocker and power/lock combo buttons. On top left you will find the 3.5mm audio jack. Meanwhile, the microUSB sits at the bottom side.
Removing the back cover is easy, just use your fingernails to lift up the cover on the corner side. Behind the cover you will find the removable 2500mAh battery and access to microSD card slot and microSIM slot.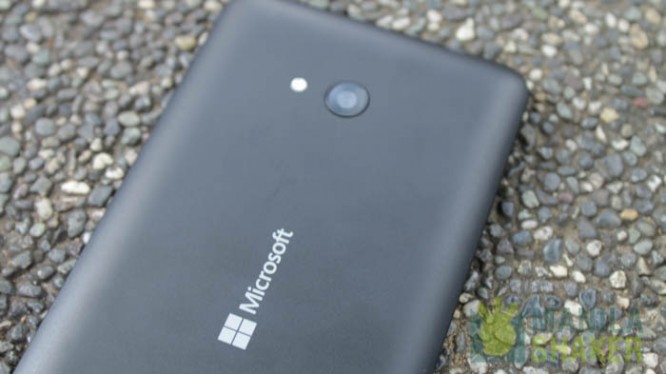 The back is is flat while slightly tapered towards edges. A small speaker hole is positioned at the bottom. The Microsoft and Windows logos are printed on the center. Both the LED flash and 8MP camera are strategically placed few centimeters from the top edge.
In terms of dimensions, we didn't find any issues aside from the phone being a tad thicker than few mid-range phones we've handled. Tipping the scale at 145g, size and weight are perfect for one hand use.
Display and viewing legibility
At 249 ppi, the 5-inch HD IPS LCD ClearBlack display of Lumia 640 offers sharp, bright and accurate colors. Display quality is comparable to few top class smartphones and the ClearBlack technology really works in most situations.
Sunlight legibility and viewing angles are very good, the screen remain legible under bright light and when the screen is tilted.
On top of the display is a Gorilla Glass 3. And after weeks of using the phone, I still haven't seen any scratches.
Pre-configured color profile can still be adjusted right from the settings. This feature applies to all Windows Phone 8.1 and Windows 10 Mobile.
Camera
The Lumia 640 packs an 8MP main shooter and 1MP front-facing selfie camera. The main shooter at the back is paired with LED flash and is capable of recording up to 1080p FHD movie and the selfie snapper offers up to 720p resolution.
Quality-wise, images taken from Lumia 640 have good color reproduction and brightness level. The close-up shots possess good depth-of-field (bokeh) level too.
Areas where the Lumia 640 struggles are during night and indoor scenes, true to the front-facing camera. A lot of noise are present on some shots, save those where LED flash was used.
Overall, the camera of Lumia 640 is a reliable part of the phone. Given the budget price tag, Microsoft didn't poured all camera prowess it threw as to the Lumia 640 XL, but rather, the company placed an overall good 8MP shooter on Lumia 640.
Software and experience
Flavoring the Lumia 640 is Windows Phone 8.1 OS in Lumia Denim, the latest public version. Surely, the next update is Windows 10 Mobile which is said to be released for Lumia 640 and XL this month of October.
The WP8.1 Denim offers few notable facelifts and features from the Lumia Cyan. Those are visible in the Start Screen and settings layout. Live tiles have maximum 6 rows for the small tiles, if not enough folder options is available too. Start screen wallpaper is supported too, an addition to the theme color.
Microsoft offer wide range of home-brewed applications for Windows Phone 8.1. Key apps include OneNote, OneDrive, Office apps and editors until to the multimedia section such as Lumia Selfie and other lenses right out from the box.
At the moment, WP ecosystem is not as rich compared to iOS and Android ecosystems, however, Microsoft will likely close the gap when Windows 10 Mobile will be released this year.
Performance and speed
Windows Phone devices are known for its snappy performance. And that is really true to the Lumia 640. Navigating on the Lumia 640 is buttery smooth. Multitasking is a breeze, you can instantly jump from next window with just a back or few taps on the screen.
The Lumia 640 is powered by Snapdragon 400 quadcore chip paired with 1GB RAM and expandable 8GB internal storage, 128GB microSD card is supported.
Speaker
One of our favorite feature on the Lumia 640 is its loud mono speakers. We always like playing it when in a room or in a bathroom, it produces decent treble and bass outputs, overall quality is really good for its size.
On the other hand, we'd have liked it more if Microsoft placed the speaker on the bottom or just have a it on a protruding design similar to Lumia 640 XL so that hands or table surface won't block it on some occasions.
Battery
The stand-out key feature of the Lumia 640 is the long battery life, thanks to the 2500mAh battery juice. Our 2-hour HD movie playback just consumed 20% of the battery during the test. So it means you can play up to 5 movies in a single charge.
Total battery rating is just better when the phone is used moderately, this means, we're on WiFi connection. Lumia 640 managed to last the whole day with SMS and social messaging, half an hour voice calls, and an hour of browsing.
Value and Verdict
The Lumia 640 is an impressive offering from Microsoft, it is one of the most affordable way you could experience Windows Phone 8.1, and soon Windows 10 Mobile in a decent hardware.
The combination of sharp and crisp display with the snappy performance and reliable camera is a bargain that is hard to miss while without sacrificing any major features.
We highly recommend the Lumia 640 to those who are in budget.
What we did like from Lumia 640
Sharp and crisp display
Long battery life
Reliable 8MP camera
Snappy performance
User-replaceable battery
MicroSD card slot
What we did not like from Lumia 640
Noisy night and indoor shots
Speaker position is flat and can be easily covered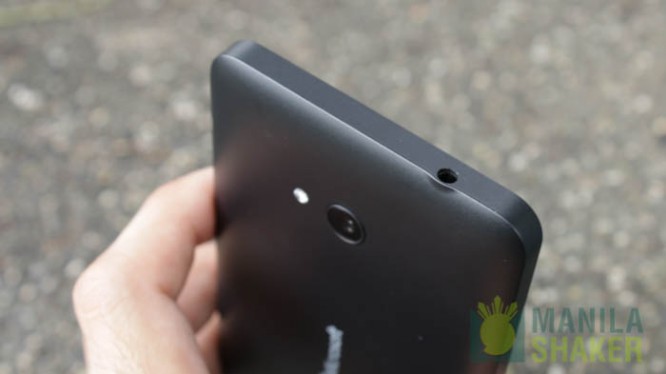 Microsoft Lumia 640 Specs, Price in Philippines
5-inch HD IPS display, 294ppi
8.8mm thick, 145g weight
Gorilla Glass 3, Clear Black IPS
Snapdragon 400 quadcore
1GB RAM
8GB internal, microSD card 128GB max
8MP camera, Rich Capture, LED flash, 1080p video
1MP selfie camera, 720p video
4G LTE dual or single, 3.5G dual or single, WiFi n, Bt 4.0, FM Radio, GPS, NFC
Windows Phone 8.1 Lumia Denim version, upgrade to Windows 10 Mobile
2500mAh
Orange, White, Black, Cyan
$100-150 in US and abroad, Php 6k-8k in local Philippine pricing, unit loaned from Lumia Voices
Related posts, reviews and comparisons: