The Redmi 9T from Xiaomi and the Narzo 20 from Realme are both entry-level devices and they have a cheap price. Both have 4GB of ram and 64GB internal storage but the Narzo 20 is equipped with a gaming chipset, while Redmi 9T was built with a power-efficient chip. The resolution is also a factor since Narzo 20 only has a 720p screen while Redmi 9T has a 1080p or FHD+ display. They both have great specs but which phone do you think is the best for its price? The cheaper one? or the more expensive one?
READ: Samsung Galaxy F62 With 7000mah Is Lauching on February 15
Design
This slideshow requires JavaScript.
In terms of design and build, Redmi 9T is slightly thinner and lighter. They both have expandable storage but Redmi 9T can store up to 512GB. Narzo 20 have the fingerprint scanner at the back, but Redmi 9T also has a dedicated fingerprint scanner on the power button. It has plenty of reliable features including a secondary microphone, dual speaker, and IR blaster, which you cannot easily find in an entry-level device. They are both in USB Type-C which is great but both have nearly outdated dewdrop notch in the front.
Display
This slideshow requires JavaScript.
Speaking of the front, in terms of the display Realme Narzo 20 only has HD+ (720 x 1600) pixels while Redmi 9T has FHD+ (1080 x 2340) pixels, both have the same screen size, 6.5inches, and both have IPS LCD panels. Realme Narzo 20 has more visibility outdoors compared to Redmi 9T–450 up to 560nits and 400nits respectively. Narzo 20 has a cinematic 20:9 ratio and it is a good deal, but then in terms of display quality, 1080p of the Redmi 9T is more detailed and sharp. It also has a bunch of display colors in the settings menu. The contrast is also great on both phones but the sharpness or the dense of the pixels in the Redmi 9T is very noticeably different compared to the Narzo 20.
As for audio Redmi 9T is slightly better but it is not the best dual speaker in an entry-level device. Although it fires a surround sound, the down-firing speaker is louder than the earpiece speaker. Realme Narzo 20, on the other hand, has an acceptable sound, it has nice and good quality perfect for the entry-level tier.
READ: Realme Narzo 20 Full Review – Budget Phone that Mobile Gamers will Love
Camera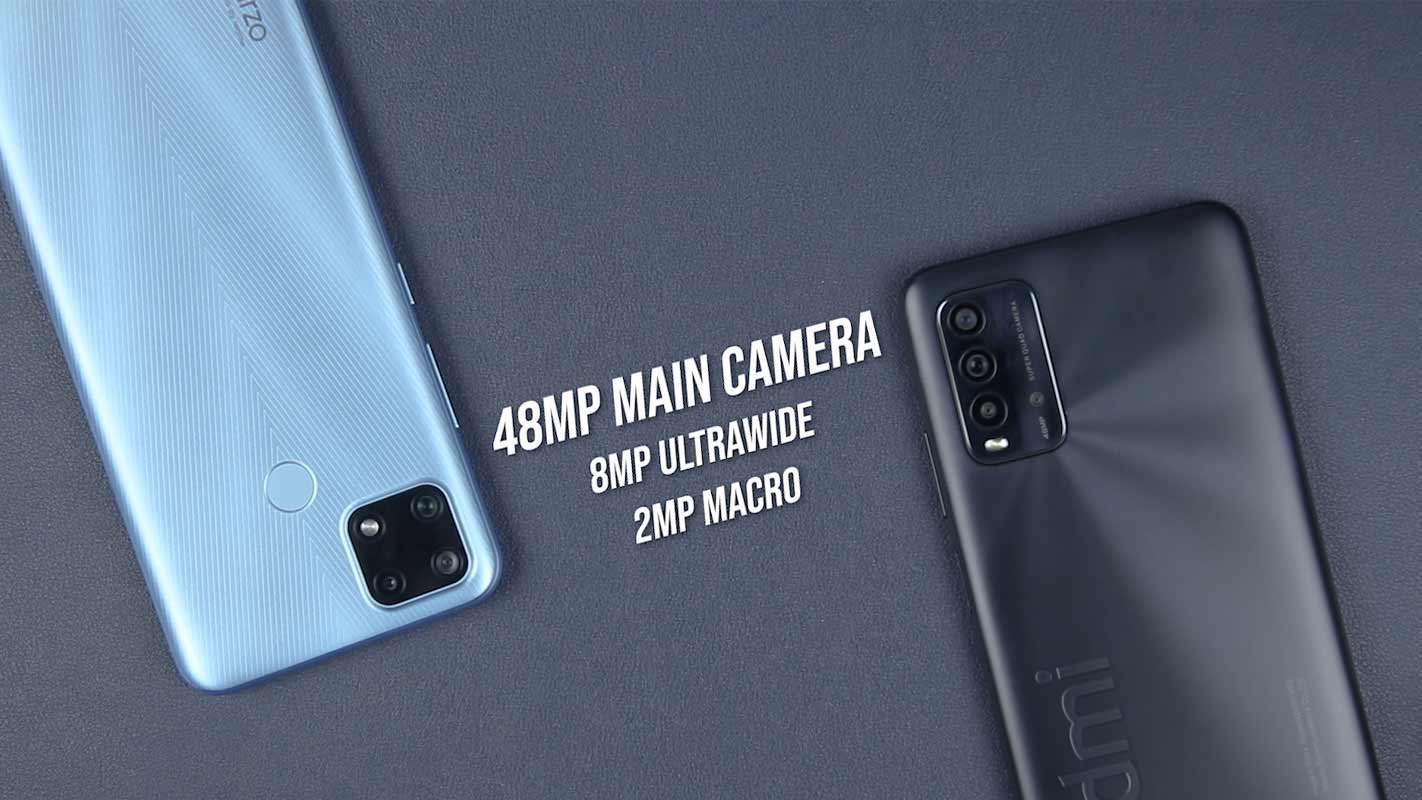 Realme Narzo 20 only has a triple cam while the Redmi 9T is equipped with four lenses, both have a 48MP main camera, an 8MP Ultrawide, and a 2MP Macro lens. The 4th lens of the Redmi 9T is for depth purposes–2MP.
On their main cam, I have no complaints about the two. I love how different they are in the overall photo quality. Realme Narzo 20 outputs lesser shadows and brighter images, but Redmi 9t outputs a contrasty look it feels like it has depth and punches in color. However, the downside for the Redmi 9T is it often process photos underexposed, and also it has deep shadows which will remove tiny details in the scene resulting in a not so perfect photo. It looks more natural compared to Narzo 20, but for me, it produces a little bit of saturation.
The night mode process of the Narzo 20 is good it gives a brighter image and sharper look but it introduces spots or color leaks which will reduce the overall quality. For me, in terms of sharpness, Redmi 9T is softer while Realme Narzo 20 looks over-sharpened. It's pretty hard to judge them but overall they have different strengths so try to decide which photos you like by looking at the sample shots above.
For Ultrawide, Redmi 9T looks dreamy and soft, also underexposed, the blacks are all washed out, while Realme Narzo 20 looks sharper. I like the photos from the Redmi 9T, the highlights are not drastically blown out while Narzo 20 introduces flares or color leaks. Color fringing is also visible on the Realme Narzo 20's ultrawide photos while Redmi 9T has cleaner look and more color accuracy.
READ: Vivo S7T Announced: Dimensity 820, AMOLED, 5G, OriginOS for ~P19,200
This slideshow requires JavaScript.
Now to the macro lens, the main problem for Narzo 20 is the white balance detection. It tends to be in a warmer tone making the photo's real-life color change. Redmi 9T has a more acceptable look, but both have entry-level quality.
This slideshow requires JavaScript.
Portrait mode is fine the Realme Narzo 20 tends to have inaccurate detection in subjects or objects while Redmi 9T easily detects the subject even if it is an object or people.
This slideshow requires JavaScript.
Switching to the selfie camera, they both have an 8MP front cam. They nearly have the same exposure but it's pretty straightforward that the Realme Narzo 20 outputs pinkish skin tone while the Redmi 9T has good skin tone color it almost is true to life. Redmi 9T's photos are also flattering and it smoothens my face while it still has sharpness which is a great process in its AI.
Camera Features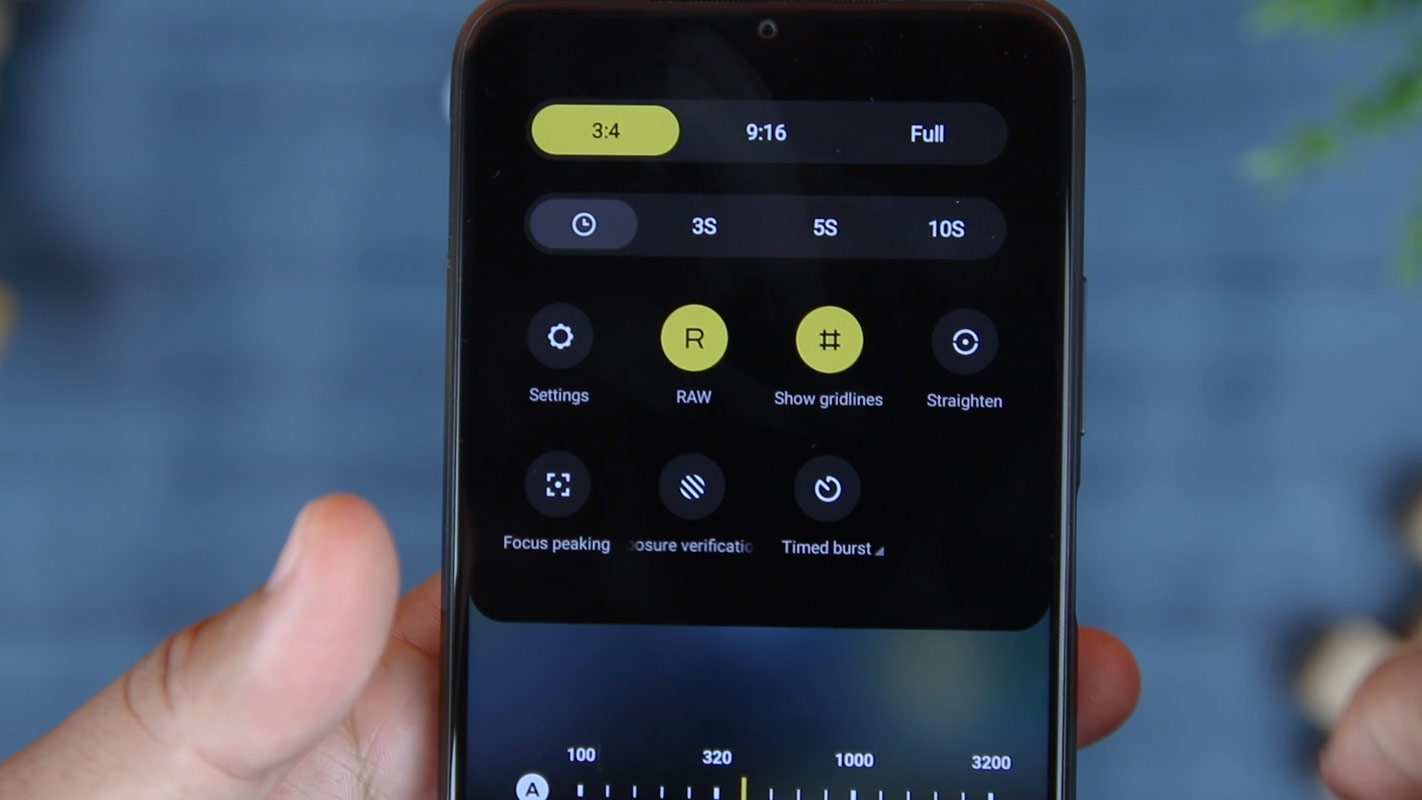 In terms of camera features, Redmi 9T has more useful features including raw shooting, video pro mode, and 48MP pro mode, it can go up to 4000 ISO and 30-second shutter speed while Narzo 20 only has 1600 ISO and 16-second shutter. Redmi 9T also has macro video, beautification on portrait mode, and movie frame. The upside for the Narzo 20 is it can record up to [email protected] which is quite nice to have it there–Redmi 9t can only capture [email protected].
READ: POCO X3 Pro Already in the Works, Hints at Flagship SoC
Performance
This slideshow requires JavaScript.
Heading to their performance, Realme Narzo 20 is equipped with a budget gaming-centric chip–MediaTek Helio G85 (12nm) with 4GB of ram plus 64GB storage configuration. It is also running in Realme UI based on Android 10.0. The Redmi 9T, on the other hand, is equipped with a more power-efficient chipset Snapdragon 662 (11nm) with the same 4GB of ram and 64GB of internal memory and is running on MIUI12 on top of Android 10.0.
It also has faster storage UFS 2.1 compared to the eMMC 5.1 of the Realme Narzo 20. According to our speed test, Realme Narzo 20 is slightly faster than Redmi 9T but Redmi 9T is competing and it has a faster launch time in PUBG, it really defines what is the difference between the UFS 2.1 and eMMC 5.1. If you want to watch the speed test click the video below.
In terms of power, these are the benchmark scores of the two devices:
This slideshow requires JavaScript.
There's a big difference in the performance since Helio G85 running in 720p gives a more stable gameplay experience. You can play Honkai Impact 3 and some Genshin Impact more stable than Redmi 9T but expect to have lags and stutters on both devices.
READ: Tesla Cars can Run The Witcher 3?
This slideshow requires JavaScript.
Comparing the in-game settings of both devices, Realme Narzo 20 has HFR mode in mobile legends, and unfortunately, there is no hfr mode in the Redmi 9T. Rarzo 20 has Ultra frames in PUBG, while Redmi 9T can only go up to High frames only. Both have 60frames in League of Legends: Wildrift and in Call of Duty Mobile, Redmi 9T has very high settings while Narzo 20 only has medium settings unlocked but both have high frames of 30fps.
If you want to see the quality or performance while gaming, watch our gaming reviews of these two. Click here for Redmi 9T Gaming Review, and Click here for the Narzo 20 Gaming Review.
Battery
This slideshow requires JavaScript.
Entry-level devices like our warriors here have impressive numbers, especially in its battery capacity. Both phones have a 6000mAh power battery and in our endurance test, Realme Narzo 20 endured longer in heavy usage since it only is running in 720p resolution, but it is not a drastic improvement since the chipset is less power efficient. Redmi 9T, on the other hand, is slightly lower but has the efficiency even in 1080p screen. As for charging both have 18W capability but surprisingly Redmi 9T has a faster charging time compared to Realme Narzo 20
READ: SanDisk Extreme Pro v2 Review – Faster Transfer Rate | Direct 4K Editing
Verdict
Overall, you will be having a hard time picking a device from the entry-level tier. If you want a FHD+ resolution while having the power to play Triple-A games at the same time, sure there are some other phones out there but, you will have to add price on your budget. You can also pick a phone from the midrange tier but, some will cost more than double the price of our phones in this review.
So if you're into budget gaming we suggest getting the Realme Narzo 20 because of the entry-level gaming chipset. But take note that the resolution is just 720p but it gives stability and less lag. It is priced at P7,990 for the 4GB+64GB variant. If you want to sacrifice the power for entertainment or a productivity-focused machine, and some casual gaming Redmi 9T for P6,990 (4GB+64GB) is for you, at less than a thousand pesos you can now have a 1080p display dual speakers, more camera features, and a quad-cam.
But overall the Redmi 9T and Realme Narzo 20 both are a bang for the buck device. They are feature-packed entry-level devices and can get the job done. Just make sure you pick the phone of your taste.
READ: Redmi Note 9 vs Realme 6i – Which is Better in Gaming?