Realme has unveiled its latest smartphone in our country. The Realme narzo 20. Regardless of the name we think that this is an increment from the Realme 6i, which specs are nearly the same, although it only comes with a triple camera in this newly designed square-shaped camera module, and besides Realme also revealed the Narzo 10 a couple of months ago which is a rebranded Realme 6i, so, therefore, conclude that there was a price vs specs improvements from narzo 10 to narzo 20.
Specification
Realme narzo 20
Design
208g
9.8mm thick
Plastic Back
Gorilla Glass Front
Glory Silver, Victory Blue
Display
6.5″ IPS LCD
720 x 1600 pixels, 20:9 ratio
81.7% STB
270PPI
Camera
48MP f/1.8 Main Camera
8MP 119˚ Ultrawide
2MP Macro
LED flash
[email protected]
Selfie
8MP f/2.0
[email protected]
Performance
Mediatek Helio G85 (12 nm)
Mali G52
Android 10, Realme UI
4GB
64GB
expandable storage (up to 256gb)
Battery
6000mAh
18W Fast Charging
Features
Wi-Fi 802.11 (5Ghz)
USB Type-C
Bluetooth 5.0
Fingerprint (rear-mounted)
Gyro
Face Unlock
Price
P7,990 (4GB+64GB)
Pros
Mega Battery 6000mAh
Gaming Chipset
More Affordable
Cons
Charging time increased
Lacks video stabilization
READ: Realme 7 Pro vs Samsung Galaxy M51 – Indepth Comparison Review
Build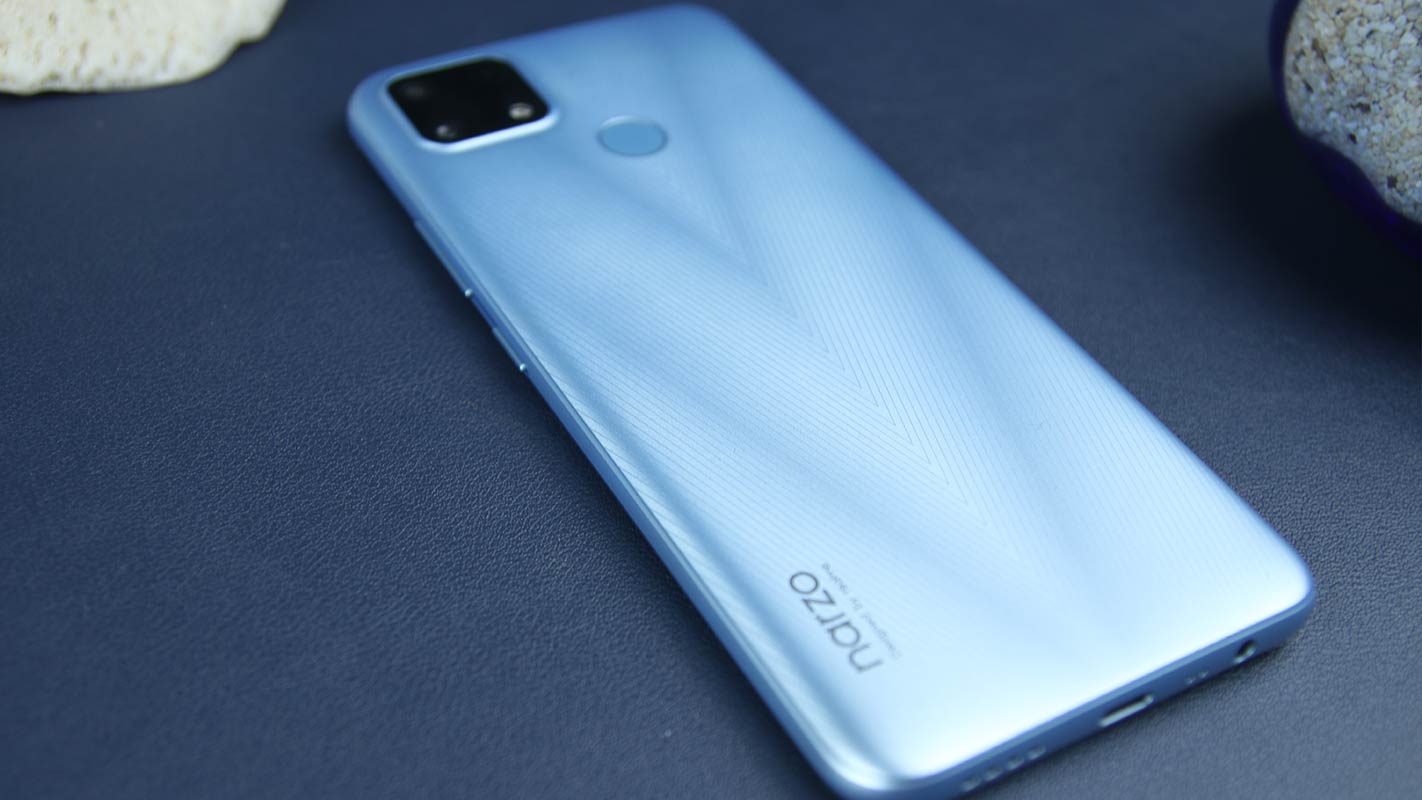 The design on the back is unique and ergonomic. Our review unit is the Victory Blue color but it is also available in Glory Silver. It has a matte finish with a V-shaped lines that are embossed on the surface. Realme called it Victory Design. When you scratch the surface it has a scratching sound and I can feel a sensation when I slide my fingers slightly on these lines and it feels satisfying for me. It has a plastic back but weighs 208g because of its huge battery and despite having a thickness of 9.8mm, it has a good refresher design on its camera bump.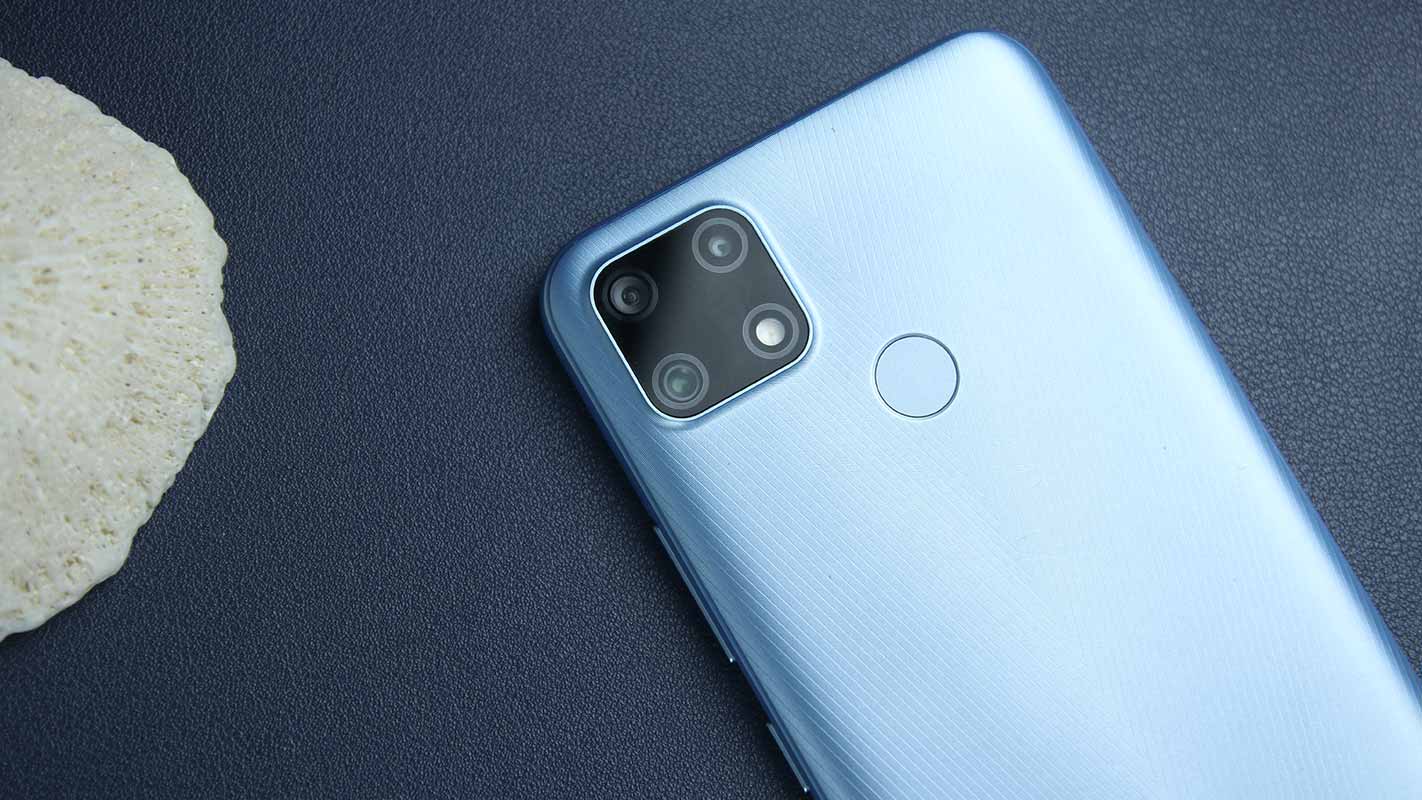 A trending square-shaped camera module is in the Realme Narzo 20 and it consists of 3 camera lenses with a single LED flash that you will think that it has a quad-camera at first look. Still at the back, in the middle part, it has a fingerprint scanner and the Realme branding at the lower left part but it says Narzo with small fonts below that says "Designed by realme".
This slideshow requires JavaScript.
On the frame, the power button and volume rocker are in one location and it is on the right side when the screen is facing towards the user. On the right is the simtray which you can put two nano simcard and one expandable storage slot that expands up to 256GB. Underneath is the typical 2020 entry-level to midrange setup, 3.5mm headphone jack, microphone, USB Type-C port, and speaker grille.
READ: Top 7 Monitors for Gaming and Productivity Under Php15,000
Display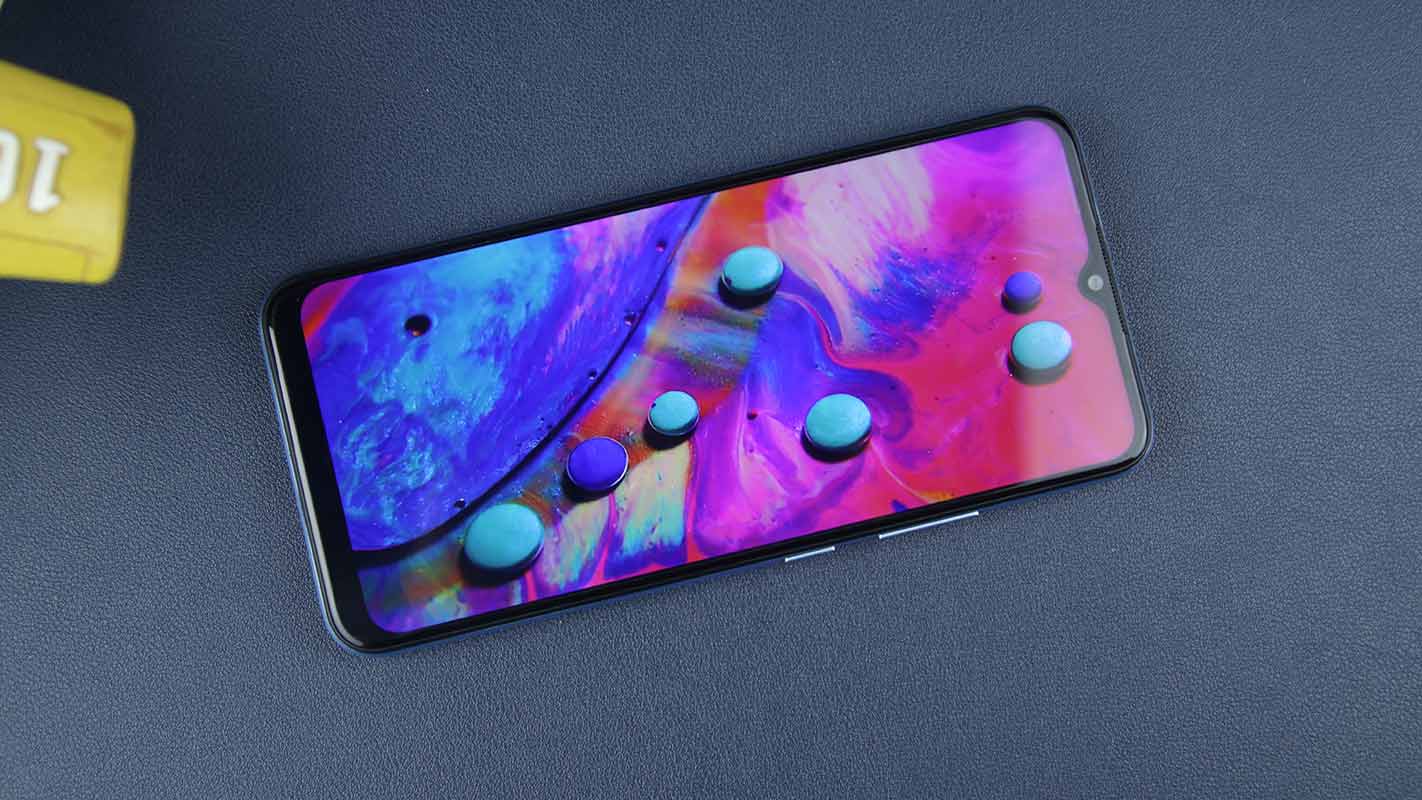 The display boasts a 6.5-inch 720×1600 pixels IPS LCD, it is only in 720p which is a little downside in 2020. But if what we understand is, games that are running at FHD+ needs a better process to run in high/max settings. That means the current chipset equipped in this device will run the game with ease.
The viewing angle is great it has good contrast and true-to-life colors, although the noticeable thing is it has larger bezels especially on its chin. And since it is still in the outdated dewdrop notch, the screen to body ratio of the device isn't that impressive. But the build is great, it' is protected by Gorilla Glass 3 and also splash resistant. The brightness has a peak of 560nits which is visible outdoors. Lastly, you can still adjust the screen's temperature in the display settings to achieve a more premium looking display.
Camera
The device consists of a triple camera set-up.
48MP f/1.8 Main Camera
8MP Ultrawide
2MP Macro Lens
This slideshow requires JavaScript.
Despite not having a depth sensor, the portrait mode still captures nearly accurate subject-to-background separation. It has the detail and the color since it captured using the main cam.
READ: Official Dark Mode for Facebook App Goes Into Public Testing
Speaking of the Main lens it has a good dynamic range and by shooting with HDR, shadows lift up giving a balanced image. Sky details are already visible so the AI focuses to lift the shadows. Colors are accurate and nearly true to life but sometimes white balance detection is a bit aggressive means that it can output offset color temperature sometimes.
Turning on HDR and Chroma boost we captured a moody picture with good contrast making the photo alive and with depth.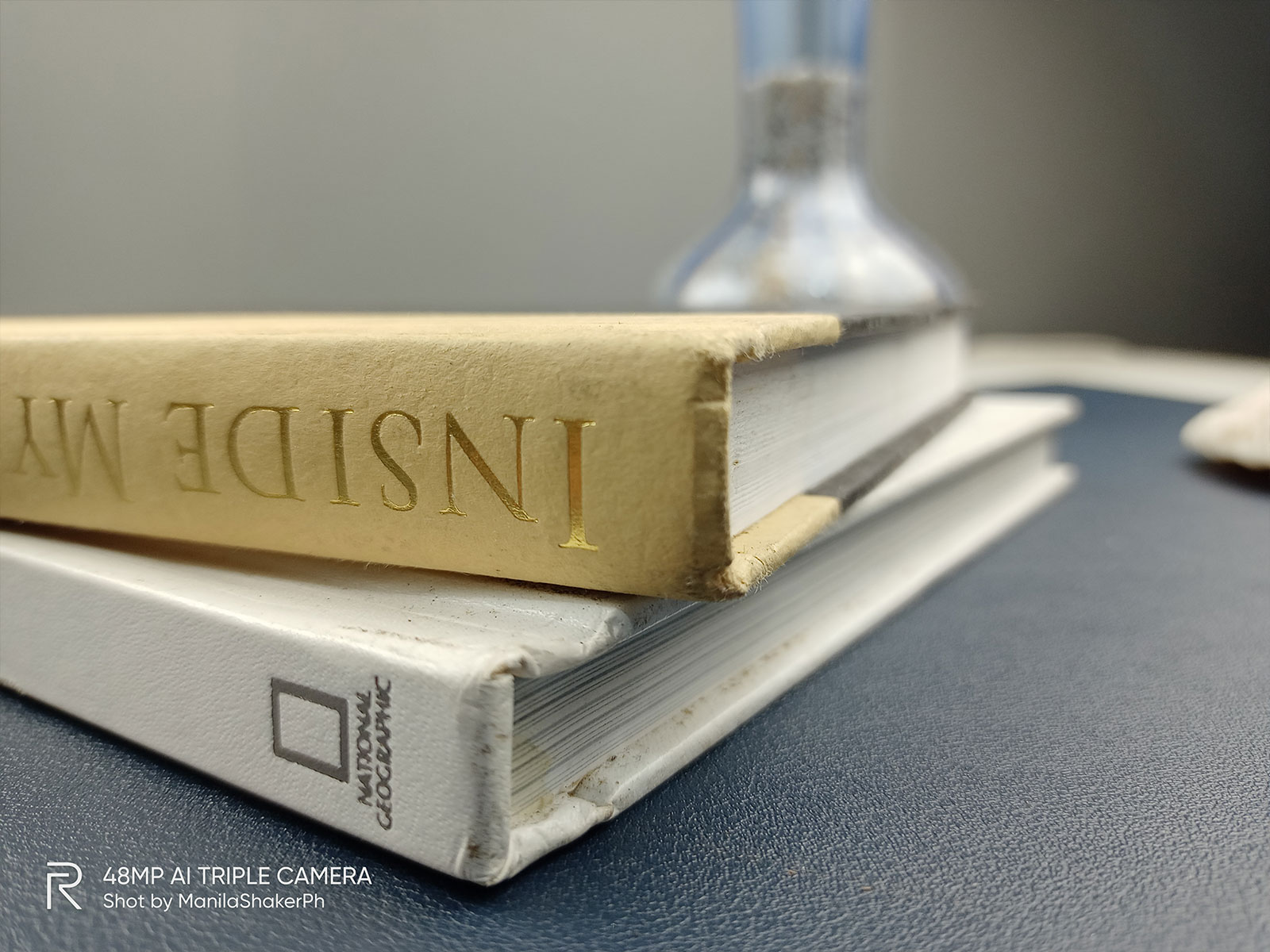 The normal shot is binned down at 12mp but we can enable 48MP mode in the camera app besides the portrait mode. The color is great and sharpness is what matters when shooting in full resolution mode as we can crop the image to introduce a new perspective.
This slideshow requires JavaScript.
Also, it outputs a decent 2x zoom which crops the image because it only uses digital zoom, on its 5x digital zoom, the image becomes grainy.
This slideshow requires JavaScript.
Lastly, the white balance is the little downside in detecting the scene and it struggles to produce accurate color temperature. So better use a photo editing app to adjust the color temperature.
This slideshow requires JavaScript.
Shooting in the night time especially in low light, Realme narzo 20 produces not the best but quite acceptable images. There's quite a decrease in sharpness and if we captured using night mode, the image becomes brighter with a little bit grainy but it also enhances the colors and details pops behind those deep blacks.
This slideshow requires JavaScript.
It also has a night mode for an ultrawide lens. although you need to have a better light source to produce more quality as it has a grainy picture when the light coming to the sensor is not enough.
This slideshow requires JavaScript.
Moving on to the 8MP Ultrawide, it captures a 119-degree FOV. Not as sharp as the 48MP lens but with natural colors. The blacks somehow eliminate the details however turning on HDR and it lifts the shadows but introduces a little bit of grain. The side does get blurry and there's quiet visible color fringing when shooting with a blowout highlights.
This slideshow requires JavaScript.
Next, is the 2MP Macro lens that captures close up subjects. The quality is just fine to capture the details and if you are focusing on macro photography using a smartphone maybe you will not be going to like the output. But still, on its price point, what can we expect. The good thing though is you can use the main cam and zoom in to capture a close up shot but in a tighter view.
This slideshow requires JavaScript.
Switching to the front camera, it has an 8MP F/2.0 selfie shooter, the color of the skin is in a cream tone. The normal photo mode outputs blown up highlights when capturing in direct sunlight, even turning on HDR still the photo is not balanced however, my face was emphasized. Basically what the AI did was it focuses on the subject rather than the background which is quite a relief. While shooting with portrait mode it has a bokeh slider to adjust the amount of blurriness in the background. The AI separation in the edges is quite accurate. It does come with Beauty mode to smoothen my skin and the AI applied Sharpening to make it look more natural. Contrast is quite good as well.
READ: SMART GIGA PRO With 114GB Data Is Priced at Php999/Month
For the camera features, there are still some features that are worth mentioning in this phone even if it doesn't have a featured pack un the camera section, like the pro mode which dials iso and shutter speed, a full resolution of 48mp with AI dazzle color, and also a night mode that enabled even in ultrawide.
On Video Recording, Realme Narzo 20 can only record [email protected] footage, this is a little downside for mobile filmmakers since lots of smartphones can shoot [email protected] frames although it's acceptable for its price point. Some users will still just use the 1080p quality since that is the maximum resolution for social media posting. It doesn't come with any stabilization or UIS and on its front cam, it can only capture [email protected]. Qualities on both front and rear are just fine. Dynamic range is ok however it doesn't balance the overall image, meaning, if the shadows lift up, the highlights are pretty much blown up and vice versa.
Performance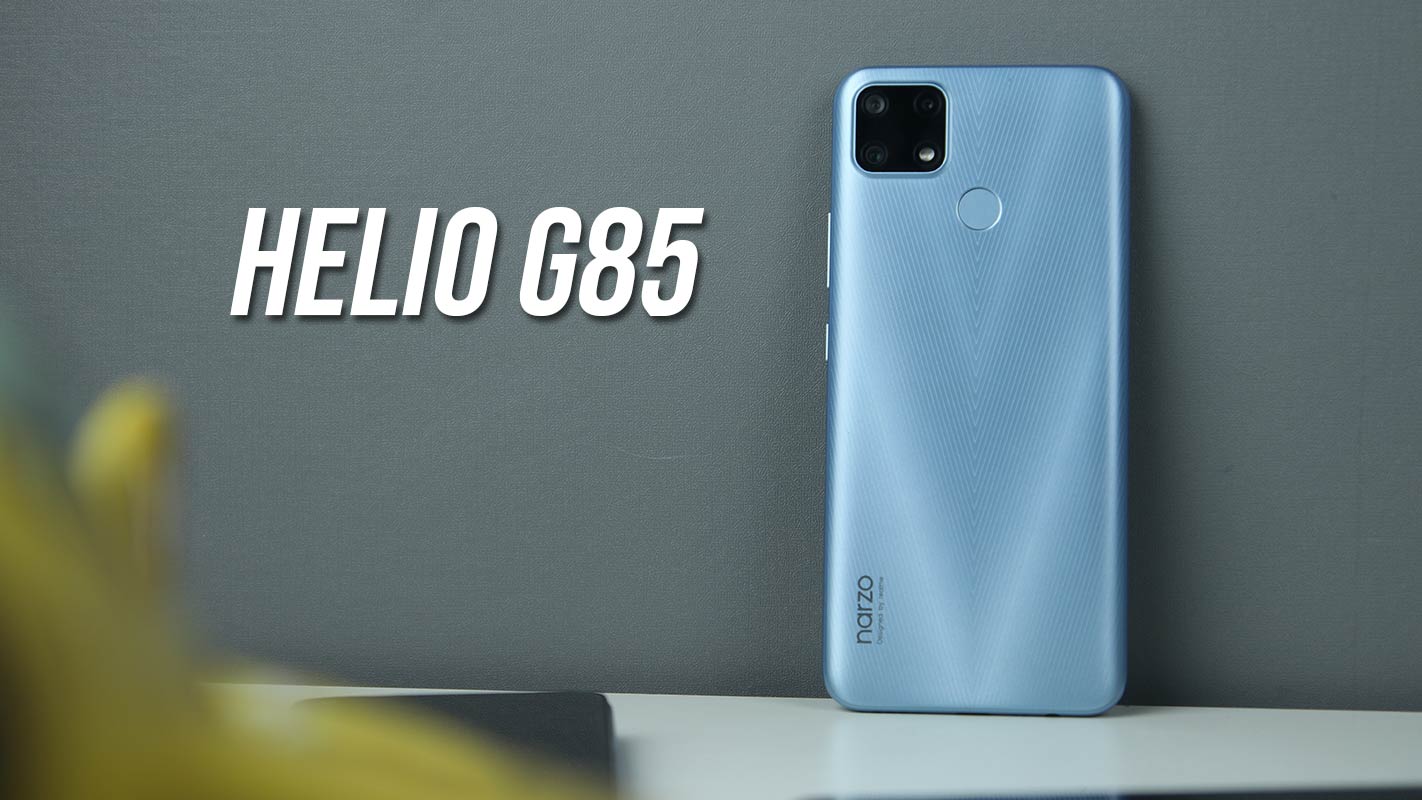 Under the hood, Realme Narzo 20 is powered by Mediatek Helio G85–a gaming-centric chipset for entry-level smartphones–it has a 12nm process architecture which is not an ideal processor to process heat management. However, upon testing the device hands-on, heat dissipation is somehow great running at least graphics-intensive games. Also, thanks to its 4GB of ram, multitasking is exceptional, at least, when running with split-screen while actively screen records the content while downloading some files in the background. Speaking of downloading files, it has 64GB internal memory which is acceptable as it can install most of the popular games while still having some storage space. Though for us if we will be having a gaming-centric phone as our daily driver we prefer a 4GB+128GB or better yet 8GB+128GB configurations.
READ: 7 Essential Apps to Survive in Online School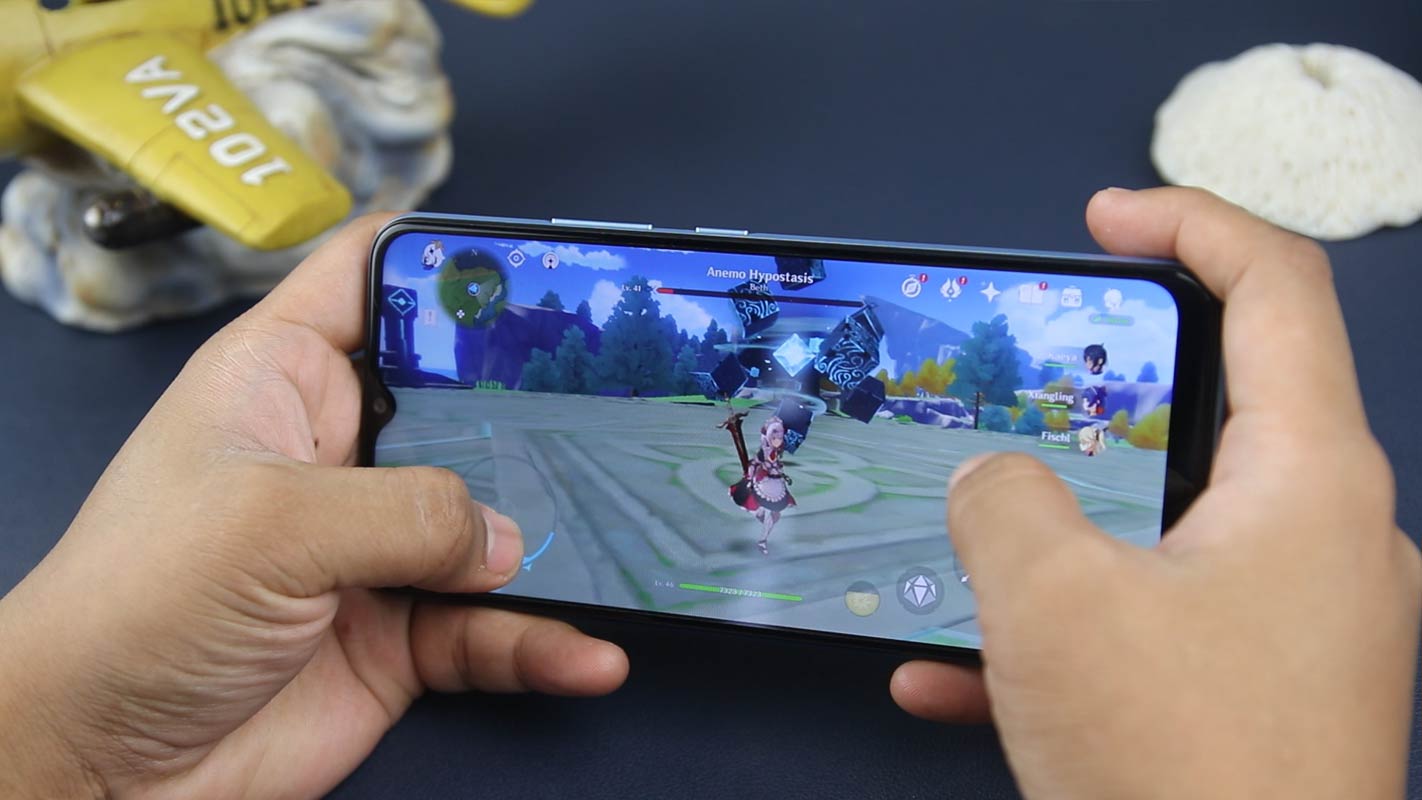 In gaming, as this phone fits in the gaming-centric category–there is a high-performance mode option on the phone's settings and gamespace app which optimized the chipset for better gaming capability. What the downside is the performance versus battery life ratio since using the full potential of the chipset will easily drain the battery. In contrast to that, a 6000mAh battery is equipped in the device to extend the usage.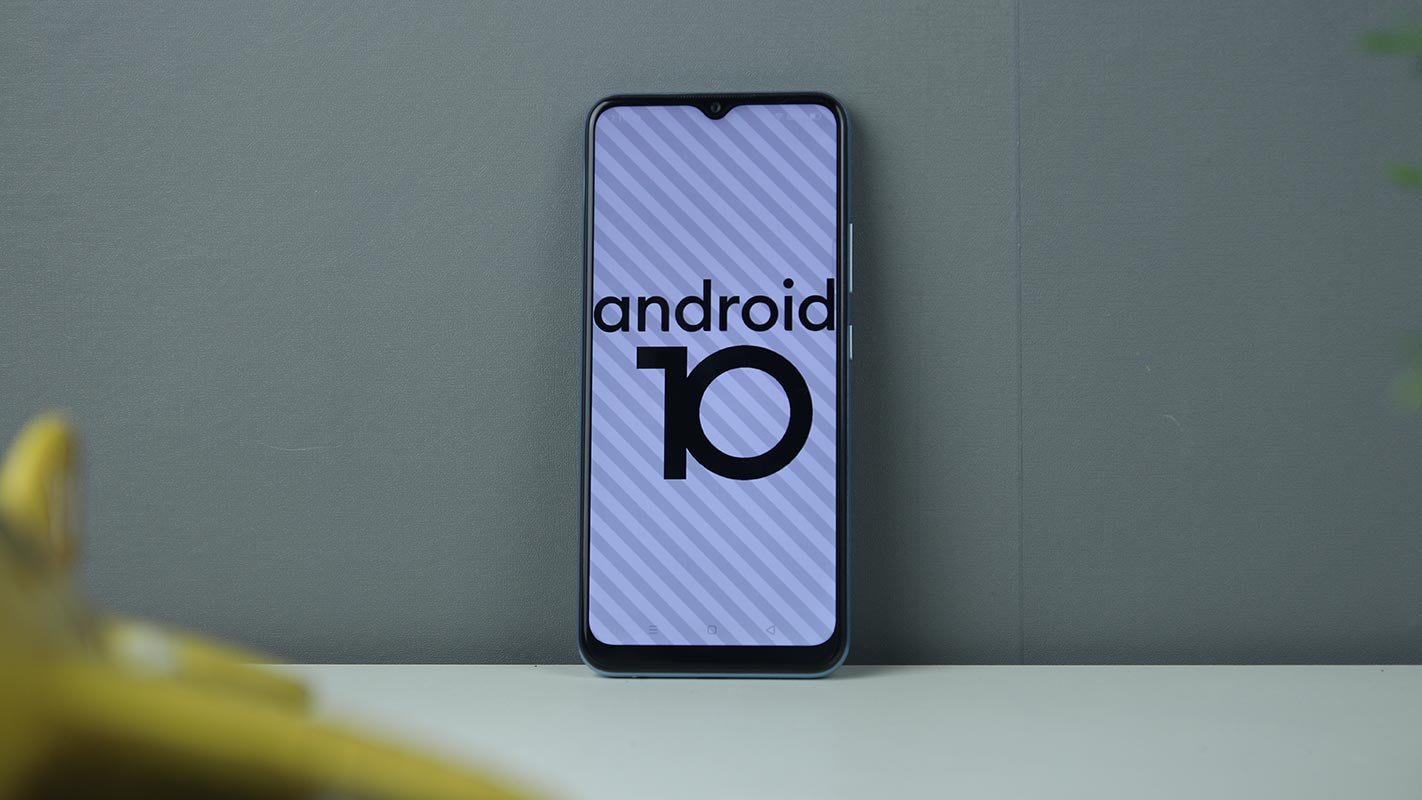 On its software, the device is in Android 10.0 OS with Realme UI skin on top. Realme's latest OS has a dark mode feature, smart sidebar, raise to wake function, double-tap to sleep, 3 fingers screenshot, split-screen, and many more. These features are reliable especially for daily use and multitasking. Everything works seamlessly and the animation is smooth.
Battery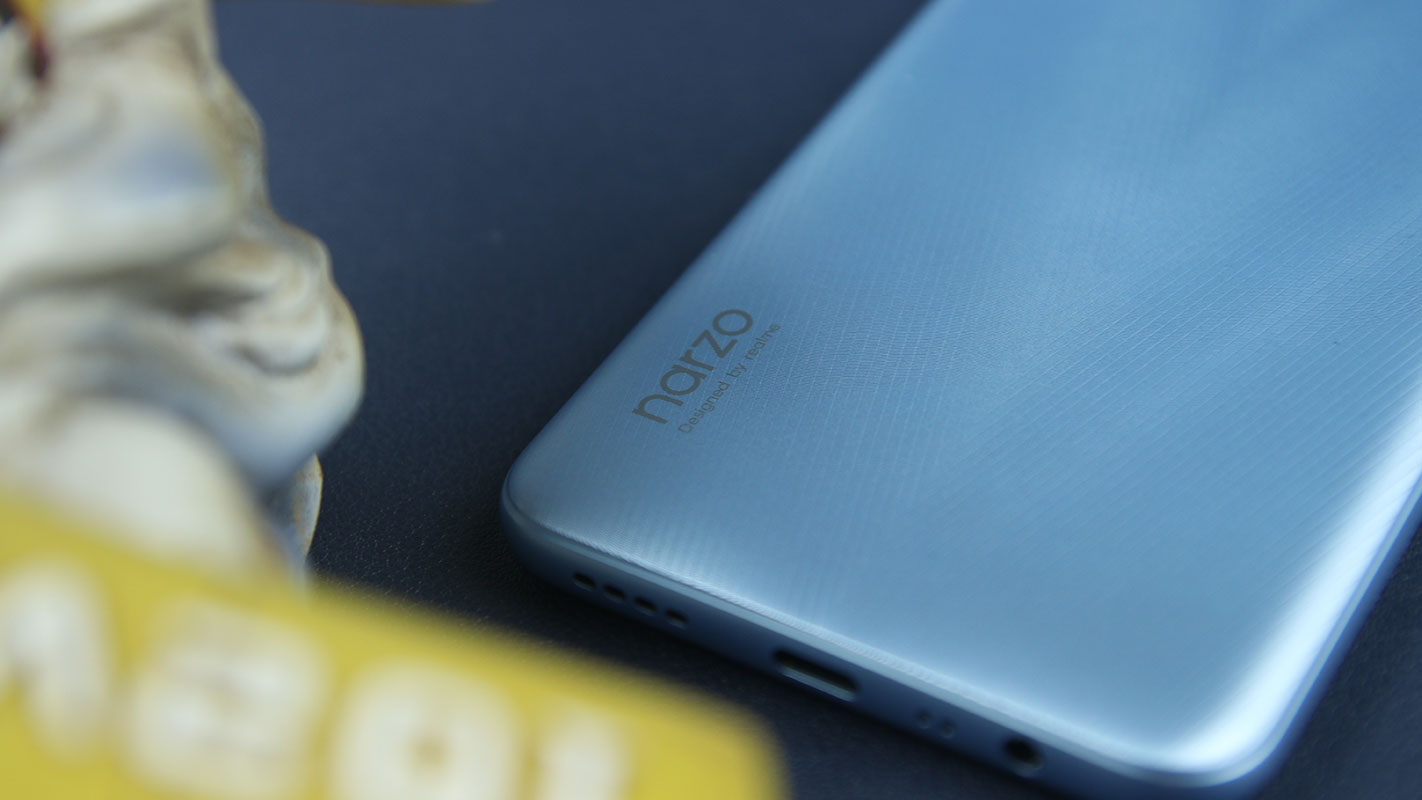 As mentioned in the performance section, Realme Narzo 20 is backed with a huge 6000mAh battery with an 18W quick charge. The battery can last for two or three days as a daily driver. Upon performing an endurance test, the phone lasted for 9hrs and 10mins until it dies. That includes benchmarking, gaming, video streaming, and browsing. The boosted performance, however, resulted in an 8hrs flat playing with graphic-intensive games. On its price point, the battery performance is outstanding.
READ: YouTube Terminates ABS-CBN's News Channel
As said, the phone can only take 18W power which will take a while to fully charge the huge capacity. Upon testing, we recorded 2hrs of charging to fill half of its capacity.
Audio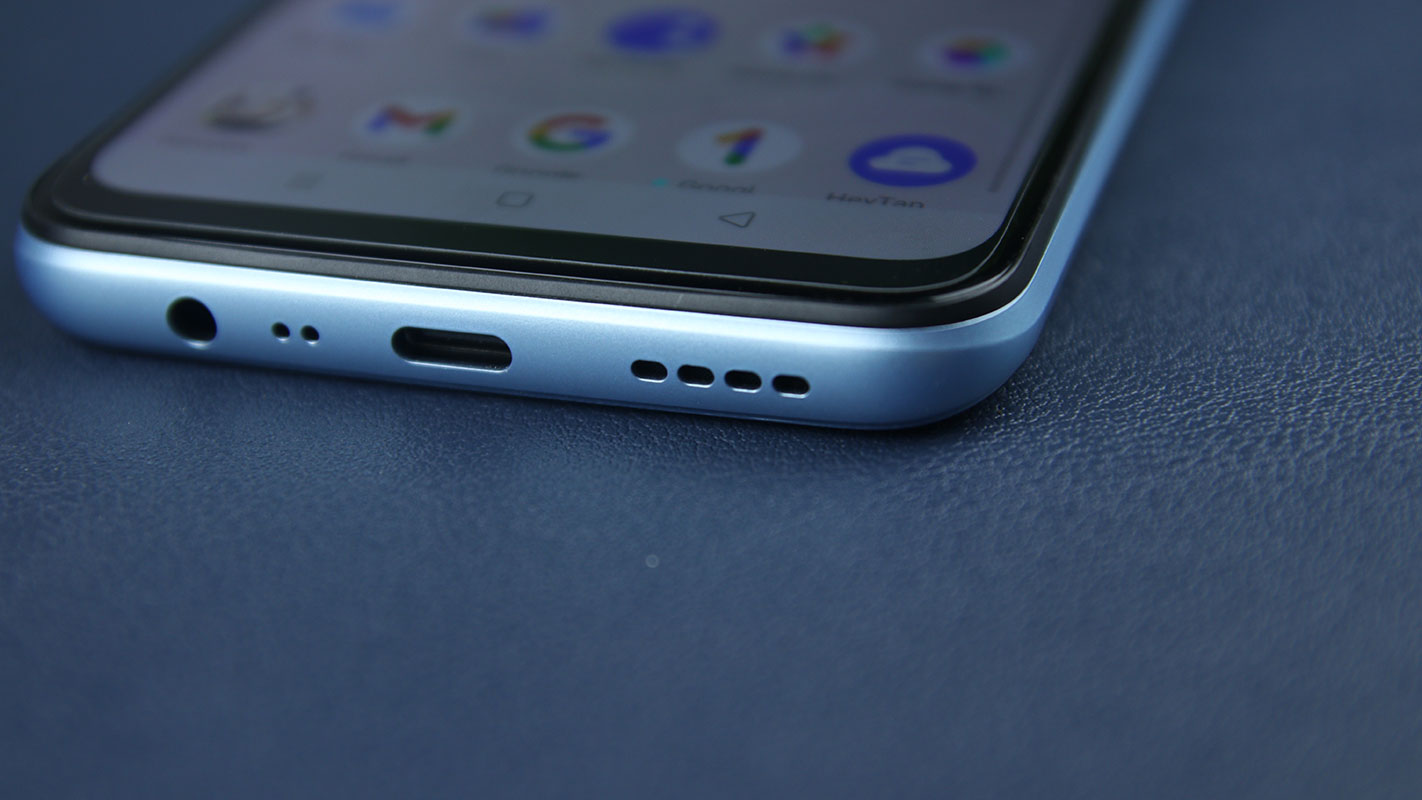 As for the audio, it has a down-firing speaker underneath. The sound it makes is enough to fill a small room and it's not as loud as other smartphones but it gives a decent and a little bassy sound. It becomes distorted when reaching the max volume.
Overall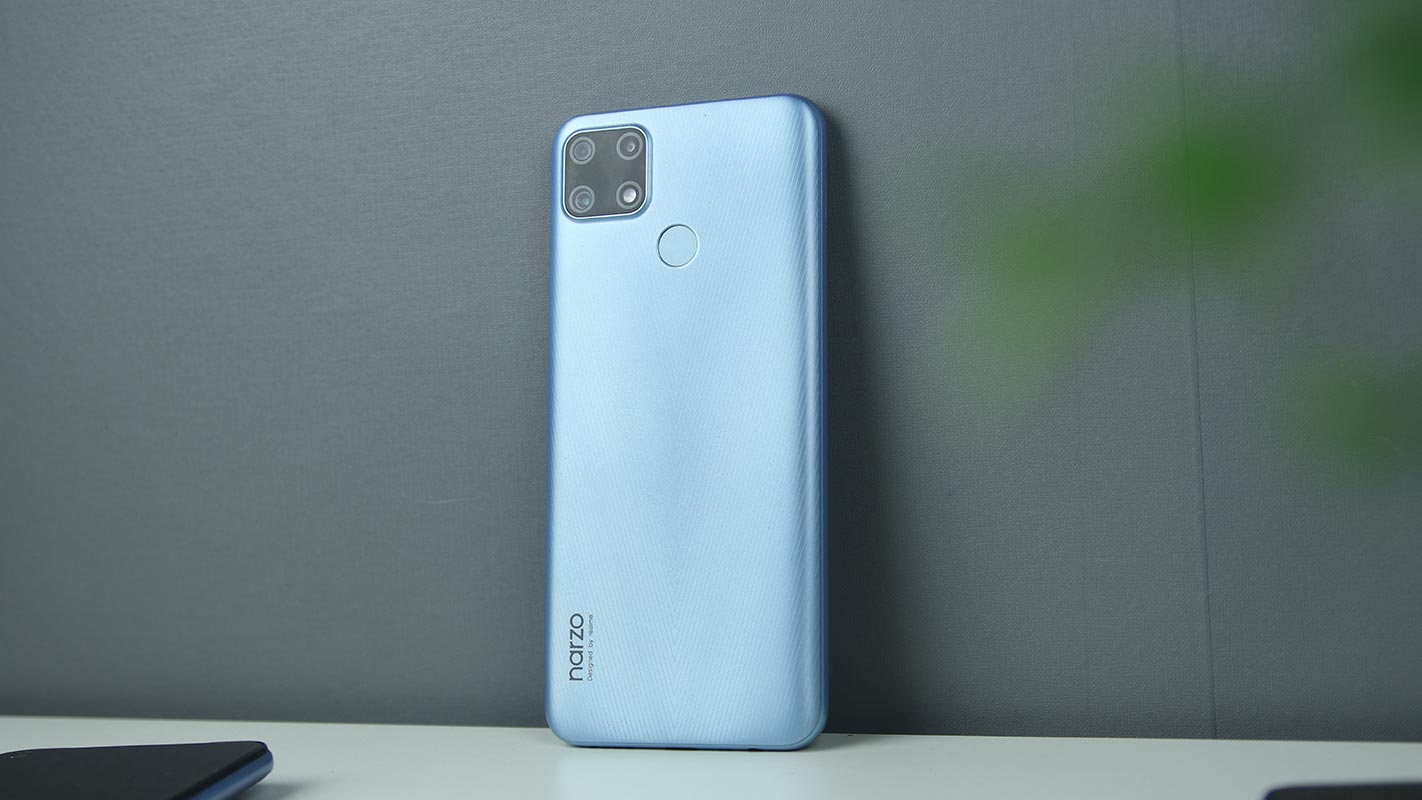 The Realme narzo 20 has a price to performance ratio that's acceptable. One of the entry-level devices in the market that has the power to play Triple-A mobile games in high-quality settings. Yes, there are some sacrifices or cuts in the hardware specs, but with that being said, Realme Narzo 20 is just priced at P7,990 for 4gb/64gb. They removed unnecessary hardware but then, they upgraded the "needed specs". This lowers the price of this device and that's good. If you're looking for the best budget entry-level phone to buy, then this phone should be on your list.
READ: Realme 7i Full Review – What was Improved?