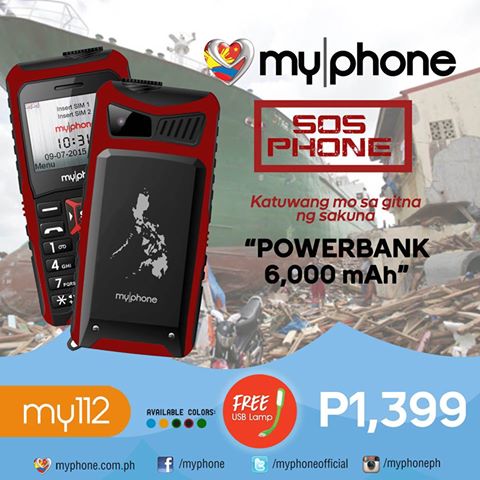 With the recent launch of MyPhone's My112 disaster built device, one may think if the latter was the only one in the market. However, they was already a powerbank phone that has subsequently delivered similar feats delivered by the My112. Everyone meet, the DTC Gear.
In regards to this, we figured to par up both disaster and sturdy devices and see which fits as a better disaster companion. We'll continue further by heavily tackling their overall specs and possible performance capabilities, which will fit a modern day "Joe" in surviving a natural disaster.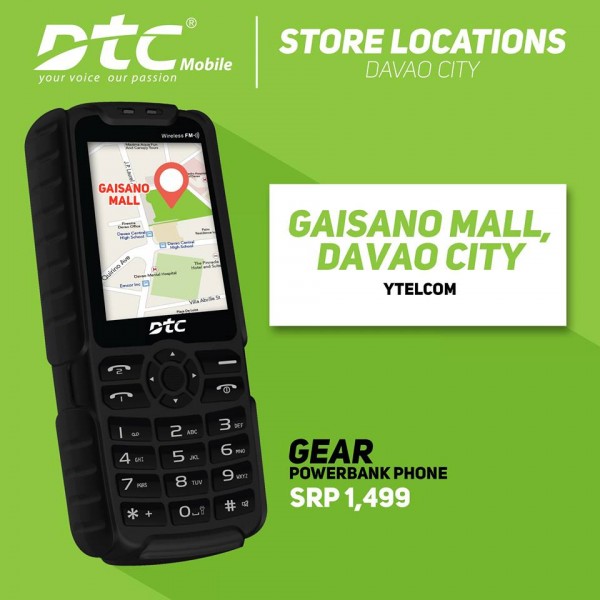 | | |
| --- | --- |
| Specs/PH price | MyPhone My112 specs, PH price, features |
| Display | 2.3-inch colored LCD display |
| Camera | VGA Camera |
| Light | LED Torch |
| Memory | microSD up to 8GB |
| SIM | Dual-SIM |
| Connectivity | 2G Edge and GPRS Networks, Bluetooth, FM Radio |
| Features | Water Resistant, Shock proof, luminous body, SOS Button, Powerbank function |
| Content | MyPhone Pinoy Content Version 3 |
| Battery capacity | 6000mAh battery |
| Release date | October, 2015 |
| Official Price | Php 1,399 on MyPhone stores nationwide |
| | |
| --- | --- |
| Specs, PH price | DTC Gear, specs, PH price, features |
| Display | 2.4-inch TFT display |
| Camera | 1.3MP digital camera |
| Memory | microSD expandable up to 32GB |
| SIM | Dual – SIM/ Dual Standby |
| Connectivity | 2G GPRS Networks, Bluetooth, Wireless FM Radio, |
| Features | Flashlight ( large), Shock resistant, Powerbank function |
| Batter Capacity | 4500mAh battery |
| Release date | July, 2014 |
| Official Price | Php 1,499 Official SRP on DTC stores |
Highlights of the MyPhone MY112
Possesses a relatively smaller screen, though a .1 inch difference, might not exactly matter
microSD card expandability rate is a bit lower than of the DTC Gear's 32GB expandability limit
Has better battery capacity than the DTC Gear's 4500mAh battery
Is relatively more affordable in pricing, though pricing of the DTC Gear might have been lowered throughout its stay in the market
Has the advantageous position of being new in the market
Carried by a well – known local brand
Provides more features than the DTC Gear
Water proof features, which was not present in the DTC Gear's list of specs
All in all, it seems that the MyPhone MY112 has a lot more in- store than the DTC Gear, since the latter was about a year old already. It could be safely said, that the improvements on the MY112 came from tackling a few deficiencies experienced with earlier disaster based devices, which hopefully, MyPhone was completely removed. As for the DTC Gear, it is still one of the most sturdy disaster devices in the market, though, with the more affordable take and a more improved device features, we can honestly say, that the MyPhone MY112 is a more worthy buy, overall than the DTC Gear.
See also: MyPhone Launches Disaster-built Phone, MY112; Features 6000mAh battery for Php 1,399
The MyPhone MY112 as mentioned before is priced at Php 1,399 and can be purchased through MyPhone stores nationwide, while the DTC Gear is available for Php 1,499 on DTC stores nationwide. Please feel free to share your thoughts on what you think of our specs comparison on both devices. We highly appreciate all matters of feedbacks, which we can use to improve our overall system.
Related posts and reviews