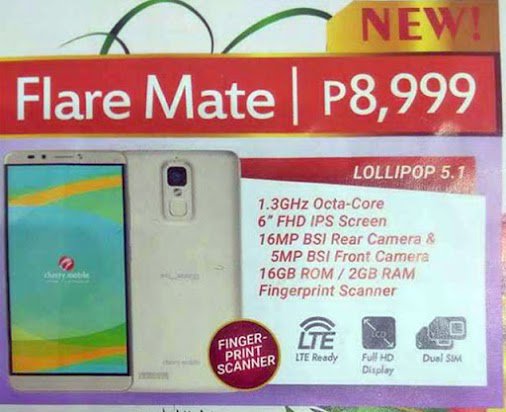 Cherry Mobile's Flare Mate takes aim again and faces off with two note worthy opponents. Cherry Mobile's 6-incher fingerprint sensor equipped phone has faced with Lenovo's K3 Note and the country's version of the K3 Note, the A7000 Plus, but there is more to come, as the Flare Mate takes on a few new challenges.
The Flare Mate will have its hands full with none other than Cherry Mobile's very own Flare S4 Plus and Asus' Zenfone 2. We'll par up their specs and features and highlight a few important and noticeable features, specs and differences or similarities to find out more about Cherry Mobile's upcoming 6-incher, the Flare Mate. Now lets dig digger and compare both of these devices.
Spec, PH price

Cherry Mobile Flare S4 Plus specs, PH price, features

Asus Zenfone 2 ZE551ML specs, PH price, features

Display
5.5-inch FHD 1020p OGS IPS display, 395ppi
5.5-inch IPS 1080p LCD display, 401ppi
Protection
Dragontrail Glass
Cornings Gorilla Glass 3
Chip
MediaTek MT 6753
Intel Atom Z3580 (4 GB RAM model)
Intel Atom Z3560 (2 GB RAM model)
Processor
1.5GHz ARM Cortex-A53 octa-core processor
Quad-core 2.3 GHz (4 GB RAM model)
Quad-core 1.8 GHz (2 GB RAM model)
Memory
3GB of RAM, 16GB of internal storage
16/32/64 GB, 2/4 GB RAM
Main Camera
16MP main camera
13 MP rear shooter, 4128 x 3096 pixels, autofocus, dual-LED (dual tone) flash
Front Camera
8MP selfie shooter
5 MP selfie shooter
Connectivity
4G LTE WiFi n, Bluetooth 4.0, GPS, GLONASS
4G LTE WiFi ac, BT 4.0, GPS , GLONASS, NFC, FM Radio with RDS
Battery capacity
2800mAh battery
3000mAh battery
OS
Android 5.1 Lollipop
Android 5.0 Lollipop, Asus ZenUI
Software feature
Ok Google, Android TV
Ok Google, Android TV
Availability date
October, 2015
March 2015 released date
Official Price
Price upon launch is expected to be Php 7,999
Php 9,995 for the 2GB variant and Php 14,995 for the 4GB variant on ASUS store as of October 10
| | |
| --- | --- |
| Specs, PH price | Cherry Mobile Flare Mate specs, PH price, features |
| Display | 6-inch IPS FHD display, 367ppi |
| Chip | MediaTek 6753 chip |
| Processor | 1.3GHz octa-core Cortex-A53 processor |
| Graphics | Mali-T720 GPU |
| Memory | 2GB of RAM, 16GB of internal storage |
| Main camera | 16MP BSI rear shooter |
| OS | Android 5.1 Lollipop |
| Software features | Ok Google, Android TV |
| Front facing camera | 5MP BSI selfie shooter |
| Connectivity | Dual SIM 4G LTE, 3G HSPA+, WiFi ac, BT 4.0, GPS, FM Radio |
| Ports and charging | USB OTG, microUSB 2.0, 3.5mm audio jack |
| Release date | TBA |
| Official Price | Php 8,999 as of October 28 2015 |
Highlights of Cherry Mobile Flare Mate against its opponents
Flare Mate has a larger screen size than both the S4 Plus and Zenfone 2, with their 5.5-inch displays
Though it isn't complete in the Flare Mate's specs, the 2 other phones possesses a screen protection service, courtesy of Dragontail and Corning, which we should expect that the Flare Mate will soon get.
Zenfone 2 provides more option in terms of Memory, with the 16/32/64GB internal storage capacity and 2/4GB of RAM
Has smaller RAM size than the S4 Plus
Has similar internal storage capacity to S4 Plus
Has faster WiFi connectivity, with WiFi ac, than of the S4 Plus' WiFi n
Has yet to deliver a battery capacity specs, though it is expected to be around the same as the S4 Plus'
All three devices run on Android Lollipop version
Both Cherry Mobile devices surpasses Zenfone 2's megapixel count for rear shooters, which has 13MP, in comparison to both Cherry device's, which has 16MP for their rear shooters
Price-wise, the Cherry Mobile Flare Mate is in between the S4 Plus and Zenfone 2, with the Flare Mate having a higher price range than the S4 Plus and has lower price range than the Zenfone 2
Ironically, the device has a lower megapixel count on its selfie shooter, in comparison to its brethren, the S4 Plus, though they are similar to the Zenfone 2
Has the advantage of being relatively new to the market, since it is yet to be launched
Has fingerprint sensor, which is not present on both opponents.
Technically speaking, the Flare Mate is expected to be better in terms of system, though both opponents are entirely capable to take on the device themselves. The thing that got us the most is its apparent differences to its brethren device, the Flare S4 Plus, which apparently had a few advantages and disadvantages with one another, though, since the Flare Mate has yet to released its full specs, we might have to say for it otherwise. The Flare Mate carries the biggest display size overall, with its 6-inch FHD display, though depending on what variant of the Zenfone 2 will be paired up to the device, the Flare Mate could par up with its 2GB of RAM or lose to the 4GB variant of the Zenfone 2. Price-wise the device is relatively more affordable than a Zenfone 2's most cheapest variant, however, it will be a bit more costly, in comparison with the S4 Plus' primary price, though we think that the little extra pay is all worth it for that very useful fingerprint scanner feature which is overall a useful feature of security.
The Flare Mate is yet to be announced, however, a price range of Php 8,999 has been announced. As for the Zenfone 2, its 2GB variant is available for Php 9,995, while its 4GB variant is available for Php 14,995, available in Asus stores or online stores nationwide, while the Flare S4 Plus is now available on all Cherry Mobile outlets and online stores nationwide for Php 7,999 starting price.
See also: Cherry Mobile Flare Mate Official; Features 6-inch FHD Display, MediaTek 6753 Chip, Fingerprint Scanner, Lollipop OS
What do you think of the Flare Mate so far? Hit us up on the comments section below and share us your thoughts. We highly appreciate feedbacks from you guys.
Related posts and reviews