We pitted LG G4 Philippine variant against Sony's newly released water dust proof certified Xperia Z3+. Both are dual SIM 4G LTE variant and with close pricing in the local market. So let's take a look below in our Ultimate Comparison test if which phone is more deserving to buy.
Design
Sony Xperia Z3+ comes with familiar design from its Z line. The departure is not big but Sony maintained the IP certification, up to 1.5m deep for 30min dip in fresh water. There is metal frame and oleophobic-coated glass for scratches protection.
Hardcore Sony fans will have a tough time distinguishing the Z3+ from Z3. Only the new colors could differentiate majorly. The copper and aqua green are more appealing than the white or black variants.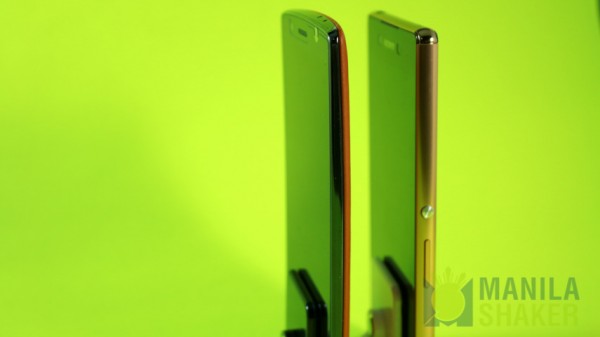 Both device are premium with unique genuine leather and curved body for LG G4. The major difference aside from the leather vs glass and metal is in terms of size. LG G4 is few mm thicker and several grams heavier. This is due to the bigger display and better spec-ed camera.
We gave each a point in this category for their robust and distinct design.
Winner: Tie
Display
LG G4 has a shaper screen, but both utilize the same IPS LCD. The FHD screen resolution of Sony Xperia Z3+ remain sharp in our eyes. We really don't see the difference when we look at both displays, only a small offset in saturation and much brighter Xperia Z3+.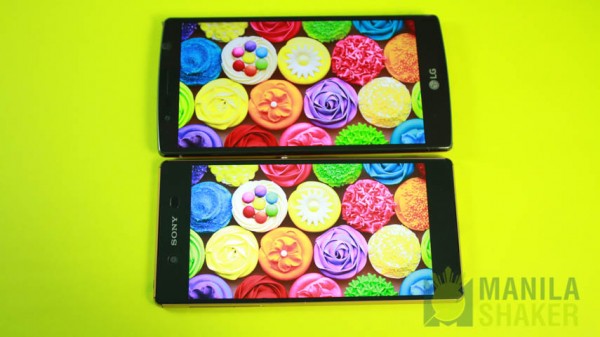 Winner: Tie
Camera
This is where LG G4 proved to be a tougher contender. LG G4 again emerged with sharper, brighter and more accurate images. It is expected from LG as it came with high-grade camera features such as wide f/1.8 aperture and couple of camera sensors.
Sony Xperia Z3+ came with clear video but the microphone pick up is not great. Audio sounds flatter, we'd wish for improved microphones in Z3+'s successor.
Winner: Still image – LG G4, Video – Xperia Z3+
Performance
We were surprised that LG G4 managed to beat the Xperia Z3+ in benchmark scores. Maybe this is due to the overheating issues of the Snapdragon 810 chip in the Z3+ (throttled performance). However, Sony claim the point in the actual test when it opened games faster.
Winner: Game test – Xperia Z3+, Benchmark – LG G4
Speaker
The stereo speakers of Z3+ doesn't have any advantages over the mono speaker of the G4. Both came with loud and powerful speaker which considerably much better from most devices.
Winner: Tie
Other specs: Battery, Software
We haven't reviewed the Xperia Z3+ yet, but its battery life and software looks promising. The Japanese company seems to know well their aces in Xperia Z line. We will cover more from these categories through our upcoming review.
Verdict
It is really hard to pick an overall winner from the two because both are great devices with top notch features that are hard to match. Final decision will depend from one's preference in OS and design and more on being how a fanatic are you to the brand.

| | |
| --- | --- |
| Sony Xperia Z3+ specs | LG G4 specs |
| 5.2-inch 1080p IPS Triluminos, 424ppi | 5.5-inch QHD IPS Quantom LCD, 534ppi |
| Scratch resistant, oleophobic coating, metal frame | Gorilla Glass 3, curved body, leather stitch back cover |
| Snapdragon 810 octacore chipset | Snapdragon 808 hexacore chipset |
| 3GB RAM | 3GB RAM |
| 32GB internal, microSD card up to 128GB | 32GB internal, microSD card up to 2TB |
| 20.7MP f/2.0 camera, single LED flash, 2160p video, HDR | 16MP f/1.8 laser autofocus, color spectrum sensor, auto HDR, 2160p video, OIS |
| 5MP selfie camera, 1080p video | 8MP selfie camera, 1080p video |
| Dual SIM, 4G LTE cat 4, WiFi ac, Bt 4.1, FM Radio, GPS | Dual SIM, 4G LTE cat 6, WiFi ac, Bt 4.1, FM Radio, GPS, Wireless charging, Infrared for remote |
| Android 5.0 Lollipop | Android 5.1 Lollipop |
| 2930mAh battery | 3000mAh |
| Aqua green, Copper, Black, White | Leather in various colors, Ceramic in various colors |
| P27,990 in dual SIM, price upate July 4 | P27,500 in dual SIM, price upate July 4 |
Related posts and videos: