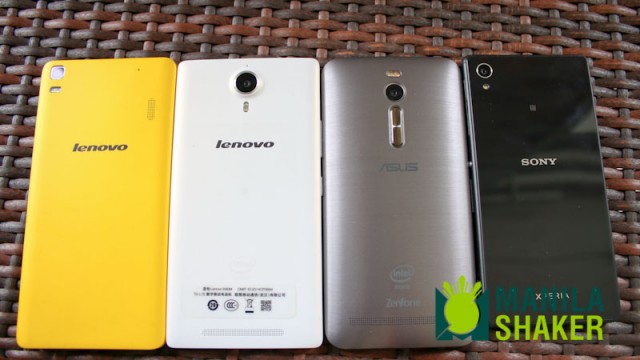 We put four latest Android smartphones with the same 13MP sensor into a camera battle. Which from Lenovo K80, Sony Xperia M4 Aqua, Asus Zenfone 2 or Lenovo K3 Note will emerge on top in our comparison? Find out below.
Still images (daylight)
All shooters have different output in our daylight shooting test. The Asus Zenfone 2 is noticeably sharper than the three, the K3 Note being the 2nd sharpest shooter.
The shot of K3 Note is also a lot brighter but it created an offset in color accuracy. I think the Lenovo K80 produced most true colors.
The Asus Zenfone 2 has warmer image while the Xperia M4 Aqua has the coolest (blueish) white balance.
Winner: Asus Zenfone 2
Runner up: Lenovo K80
Still images (night or low light)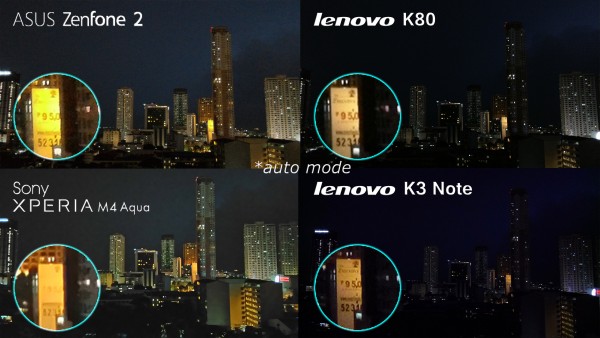 Winner: Asus Zenfone 2
Runner up: Sony Xperia M4 Aqua
The low light scene was shot in automatic settings with Asus Zenfone 2 delivering the most decent night shot. Xperia M4 Aqua came in 2nd place in the low light shot but it's not sharp as the Lenovo K80 or K3 Note.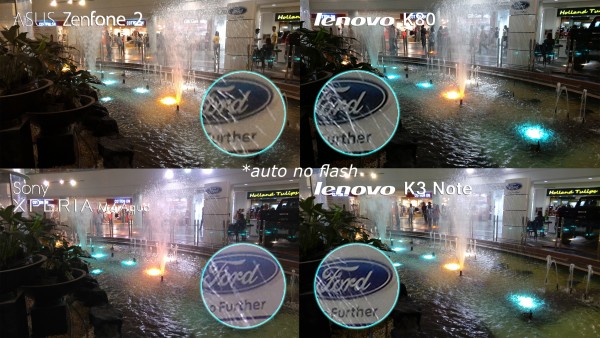 Again, both Zenfone 2 and Xperia M4 Aqua delivered wrong white balance parameters. As you can see the image of Zenfone 2 is brownish while the Xperia M4 has warmer, reddish shot.
Lenovo's budget flagships outshine the M4 and Zenfone 2 in sharpness and color accuracy.
Winner: Lenovo K3 Note
Runner up: Lenovo K80
Flash mode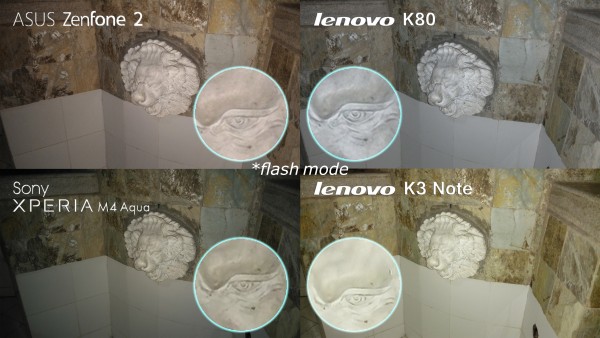 Only the Xperia M4 has single LED flash, the rest have dual LED flash with dual-tone in Zenfone 2 and K80.
Zenfone 2 has the worst color. The image turn out so red that it made the scene wrong.
K80 shot is cooler giving a bluish white balance while its sibling, K3 Note, did impressively well in terms of the amount of light and color accuracy.
Sony Xperia M4 Aqua has good color despite its single LED flash.
Winner: Lenovo K3 Note
Runner up: Sony Xperia M4 Aqua
High Dynamic Range or HDR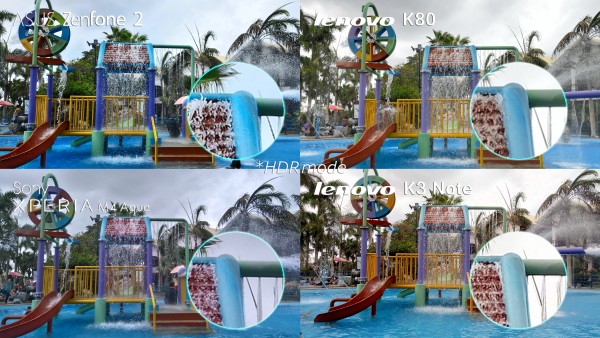 All 13MP snappers have the HDR mode. In this scene it's hard to distinguish which came closest in providing sharp, true colors HDR image. But if you look closely on the leaves we can see that Zenfone 2 has cooler shot while the K3 Note has warmer shot. Only the K80 came near in having true colors.
We noticed that Sony Xperia M4's images are bit washed out or foggy. On the other hand, most of its images have accurate colors.
Winner: Lenovo K80
Runner up: Lenovo K3 Note
Video quality
All four are capable of shooting 1080p video with only Lenovo K80 having the Optical Image Stabilization.
Picking a winner in this test is not easy because each has its own cons and pros.
By video color comparison, the Xperia M4 and Lenovo K80 are closer to real colors. The K3 Note and Zenfone 2 have warmer, too bright videos.
We picked the Lenovo K80 as the best video shooter for its color accuracy. The Zenfone 2 did pretty well in this test alongside with Xperia M4 Aqua.
Winner: Lenovo K80
Runner up: Sony Xperia M4 Aqua, Asus Zenfone 2
Related posts and videos: