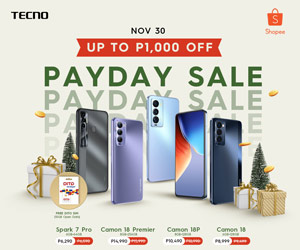 Sony`s new Xperia M4 Aqua is now out in the market, sitting besides the well established Asus Zenfone 2 (ZE551ML). Both are affordable smartphones with promising key features. But which is the better pick for your budget? Read on to find out.
Design
The Xperia M4 Aqua is smaller, thinner and lighter than Zenfone 2. It is made of glass and surrounded by a metal frame, much similar to Xperia Z3+. But material quality is far from Z3+ because the Xperia M4 is prone to scratches and cracks, and it can attract smudges easily.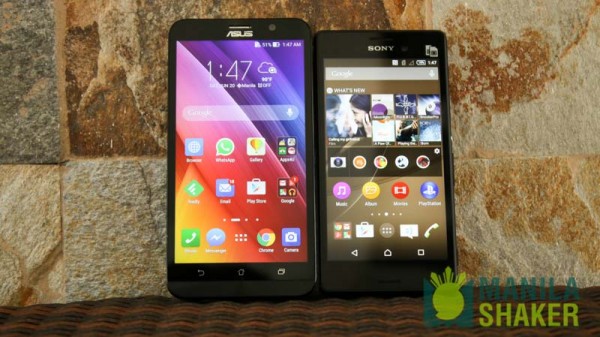 The cost of having a smaller profile for Xperia M4 is having a 5-inch screen size only as to the 5.5-inch screen of Zenfone 2. The difference in size is huge, still both phones offer solid and premium build.
So if you want a smaller profile, easy-to-hold with one hand device, then the Xperia M4 is a good choice. It has added rugged features of IP68, means the M4 Aqua is dust and water proof for up to 1.5m deep and 30 minutes.
Winner: Tie
Display
The Zenfone 2 offers sharper display but it`s hard to notice the difference over the Xperia M4. However, the Xperia M4 has brighter screen which makes it look better than Zenfone 2.
We are impressed with the color reproductions in both displays. They both project natural, sharp details even under bright light.
Winner: Tie
Camera
Xperia M4 didn`t come close to the Zenfone 2 in shooting test. The images of M4 are smoky, too soft and colors are far from natural.
It was only in low light test and video recording where the Xperia M4 managed to hold on by providing bright images and better audio capturing.
Winner: Still – Asus Zenfone 2, Video – Xperia M4 Aqua
Performance
The Snapdragon 615 beat the Intel Atom 3560 chip in all tests with marginal difference. Booting speed in Asus Zenfone 2 takes decade to finish. The Xperia M4 opens games slightly faster than the Intel Atom-powered Zenfone 2.
Winner: Xperia M4 Aqua
Speaker
Both have clear and loud audio output. Audio vocals are crisp and bass feel strong.
The Xperia M4`s speaker is strategically located in bottom side so that the sound will not be blocked when putting it on flat surface. The Zenfone 2`s tapered back helps in channeling the sound out without worrying it would be sandwiched by the back and surface.
Winner: Tie
Sony Xperia M4 Aqua advantages over Asus Zenfone 2
Water and dust proof
Smaller, easy-to-use with one hand
Battery rating is longer
Brighter display
Asus Zenfone 2 advantages over Sony Xperia M4 Aqua
Display is larger, sharper
Camera quality is leagues ahead
| | |
| --- | --- |
| Sony Xperia M4 Aqua | Asus Zenfone 2 ZE551ML |
| 5-inch HD IPS LCD screen, 294ppi | 5.5-inch FHD IPS LCD screen, 403 ppi |
| Scratch-resistant, Water and dust proof | Gorilla Glass 3 |
| Snapdragon 615 octacore chip | Intel Atom 3560 quadcore |
| 2GB RAM | 2/4GB RAM |
| 8/16GB internal, microSD up to 128GB | 16/32/64GB internal, microSD up to 64GB |
| 13MP camera, HDR, 1080p video | 13MP camera, HDR, 1080p video |
| 5MP selfie camera, 720p video | 5MP selfie camera |
| Dual SIM, 4G LTE, WiFi a, Bt 4.1, NFC | Dual SIM, 4G LTE, WiFi ac, Bt 4.0, NFC |
| Android 5.0 Lollipop | Android 5.0 Lollipop |
| 2400mAh battery | 3000mAh |
| P13-14k average | P10-12k average (2GB) |
Related posts and videos: