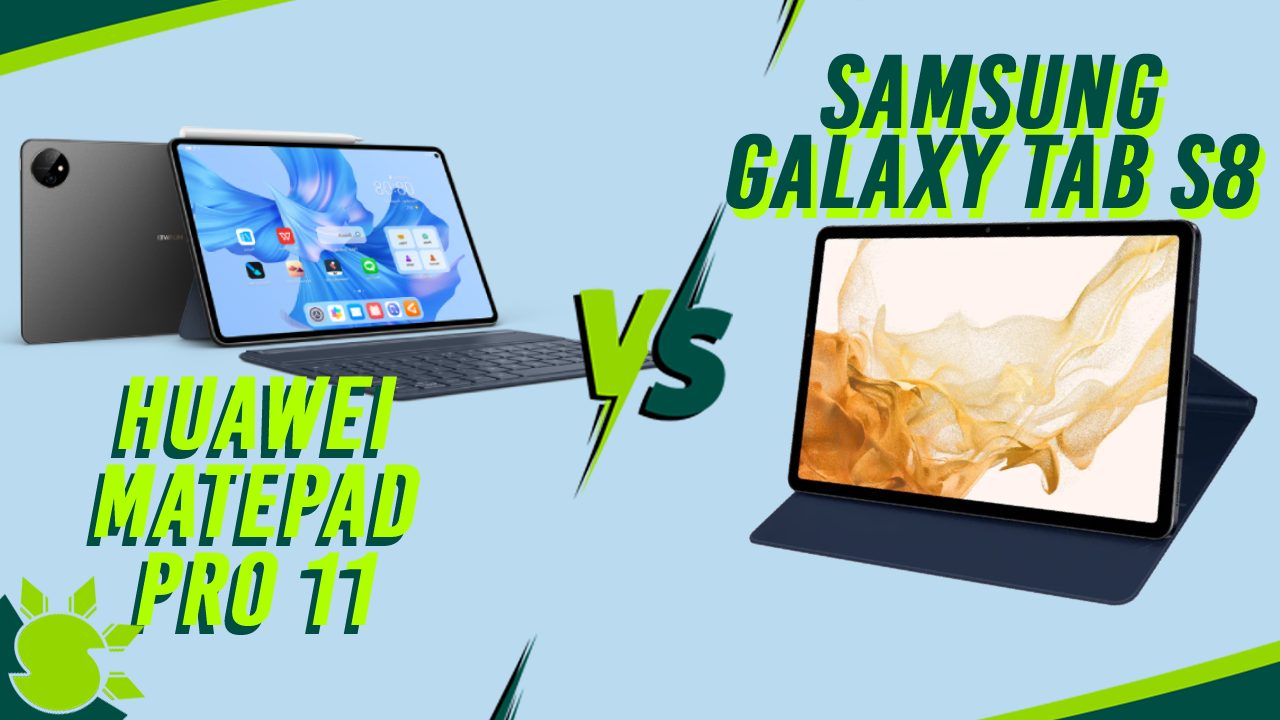 The Samsung Galaxy Tab S8 was released earlier this year, and the recently released Huawei MatePad Pro 11. Both provide serious mobility and flair, as well as a large and crisp display on which to write or doodle, seamless Multi-Window and multitasking features for a PC-like experience, and clever attachments that provide the versatility of a tablet PC when needed. Despite the fact that Huawei already offers an OLED Real Color FullView Display, the price difference between these two tablets is not significant. So, which of these powerhouse tablets is the best buy?
Design
Both devices are sleek, lightweight, and portable. Yet, the MatePad Pro 11 has a smaller footprint due to its higher screen-to-body ratio, as well as being the slimmer and lighter of the two variants. The Samsung Galaxy Tab S8 has a more resilient Armor Aluminum casing, but the MatePad feels better to the touch and has an anti-fingerprint coating that is also easy to handle. Because Huawei adopted a unique Frosting Processing Technique, the tablet has a metallic sheen and is fingerprint-resistant.
Display
Both the MatePad Pro 11 and the Galaxy Tab S8 have a huge 11-inch panel that operates at 120Hz, making them ideal for navigating the screen and playing games that need high refresh rates. Both panels also have a sharper than 1080p WQXGA resolution and support stylus. Fortunately for Huawei's new tablet, that's where the similarities end, since it's the only one in its price range to feature OLED technology. In comparison to the Tab S8's unimpressive TFT LCD, the screen has a 10-bit color and up to 600 nits of brightness. A closer analysis discovered that the Huawei MatePad Pro 11 seems more vivid and lively — just what you want if you're the sort of user who binges on TV and movies on the fly. It's also calibrated with a Delta E of less than one, which means it's nearly as color-accurate as you can get and is an excellent choice for serious designers and photographers looking for precision.
Another noticeable change is the MatePad Pro 11's greater screen-to-body ratio, which is due to its thinner bezels all around. The MatePad has the largest screen-to-body ratio in its class, at 92%, compared to the Tab S8's 84%. Furthermore, the MatePad Pro 11 is the first tablet to be certified by TUV Rheinland for minimal eye strain and low blue light.
Camera
Both tablets include two rear cameras, as well as a secondary ultra-wide camera on the back and a front-facing camera for selfies, movies, and video chat. We'd like to point out that the Huawei MatePad Pro 11's trademark Dome Ring design is identical to the premium style that the firm launched with the Mate series. The MatePad Pro 11 has clearer cameras on the front and back, as well as enhanced noise cancellation from its four microphones.
Speakers & Audio Quality
Sound quality is vital when it comes to premium pro-grade tablets. What good is all that extra space if you can't accommodate more speakers and better audio technology? While both tablets deliver on their promises, audiophiles will choose the Huawei MatePad Pro 11's six speakers over the Tabs S8's four.
Huawei has chosen a speaker array comprised of two tweeters and four woofers to give great separation between high and low frequencies, with the latter responsible for bass quality with a maximum intensity of 80dB and the tweeters in charge of high-frequency, low-amplitude sound waves. Even better, the MatePad Pro 11 is the first smartphone to incorporate Huawei Sound technology, which comprises end-to-end sound-quality innovations from selection to play. Both tablets are capable of listening to music, and podcasts, or utilizing built-in speakers for movies or games. If you're more finicky about sound quality, particularly bass, the MatePad Pro 11 is a better option.
Accessories
Both devices enable first-party stylus and keyboard-cover choices for smart accessories that are compatible with each device. But, once again, the Huawei MatePad Pro 11 takes the lead. The Galaxy Tab series offers a large range of keyboard covers and cases that transform the Tab S8 into a quasi-laptop, but they are nothing spectacular in terms of style and functionality.
In contrast, the new Detachable Smart Magnetic Keyboard cover for Huawei's newest tablet offers three modes of operation: laptop mode, split mode, and studio mode. The Laptop mode, as the name implies, provides an expensive tablet-PC, whilst the Split and Studio modes provide greater adaptability to the MatePad Pro 11, enabling you to write or doodle on the screen more comfortably, or truly improve your work-from-home lifestyle. In addition, the removable keyboard cover has a "hidden floating antenna" function that boosts Wi-Fi reception when in use. Meanwhile, the new and enhanced white M-Pencil stylus provides helpful Snippet, Annotate Anywhere, and Free Script features in a design that is matched by an antioxidant coating for a pleasant grip at all times! You also receive the new cross-app and cross-device color capture functionality, which allows you to pick and apply colors across various applications and devices in every use situation, including Multi-Window, App Multiplier, and Small Window. All of this with a digital pen that is thicker, longer, and feels more natural in the hand than Samsung's S-Pen stylus for the Galaxy Tab S8.
Software
Within their respective ecosystems, both tablets allow you to employ seamless collaboration capabilities. However, if you already possess numerous Huawei devices that support the company's "Super Device" software system, your work life is going to get a lot simpler. When linked to your Huawei smartphone, for example, Super Device will mirror the phone screen on the tablet and allow you to drag and drop data between devices. Cross-device compatibility is likewise limited with the Galaxy Tab S8 when linked to a PC, but not with the MatePad Pro 11 when connected to a MateBook laptop. With the MatePad's M-Pencil, you can draw and annotate directly on MateBook files. Without the need for repeated file transfers, you may write right on your email or draw on any document. You can simply access your files on the tablet as well as the laptop's storage using drag and drop or copy and paste.
Performance
Last but not least, there is the performance. Because of their flagship-grade chipsets, both tablets guarantee rapid and smooth performance regardless of the job. The Tab S8 feels smoother and more responsive, especially when gaming, thanks to the newer and faster Snapdragon 8 Gen 1 processor under the hood, though the MatePad Pro 11 runs cooler thanks to its six-layered heat dissipation system that combines a VC liquid-cooling system with a large graphene layer. Both tablets have reasonable battery life, thanks to their large batteries with 40- and 45-watt quick cable charging for the MatePad Pro 11 and Galaxy Tab S8, respectively. The Tab S8 does not come with a wired charger, thus you will need to purchase one separately. Obviously, the MatePad Pro 11 does not have this problem. The Galaxy Tab S8 runs Samsung's One UI on top of Android 12, whereas the MatePad Pro 11 ships with HarmonyOS 3.0. This new OS highlights better Multi-Window, Widget, and Multitasking features, including the ability to drag an app to transform it into a floating window and easily swap and stack huge widgets, as well as divide them into groups based on scenarios, among many other options. You may even partition the screen into up to four separately working windows, allowing you to multitask freely and easily at any time.
Conclusion
On paper, the Galaxy Tab S8 and MatePad Pro 11 look to be very well matched, thus your purchase decision will most likely be based on display quality and ecosystem.
If you want speedier performance, purchase the Tab S8. If you want a better audio-visual experience, a more useful keyboard cover, and a more comfortable digital pen that can deliver a PC-like experience, and you possess a Huawei handset or intend to purchase one, the MatePad Pro 11 is definitely a better fit.
Price & Availability
In the Philippines, the Huawei MatePad Pro 11 Wi-Fi model with a Snapdragon 870 chipset and 40-watt rapid charging costs Php41,999. While the Samsung Galaxy Tab S8's basic model costs Php41,990.
---