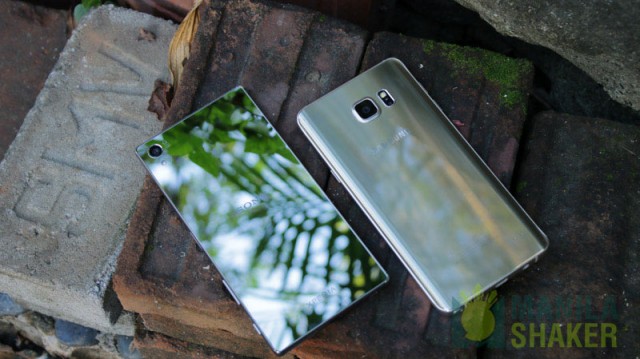 The best of Samsung versus to the best of Sony. Which one is the better Android between the Galaxy Note 5 and the Xperia Z5 Premium? Which will come out better in camera, speed, speaker, display and battery test? Read more to find out the answer from our Ultimate Comparison and camera review of Galaxy Note 5 vs Xperia Z5 Premium.
Design and build
It's the combination of metal and glass in each phone. Z5 Premium with rugged, water and dust proof feature against to the S-pen-touting Note 5. Z5 Premium is flat and squarish yet very classic and premium, surely certified for a James Bond phone. The Note 5 has the sexiest back in Galaxy line, it's curved that tapers towards edges. The S-pen is a handy tool for artists, but not for me, I still prefer writing notes with the keyboard. Both fingerprint sensors work, but they are not the best, we found that Nexus 6P and 5X have the most accurate said security feature.
Whichever phone you will pick you'll still surely get the classiest and sexiest Android in the market.
Display and viewing experience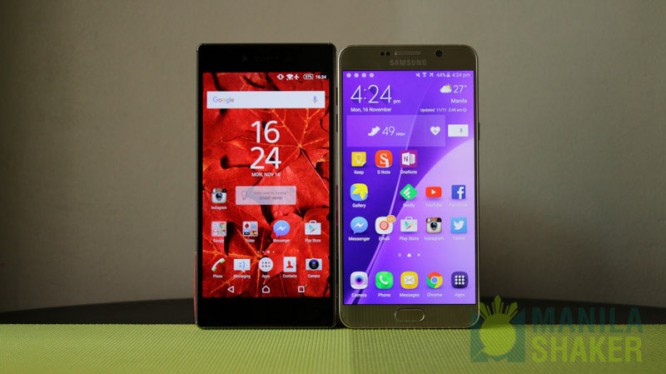 Sony has the best 5.5-inch IPS LCD on the market and that is found on Z5 Premium, aside from it, there's also a 4K resolution, which is groundbreaking. You'll only utilize the 4K's advantages on viewing photos and videos, which is still excellent considering we consume a lot of media content on our devices. Compared to the 5.7-inch QHD Super AMOLED of Note 5, the 4K display of Z5 Premium easily edges out to top for color and sharpness. Note 5 has a brighter screen, though. On this round, personal preference still comes in, but we can't deny that 4K on Z5 is really good and do make a difference.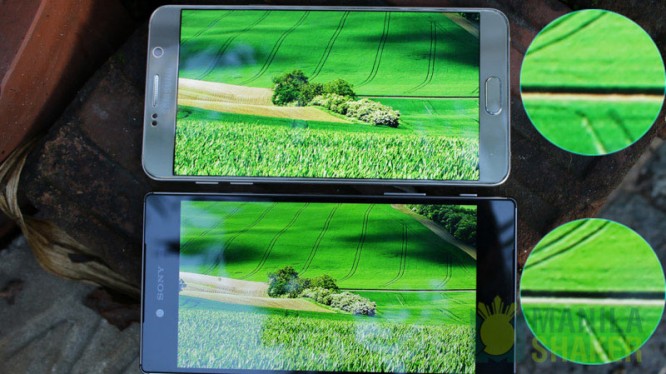 Camera in still low light, video shooting and stabilization
It's a close fight in the camera section. Z5 Premium was superior in detail preservation in daylight and in some night shots.We used the 20MP resolution for daylight and with flash images. For the night, the 8MP performs better in exposure level and color reproduction but loses to noise level control to Note5. Note5 as a camera phone is a great shooter with acceptable color and detail on its images though not accurate as Z5 Premium overall.
Selfie images from the 5MP and 8MP front-facing cameras of Z5 Premium and Note5, respectively, are very good and contain lots of details.
On HDR or high dynamic range, Note5 has brighter shot in outdoor but Z5 Premium's has more details or sharpness. It is a different story in in-door with 8MP resolution used on Z5 Premium, which has better lighting control.
The still quality of each shooter translate to video, however, Z5 Premium is a proven king in stabilization and focus speed. Which phone do you think takes a better picture on this test?
Performance and benchmarks
The Exynos 7420-equipped Note5 performs faster than the Snapdragon 810-powered Z5 Premium. RAM is higher on Note 5 though experience on each phone is very close with no stutter or lags when browsing or navigating. Note5 is a benchmark topper too, leading in all tests.
Benchmark scores
Antutu: Z5 Premium – 51487, Note5 – 59326
Basemark OS II: Z5 Premium – 1402, Note5 – 1709
GeekBench 3: Z5 Premium – 747 Single/2953 Multicore, Note5 – 917 Single/3622 Multicore
Battery and charging time
The Galaxy Note5 lasted 14 hours and 15minutes in our test, which include HD video playback. The Z5 Premium was able to hold in for up to 8 hours. Remember that these are just video test, voice calls, and web browsing are not part, so on the real-world test, results may greatly vary.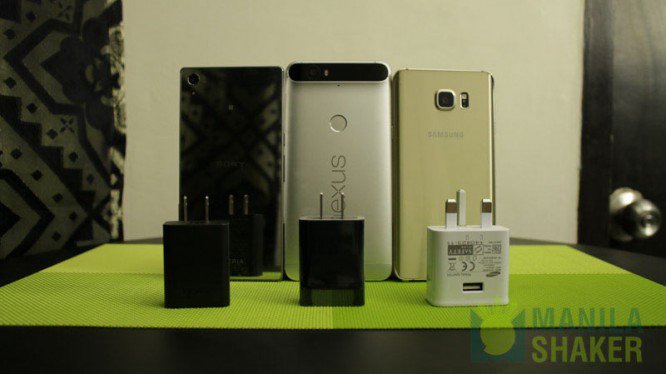 Charging time took only 1 hour and 30minutes on Note5 using its 2A charger, on Xperia Z5 Premium it took 2 hours and 15minutes using its 1.8A wall adapter. Probably, Z5 Premium wud have charged faster if it's on higher amperage charger.
Speaker
The speaker performance of Note5 proves to be louder, the bass was stronger as well as the vocals. Z5 Premium produced very decent output, but it wasn't powerful as the Note5. At least there is a stereo speaker in front unlike on Note5's single speaker that is not ergonomically positioned.
Verdict
All told, both are compelling smartphones with top-class design and hardware. There are quite differences in software experience and offering, but both are still Android. For pricing, Z5 Premium costs a little more than the Note 5 at $800 and $700, respectively, for the 32GB variant. Expensive, right. But again you are looking at the best Android offering in the market right now. It is up to you on which phone do you think is a much better deal between the two? Is it the Sony Xperia Z5 Premium or the Samsung Galaxy Note 5?
Sony Xperia Z5 Premium vs Samsung Galaxy Note 5 Ultimate Comparison Video

| | | |
| --- | --- | --- |
| SPECS, PH Price | Sony Xperia Z5 Premium | Samsung Galaxy Note 5 specs |
| Display | 5.5-inch 4K or 2160p UHD IPS Triluminos, 806ppi | 5.7-inch Super AMOLED QHD, 518ppi |
| Size | 7.8mm, 180g weight | 7.6mm thin, 171g weight |
| Design | IP68 rating, Scratch-resistant, oleophobic coating, stainless metal, water and dust proof | Gorilla Glass 4, curved back |
| Colors | Black, Gold, Chrome | Gold, Silver, White, Black |
| Chipset | Snapdragon 810 octacore chipset | Exynos 7420 octacore |
| Processor | Quad-core 1.5 GHz Cortex-A53 & Quad-core 2 GHz Cortex-A57 | Quad Cortex-A53 & quad 2.1GHz Cortex-A57 |
| Graphics | Adreno 430 GPU | Mali-T760MP8 |
| Memory | 3GB RAM, 32GB internal, microSD card up to 200GB | 4GB RAM, 32GB/64GB/128GB internal, no microSD |
| Main Camera | 23MP f/2.0 camera, single LED flash, Steady Shot | 16MP camera f/1.9 aperture, OIS, single LED flash, |
| Multimedia | 4K UHD video, 720p @120fps SloMo, HDR | HDR, 4K UHD or 2160p video, SloMo |
| Front camera | 5MP selfie camera | 5MP selfie, 1440p video |
| Connectivity | Dual 4G LTE cat 6, WiFi ac, Bt 4.1, FM Radio, GPS, NFC, Fingerprint sensor | 4G LTE Single/dual SIM, WiFi ac, Bt 4.2,NFC, FM Radio, GPS, heart rate sensor, wireless charging, Fingerprint sensor, S-pen |
| OS | Android 5.1.1 Lollipop (cofirmed for Android 6.0 Marshmallow) | Android 5.1 Lollipop |
| Software | Xperia UI | TouchWiz UI |
| Battery | 3430mAh, Quick Charge 2.0 | 3000mAh, Quick Charging |
| Ports | microUSB 2.0 | microUSB 2.0 |
| Official Price | Php40k price estimate | Php37k pesos in the Philippines |
| Availability date | November | September |
| Where to buy | Sony Philippines | Samsung Mobile Philippines |
Related posts, news, reviews and comparisons: