Among the big Android players, LG is the last to release their flagship phablet entry this year in the form LG V10. Can it keep up with more established Sony Xperia Z5 Premium? Let's take a look in our Ultimate Comparison covering design, display, camera, performance, battery and speaker.
Design
Unlike the curved LG G4, the V10 is flat but borrows a lot of design cues to the former with rear physical keys still present while the fingerprint sensor is integrated at the power button.
The V10's back is removable with rubber feel finish. The sides are made of metal. Like the Z5 Premium, V10 is rugged too with shock resistance feature. However, it is not waterproof and dust resistance like the Z5 series.
Z5 Premium is a big phone, but V10 is bigger and heavier. Its large profile accommodates two screens: the main 5.7-inch and the secondary 2.1-inch. I personally still like more the design of G4 with curved body and leather back cover option.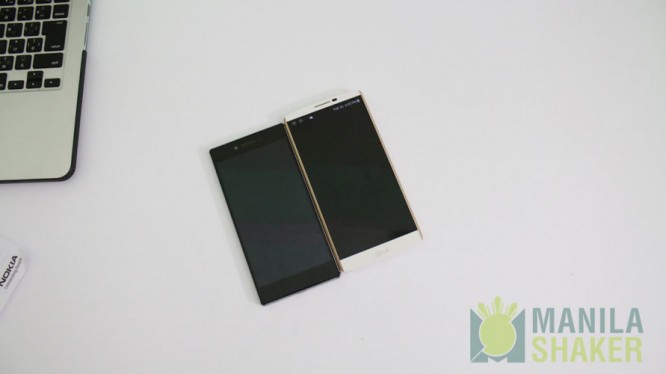 But if you prefer function and style at one, the V10 is a great choice, thanks to the replaceable battery. For people who want premium and rugged form, then the Xperia Z5 Premium is one of the better options.
Display
LG uses the same Quantum IPS LCD with 1440 x 2560 pixels resolution on the V10 as to G4. The V10 has a very good main display out there with top-class contrast, but Z5 Premium has much better color. The Premium is also brighter and although the 4K display is limited to video and photos and it takes a time to render 4K, the difference, however, is worth it.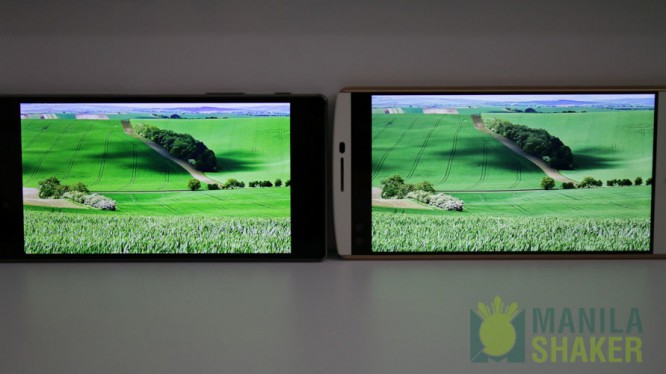 I will not get into details on the secondary display of V10. It's useful for notifications and accessing shortcuts, but the unperfect symmetry and positioning are quite baffling. Plus the choice of LCD over Organic LED means the backlight is visible and it would consume a portion of the battery life.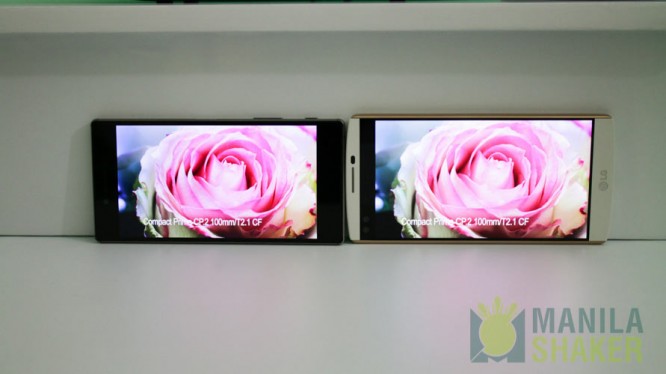 So it is up to you on which to pick between the 4K 5.5-inch display of Sony or the 5.7-inch QHD of LG V10 with a secondary 2.1-inch screen.
Camera in still (low light, day) and video stabilization
The LG V10 sports a 16MP main camera with f/1.8 aperture, one of the widest lenses in smartphones. Meanwhile, Z5 Premium is equipped with the new 23MP Sony sensor that promises fastest focus speed of 0.03 seconds. It is worth mentioning that both cameras can record 4K video.
On daylight, photos from the V10 have more preserved details and sharpness while photos on Z5 Premium have better color reproduction and lighting. The Z5 Premium has also more accurate white balance compared to the warm toning found on V10. However, there are instances where the other is better on color accuracy and not on the detail preservation.
In low light, V10 images are brighter, thanks to the large aperture, but again colors are inaccurate or have off white balance. On the other hand, Z5 Premium was able to keep up by producing pleasing colors and sharper images. The hybrid autofocus system, and Steady Shot feature may have helped a lot.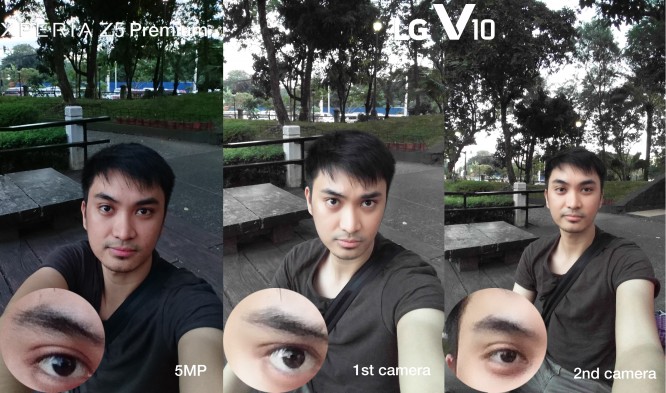 The V10 takes two type of selfies: one with a normal focal view, while the other has wider intended groupies. In terms of quality,  Z5 Premium has natural images compared to washed out and overly sharpened images of V10.
In video shooting, Z5 Premium delivered excellent stabilization and focusing. The SteadyShot feature easily beats the Hybrid Optical Image Stabilization on V10. You can notice some slight jello effect on V10's video and the focusing is slower. Details on Z5 Premium is also sharper and richer.
What you would get on V10, however, is the manual controls both present in video and still shooting.
Performance and speed test
Running on Android 5.1.1 on both phones neither felt slow at all. Throwing some synthetic benchmarks, the 3GB RAM and Snapdragon 810 octacore chip on Z5 Premium performed slightly faster than on the 4GB RAM and Snapdragon 808 hexacore chip on LG V10. Our actual speed test proved that Z5 Premium is indeed faster.
Benchmark scores
GeekBench 3: LG V10 – 769 single core, 2959 multi-core | Z5 Premium 1055 single core, 3661 multi-core
AnTuTu: LG V10 – 41761 | Z5 Premium 52747
Basemark OS II: LG V10 1223 | Z5 Premium 1454
Battery and charging speed
With the standard battery test by using HD video, Z5 Premium lasted around 8 hours while the LG V10 scored 8 hours and 30 minutes. Surprisingly, in real-world, the Z5 Premium lasted for up to 2 days while the V10 hung in for a day and a half in moderate usage.
Battery rating
Xperia Z5 Premium: 8 hours video playback | 2 days in moderate usage
LG V10: 8.5 hours video playback | 1.5 days in moderate usage
Charging speed
Xperia Z5 Premium: 135 minutes (1.8A charger)
LG V10: 80 minutes (2A charger)
Charging speed took 80 minutes on V10 using its 1.8A Quick charger. Considering the larger battery capacity of Z5 Premium, charging speed is slower at 135minutes with a 1.8A bundled adapter.
Speaker
The single speaker of LG V10 at the bottom produced a louder and clearer output than on the front-facing stereo speakers of Z5 Premium despite turning on the Clear Audio PLus on Z5, which some you requested.
Value and Verdict
For pricing, the Z5 Premium is a little expensive with a starting price of $750 or at sub Php 40,000 here in the Philippines while LG V10 retails at a cheaper price of $650 with SRP in the Philippines estimated at sub P37,000 pesos.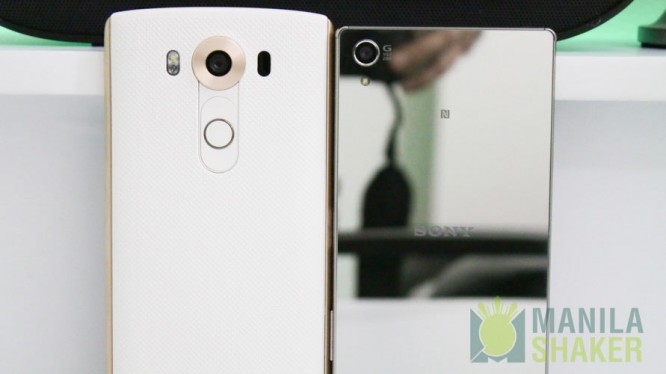 Both phablets are the best from their own brand. The Z5 Premium has a classic premium design, it's waterproof, the 4K display is first on the market of phones and the new 23MP camera produces the most accurate colors. For LG V10, the company put both form and function into one, the camera is speedy and offers manual controls better than most phones.
It's up to your personal preferences if which phone you'll settle for. Overall, which do you think is better: the Sony Xperia Z5 Premium or the LG V10?
| | | |
| --- | --- | --- |
| SPECS, PH Price | Sony Xperia Z5 Premium | LG V10 |
| Display | 5.5-inch 4K or 2160p UHD IPS Triluminos, 806ppi | Main: 5.7-inch 1440p QHD Quantum IPS LCD, 515ppi Secondary: 2.1-inch LCD 160 x 1040 |
| Size | 7.8mm, 180g weight | 6.3mm-9.8mm thick, 155g weight |
| Design | IP68 rating, Scratch-resistant, oleophobic coating, stainless metal, water and dust proof | Gorilla Glass 4, Stainless Steel bars, Removable back cover, shock resistance |
| Colors | Black, Gold, Chrome | White, Beige, Blue, Black |
| Chipset | Snapdragon 810 octacore chipset | Qualcomm Snapdragon 808 hexa-core |
| Processor | Quad-core 1.5 GHz Cortex-A53 & Quad-core 2 GHz Cortex-A57 | Dual-core 1.82GHz Cortex A57, Quad-core 1.44GHz Cortex 153 |
| Graphics | Adreno 430 GPU | Adreno 418 GPU |
| Memory | 3GB RAM, 32GB internal, microSD card up to 200GB | 64GB internal storage, microSD card slot up to 200GB |
| Main Camera | 23MP f/2.0 camera, single LED flash, Steady Shot | 16MP f/1.8 laser autofocus, color spectrum sensor, auto HDR, 2160p video, OIS |
| Multimedia | 4K UHD video, 720p @120fps SloMo, HDR | 4K UHD video |
| Front camera | 5MP selfie camera | 8MP selfie camera, 1080p video |
| Connectivity | Dual 4G LTE cat 6, WiFi ac, Bt 4.1, FM Radio, GPS, NFC, Fingerprint sensor | Dual SIM, 4G LTE cat 6, WiFi ac, Bt 4.1, FM Radio, GPS, Wireless charging, Infrared for remote |
| OS | Android 5.1.1 Lollipop (cofirmed for Android 6.0 Marshmallow) | Android 5.1.1 Lollipop |
| Software | Xperia UI | Optimus UX 4.0 |
| Battery | 3430mAh, Quick Charge 2.0 | 3000mAh, Quick Charging |
| Ports | microUSB 2.0 | microUSB 2.0/SlimPort |
| Official Price | Php39990 price estimate | P37,990 official price from LG Philippines |
| Availability date | November | 2015 November |
| Where to buy | Sony Philippines | LG Philippines |
LG V10 vs Xperia Z5 Premium Ultimate Comparison Video

Related posts, news, comparison, reviews: