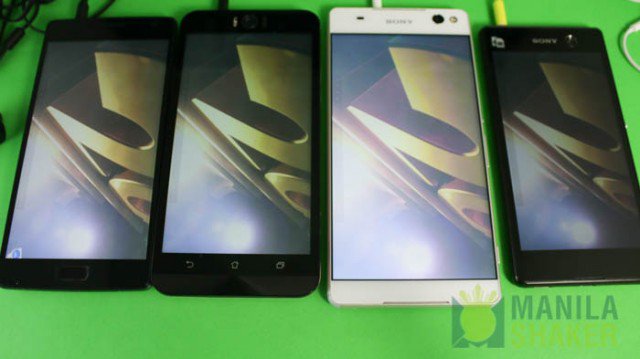 We put the latest Sony Xperia M5 alongside with Xperia C5 Ultra, Zenfone Selfie, and OnePlus 2 in a quick battery test and comparison. Checkout which phone did perform better and has more reliable battery life down below.
Our quick battery test involves our own standard set of parameters which we will likely keep using on our future and more in-depth testing and review. But we are surely open for improvements and changes in order to provide more objective and actual results.
Brightness level set at 50% on all phones
Each device has different brightness level configuration and output. Although the displays are set to 50% on each device, the Xperia C5 Ultra remains brighter due to its higher maximum brightness level. It is an advantage for the Xperia C5 Ultra users as they will have options to go from dim to bright in wider range. Not only in the brightness output, display quality will produce more legibility outdoors compared to dimmer displays.
It's bear mentioning that Xperia C5 Ultra has a little washed out display.
Other parameters include Airplane mode turned off and location turned on. Sound level is max with stereo headset plugged in. The audio has minimal effect on the accuracy of the test due to plugged in headset.
Resolution and screen size
The resolution of a phone could greatly affect the battery performance too. On this case, all have FHD resolution. The Xperia M5 packed the most pixel per inch due to its smaller display. On the other hand, Xperia C5 Ultra has the lowest ppi within the group due to the 6-inch display.
Battery size
The Zenfone Selfie offers 3000mAh battery, OnePlus 2 with 3300mAh, Xperia C5 Utlra with 2930mah, and the Xperia M5 with 2600mAh.
Parameters and highlights of the battery test
Brightness at 50%
Airplane mode on
Location off
Stereo headset plugged in
2 hours HD movie playback
The Asus Zenfone Selfie garnered highest battery life rating after the 2-hour HD movie playback. Coming in second is the OnePlus 2. The top two spots are surprising given their larger battery capacity. Last two are Xperias though difference from the top two is small.
Battery test results
Asus Zenfone Selfie battery life from full: 83%
OnePlus 2: 81%
Sony Xperia C5 Ultra: 79%
Sony Xperia M5: 78%
The quick battery review we've done is brief yet actual output from all phones, but we will surely post the more in-depth on near future.
Have anything to add in this story? Hit down the comment section.
Sony Xperia M5, Xperia C5 Ultra, OnePlus 2 and Asus Zenfone Selfie Battery Test Comparison and Review

Related posts, comparisons, reviews: