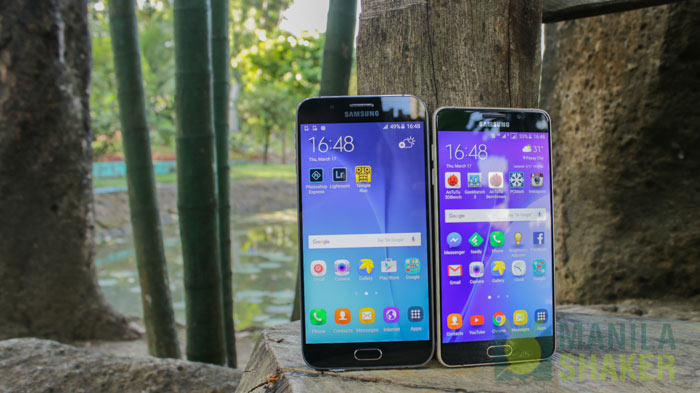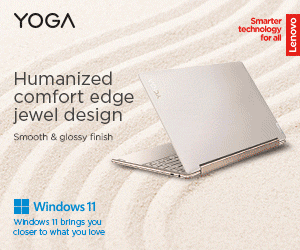 The Samsung Galaxy A7 2016 edition is the refreshed and upgraded version of the Galaxy A7 2015 launched a year ago. There are precious little changes on the new A7 2016 edition so if you're at all familiar to old A7 then you're in for more of the same. But let's review and compare them anyway and find out if the 2016 A7 is worth an upgrade. And if it is indeed better than the 2015 Galaxy A7 in many ways.
More reviews and comparisons
Design and build quality
The Galaxy A7 2016 edition is a reminiscence of the Galaxy S6. It greatly inherits the premium glass and metal design. Although a little thicker than its all-metal 2015 counterpart, the Galaxy A7 2016 has Gorilla Glass 4 protection up front and on back. There are still many areas that remain the same, however, Samsung managed to maintain a hybrid microSD and dual SIM support without opting for standalone dual SIM model.
The fast and accurate fingerprint scanner perhaps is another notable change on the new model.
The older Galaxy A7 is still rocking a premium design, but definitely, the new A7 is just more refined and sexier.
Display and viewing experience
One of the biggest selling features in a budget and mid-range Galaxy smartphones is the Super AMOLED panel. True to both models, the new Galaxy A7 has brighter and more aggressive saturation level on its 1080p Full HD screen than the old one. The Gorilla Glass 4 is also a sweet treat on both displays.
Camera in low light, flash, daylight and selfie
We have the same sensor treatment on each shooter but the new Galaxy A7 has larger aperture and brighter lens at f1.9 compared to f2.0 of A7 2015. Plus there's an OIS now on the newer camera, although the improvements we saw is minimal. The difference in detail and sharpness is not that drastic or noticeable, but it is on the exposure level in day and night shooting we saw the improvements.
Daylight and HDR shooting
Although there are few shots that the A7 2016 struggles at post-processing especially in night.
Night and low-light shooting
Selfie portrait photos on the two are close which are poor in detail preservation and with aggressive beautification but remain bright in most shots.
Selfie portraits from front-facing cameras
Video shooting on each is at 1080p Full HD.
Performance and benchmarks
Packing the same octa-core Snapdragon 615 chipset, the difference in actual performance is not that much despite the Galaxy A7 2016 has more RAM at 3GB versus 2GB of A7 2015. The benchmark scores are close with few thousand difference in AnTuTu.
AnTuTu benchmark rating
SGA7 2015 – 31436
SGA7 2016 – 34272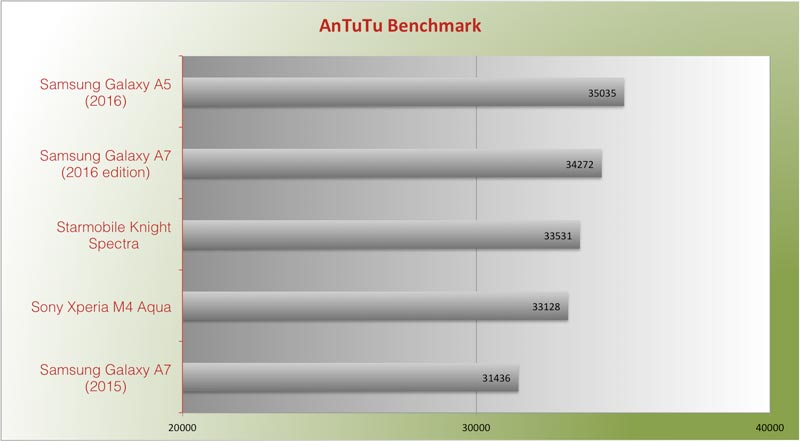 Battery life and charging time
The beefed up battery capacity on the new A7, from 2600mAh to 3300mAh, results to a slight improvement in battery life over the old A7. But overall, the two mid-rangers belongs to the few of the more reliable Android phones with long battery life that easily last an entire day on a single charge.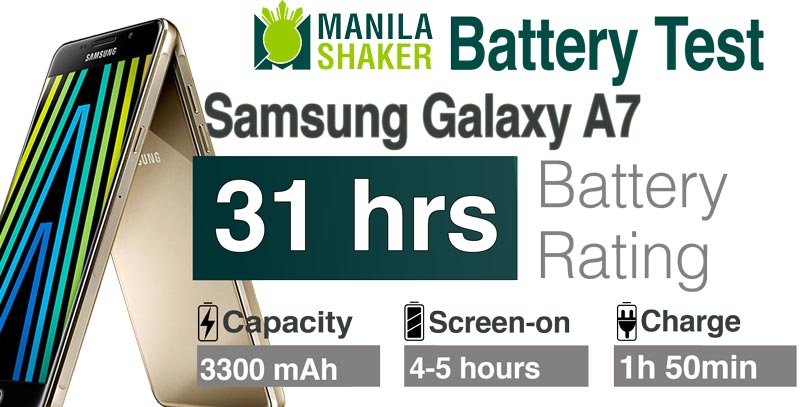 Speaker
Equipped with a mono speaker on each, the A7 2016 has its speaker placed at the bottom compared to the back-facing of A7 2015. Quality is tinny with little bass yet audio is loud on two speakers.
Price and Verdict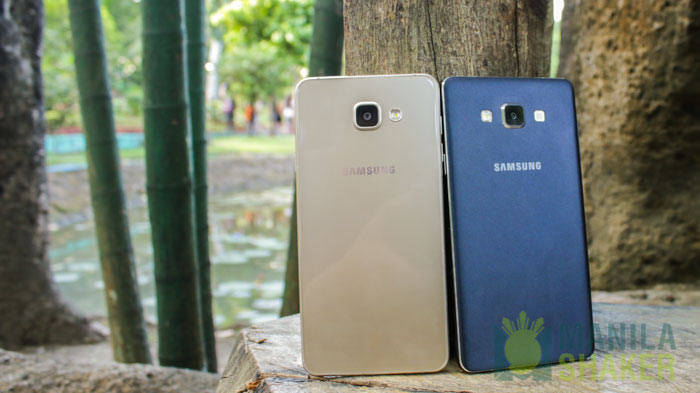 With a P23k price locally, the new Galaxy A7 SRP is a bit too much for a mid-range. But I think the real question is should you upgrade if coming from 2015 model? My answer is definitely no, although the design is now sleeker, we still don't see spending more cash just for a brighter camera and slight bump up on battery.
The Galaxy A7 2015 is still a solid and reliable smartphone until next year. But for a brand new start, I think you better check out the slightly downgraded Samsung Galaxy A5 2016 edition for a more affordable price.


| | | |
| --- | --- | --- |
| Specs, PH Price | Samsung Galaxy A7 2016 | Samsung Galaxy A7 2015 |
| Display | 5.5-inch 1080p Super AMOLED, 401 ppi, Gorilla Glass 4 | 5.5-inch 1080p Super AMOLED, 401 ppi, Gorilla Glass 4 |
| Size | 7.3mm thick, 172g weight | 6.3mm thick, 141g weight |
| Design | 2.5D Curved Glass + Metal | Metal |
| Colors | Gold, White, Black | Gold, White, Black, Blue |
| Chipset & CPU | Snapdragon 615 octa-core | Snapdragon 615 octa-core |
| Graphics | Adreno 405 graphics | Adreno 405 graphics |
| Memory | 3GB RAM, 16GB storage, microSD up to 128GB | 2GB RAM, 16GB storage, microSD up to 128GB |
| Camera | 13MP main, f1.9 lens, Optical Stabilization, 1080p video, LED flash | 13MP main, f2.0 lens, 1080p video, LED flash |
| Selfie | 5MP selfie front-facing | 5MP selfie front-facing |
| Connectivity | 4G dual LTE nano SIM (hybrid), WiFi ac, Bt 4.1, GPS, fingerprint scanner | 4G dual LTE nano SIM (dedicated), WiFi ac, 4G LTE, Bt 4.1, GPS |
| Software | Android 5.1 Lollipop, up to Marshmallow | Android 5.1 Lollipop, up to Marshmallow |
| Battery | 3300mAh | 2600mAh |
| Ports, quick charge | microUSB ver. 2.0 | microUSB ver. 2.0 |
| Release date | February 2016 | February 2015 |
| Price | Php 22.9k PH Price / $500 | Php 15k PH Price / $330 |