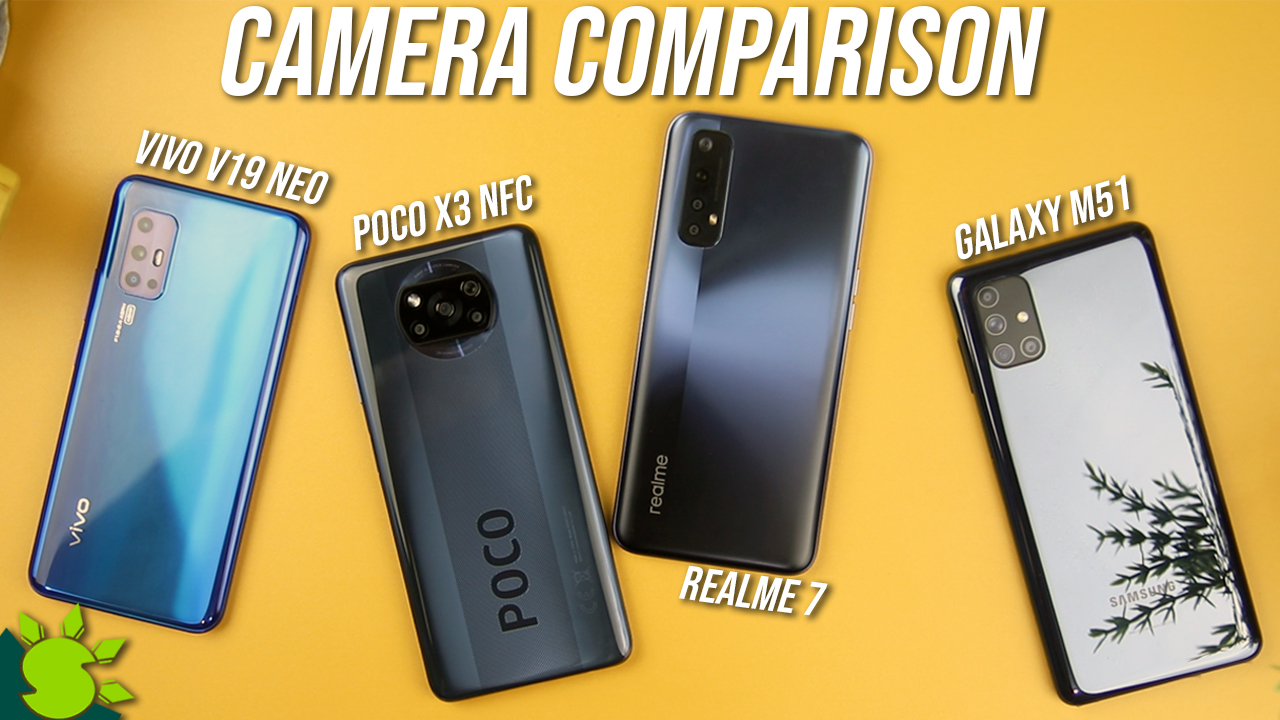 On our last quad-camera comparison, Vivo V19 Neo led the race. Now we're going to compete Vivo V19 Neo against 3 newer devices starting from Realme 7, Samsung Galaxy M51, and Poco X3 NFC. The question, are the newer models more improved?
Camera Specs
All three, Poco x3 NFC, Galaxy M51, and Realme 7 have 64MP on their main cam backed with Sony IMX 682 while the Vivo V19 Neo only has a 48MP main cam with Sony IMX 582 camera sensor. Poco X3 NFC has the highest pixel count on the ultrawide but Samsung Galaxy M51 is the widest among the four with a 123° viewing angle. It also has a higher Megapixel count on the depth and macro.
READ: Affordable Phones That Can Play Genshin Impact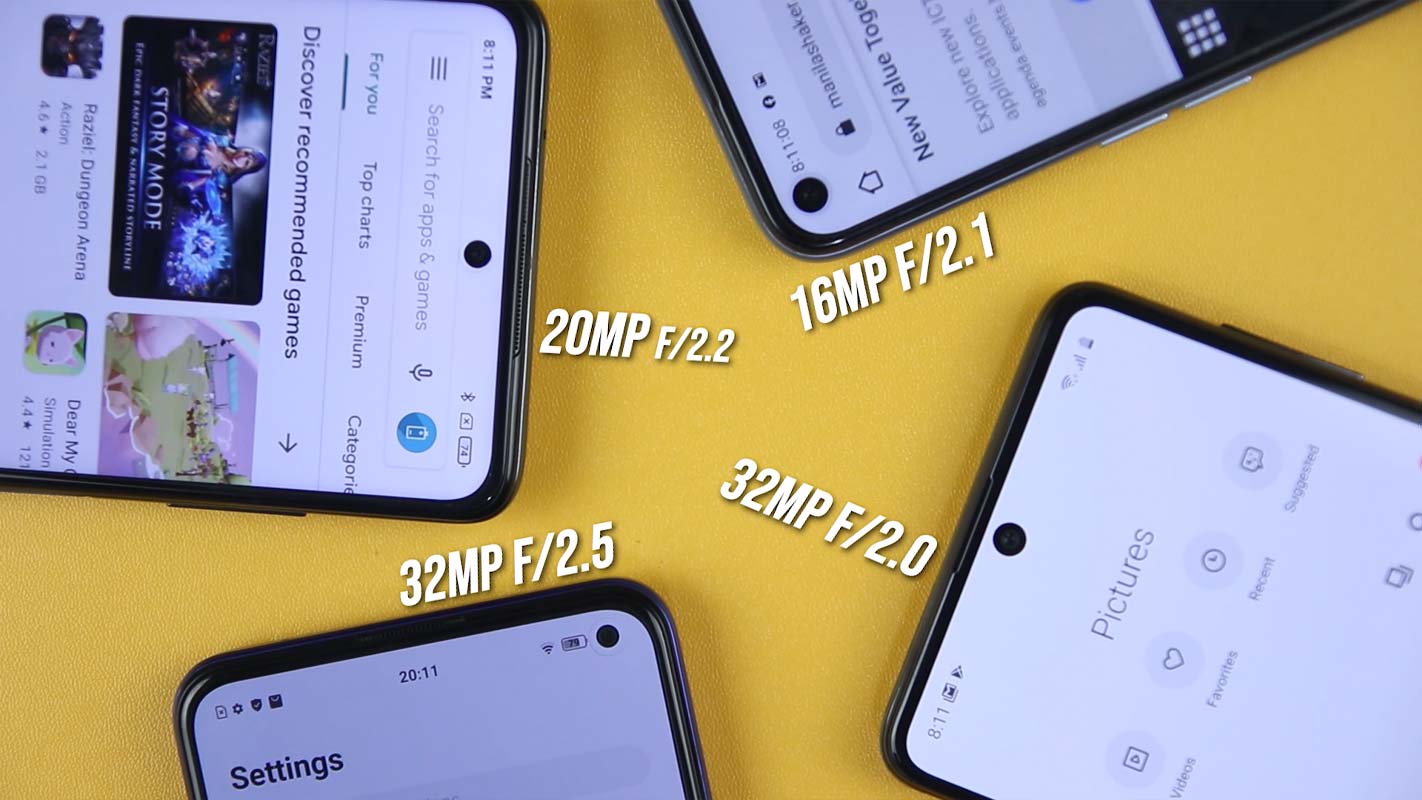 On their selfie cam, all four have hole-punch cutout with their respective front cams:
Poco X3 NFC – 20MP, f/2.2
Galaxy M51 – 32MP, f/2.0
Vivo V19 Neo – 32MP, f/2.5
Realme 7 – 16MP, f/2.1
Main Camera
Capturing on a very low light scene, we can't even see details rather than the small light. But after turning on night mode, two devices competing, Vivo V19 Neo and Realme 7. It is pretty obvious that Realme 7 can capture a super lowlight environment as seen in the picture, however, it appears soft. V19 Neo, on the other hand, is underexposed but quite sharp, but then overall details Realme 7 is best to capture in a super low light environment because it can introduce details and colors.
READ: Vivo Y73s Announced: Dimensity 720, 5G, 8GB, AMOLED for P14k
Shooting with a single light source with normal photo mode, Samsung has the lowest rank and it is underexposed. Meanwhile, capturing with night mode, overall image and colors goes to Vivo V19 Neo, second is from Samsung M51, then Poco X3 appeared soft and blurry around the edges, while Realme 7 outputs a brighter image however the image is flat with no depth.
Taking the phone indoors and still in a lowlight scenario, Galaxy M51 struggles to capture light. But after we turn on night mode V19 Neo's output is outstanding. It can still compete with new phones as it outputs a clean image with lesser noise compared to others, while the Realme 7 outputs a brighter image but grainy.
Still indoors but with good lighting, white balance differs on all four. For us according to the real scene, Realme 7 and Poco X3 have the most accurate white balance, however, Realme outputs less contrast hence it reduces the depth of the image. Vivo V19 Neo outputs photos in a warmer tone resulting in less true to life color. Galaxy M51 is vivid in color reproduction, and  Poco X3 produces the most accurate color and the image is alive.
READ: Realme 7 Full Review – Better Camera and Good in Gaming
Zooms, Samsung mM51, and Poco X3 compete with sharpness. M51 has the sharpest look although Poco X3 is more alive thanks to contrast and shadows. It outputs an overall depth in the image.
Shooting outdoors Realme 7 and Poco X3 outputs a better dynamic range as seen on the foreground leaves. Turning on HDR Realme 7 outputs an overall balanced image. Poco X3 didn't do much to change the scene even when turning on HDR.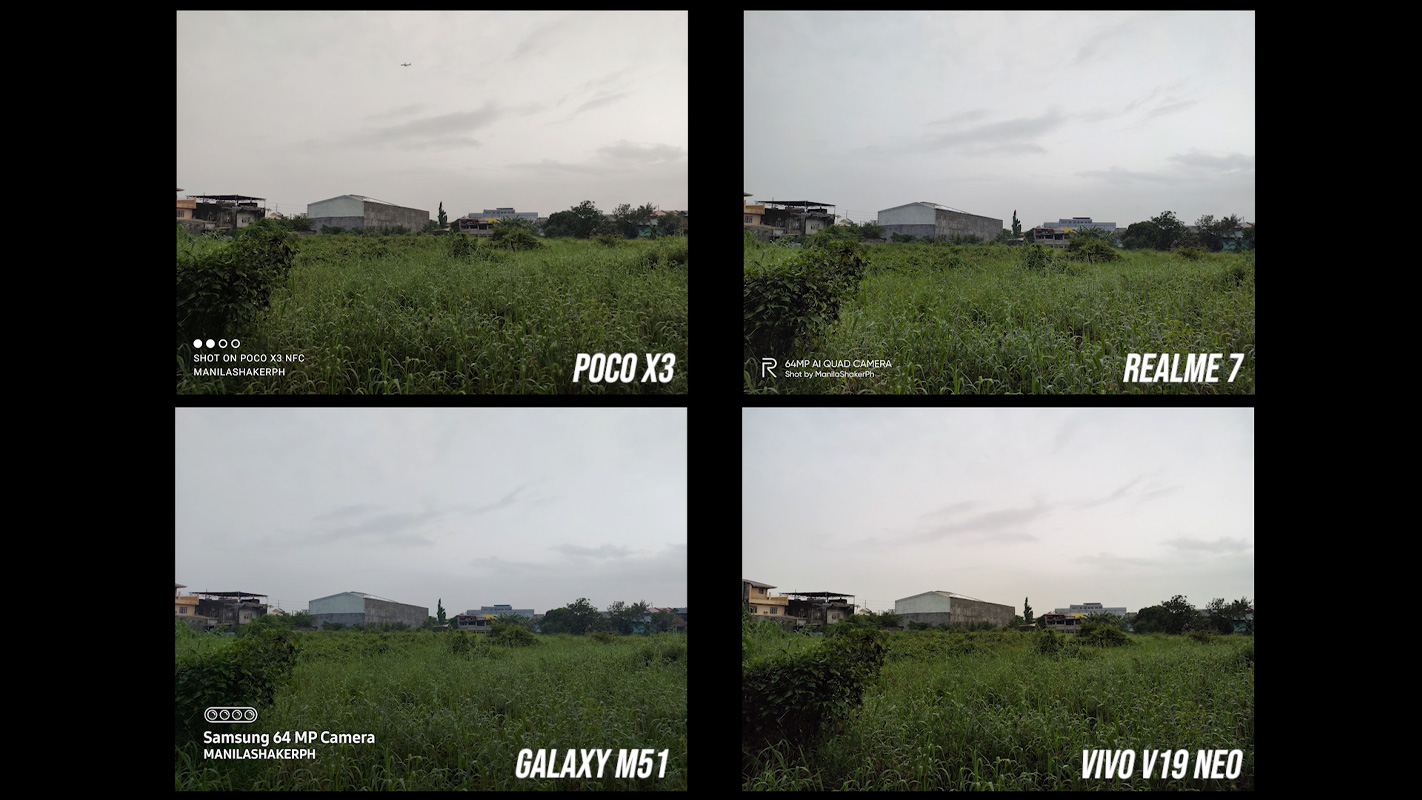 Shooting with their full resolutions, Poco X3 with 64MP output and Vivo V19 neo with 48MP, the two have on point white balance. While the remaining two are in the cooler temperature. This means that there's a slight color shift on whites making the photo less accurate.
READ: Xiaomi Mi 10T vs OnePlus Nord vs POCO F2 Pro – What Can You Get Under P25k?
Ultrawide
Switching to Ultrawide, Galaxy M51 outputs underexposed shot but wider–Poco X3 and Realme 7 appeared vibrant–while Vivo V19 Neo appears natural and bright.
Shooting with HDR, photos are enhanced, Poco X3 now has balance image but deeper in contrast, while the remaining three phones have lifted shadows. White balance on V19 neo and Poco x3 is on point. We can't decide which has the best colors but indoors, Galaxy M51 outputs more true to life color reproduction.
Macro
Shooting in Macro lenses, Realme 7 is the closest to the subject before it blurs. All phones only have fixed focus, Galaxy M51 is sharper but the color goes to Poco x3
READ: The Best All-Around Laptops You Can Buy Right Now
Colors in the picture above obviously differ from each other because of the AI scene recognition. The closest to reality is the Poco X3. Samsung Galaxy M51, on the other hand, is sharp thanks to large megapixel count but the AI struggles to recognize the scene to produce accurate color.
Depth/Portrait
Shooting Portrait mode with depth sensor, portrait shot colors are vibrant on Vivo V19 Neo and Realme 7, the natural color goes to Poco X3 and Galaxy M51. Natural background blur is good on Poco X3. Then Galaxy M51 and Poco X3 also have great color reproduction indoors.
Selfies
Switching to the front cam skin tones on Galaxy M51 is inconsistent we still feel that M51 needs an update on the camera's AI. While Poco X3 has the most flattering selfie but appeared to be claustrophobic. All phones have good background separation and have great beauty enhancement while still producing sharper looks. We'll let you decide which is good on your taste.
READ: POCO X3 NFC vs Galaxy M51 Specs Comparison – Best vs Best!
Now on video recording, all have capabilities to shoot up to [email protected], but Vivo V19 Neo doesn't have EIS when shooting 4k Resolution, the rest have it without turning on any settings on the camera app. Meanwhile, at [email protected], Galaxy M51 doesn't have a 60 FPS option on all resolution settings. Shooting on [email protected], only Vivo V19 Neo doesn't have EIS, although all four phones have stabilization feature that can be enabled and found in the settings menu. If you want to see the qualities watch our video version of this quad-camera comparison.
Shooting video on front cam, Galaxy M51 can shoot up to [email protected] this is the highest among the four. Realme 7 and Galaxy M51 have stabilization in taking a selfie video. However, Realme 7 produces less contrast losing depth and colors while Poco X3 and Samsung have flattering selfie videos. If you want to see the quality check our video comparison above.
Camera Features
For us, the most reliable and most useful features can be found in Poco X3. Imagine, It has a movie frame, can shoot in RAW, can also shoot LOG in the video, and you can control the exposure triangle on video pro mode. It also has different long exposures effects, clone mode on picture and video then the vlog mode for easy camera effects.
Now that you're still here reading this article, we want to say just one thing, they have different specs but, optimization on the camera quality, AI scene adjustments, and image processing is what we are comparing. We can't just rely on papers that's why this is the sense of having this comparison. For you, what phone did the best overall result?
READ: Realme 6 Pro vs Samsung Galaxy A71 – Detailed Comparison
Prices and Advantages
Meanwhile, these are the prices of the four phones from lowest to highest.
Poco X3 – P10,990 to P12,990
Realme 7 – P14,990 to P17,990
Vivo V19 Neo – P15,500 (lazada) up to P17,999 official srp.
Galaxy M51 – P19,990
With these price points, if you will get one of which, the advantage of Poco X3's advantages is the 120hz display, a large 5160mAh battery, tons of camera features, an effective and powerful chipset on its price point, and great design.
Realme 7 advantages are its large 5000mah battery, 90Hz Refresh rate, gaming chipset, video stabilization on all video resolution, availability, and brighter photo at night shots.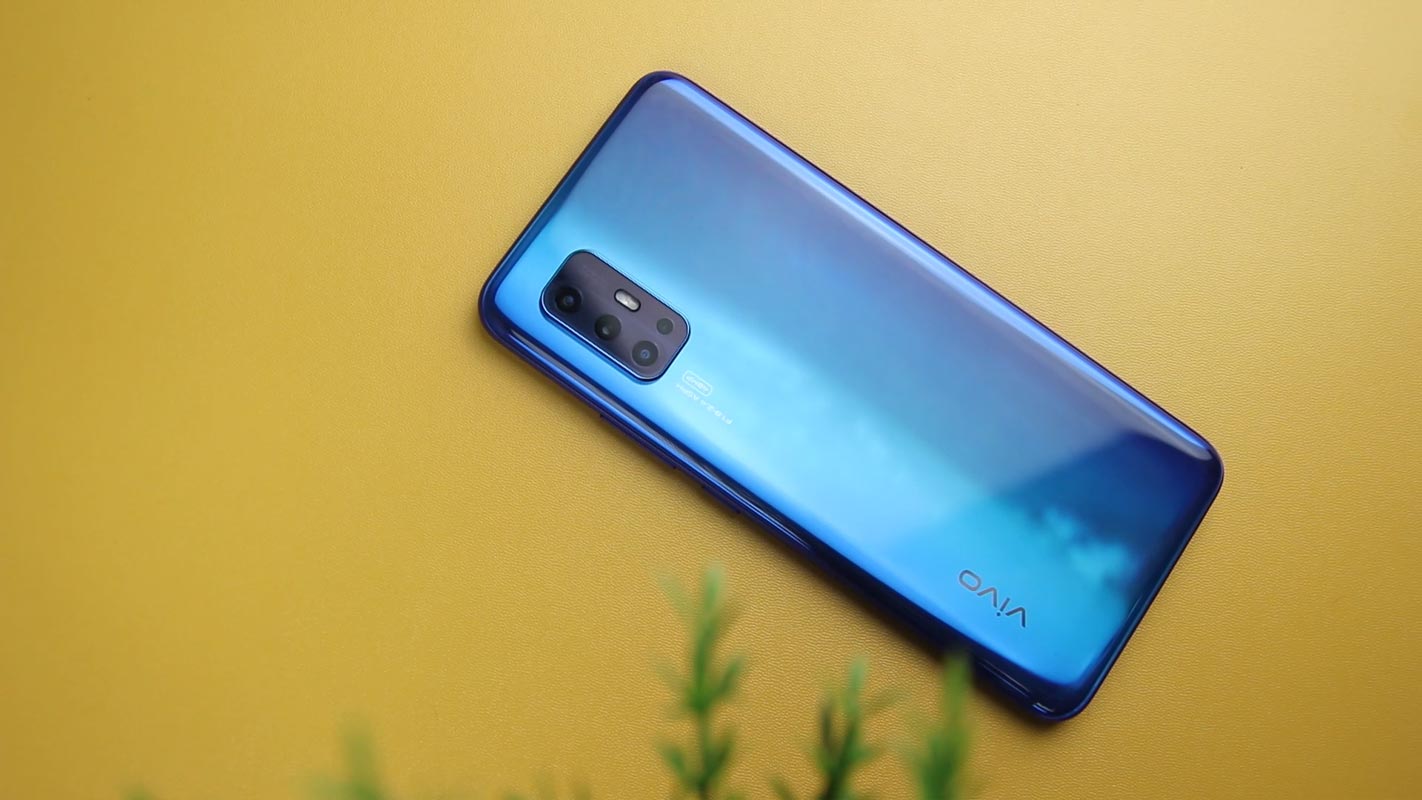 Vivo V19 Neo with optimization, super AMOLED display, can shoot 48MP+RAW in pro mode for photography, and low light capability.
and lastly, Galaxy M51's advantages are super AMOLED plus display, monstrous 7000mAh battery, 4K selfie and 4K ultrawide, and lots of entertaining camera features.
Overall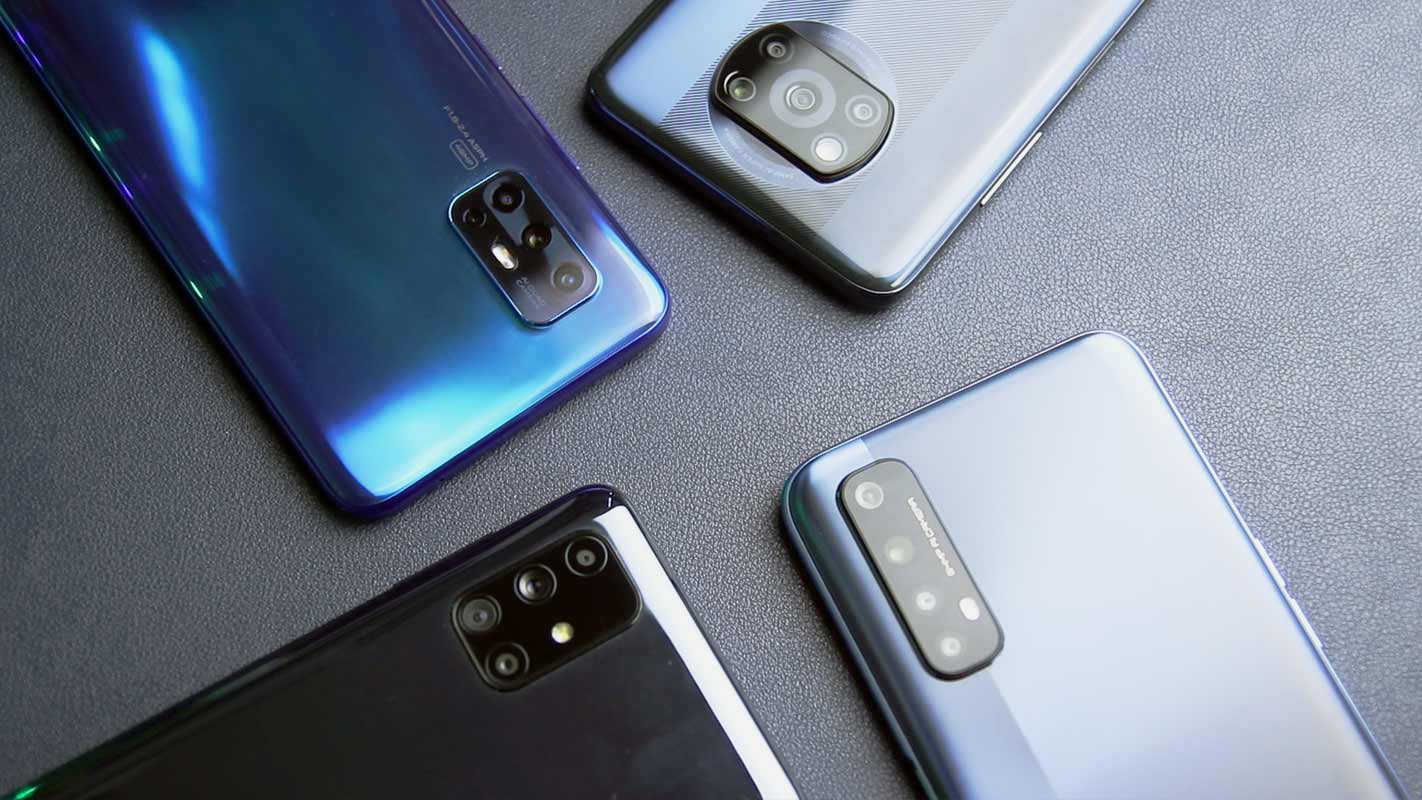 Even Vivo V19 Neo isn't new it can still compete with newer devices but I think they need to improve its camera processing, Realme 7 has lots of capability that it can shoot better in low light. It has good colors but compared to Samsung Galaxy M51 and Poco X3 NFC, we think It still needs optimization. Galaxy M51 and Poco X3 took great photos and they have tons of camera features. Not to mention the price of Poco X3 that is way lower than the three phones. At the end of the day, it is yours to decide which feature is reliable for your day to day use. Regardless, all phones have strengths with added camera features and it will still depend on the user experience.
READ: Realme 6 Pro vs Galaxy A71, Mi Note 10 Lite, Vivo V19 Neo – Camera Comparison