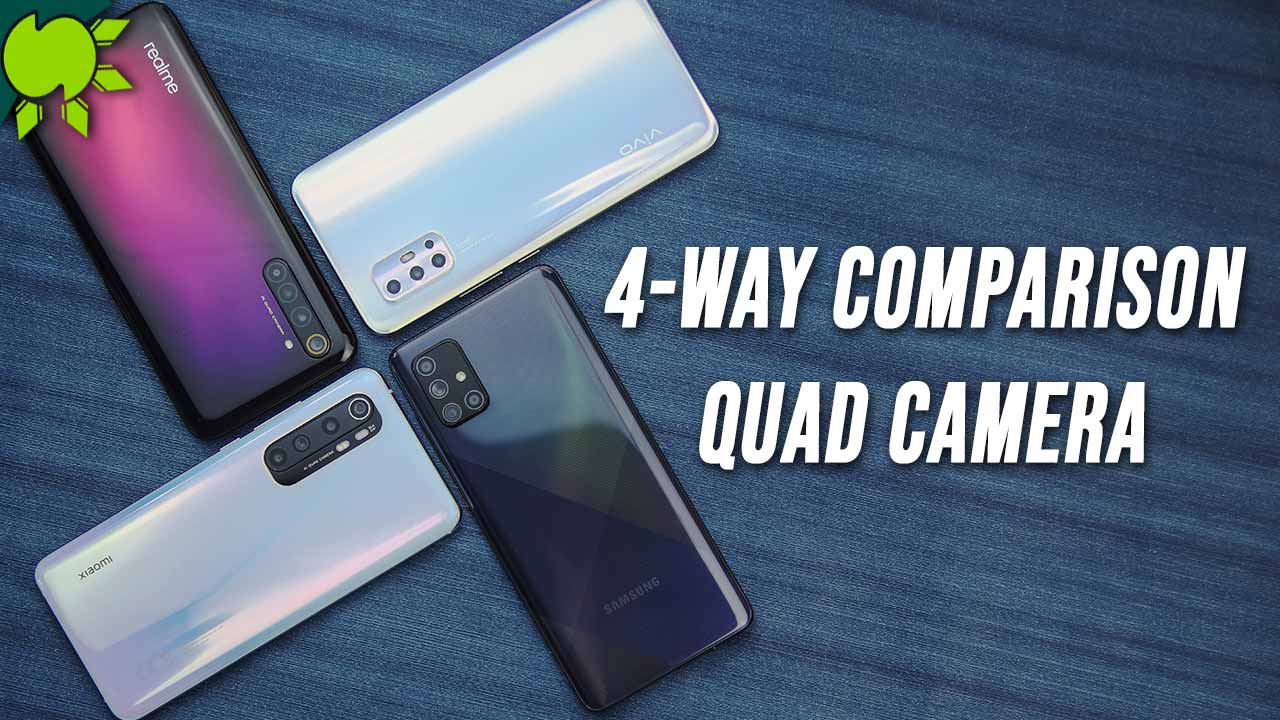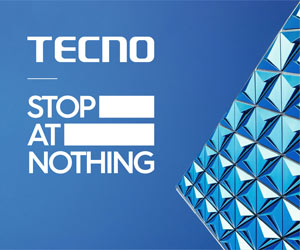 The battle of the 4 cameras has begun and this is a long way run. In our last midrange comparison, we compared Realme 6 Pro and Galaxy A71 then Realme 6 Pro and Mi Note 10 Lite. Now to really know which produce stunning and beautiful shots we decided to compare these four smartphones. Samsung Galaxy A71, Realme 6 Pro, Vivo V19 Neo, and Xiaomi Mi Note 10 Lite.
Quad Camera Specs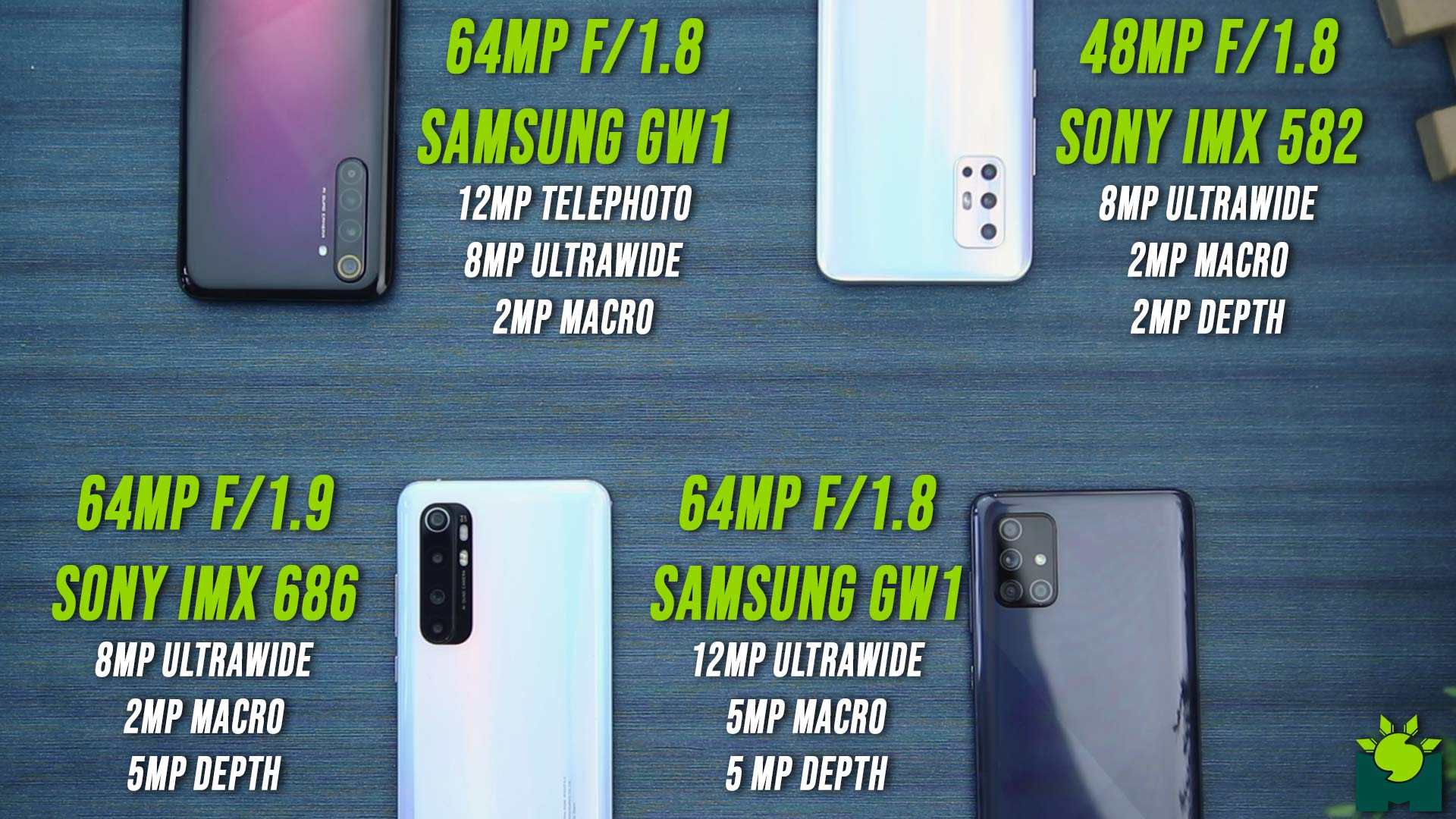 They have different camera specs. Samsung Galaxy A71, Realme 6 Pro, and Xiaomi Mi Note 10 Lite have the same 64MP main rear while Vivo V19 Neo offers 48MP. They also have different camera sensors. Starting with Galaxy A71 and Realme 6 Pro with Samsung GW1 camera sensor then Mi Note 10 Lite with Sony IMX 686 and lastly, Vivo V19 Neo with Sony IMX 582. They differ in papers but do they have outstanding strengths and capabilities in producing stunning photos?
Read: Redmi Note 9 Pro vs Xiaomi Mi Note 10 Lite – What's the Difference?
Main Lens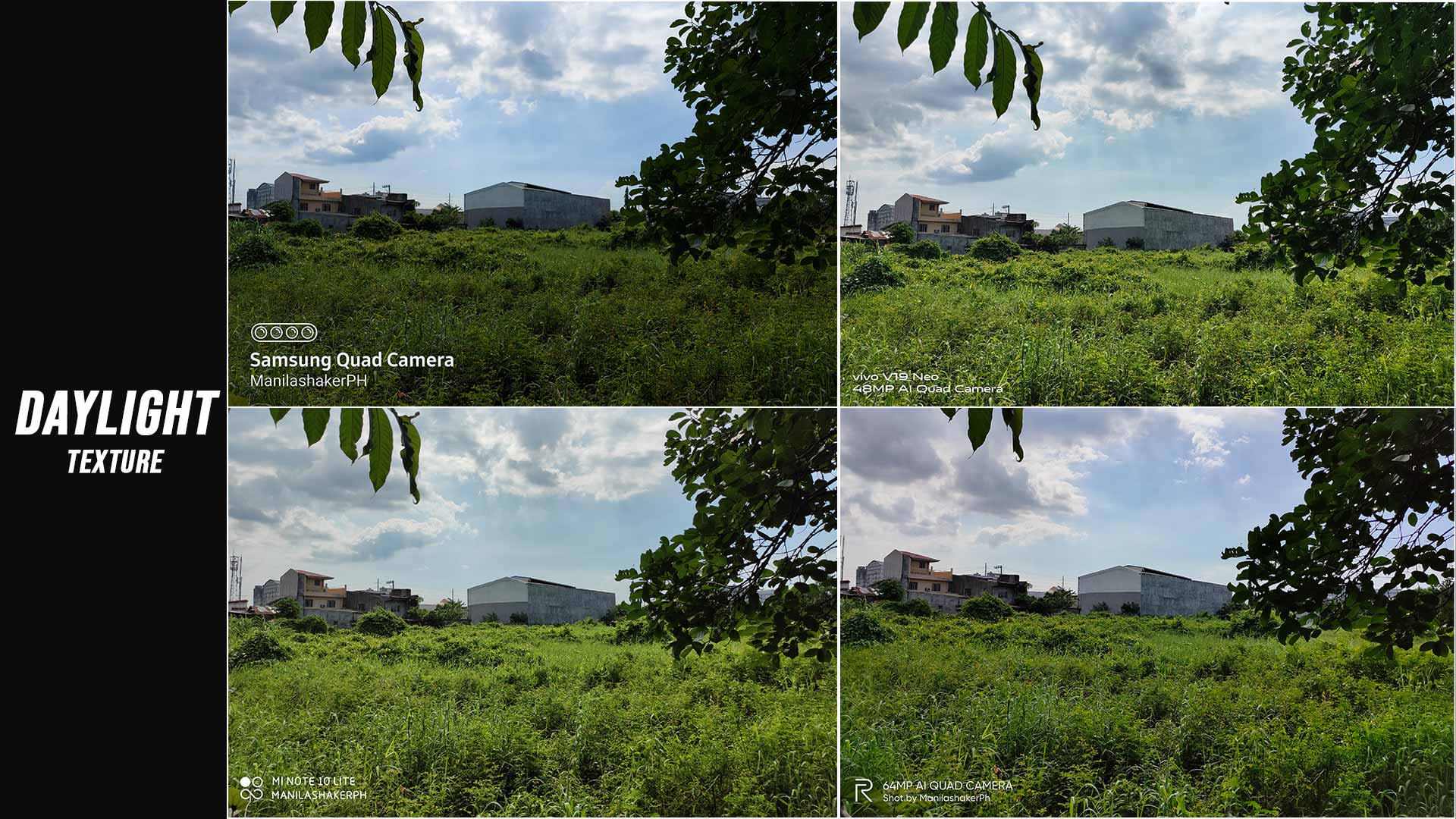 Starting with the main lens at daylight, Samsung Galaxy A71 is a bit underexposed while Vivo V19 Neo and Mi Note 10 Lite have a balanced exposure. The realme 6 pro, on the other hand, has darker shadows and the white balance is slightly off-tone. Overall Mi Note 10 Lite has the brightest image with nice foreground shadows.
Next cropping to 400%, The Galaxy A71 looks soft and loses texture while the Realme 6 Pro looks oversharpened, the remaining two are nearly identical but the Vivo V19 Neo has more details than Mi Note 10 Lite
Next, comparing the texture again, the Galaxy A71 and Mi Note 10 Lite has natural color reproduction while the remaining two are a little bit enhanced by their respective AI. The sharpest in this scene is the Mi Note 10 Lite.
This slideshow requires JavaScript.
Next was indoor shots, this photo was shot with their AI modes turned off. We got a nice and natural look on the Galaxy A71 but on the cropped images, it appeared that the Vivo V19 Neo still has the sharpest quality among all. However, our comparison in this shot will differ from the natural look versus the scene color adjustments of their AI. Galaxy A71 has the best color reproduction next is the Mi Note 10 Lite, then the sharpest will be the V19 Neo and the vivid colors are for the Realme 6 Pro.
Also Read: Top 5 Reasons Why OPPO A92 Is a Great Mid-Range Buy
Switching to another scene, the Vivo and Xiaomi got their white balance in the right value. Actually we can't decide if which has better color reproduction because it's a matter of preference. Their respective AI enhancement detects different scenes hence, it gives different colors. But the most natural look will be Samsung and Xiaomi which only differ in white balance.
Next indoor shot again, this one will now vary in the overall image. Galaxy A71 has a punchier color and it has sharp and nice details. However, the Vivo V19 Neo has more contrast but with less saturation compared to the Galaxy A71. Then the Mi Note 10 Lite appeared to be less saturated and a bit lower in contrast, while Realme 6 Pro appeared saturated and soft. Vivo V19 Neo is nearly close to reality it has more detail and alive thanks to the contrast. Then next will be both the Galaxy A71 and Realme 6 Pro tied.
Result
All phones get different strengths in different scenes so in this section all phones win.
Sunset Scene
The pictures are completely different when you look at shadows and highlights. The sun is still on our horizon although, Samsung Galaxy A71 has the least exposure value. We do still get a decent exposure on the remaining phones and Realme 6 Pro appeared the brightest. This will be a backlight test and into the shadow parts we do get deep blacks on the galaxy A71 and V19 Neo, while we get a more textured photo on the remaining two phones but Mi Note 10 Lite still preserved its color even if it started to introduce grains. In this scene Mi Note 10 Lite is in the first place then the Realme 6 Pro will be at 2nd place because it produces a brighter image.
Now turning HDR mode on all images, this will appear in different dynamic range because of their process. The Realme 6 Pro and Vivo V19 Neo got nice foreground shadows and by looking on the 400% cropped, V19 Neo and Galaxy A71 appeared more cleaner compared to the remaining images.
so Vivo V19 neo will be the first place then the Galaxy A71.
Result
Here the natural-looking photo will be the Mi Note 10 lite then in terms of image processing Vivo V19 Neo is our 2nd winner.
Lowlight Scene
This slideshow requires JavaScript.
Now let's go deeper on our test, let's go low light. These shots are from an ultra low light scene. We only have a single light source on the back and this was processed in normal photo mode. The Realme 6 Pro has the brightest exposure but this doesn't end here. When you look at the crop photos, Realme 6 Pro appeared detailed as well as the Galaxy A71 but they differ in white balance.
Now let us switch to their respective night modes. Realme 6 Pro appears super bright but the question is how was the quality? Sometimes brighter images tend to introduce grains and noise, and upon zooming in–the details on the Realme 6 Pro reduced down while the Galaxy A71 and Mi Note 10 Lite, appeared more detailed. Although Galaxy A71 has more grains and noise in its whole image, we got a clean overall image on Vivo V19 Neo. Then a little less saturation on the Mi Note 10 Lite.
Vivo V19 neo has the best quality in ultra lowlight for overall exposure and details.
Three of these phones do have an expert mode that can shoot long exposure shots thanks to the shutter speed adjustment. Dialing 500 ISO and 30-second shutter, the result is a brighter and cleaner image.
Check out: Samsung Galaxy A51 Pre-Order Details and When You Will Get It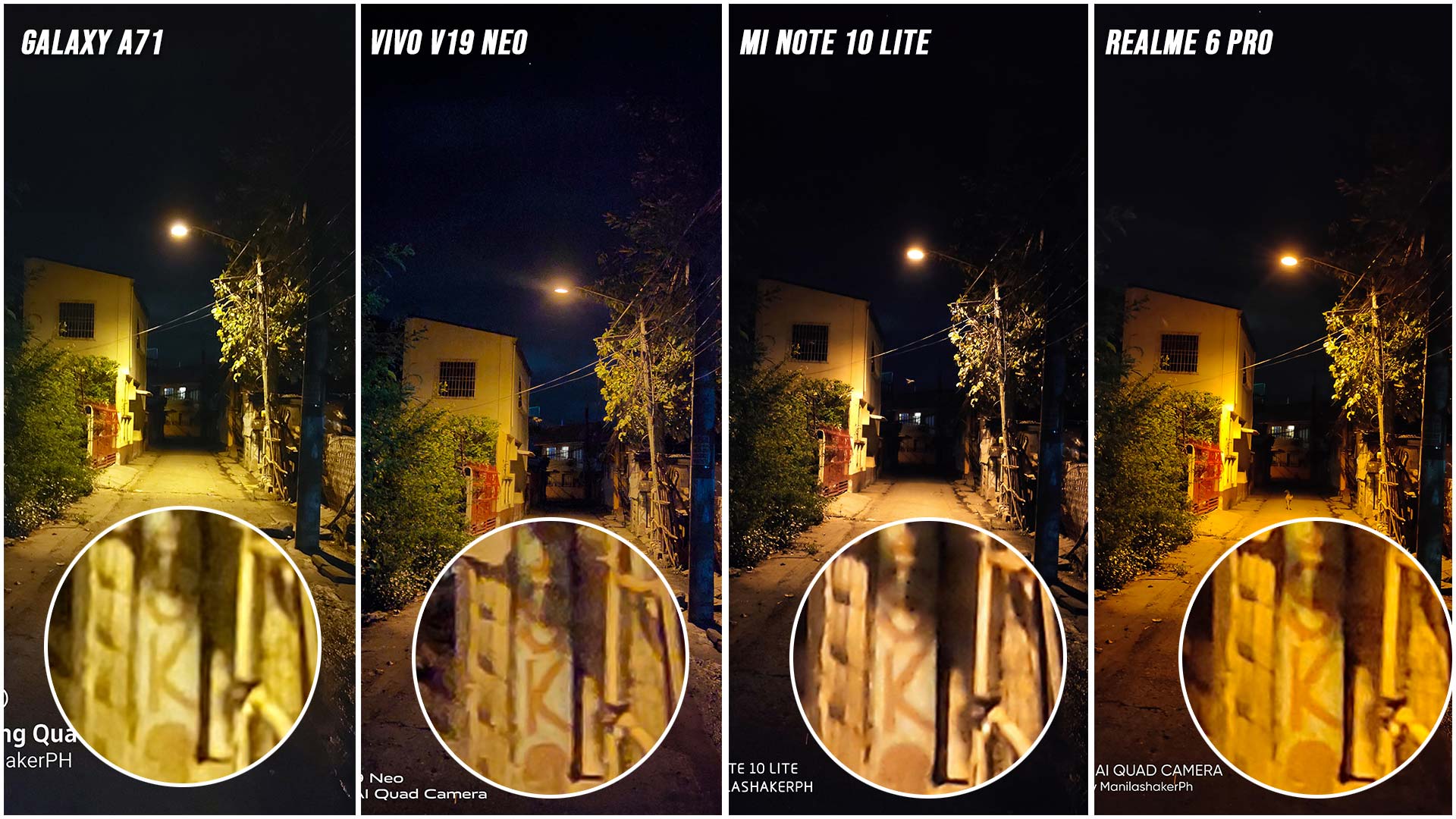 In this next scene, we get a slightly brighter environment with the streetlight as our light source. Shooting at normal photo mode, we do get a nice exposure but we have a different white balance on each photo. Looking at the cropped photos, details are more compact on the Vivo N19 Neo and Realme 6 Pro, although Realme 6 Pro appeared to have a warmer tone while Vivo V19 Neo appeared to be the closest to reality then next is the Mi Note 10 Lite, Samsung Galaxy A71, however, did get a nice quality but it appears that the white balance is a bit off tuned.
Turning on night mode and shooting handheld, all four phones were enhanced and the Mi Note 10 Lite colors are now closer to reality but on our cropped images the detail is not as good as other pictures.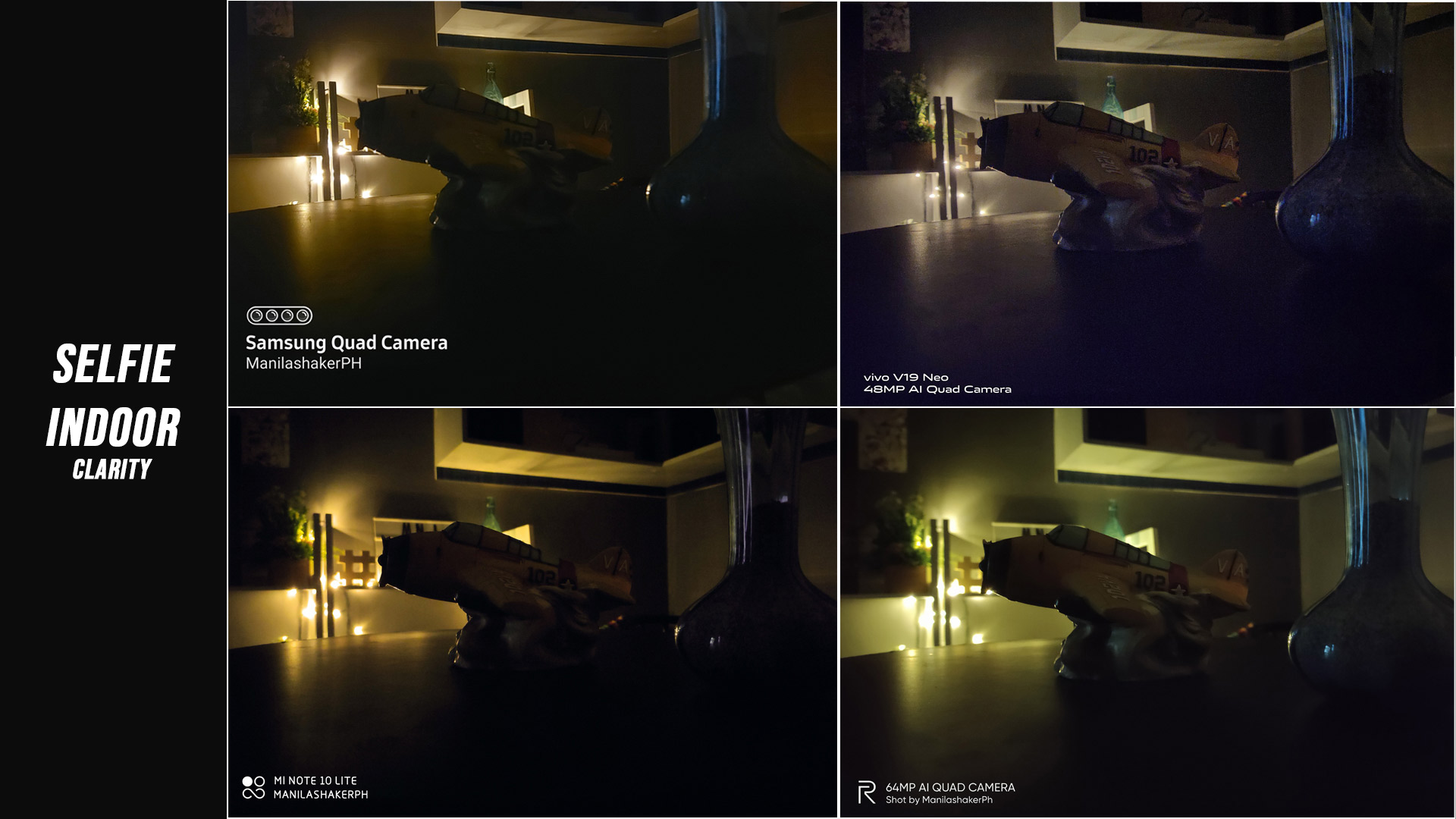 Now, this is interesting and quite hard for us to decide which will be the first. We captured low light indoor photos and our light source is coming from the side and the back. These images are the normal photo modes of each respective device. Everyone is struggling to achieve a brighter and balanced image. The Galaxy A71 appears darker, V19 Neo appears grainy and has cooler tones while the Mi Note 10 Lite produces a nice white balance but its a bit underexposed. Lastly, Realme 6 Pro gets a brighter image but the whole picture is soft.
This slideshow requires JavaScript.
Now turning on their respective night modes. Mi Note 10 Lite and Vivo V19 Neo is now leading the race but cropping-in will introduce a different perspective. The details on the V19 Neo are a lot preserved while other phones have introduced grain and noise.
This slideshow requires JavaScript.
Now we tried to enable tripod mode that shoots a 30-second long exposure shot on the Realme 6 Pro, while Vivo V19 Neo is still in the night mode. The results are, both got nice and brighter images in low light and as we zoomed-in Vivo V19 Neo appeared detailed but with little noise while Realme 6 Pro is a little underexposed.
Result
Shooting on the main camera Vivo V19 Neo is best at night shots and lowlight scenes. Then Realme 6 Pro placed at 2nd due to brighter images at night.
Read: Redmi Note 9s Long-Term Review – No Need to Panic!
Ultrawide
Samsung somehow loves to be underexposed while Vivo and Xiaomi get at least the same color and exposure value. While Realme 6 Pro appears greener and a bit underexposed also.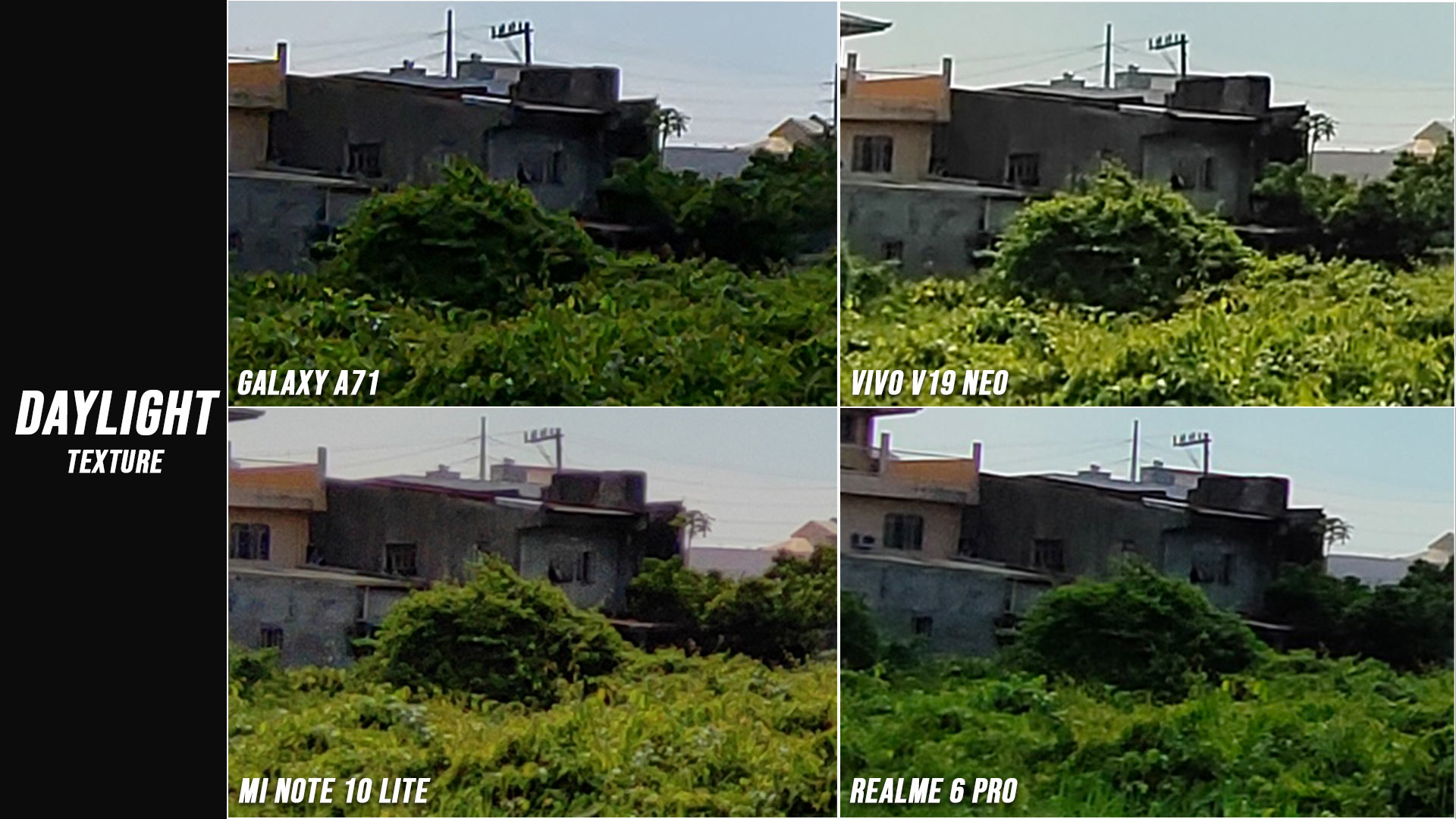 As we zoom in, it appears that Mi Note 10 Lite is more detailed compared to the remaining three phones. The Galaxy A71 however, has the highest megapixel when it comes to ultrawide. but the underexposed shots make hi-res images loose details.
In this next photo, we are in the same sunset scene and again the Samsung Galaxy A71 appeared underexposed while Vivo V19 Neo and Xiaomi Mi Note 10 Lite appear almost the same. Then the Realme 6 Pro is a bit underexposed again.
Now zooming in, Realme 6 Pro introduces drastic fringing which causes the photo to reduce the quality. Mi Note 10 Lite, on the other hand, is cleaner then next is the Galaxy A71.
This slideshow requires JavaScript.
Enabling HDR mode, all four phones got a nice overall look and feel however when we crop the photo to 400%, Galaxy A71 and Realme 6 Pro did pretty well on handling foreground shadow while managing to make the image clear and sharp. We can now see the difference in resolution on the Galaxy A71.
Result
In terms of Ultrawide shots, Mi Note 10 Lite is at the 1st place, then Galaxy A71 being the 2nd placer.
Telephoto and Zoom
Realme 6 Pro is at the 1st place by default as it has a telephoto lens. But let's see who will be at 2nd place. This set of pictures is in normal photo mode and the colors and exposure are barely unnoticeable on all four devices.
Now zooming at 2X zoom, it appears that the Mi Note 10 Lite and Vivo V19 Neo also got a nice natural look while galaxy a71 is a little bit oversharpened.
Related: Realme 6 Pro Full Review – Ultimate Phone for Aspiring Vloggers
Now zooming further up to 5X zoom, we can now see the difference. Mi Note 10 Lite has a decent exposure behind those grills and even if it has color leaks, it still produces balance exposure.
Result
The best-detailed picture goes to Realme 6 Pro, then the second placer will be the Mi Note 10 Lite.
Macro
This slideshow requires JavaScript.
All four phones got their respective macro lenses but mi note 10 lite is the only one who offers an autofocus system. We can easily get close to our subject and the details on the Mi Note 10 Lite is sharp and it has decent exposure as well. Galaxy A71 is still catching up as it has a 5MP resolution so despite being far from the subject it preserves the details when we cropped-in.
Watch: Mi Note 10 Lite Camera Review – 64MP Ultra-Fast Autofocus and One-Click Vlog Mode
Result
So our first place in the macro lens section will be the Mi Note 10 Lite, then the Galaxy A71 placed at 2nd.
Depth Camera
This slideshow requires JavaScript.
Realme 6 Pro doesn't have a depth sensor and all of them are quite distinct in terms of color and contrast as they use the main cam to capture the image. We can't see the difference between the edges because all four images have an impressive accurate subject to background separation. Even we boosted up the blurry parts on all four, I noticed Vivo V19 Neo stand out the most due to it's higher contrast which adding depth to the image. Mi Note 10 Lite on the other hand, sometimes has lower accuracy. Overall images are natural with high dynamic range, Galaxy A71 appears darker outdoors, while Realme 6 Pro got a nice saturated looking image with high dynamic range even if it doesn't have a depth sensor.
Result
Our first placer will be the Vivo V19 Neo, then the Realme 6 Pro.
Selfies Daylight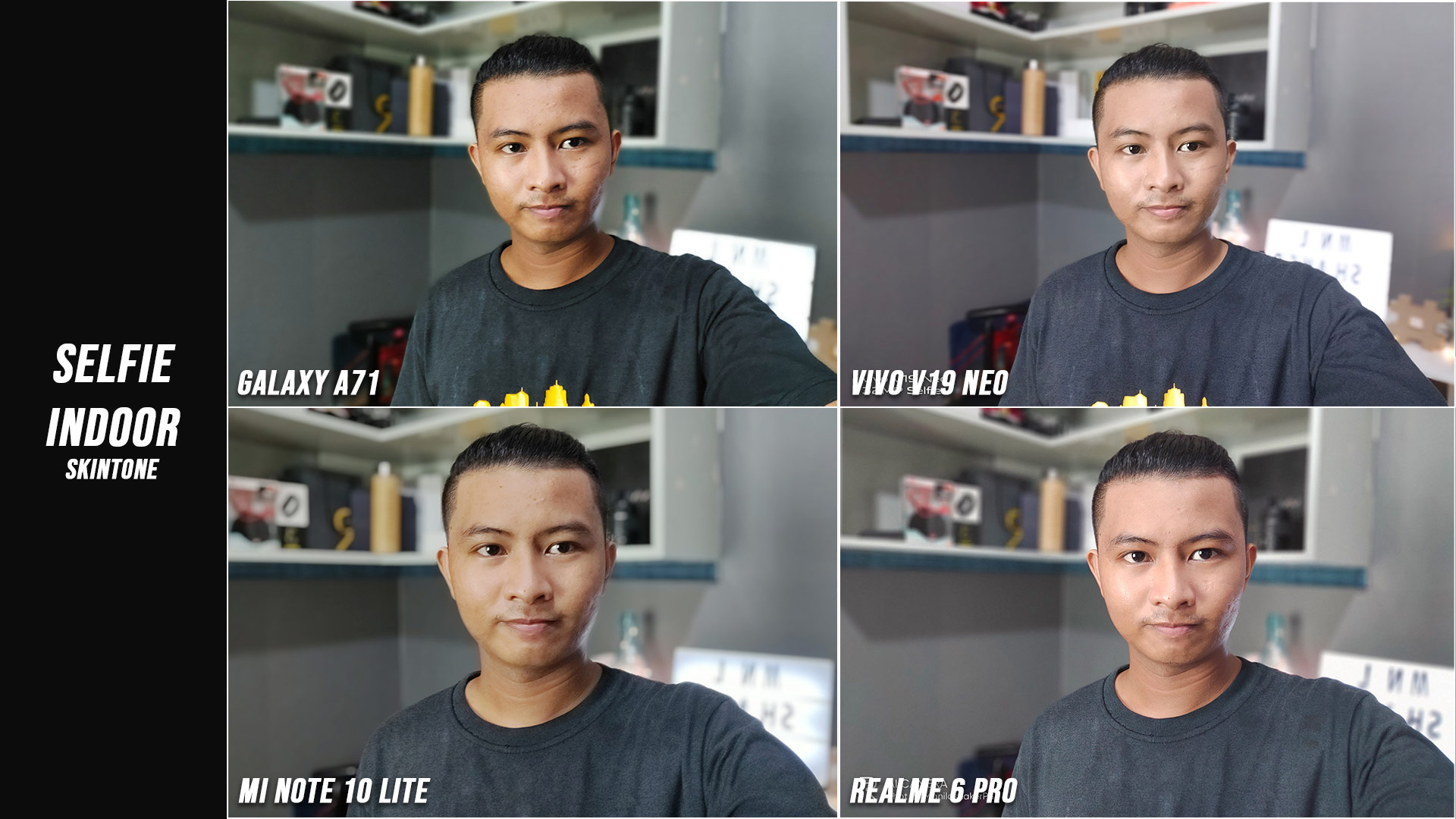 Here we have an indoor selfie, Galaxy A71 produces deeper contrast and deeper blacks, while Vivo V19 Neo produces a bright and decent skin tone. Vivo also provides the widest field of view among the four. Mi Note 10 Lite, on the other hand, is a bit claustrophobic due to its closer field of view but the skin tone color appears more likely true to life. While the Realme 6 Pro offers a decent exposure as well but with pinkish skin tone.
Zooming to some parts of the image, Galaxy A71 did best on making the selfie more alive because of its hard contrast. It also has decent quality as well. V19 Neo appeared softer thus removing the details on my eyebrows while Mi Note 10 Lite appears to be grainy, and lastly, Realme 6 Pro has a decent brighter selfie that enhances my eyes but in return, we get a grainy picture.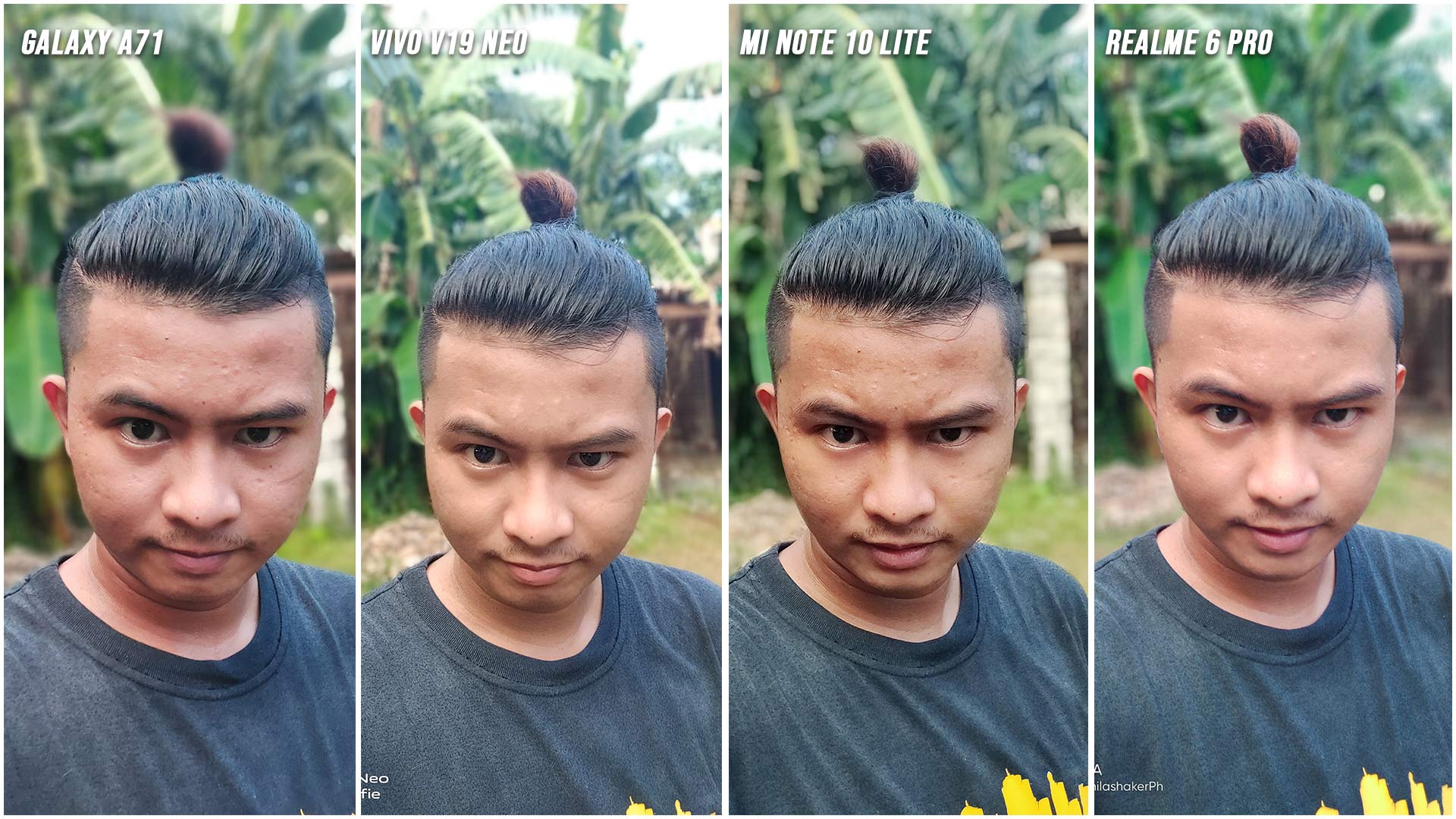 Next, we have a portrait shot with blur effect, and to test the accuracy I put a "man bun" on the top of my head. It appears that Realme 6 Pro has almost perfected the subject to background separation while Galaxy A71 still learning to include that cute circular hair. But unfortunately, even I've tried it a couple of times I still get no luck at capturing an accurate background bokeh effect.
This slideshow requires JavaScript.
Now testing further their capabilities outdoor, I did set my frizzy hair inside the frame. Mi Note 10 Lite has the best accuracy, but Realme 6 Pro and Vivo V19 Neo are still catching up. We also get Vivo V19 Neo the true to life and natural-looking selfies outdoor.
Result
Overall in terms of daylight quality selfie, we will give it to Samsung Galaxy A71 for the overall look and feel then Mi Note 10 Lite for the color accuracy compare to reality.
Read: Vivo V19 Neo Full Review – The Knight's Owl
Selfies Lowlight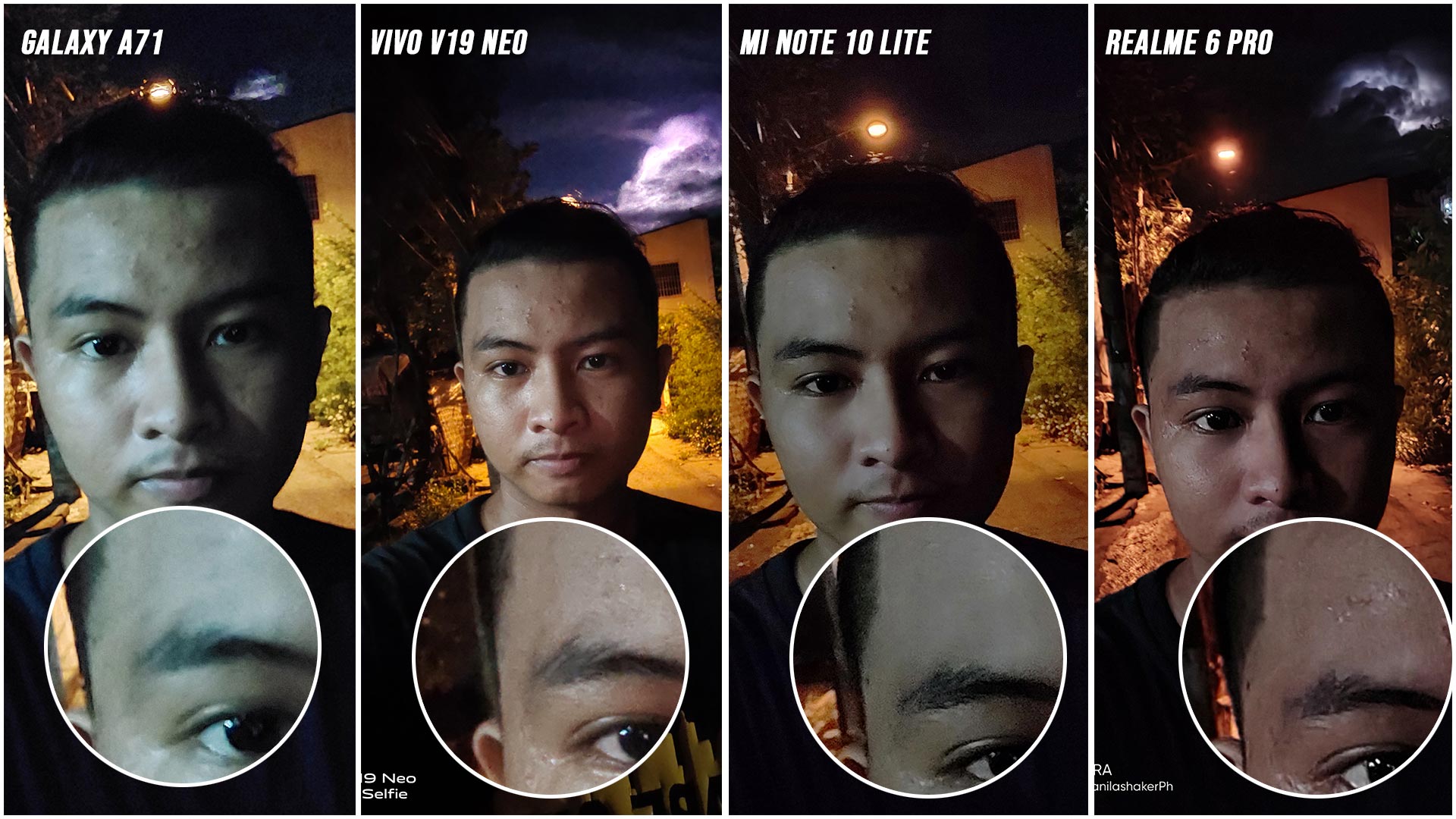 Now shooting at their respective night modes on lowlight scene, Galaxy A71 appears desaturated and blurry as it smoothens the grainy parts but it exposed the background nicely. Then Vivo V19 Neo got brighter with natural color while details are still preserved. The Mi Note 10 Lite, on the other hand, appears underexposed and a little overprocessed. Then lastly, Realme 6 Pro also got a color-accurate selfie and the tiny details are still visible.
Result
Overall, the first place in the night time shots will be the Vivo V19 Neo, and 2nd is the Realme 6 Pro.
Video Recording
Samsung Galaxy A71 and Realme 6 Pro offer a toggle button in the viewfinder to enable the ultra steady feature. This feature enables you to record stable footage with a wider view. If you want to see the video footage check out our video version of this comparison.
This slideshow requires JavaScript.
All phones can shoot 4K clips at 30fps and they also offer EIS if you change resolutions. For example, shooting at 4K clips, Mi Note 10 Lite and Realme 6 Pro have default EIS at 4k clips. Then shooting at 1080p at 60fps, Galaxy A71 doesn't have 60fps option. Realme 6 Pro Offers EIS with a cropped-in video clip. While the Vivo N19 Neo and Mi Note 10 Lite don't have eis on 1080p at 60frame. Now switching to 1080p at 30frames the three except Galaxy A71 gets an EIS enabled automatically.
Result
We will pick Realme 6 Pro for having the flexibility of shooting in different resolution while offering stabilization
Front Video Clip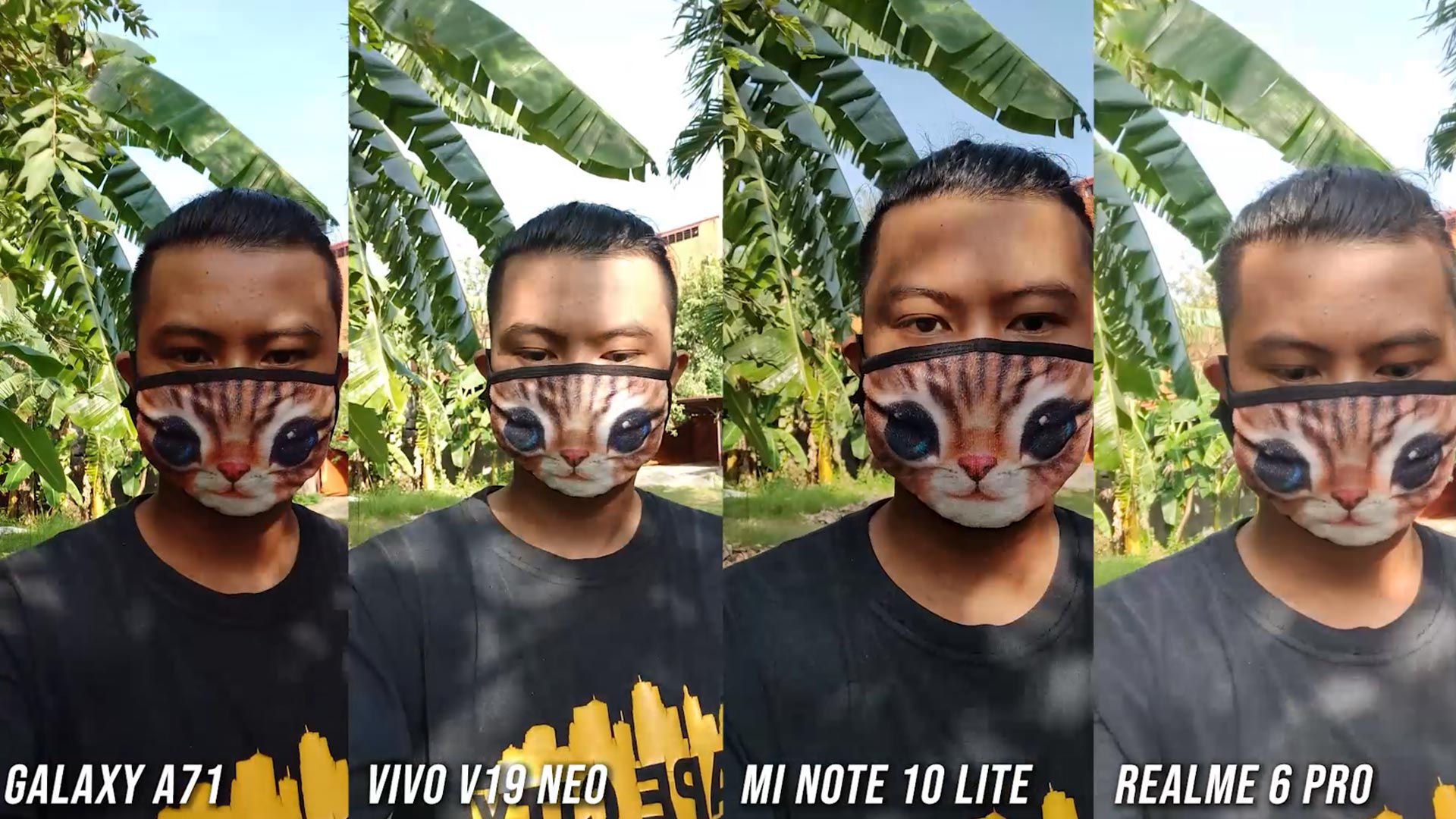 Comparing the front video recording, Samsung Galaxy A71 can shoot up to 4K videos on the selfie cam it has more details and my pimples are so visible. It also gets a bit underexposed to compensate for sky highlights. While Vivo V19 Neo has a wider view, it struggles to balance the high dynamic range of our blown up sky. Sometimes the video gets a balanced exposure but if our face is well lit. Next Mi Note 10 Lite is also changing exposure value but the sky and my face are more balanced and it gives more exposure time to make the subject brighter. While the Realme 6 Pro, on the other hand, has EIS even ultra steady feature is turned off. The Realme's selfie is a bit cropped-in and we don't have an option to turn that off.
Result
All have good natural colors and the very noticeable changes are when auto exposure is switching to compensate the blown up highlights. So 1st Place goes to Mi Note 10 Lite, for having a balanced exposure, then next is the Galaxy A71 for having the 4K video recording on the front.
Camera Features
Now before we end this we made a list of their camera features. Find out which you like the most.
This slideshow requires JavaScript.
Verdict
The Galaxy A71 offers a naturally acceptable image in daylight with some cool features to offer.
Vivo V19 Neo is offering better and improved lowlight shots with unique features as well.
Mi Note 10 Lite offers a decent and flexible camera quality with a variety of camera features as well.
The Realme 6 Pro offers vivid color and versatile camera features.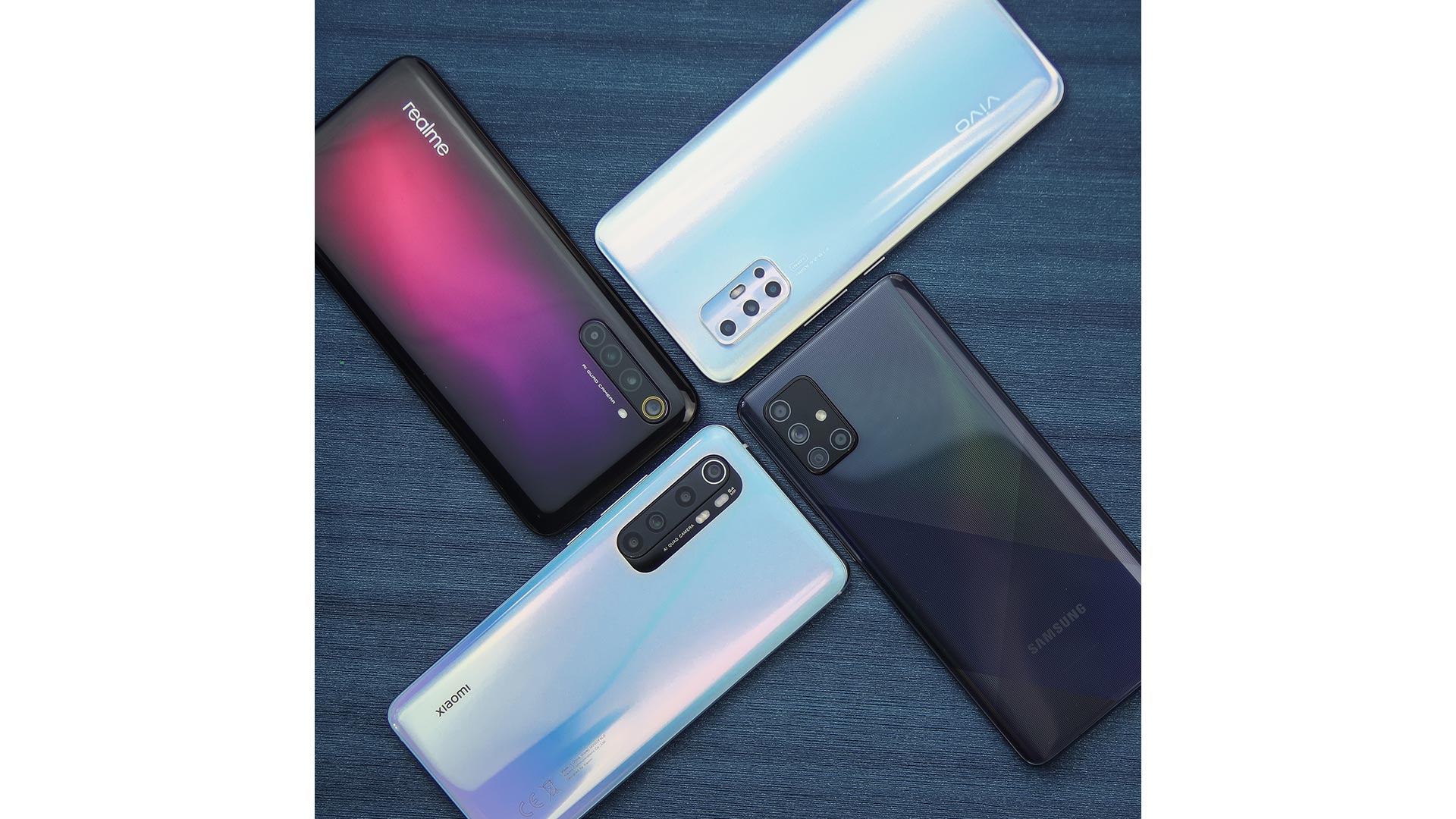 They all have different strengths and abilities with good quality pictures in different scenes. Vivo V19 Neo ranked 1st place most of the time in different sections but those ranks are only for the specific section and not an overall pointing system. Your freewill will still decide what is best for you.
Also, we will be having a part two comparison which we will discuss their performance and overall functionality and appearance. So what do you think? Which device deserves to be crowned and called the Camera King? Do they still have the respective strengths and capabilities? Free will is yours and we hope that this comparison clarifies everything.
For the price:
Samsung Galaxy A71 – P22,990 (8GB+128GB)
Vivo V19 Neo – P17,990 (8GB+128GB)
Mi note 10 lite – P18,990 (8GB+128GB)
Realme 6 Pro – P16,990 (8GB+128GB)
Read Next: Nubia Red Magic 5G Lite: Bringing 144Hz to Mid-Range Market at P34,000