For Q2 2019, OPPO has beaten Samsung as the number one smartphone brand in the country. In terms of market share, the Chinese company garnered 28% of the market while Samsung is far behind at 19%. Closing the gap is Vivo at 17%. This sums up the top three smartphone brands in the Philippines.
60% of Southeast Asia's Smartphone Market Share Comes From Chinese Brands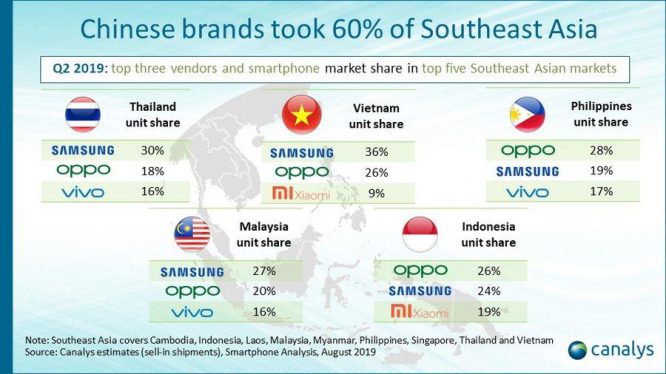 Based on Canalys' report, OPPO shipped 7.3M units in Q2 of 2019 in SEA, close to Samsung's 7.7M units record. In Indonesia, OPPO claimed 26% of the market share, followed by Samsung's 24% and Xiaomi's 19%. As for Thailand, Vietnam, and Malaysia, Samsung remains to be number one, but OPPO is just right behind the South Korean company.
OPPO has expanded its scope and presence with the introduction of Reno Series. Recently, the company announced the Reno 2 Series in India. The lineup is highlighted by a quad-camera setup, a direct competition of Realme 5 Series and upcoming Redmi Note 8 Series.
READ: OPPO A5s Review – The Best Entry-Level Smartphone in 2019?