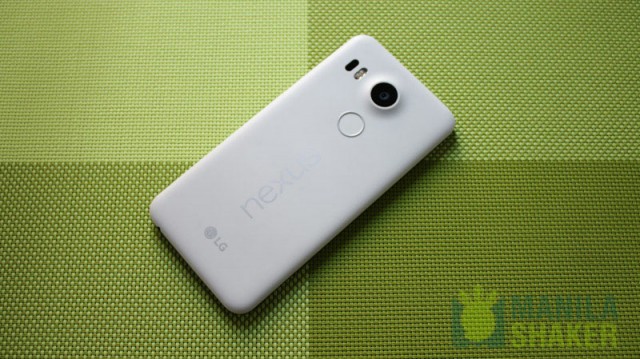 LG and Google have partnered this year to bring another Nexus into the table, which is the Nexus 5X. For starters, the Nexus 5x is the successor to the previous Nexus 5 which was made by LG too a couple of years ago. The Nexus 5X is also the more handy and affordable (starting at $379 price) one between it and the premium Nexus 6P, which made by Huawei. Not because the premium was reserved for 6P it would mean that 5X had been left out with exciting features. In fact, I was looking forward more to try the 5X because of its more attractive price tag while running on the latest Google OS.
Besides running on the latest Android 6.0 Marshmallow, you would find a fingerprint scanner backed by proprietary Google imprints technology, a 12MP main camera, Snapdragon 808 chip with hexa-core processor, and a lot more spiced up features. The question, however, if those will be enough to get the value we've been always getting from most Nexus series? Find out in our comprehensive review and in-depth look at the Nexus 5X.
Design and build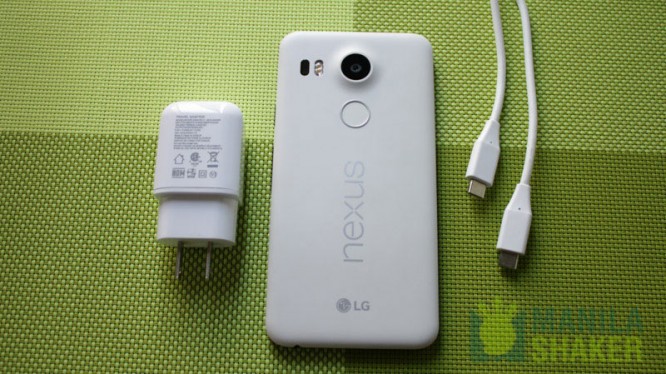 Built with a plastic body, it is hard to find premium towards the Nexus 5X, especially this year where almost mid-range and high-end phones have either glass or metal design, or both. What's worse is absent of removable battery or a microSD card slot expansion (16GB or 32GB model), which we usually see from polycarbonate-made counterparts.
In the bright side, however, the Nexus 5X is one of the most comfortable 5-incher smartphones I encountered. It's light, very easy to hold in one hand, the matte texture feels great, and corners are rounded and don't dig in the hand. In addition, the solid plastic body won't get damage easily when dropped compared to glass or metal.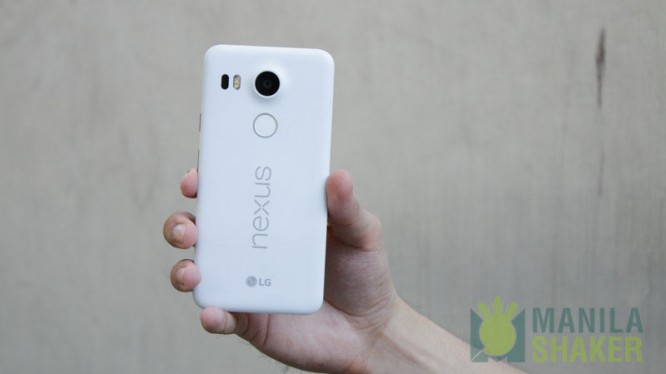 The front appears to be plain despite the 70.8% screen-to-body ratio and two-grill design paired on the 5.2-inch Gorilla Glass 3-backed screen. In fact, there is only one speaker which at the bottom, while behind is the LED notification light. The back is where the phone gets a little attention, the camera protrudes and below sits a fingerprint sensor encircled with a metal ring and the Nexus logo. All these could easily be forgotten for anyone not familiar to the Nexus or stock Android term.
Speaking of the fingerprint sensor, we were impressed how accurate and fast the sensor of the Nexus 5X on its the back. It works 95% of the time even my fingers are sweaty. Setting up is also snappy, which only requires about 5 touches on the back. It's a solid first attempt by LG and Google.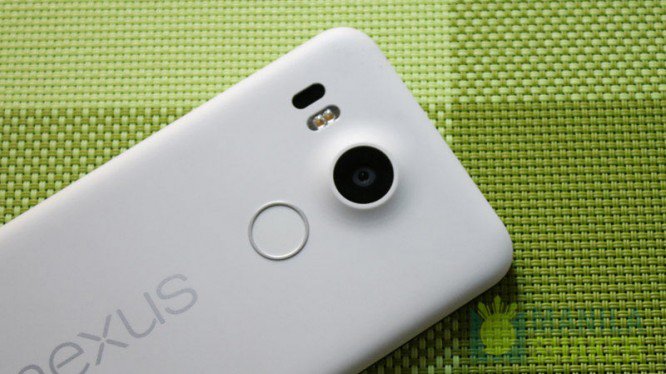 A tour around the device reveals the top being empty except on a tiny hole sitting while serving as a second microphone. It's different on the bottom, which is quite busy with the USB type-c port, headphone jack, and microphone positioned closely. The left side houses the nano-SIM card slot and across on the right is the responsive volume rocker and power/lock key, but not clicky as you'd expect.
Packing a USB type-c port is not an issue, but the real problem is the lack of USB type-a to type-c cable. To solve this, you will need to buy another data cable or resort with Bluetooth or wireless connection to transfer files between your non-USB-Type C PC and Nexus 5X.
Display and viewing experience
The display of Nexus 5X is neither flagship-grade, but picture quality and viewing experience on its 5.2-inch 1080p IPS (protected by Gorilla Glass 3) is definitely pleasing most of the time.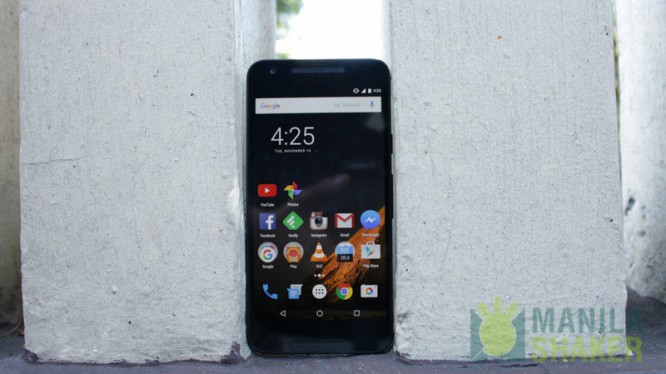 Color calibration is a bit warm, but brightness is really good and blinding if you maxed it out. At 423ppi, texts and images appear sharp and very readable.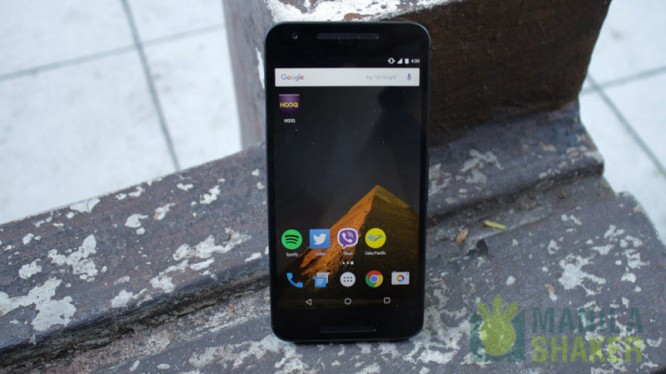 The downside of the IPS screen of Nexus 5X is the poor sunlight legibility. There are obvious glarings and enough reflections on the screen to spoil your viewing experience when using it outside in a sunny day, but of course, this is true to most devices equipped with IPS display and not only on the Nexus 5X.
Camera in still and video shooting
Sporting a 12MP main shooter and 5MP front-facing selfie camera, still shots of Nexus 5X on daylight and night scenes possess accurate color reproduction and considerably have good detail preservation or sharpness.
Shutter speed is very fast and with no after-shot lagging, thanks to the f2.0 aperture and laser focus. There is also a dual tone LED flash which is very bright, the color tone, however, is very warm and yellow, but actual shots have good lighting level.
It is on noise level and dynamic range control where Nexus 5X struggles. Noise becomes more visible at night and low-light shooting while exposure level is somewhat off and darker, with the latter greatly affecting the dynamic range and quality of HDR images.
See sample HDR image below.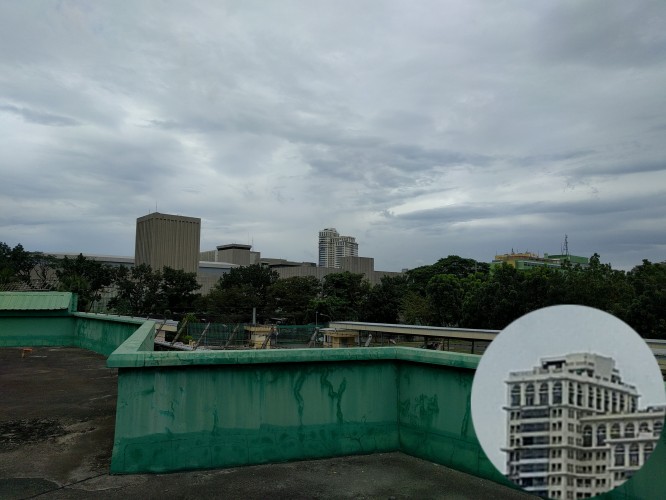 The 5MP front-facing camera takes good selfie and groufie shots. Unlike on none-stock Androids, the Marshmallow version of Google doesn't offer camera tricks and options for the selfie shooting. There is no beauty effect available from the main camera app, you would really need to use 3rd party apps to add effects to your shots.
LG managed to pull off a good 12MP snapper in the form of Nexus 5X. But again, it is not the best in its class and not comparable to flagships such as LG G4. For a mid-range price and specs, however, the Nexus 5X's camera is one of the best in its class.
Performance, benchmarks, speed test
Under the hood, the LG Nexus 5X comes with a Snapdragon 808 chipset with a hexa-core processor and somewhat questionable RAM amount of 2GB. Really, 2GB for a 2015 Nexus phone? Internal storage is limited to 16GB or 32GB, and unfortunately, there is no microSD card expansion. We suggest, go for the 32GB variant to avoid regretting on the future as the price difference is only about $50.
In terms of real-world performance, everything is fast and snappy despite the 2GB RAM limitation. Browsing and multi-tasking are fluid and buttery smooth. The Nexus 5X can handle running hefty tasks and graphic-intensive games such as Asphalt 8 without stuttering.
Benchmark scores
AnTuTu – 42426
Basemark OS II – 1173
Geekbench 3 – 1022 single core, 3260 multi core
The Snapdragon 808 chip is not a benchmark topper as you would expect from the Snapdragon 810, but it scored relatively close to the latter. Check out the benchmark scores below. Actual speed test is seen on the video comparison.
 Software and experience
The Nexus 5X and Nexus 6P are the first to run on Android 6.0 Marshmallow, specifically with stock Android UI. Experience is very vanilla Android. The home screen is flat and the new home launcher features vertical scrolling for the apps with a search bar on top and just below are four most used apps that dynamically change.
Aside from the main home screen, the lock screen's clock and text widget have bolder fonts. The drop down menu is also locked down by default, you will need to press the gear icon for a certain period of time to open the system UI tuner and start organizing quick shortcuts.
Battery and charging time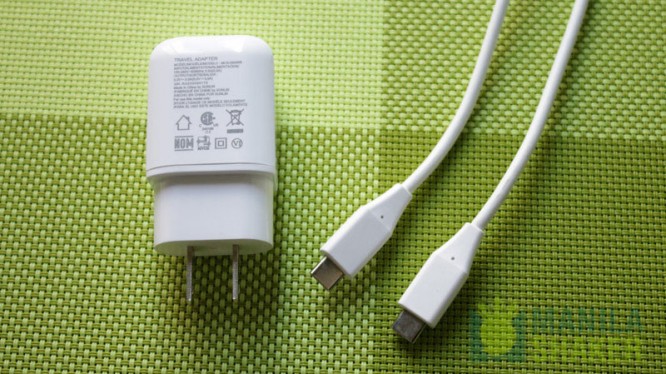 The Nexus 5X comes with a 2700mAh battery, and its battery life is mediocre, to say the least. I am really not sure whether the Google Doze feature works or it just that the battery juice is rather small.
9 hours and 20 minutes using our standard video battery test
1 hour and 30 minutes charging time
I always end up looking for a charger before the end of the day despite charging the 5X full in the morning. Both video streaming and browsing greatly affect the battery life. For standby and with notifications running on the background (on Wi-Fi), battery life is still below from average of most high-end and mid-range Androids. On the bright side, the Nexus 5X comes with 3A fast power charger, which means you could fully charge the phone from 0 to 100% in just under 90 minutes (1 hour and 30 minutes). One of the fastest device we've used.
Speaker and audio
The single front-facing speaker, at the bottom of the display to be exact, lacks high-quality audio output and volume. The output is kinda tinny especially the vocals. The bass level is somewhat unbalanced and underpowered. But at least, the position is optimized for watching videos and playing music in a loudspeaker.
Verdict and price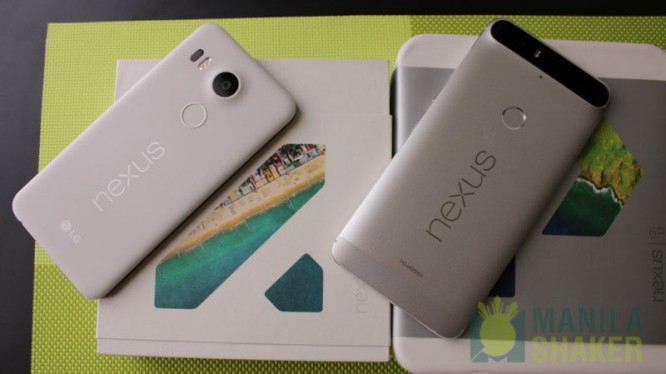 The LG Nexus 5X is already available in US and some other countries. In the Philippines, LG is not offering it nor Google. There are also no legit dealers offering it. We purchased our unit through Amazon and shipped it through Johhny Air.
All told, the Nexus 5X is one of the Android smartphones I want to own. The Android experience on Marshmallow is what I have been looking for from Google: fast, fluid and uncluttered. The decent camera and display are good additions on top of it. But above all, the $400 price tag for a well-executed smartphone is the biggest selling point here. It's clear that the Nexus 5X is short to be called as flagship, but the value you will get is more than for its price.
Nexus 5X Pros
Fast and accurate fingerprint sensor
Handy and solid build
Android 6.0 Marshmallow is almost flawless
Spot-on color reproduction in camera video and still shots
Speedy performance
Affordable price tag
Nexus 5X Cons
Mediocre battery life
Design is not a standout
Speaker is so-so
Poor display sunlight legibility
| | |
| --- | --- |
| SPECS, PH Price | LG Nexus 5X |
| Display | 5.2-inch 1080p FHD display, 423ppi |
| Size | 7.9mm thickness, 136g weight |
| Design | Cornings Gorilla Glass 3, oleophobic coating |
| Colors | White, Black, Mint Blue |
| Chipset | Qualcomm Snapdragon 808 hexa-core |
| Processor | Dual-core 1.82GHz Cortex A57, Quad-core 1.44GHz Cortex 153 |
| Graphics | Adreno 418 GPU |
| Memory | 16/32GB internal storage, no microSD card slot |
| Main Camera | 12MP rear shooter, Laser Autofocus, dual-LED flash (dual tone) |
| Multimedia | 4K UHD video, HDR |
| Front camera | 5MP front camera |
| Connectivity | 4G LTE cat 6,WiFi ac, Bt 4.2, GPS, GLONASS, NFC |
| OS | Android 6.0 Marshmallow |
| Software | Stock Android |
| Battery | 2700 battery |
| Ports / Security | UBS type-c, Fingerprint Sensor (Google Imprints) |
| Official Price | $379 US on 16GB (no official price in the Philippines, est. P18k pesos) |
| Availability date | 2015 November |
| Where to buy | Online Stores |
Related posts, news, reviews and comparisons: