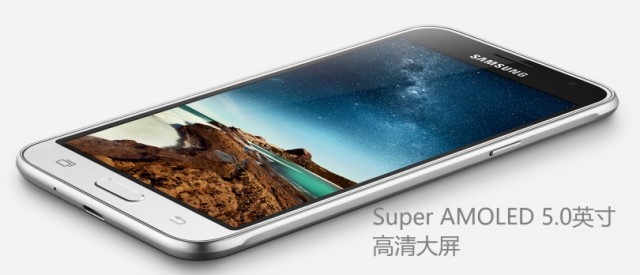 Samsung recently launched a much more budget-wise smartphone than the already out J5, dubbed the Samsung Galaxy J3 (6). The J3 (6) isn't much to look at though, since its fairly a lowered spec device, which can't excite the spec-wise individuals. However, it is something quite expected in a budget-wise device.
The Galaxy J3 (6) (i swear, i've written J6 way too much in the making of this article) packs a 5-inch 720p Super AMOLED display, which is actually good, since an AMOLED device for a very affordable price is rare to find these days. On its back is an unnamed CPU marking in at 1.2GHz quad-core, which could be a Snapdragon 410, though its just a hunch, however, if it is the Snapdragon 410 then its most likely be, since Samsung is known to not insert their Exynos made chip into their budget-made device, but rather equipped them with third party hardware.
For shooters, it has a pretty unimpressive 8MP rear shooter and a 5MP selfie shooter, though it is expected of a budget phone. Giving life to the device is its 2600mAh battery, which runs at an Android Lollipop, though the exact version is yet to be determined. The J3 (6) is equipped with Samsung's latest version of TouchWiz. Despite being listed as available, The J3 (6) has yet to show an official price, though it could be a bit lower than the already launched Galaxy J5, whose price is at $160, so we'll take a wild guess of $120 or roughly Php 5K in converted PH price. Remember, the price for the J3 (6) is not official, we'll try to update you guys once we can get an exact price for the J3 (6) in China. Right now, there isn't any news if the device will be launched globally, but most likely it will.
See also: Samsung Marshmallow Update Roadmap Gets Leaked
What do you think of the budget J3 (6)? Hit us up on the comments section below and share your thoughts with us. We appreciate all feedbacks.
Samsung Galaxy J3(6) specs, PH price, features
5-inch 720p Super AMOLED HD display, 294ppi
7.9mm thickness
1.2GHz quad-core processor
1.5GB of RAM, 8GB of internal storage, microSD card expandable
8MP rear shooter
Video recorder
5MP selfie shooter
2600mAh battery capacity
Android Lollipop
Release date is November
Asssumed price is $120 or roughly Php 5K in converted PH price
Can purchase to any online stores and Samsung stores (currently launched in China)
Related posts and reviews