PHILIPPINES, SEPTEMBER 27, 2022: Thanks to technology advancements, people's perceptions of online gaming have shifted dramatically. Instead of being a hobby, the success of streams and the formation of many esports organizations demonstrate that online gaming can be a vocation. Seeing a desire for improved mobile gaming capabilities at a more affordable price for Filipinos, vivo loaded the vivo Y16 with specifications that may let even inexperienced gamers play like a pro.
The future seems promising for them, with market estimates predicting exponential and ongoing development in the mobile gaming community. Are you new to mobile gaming yet want to be the champion in your league? According to vivo, here's how.
Explore the Vast Gaming Options
Gaming is an exciting and enjoyable way to establish a career while doing something you enjoy.
Developers are always eager for the challenge of breaking into the market in unexpected ways with new genres. Begin by determining which of the numerous online gaming options best matches your preferences.
With the vivo Y16's 4GB + 1GB Extended RAM, 64GB or 128GB of ROM, and 1TB storage extension compatibility, you may download and explore these game applications without worrying about running out of phone space. Whether you like relaxed gaming or action-packed and furious online games, the vivo Y16's specifications will not let you down.
Related: Bigger Storage, Pocket-Friendly vivo Y16 Is Now Officially Available in the Philippines
Set Time to Practice and Stick To It
Everyone wants the delicious sound of triumph to explode from their speakers. However, as cliché, as it may appear, A-game performance necessitates lengthy hours of practice.
The long-lasting battery power of the vivo Y16 has you covered. Its 5000mAh battery can power up to 7 hours of hard games and 18 hours of internet HD YouTube video streaming if you want to watch gameplay and trick videos.
vivo, however, did not stop at amazing RAM, ROM, and battery power. Users can expect to receive more than their money's worth because the vivo Y16 is equipped with Multi-Turbo 5.5, which optimizes main scenes for speedier gaming play. The model also has Ultra Game Mode and Esports Mode, which allow users to limit distractions like notifications, messaging applications, and calls while in-game, ensuring that both hardcore and rookie players have an uninterrupted and pleasurable gaming experience.
Review Your Idol's Winning Game Plays
You may also broaden your methods by observing your favorite players' successful performances. For novices, seeing responses and remarks is very informative. By zooming into slower frame-by-frame action, you can get valuable hints from the pro. It also keeps you up to date on what's going on in the gaming world.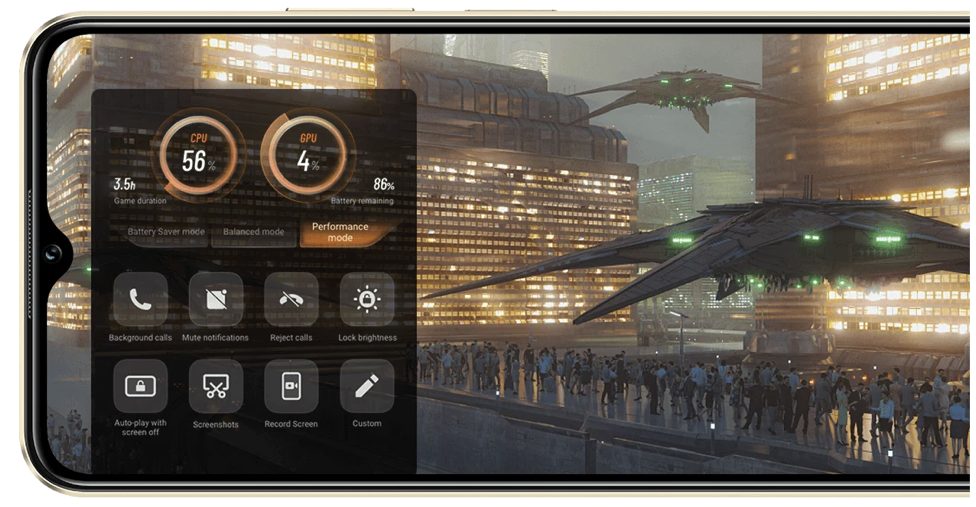 See it all in vivid and immersive detail on the 6.51-inch Halo FullViewTM display with HD+ (1600 x 720) resolution on the vivo Y16. This function is enabled by clever brightness control and Eye Protection mode, which suppresses dangerous blue lights so you can watch for an extended period of time with minimum eye strain. Gamers may use this HD monitor to stream and yell triumph.
Game in Style
Gamers understand why skins are crucial for their characters. The same is true for their gadgets. The vivo Y16 is available in two colorways: Drizzling Gold for legendary victors and Stellar Black inspired by the pattern of shooting stars, like a player making magical charges for the team.
The vivo Y16's 8.19 mm viscosity and stunning 2.5D curve were developed for a more comfortable grip during intensive gaming play. A must-have for gamers who are also fashionistas.
With the vivo Y16's amazing features, you may pursue your Esport gaming career. The vivo Y16 128GB and 64GB variants are available for purchase via vivo's official website, Lazada, Shopee, TikTok shop, and vivo's offline shops and kiosks countrywide.
Visit vivo's official Facebook, Instagram, Twitter, and YouTube feeds for the most recent news and updates.
---