SEPTEMBER 20, 2022, PHILIPPINES: Saving time means working smarter to accomplish a lot more. If you have a lot to do but only have a limited amount of time, you will need extra assistance, and we know a strong yet inexpensive device that can help.
In this article, we will reveal five strategies to get more done in less time with the #QuickAsAFlash vivo Y35, a premium smartphone with 44W FastCharge and amazing features for optimal smartphone performance that is ideal for a busy person like you.
Related: vivo Unveils Y35 in the Philippines
Don't Let Anything Stop Your Momentum
It's a relief when you finally gain momentum when performing a task. The constant flow of ideas and energy gives you confidence that you will complete the tasks at hand in no time. Say goodbye to distractions like warnings indicating your phone is running low on battery. An low phone battery life is no longer a concern with the vivo Y35 since it features a massive 5000mAh battery that is made even more powerful by its innovative 44W FastCharge technology. You can charge your phone's battery from 0 to 70% in 30 minutes, so you don't have to waste time waiting and can go back to work on your projects right away.
Multi-Task with Ease
Doing a lot of things on a mobile device necessitates a lot of storage. So, if your phone does not have adequate storage capacity to save all of your information, it will be difficult to multitask or work on the move.
The gadget includes an 8GB+8GB RAM and 256GB ROM, with the 16GB RAM being a first in vivo's Y Series lineup. This Extended RAM 3.0 and up to 1TB of storage provides seamless operation by enabling more active programs in the background.
Nothing can keep you from doing more now that the vivo Y35 allows you to download and save up to 200,000+ photographs, 500+ hours of HD video, and 6.5M+ documents to keep you moving throughout the day.
Find a Device that Helps You Perform even Heavy Tasks
Heavier duties are clearly more difficult to do. Aside from taking extra time, it also necessitates the usage of a high-performance gadget to complete them. However, such gadgets are generally more expensive, which may be a concern if you're on a tight budget.
The vivo Y35 is a powerful gadget at an inexpensive price. With a Snapdragon 680 6nm CPU, it can handle even the most complex programs effortlessly and smoothly without lagging. This chip also improves CPU performance by up to 25% and GPU performance by 10%, allowing customers to genuinely experience a next-generation smartphone.
Balance Work and Play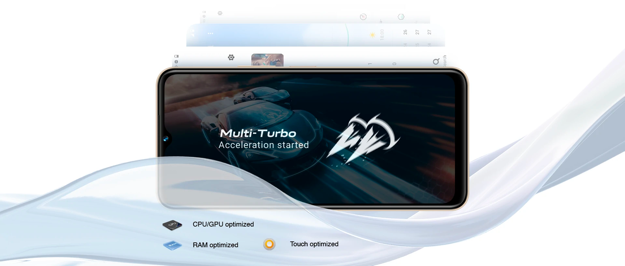 Pushing ourselves to complete more of our daily responsibilities is vital, but we should never forget to do more of what we like. The vivo Y35 is also a great phone for gamers. Online gaming frequently demands intense concentration, so having your head in the game is unavoidable. Because mobile gaming might be more distracting, vivo has provided the Y35 with Ultra Game Mode removes all distractions, allowing you to complete more stages and tournaments with winning glory in less time. This ESports specialized feature increases the intensity of everyday game action by enabling "Do Not Disturb" mode and the Brightness Lock function, allowing you to focus on the game without distraction. This function is also supported by Multi Turbo 5.5, which increases essential components such as CPU, GPU, RAM, and IO to boost phone efficiency, eliminate delays, and improve system smoothness and stability.
Make the Most of Your Night and Capture all the fun
Even when the sun begins to set, the day hasn't ended yet. Even if the night is short, you can still do a lot more and have a lot more fun. The night is bound to be full of thrilling moments that no one wants to miss, therefore the vivo Y35 comes in handy for capturing these moments in rich, vivid clarity and sharing them with the world. With its large-sensor utilization technology, its Triple AI Rear Camera includes a 50MP Main Camera that allows you to capture images and films like an expert.
However, if you want to give your night a cinematic feel, its 2MP Bokeh Camera allows you to shoot crisper photographs to get that KDrama feel.
Looking for something more enjoyable? Its 2MP Macro Camera can focus as near as 4cm, allowing you to zoom in on all the small worlds that our naked eyes cannot see. Of course, who doesn't like selfies? The vivo Y35 boasts a 16MP HD front camera so you can always present your most colourful self. In addition to these smart camera lenses, the vivo Y35 has Super Night Camera and Super Night Selfie functions, so your images and videos may be colorful even in the darkest of nights.
The vivo Y35 is currently available for Php14,999 on Lazada, Shopee, TikTok, and the vivo website, as well as all physical shops and kiosks nationwide.
If you want to pay in installments, the vivo Y35 is also available through Home Credit and Credit Card for 6 to 18 months and 6 to 12 months, respectively. If you are genuinely #QuickAsAflash to acquire the vivo Y35, vivo will be delivering free Sim Card and TWS earbuds to consumers who purchase online till supplies last.
Visit vivo's official website or follow them on their official social network accounts on Facebook, Instagram, Twitter, and YouTube to learn more about the vivo Y35.
---