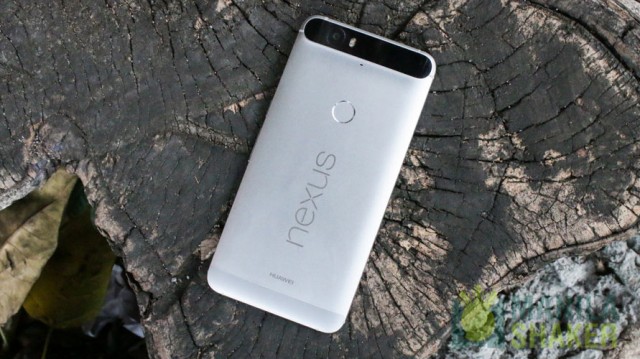 Partnered with Google, the Nexus 6P is the first attempt of Huawei in the pure Android experience. The Nexus 6P is simply the successor to the Nexus 6 that was produced by Motorola and it's the premium version between it the LG Nexus 5X. The Nexus 6P runs on the latest Android 6.0 Marshmallow OS and will also get future Android updates first. The Nexus 6P is currently priced at Php29,990 in the Philippines (US$549 SRP in the USA) for the 32GB variant, which is quite interesting given the fact that most flagship smartphones these days retail more than Php30k pesos.
Surprisingly, for this price you will also get one of the most premium designs made by Huawei coupled with beastly Snapdragon 810 octa chip, 4GB of RAM, 5.7-inch QHD AMOLED screen, and a 12MP camera. So far, so good, but how does the Nexus 6P perform in real life? Let's find out the answer in our in-depth Nexus 6P review.
Unboxing: What's in the retail box of Nexus 6P?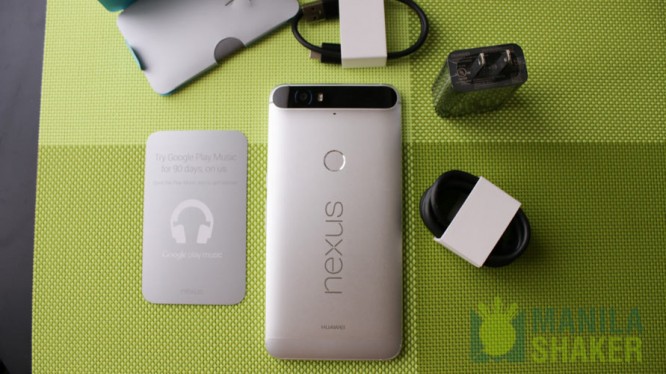 The Nexus 6P features USB type-C port, unlike on Nexus 5X's retail box, we get a short USB cable for type-A to type-C, long cable for type-C to type-C, 3.0A Quick Charge 2.0 certified power adapter, papers, Google Music trial card for 90 days and manuals.
Nexus 6P in aluminum with built-in 3450mAh battery
USB type-A to type-C short cable
USB type-A to type-C long cable
3.0A Quick Charge 2.0 adapter
Google Music trial card for 90 days
Papers
Design and build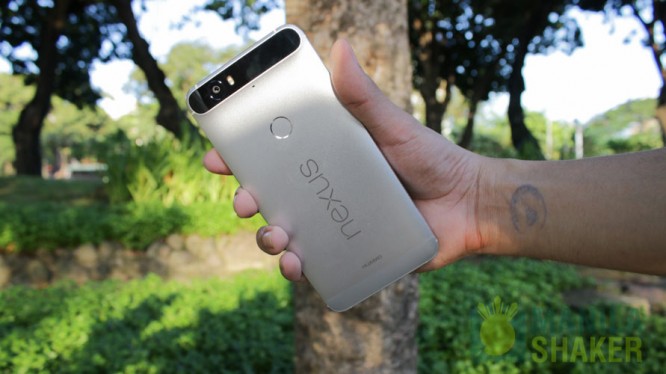 The Nexus 6P is perhaps one of the sexiest Nexus ever made. Surely, Huawei went all-premium on the 6P with the aluminum body (our color variant is aluminum) accented by chamfered edges and protruding glass visor for the camera and sensors on top of the back. The hump on the visor does make a little off in symmetry, but instead it adds some masculinity.
Other interesting features on the back includes the dimple with chamfered edge for the fingerprint sensor, the Nexus print and the small Huawei logo on top of the plastic cap, which I guess it is for better network signal propagation. The Nexus 6P has also one of the most accurate and fastest sensors we've used. It is on par with the Google Nexus 5X, which really worked even with my sweaty fingers.
Meanwhile, the front looks clean with stereo speakers perfectly positioned, one for each of the thick top and bottom bezels. It is worth mentioning that the Nexus 6P utilizes Gorilla Glass 4 and a screen lip surrounding the entire glass to protect it from cracks.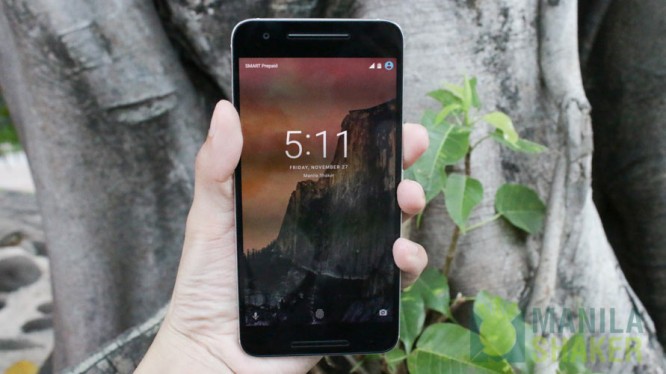 At 7.3mm thick, the side of 6P remains thin and a bit clean with few hardware keys and ports to be seen: a 3.5mm audio jack port on top, nanoSIM tray on the left, USB type-c at the bottom, and the power/lock and volume rocker on the right side. Good thing is that Huawei provided two USB cables: USB type-A to type-c (short) and type-c to type-c (1 meter). The bad thing, however, is the very sensitive textured power button, which could easily trigger lock or power off command without the intention of pressing it.
At first, handling the Nexus 6P is a bit struggle due to its large profile and uneven weight distribution at 178g, a typical scale reading for its size. However, the overall build is really solid, thanks to the well-crafted metal body. The corners helped too in providing a good grip, thanks to the curved design, which don't dig in the hand.
During the entire Nexus era, I was aware that manufacturers mostly focused on providing functionality and affordability over style, but not anymore in the case of Nexus 6P. It's a total package of great design and solid construction.
Display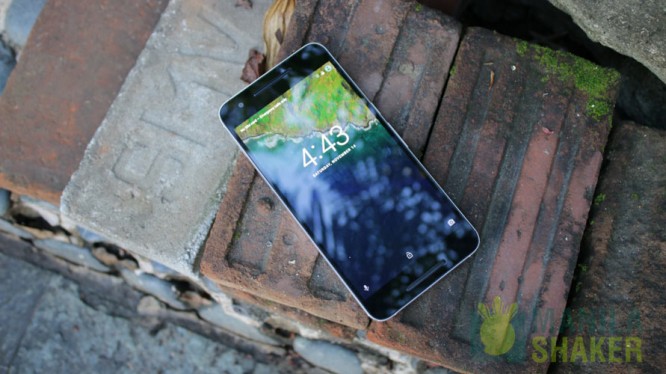 Relatively, the 5.7-inch AMOLED display with QHD resolution (518ppi) of Nexus 6P produced fantastic viewing experience. Pictures look sharp and full punchy colors. The brightness is very good as well as the contrast level–one which you would expect in top-class AMOLED screens.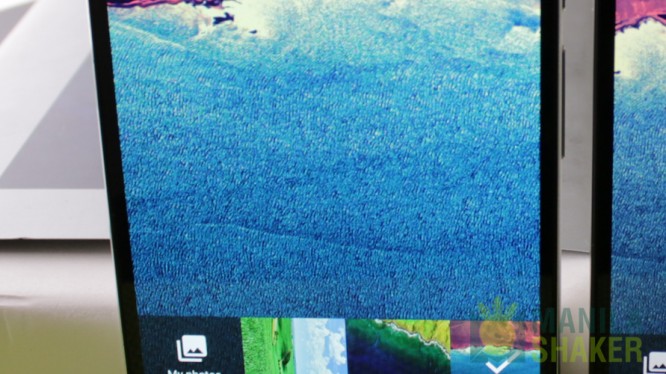 In comparison with the Super AMOLED on Samsung Galaxy Note5, the overall brightness of Nexus 6P is just a few notches behind, but overall quality is pretty close to what the former phablet could offer.
See also: LG V10 Review – Function over Style
Camera
Sporting a 12.3MP main camera paired with laser focus assistance and a dual tone LED flash, images we've taken from Nexus 6P have pleasing colors and good resolved details. The main snapper of the device captures photos instantly while maintaining accurate colors and acceptable exposure level in both daylight and low light scenarios.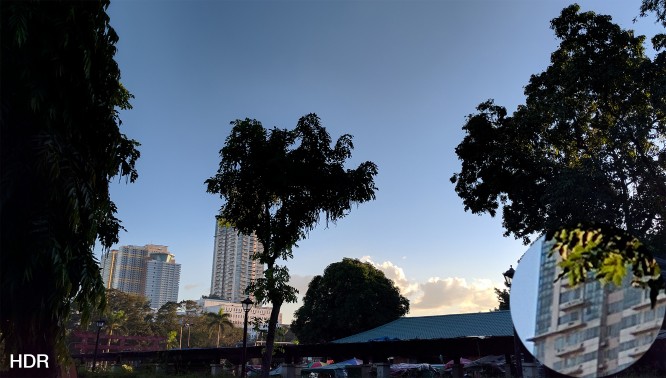 The biggest disadvantage in the camera department is the noise handling, which is very aggressive on photos were taken in dim light and indoor situations. There are also times that noise is quite visible in photos taken during daylight.
The 8MP front-facing camera takes bright and sharp selfie photos. There are no soft post-processing such as beauty effect, but that's one you could easily do through third party apps.
On video shooting, the lack of OIS will surely need your balancing skills. It's quite baffling for Huawei to drop OIS while including a laser focus. On the bright side, video quality is very good with natural colors and sharp detail preservation.
Performance and benchmark
The latest Snapdragon 810 octa-core chip and 4GB RAM keep the Nexus 6P's performance smooth and fluid. I tried running hefty apps while multitasking at the same without any single stutter or lag experienced on the Nexus 6P. Perhaps it is also the implementation of Google's Android 6.0 Marshmallow that made the 6P's experience very buttery smooth.
See more: Snapdragon 820 quad-core chip officially unveiled
I came from iPhone 6S then jumped to Sony Xperia Z5 and Xperia Z5 Premium, and now, I am currently using the Nexus 6P and Nexus 5X. What I noticed was both Nexuses handle tasks faster even on the already-fast iPhone 6S.
Benchmark ratings
AnTuTu – 45460
Basemark OS II – 1237
GeekBench 3 single core – 766
GeekBench 3 multi-core – 3170
Software and experience
Running on Android 6.0 Marshmallow, the Nexus 6P is no doubt to have the latest and greatest offering from Google. The latest stock Android version remains clean and flat. You won't see bloatware, which is a relief given that most Android smartphones on custom Android bring annoying and unwanted applications by default.
Google Now on Tap is a big addition in Marshmallow. You will get contextual suggestions to any media content (contacts, music, current browser tab, video, etc.) once you press and hold the on-screen home button for a second.
The most right screen provides Google cards of the latest news, suggestions and even directions from your current place going home, which we already seen too from Android 5.0 KitKat.
The Home launcher is now layered vertically for scrolling. There are four most recent/used apps on top of the grid menu.
Similar to Nexus 5X, the quick setting, accessible through drop-down, locks the System UI tuner by default. You will need to long press the gear icon to open the tuner and tweaks some settings such as the battery percentage indicator.
There are a lot of new features on Android 6.0 Marshmallow, mostly under the hood to keep overall experience fast, clean and easy to use.
Battery and charging speed
Packing a 3450mAh battery means you get 1.5 days of battery life from the Nexus 6P with moderate use, which is average for a high-end phablet backed by Google's Doze feature. The video battery test produced 9 hours rating.
With the USB type-c, you can fill the battery of Nexus 6P for 1 hour and 45 minutes from 0% to 100%. The wall charger that comes in the retail box of 6P is Quick Charge 2.0 certified with a 3 amperage rating.
Battery rating
9 hours video battery test
1.5 days battery life with moderate use
1h 45min. charging speed from empty to 100% using 3.0A Quick Charge 2.0 adapter
Speaker
It's a tradition for most Nexus flagships to feature front-facing stereo speakers, and that's true on Nexus 6P. You get a very loud and powerful stereo speakers on the front. It is so far the loudest speaker we've encountered.
In terms of audio quality, the vocals are slightly stronger than bass and a bit of distortion appears when turning on the max volume. However, output remains clear and crisp, especially the treble.
Value and Verdict
The Nexus 6P will officially be released (a Nexus that is readily available after global launch) starting on December 11 with an official SRP of Php29,990 for the 32GB variant from Huawei Philippines. With this price, I think you get more value over its price simply because of the premium build and true Android experience on the Nexus 6P.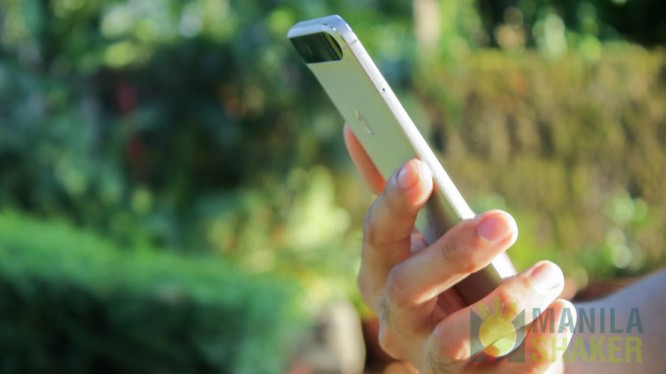 At first, I was really skeptical before getting my hands on the Nexus 6P because of two main reasons. First, I have little knowledge about Huawei as a Chinese brand. Second is that I haven't used any Huawei devices before. But I tell you the Nexus 6P felt one of the best smartphone I used this year.
Perhaps, if you'd ask me if what phone has the closest worth to the Nexus 6P it is none other than the Nexus 5X. It's another pure Android smartphone, but of course, you won't have the aluminum body, large AMOLED display, stereo speakers and Snapdragon 810 chip that the Nexus 6P offer. Check out our Nexus 5X review here.
Pros on Nexus 6P
Premium design
Fast and accurate fingerprint sensor, works with sweaty fingers
Speedy and smart Android 6.0 Marshmallow experience
Incredible stereo speakers
Bright, sharp and punchy display
Fast charging
USB type-c (with an extra cable)
A Nexus that is readily available in the Philippines after launch
Very attractive pricing
Cons on Nexus 6P
Overly sensitive power/lock button
Battery life is average
Weight is unevenly distributed
No optical image stabilization (OIS)
| | |
| --- | --- |
| SPECS, PH Price | Huawei Nexus 6P |
| Display | 5.7-inch 1440p QHD AMOLED, 518ppi |
| Size | 7.3mm thick, 178g weight |
| Design | Aluminum, glass visor, Gorilla Glass 4 |
| Colors | Black, Gold, Silver |
| Chipset | Snapdragon 810 octa-core chipset |
| Processor | Quad-core 1.5 GHz Cortex-A53 & Quad-core 2 GHz Cortex-A57 |
| Graphics | Adreno 430 GPU |
| Memory | 3GB RAM, 32/64GB internal, No microSD card |
| Main Camera | 12.3MP camera, dual tone LED flash, laser focus |
| Multimedia | 4K UHD video, 720p @120fps SloMo, HDR |
| Front camera | 8MP selfie camera |
| Connectivity | Dual 4G LTE cat 6, WiFi ac, Bt 4.1, FM Radio, GPS, NFC |
| OS | Android 6.0 Marshmallow |
| Software | Stock/vanilla android |
| Battery | 3450mah, Quick Charge 2.0 |
| Ports | USB type-c |
| Official Price | Php29,999 for 32GB variant |
| Availability date | 11-Dec-15 |
| Where to buy | Huawei Philippines |
Huawei Nexus 6P vs Sony Xperia Z5 Premium
Please SUBSCRIBE in our YouTube channel for the latest video comparisons.
Related posts, news, reviews and comparisons: