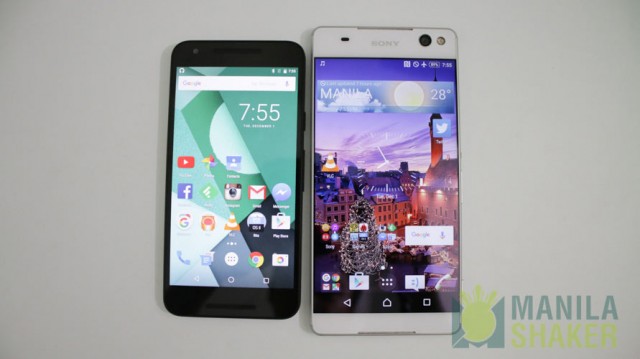 Sony's mid-ranger and LG and Google's budget-wise device will go head-to-head in this review comparison, as the Sony Xperia C5 Ultra (priced at Php 19,190) takes on LG and Google's budget Nexus phone, the Nexus 5X (priced at Php 18K). Which among these price-wise devices will favour your test?
Design and built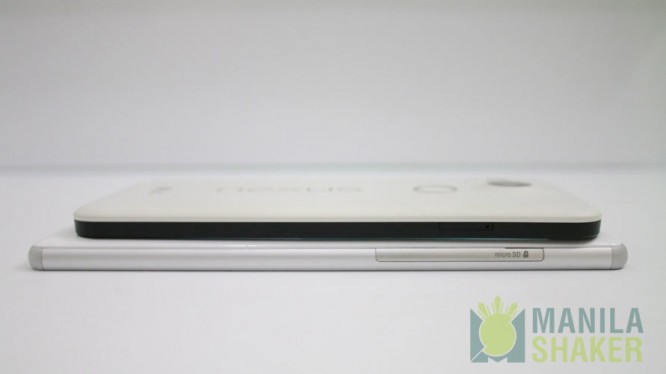 Both devices carry a polycarbonated back, with the Xperia C5 Ultra possessing a oleophobic coating on its back cover, enabling a glossy and easy-to-grip feel on the device. As for the 5X, its no stranger to being handled easily, the plastic back of the 5X, might not be stylish, however, it actually helps in making the phone, easier to handle by a mile.The C5 Ultra's IP 68 certification is a very convenient addition to the C5 Ultra, which focuses on utility and better protection. The C5 Ultra lacks the fingerprint scanner feature, in which the 5X is excellently equipped with. The C5 Ultra also has an excellent collection of physical buttons, while the 5X has a few physical buttons in hand (just the volume and power button, as well as the fingerprint scanner.
Which among these devices would be something you'd want? Hit us up on the comments section and share your thoughts.
See also: Sony Xperia C5 Ultra dual VS Samsung Galaxy A8 Comparison, Camera Review, Benchmarks, Speed Tests
Display and viewing experience
The C5 Ultra sports 6-inch 1080p FHD display, while the Nexus 5X carries a smaller 5.2-inch 1080p FHD display. Brightness level and clearness are practically at par with  each other, however in terms of viewing angles, the C5 Ultra was a bit weary. The Nexus 5X and C5 Ultra delivered a pretty distinct display quality, however, we felt that the viewing angle prowess was advantageous to the Nexus 5X overall, while the Xperia C5 Ultra's 6-inch screen showed a better viewing experience, for its bigger and dynamic-wise display.
If you prefer a  more dynamic and bigger screen, then the C5 Ultra is the obvious choice, however, if  display adaptability is what your yearning for, then the best choice is the Nexus 5X.
See also: Samsung Galaxy A8 VS LG Nexus 5X Comparison, Camera Review, Benchmarks
Camera basic/quality/still image
The LG Nexus 5X features a prominent 12MP rear shooter and 5MP selfies shooter, while the Xperia C5 Ultra holds a very balanced pair of sensor, with its 13MP rear and selfie shooter. Quality-wise, both shooters were a bit at par with one another, with colour accuracy sticking over to the Nexus 5X. Colour on the C5 Ultra felt a bit washed out and dimmed, while the 5X showcased a more livelier colour and vibrance level was really balanced. However, the C5 Ultra was bright on daylight shooting.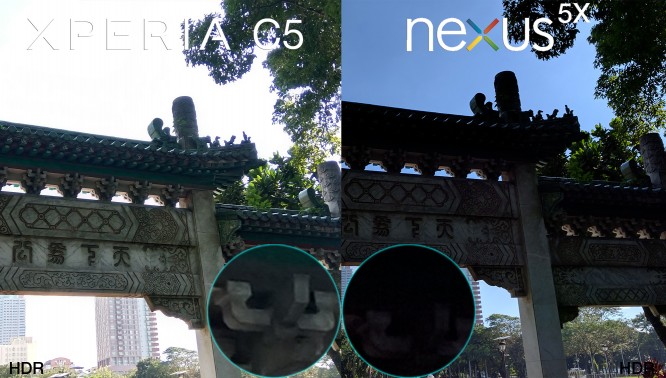 For night shooting, Xperia C5 delivered a fairly inaccurate colour on its outputs, but was seen to be a bit clear, in comparison to the Nexus 5X's outputs. The 5X was colour accurate though, but was beaten in the noise reduction department, which was probably one of the strong points of the 5X. For selfies, the 13MP selfie shooter of the C5 Ultra was better in accuracy and colour blending than the 5MP selfie shooter of the 5X.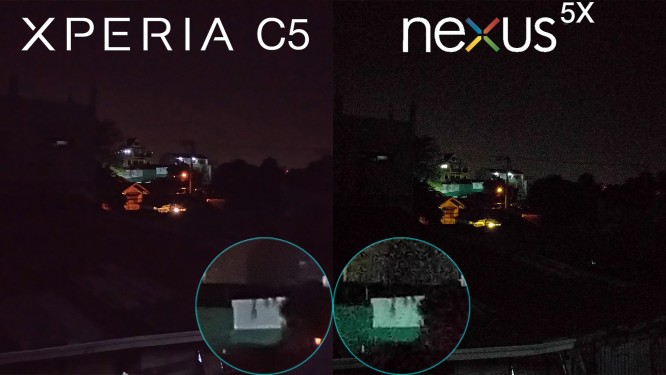 The C5 Ultra shoots 1080p videos, while the 5X shoots 4K UHD videos. Video outputs we're seen to be far with one another, with the 5X dishing out better outputs overall.
What do you think of the 5X and C5 Ultra's shooters? Share with us your thoughts.
See also: Sony Xperia C5 Ultra Review – A Big Improvement
Performance and benchmarks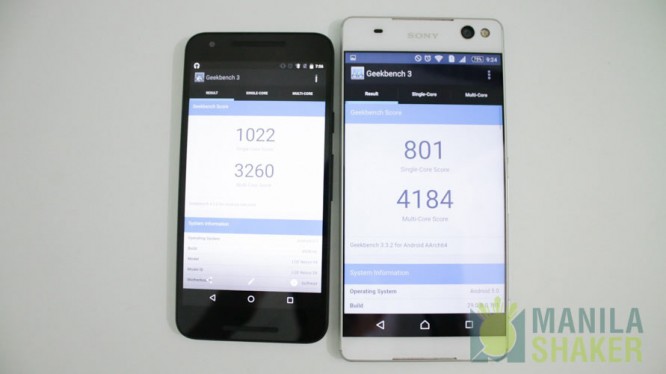 The LG Nexus 5X carries a pretty modern Snapdragon 808 hexa-core chip, while the Xperia C5 Ultra carries the not-so-old MediaTek 6752 chip. For RAM, both devices carry 2GB of RAM, with the 5X giving out options of 16 or 32GB of internal storage, while the C5 Ultra stays with its fixed 16GB of RAM. However, the 5X doesn't support microSD cards, while the C5 Ultra not only supports it, but also provides a 128GB of microSD card limit. For benchmark scores, the results were a bit marginal and in a way, both devices showed off their fair share of system capability.
AnTuTu
C5 Ultra: 46439
Nexus 5X: 42426
Basemark OS II
C5 Ultra: 957
Nexus 5X: 1173
Geekbench 3
C5 Ultra: 801 single, 4148 multicore
Nexus 5X: 1022 single core, 3260 multi core
See also: Nexus 5X Review – One of the Androids I Wanna Buy
Battery life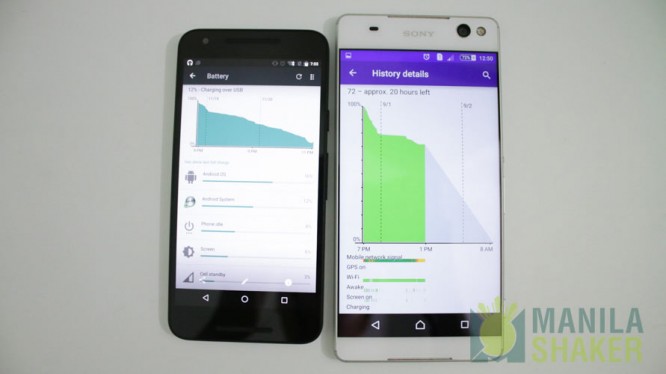 Like the M5, Sony's Xperia C5 Ultra carries the Z3+ unlikely battery capability of 2-days continuous use feature, with the latter carrying 2930mAh battery, while the Nexus 5X has 2700mAh battery. On the concluded standard battery test, the C5 Ultra stayed true to its word, with the latter lasting out for a day or so (exposure to 2-hour loop HD video loop), while the Nexus 5X was able to last only at 9 hours and 20 minutes. However, the 90-minute charging speed of the Nexus 5X is truly phenomenal.
C5 Ultra: 2-day moderate  use, 1 day heavy use (HD movie, videos, multi tasking)
Nexus 5X: 9 hours and 20 minutes
See also: Sony Xperia Z5 Compact Review – Small and Powerful
Speaker and audio
The Xperia C5 Ultra and Nexus 5X were a bit par with each other, when it comes to audio, however, volume power was seen better on the Nexus 5X, but sound clarity was overall heard on the C5 Ultra. Power and clarity were the major factors that differentiated both devices.
If your interested with volume power and most likely be using  headphones ,then the Nexus 5X is a pretty good choice for audio purposes, however, if clarity on speaker is what you're after, then the C5 Ultra is an overall better choice.
See also: LG Nexus 5X VS Apple iPhone 6S Comparison, Camera Review, Benchmarks
Price and verdict
The LG Nexus 5X, which is priced at Php 18K and C5 Ultra (currently price at Php 19,190)  doesn't exactly have a huge difference in pricing. However, quality-wise, they sure have strengths and advantages. It'll depend on your own preference as to what device will you choose.
Would you rather have the huge mid-ranger Sony Xperia C5 Ultra or the budget LG Nexus 5X? Also, check out this video comparison, starring the Sony Xperia C5 Ultra.

| | | |
| --- | --- | --- |
| Specs/PH price | LG Nexus 5X specs, PH price, features | Sony Xperia C5 Ultra dual specs, PH price, features |
| Display | 5.2-inch 1080p FHD display, 424ppi | 6-inch 1080p IPS LCD display BraviaEngine 2, 367ppi |
| Size | 7.9mm thickness, 136g weight | 8.2mm thickness, 187g weight |
| Color | Carbon, Quartz, Ice | Black, white, mint |
| Protection | Cornings Gorilla Glass 3, oleophobic coating | Scratch-resistant glass |
| Chip | Qualcomm Snapdragon 808 hexa-core | MediaTek 6752 octacore chipset |
| Graphics | Adreno 418 GPU | Mali-T760MP2 GPU |
| Processor | Dual-core 1.82GHz Cortex A57, Quad-core 1.44GHz Cortex 153 | 8 x 1.7GHz Cortex-A53 processor |
| Memory | 2GB Of RAM, 16/32GB internal storage, no microSD card slot | 2GB of RAM, 16GB of internal storage, microSD card up to 128GB |
| Main Shooter | 12MP rear shooter, Laser Autofocus, dual-LED flash (dual tone) | 13MP rear shooter, AF, LED flash |
| Multimedia | 4K UHD video, HDR | 1080p FHD video, HDR |
| Front facing shooter | 5MP front camera | 13MP selfie shooter, 1080p video, LED flash |
| Connectivity | 4G LTE cat 6,WiFi ac, Bt 4.2, GPS, GLONASS, NFC USB Type-C | WiFi a, BT 4.1, GPS, NFC, dual-SIM 4G LTE, FM Radio |
| OS | Android 6.0 Marshmallow | Android 5.0 to be updated to Android 6.0 Marshmallow |
| Software features | Stock Android | Xperia UI (close to stock Android experience) |
| Battery Capacity | 2700mah (non-removable) | 2950mAh battery |
| Ports and charging | USB type-c | microUSB v2.0, MHL |
| Released date | November | September |
| Official price | $379 US on 16GB (no official price in the Philippines, est. P18k pesos) | Php 19,190 from Sony PH| bought device from onestoptech |
| Where to buy | Hotgadgets, LG Philippine stores | Online stores like lazada, onestoptech and official retailers, Sony PH store |
Related posts and reviews