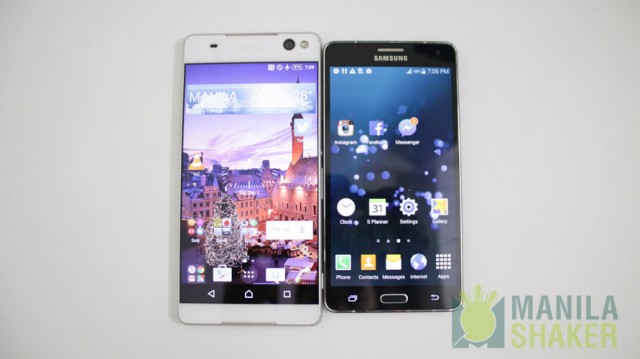 Another Samsung and Sony mid-ranger battle takes place in this review comparison, as the Samsung A-series veteran, the Galaxy A7 (Priced at Php 24,990) takes on Sony's huge mid-ranger, the Xperia C5 Ultra (Priced at Php 19,190). Which among these mid-rangers would you buy?
Design and build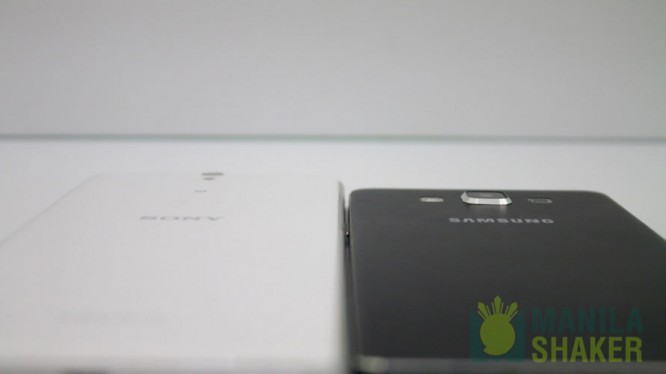 The Galaxy A7 is built with a metallic construction, which is very reminiscent of the A-series, combined with slim bezels, while the Xperia C5 Ultra has a very appealing oleophobic back cover, with IP 68 certified material that ensures water-resistant and dust-proof feature. The Xperia C5 Ultra also has a close-to-none bezel measurement, which has been very appealing for us, here in Manila Shaker. The Galaxy A7's simple metallic design stayed true to the A-series' metallic construction and had payed quite a tribute to that particular design. Both devices don't carry a fingerprint feature, however the Xperia C5 Ultra has full physical button feature, with the Galaxy A7, not being far behind.
Which do you prefer? The glossy Xperia C5 Ultra or the metallic Galaxy A8? Share us your thoughts.
See also: Samsung Galaxy A7 Unboxing, Hands-on, First Impressions
Display and viewing experience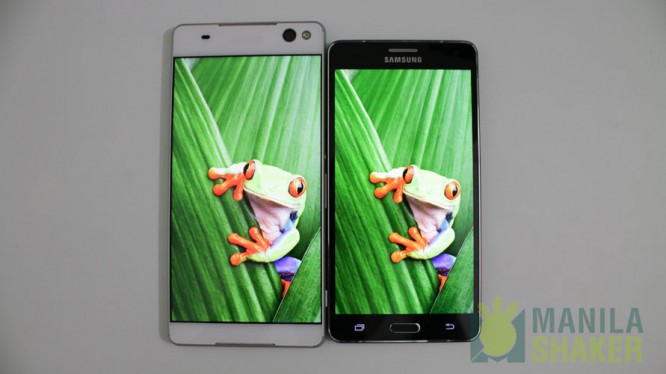 Both Sony and Samsung are excellent when it comes to display and these mid-rangers are no exception, with the Galaxy A7's 5.5-inch 1080p Super AMOLED display and Xperia C5 Ultra's 6-inch 1080p LCD FHD display. By first glance, it is obvious that the OLED technology of Samsung helped in giving the A7 an edge in brightness and colour saturation. However, it was a bit too much aggressive in colouring, which gave the display a glaring and highly brightened look, while the Xperia C5 Ultra was a bit fair in brightness and aggressiveness in colours. Screen – size didn't play that much of a role in this one, since a 5.5-incher isn't exactly far to a 6-incher, so both devices we're able to bring out their best in display quality.
Would you prefer the brighter and livelier display of the Galaxy A7? or the balanced out C5 Ultra? Share us your thoughts in the comments section.
See also: Sony Xperia C5 Ultra Review – A Big Improvement
Camera basic/quality/still image
In the shooting department, both devices aren't exactly far off with the Galaxy A7's 13MP rear shooter and 5MP selfie shooter are prepped up and Xperia C5 Ultra's 13MP rear and selfie shooter, which is considered a breakthrough for Sony. For daylight outputs, the Xperia C5 Ultra seemed to be the better shooter, with its brighter image. However, despite the C5 Ultra being relatively brighter in outputs, clearness and quality we're seen to be a bit the same, its just that the A7's outputs was just a bit dimmed out.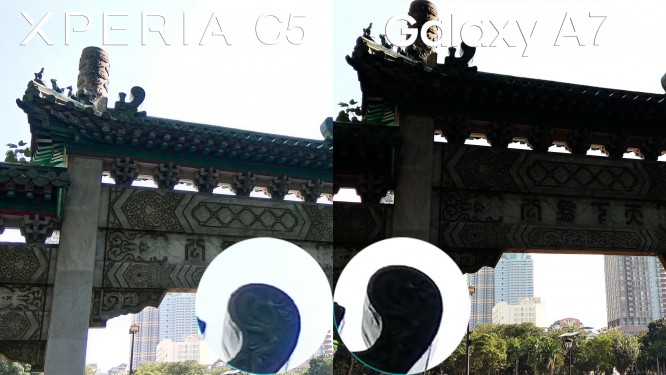 For night shooting, the C5 Ultra showcased a overall better output, with a more clearer output and master of noise reduction in low light areas, the Galaxy A7's outputs where indistinguishable and were a bit washed out, but overall, it did capture the subject. For selfie shooting, incredibly, the A7's 5MP selfie shooter performed well against the C5 Ultra's 13MP selfie shooter, dishing out an almost identical output, with a few exception in white balances.
Unfortunately, none of these two devices shoot 4K videos, but rather a very standard 1080p video shooter.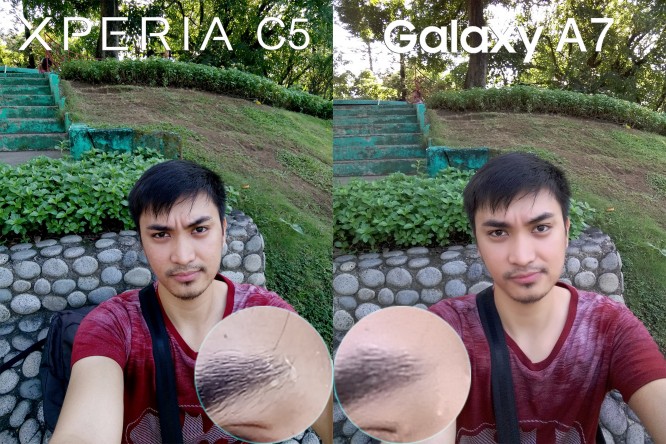 Which among these two mid-ranger smartphone shooter would you pick? Share us your pick on the comments section below.
See also: Sony Xperia M5 VS Samsung Galaxy A7 Comparison, Camera Review, Benchmarks
Performance and benchmark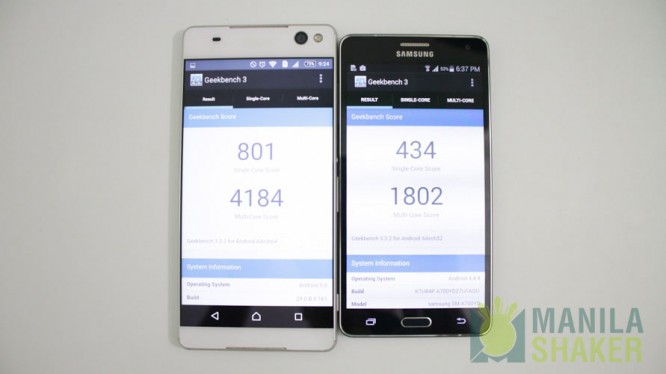 Technically, the year old Galaxy A7 should have the disadvantage in system, since the latter was launched earlier than the Xperia C5 Ultra, the A7 packs a Snapdragon 615 chip, while the Xperia C5 Ultra carries around a MediaTek 6752 in its helm. RAM and ROM-wise both devices carry the same 2GB of RAM and 16GB of internal storage. For benchmark scores, its no surprise that the C5 Ultra showcased better ratings than the A7.
AnTuTu
Galaxy A7: 26623
Xperia C5 Ultra: 46439
Basemark OS II
Galaxy A7: 594
Xperia C5 Ultra: 957
Geekbench 3
Galaxy A7: single core:434, multi-core: 1802
Xperia C5 Ultra: single core: 801, multi-core:4184
For microSD card expandability, the Galaxy A7 carries a 64GB limit, while the C5 Ultra carries a standard and relatively larger 128GB microSD limit.
See also: Sony Xperia C5 Ultra VS LG Nexus 5X Comparison, Camera Review, Benchmarks
Battery life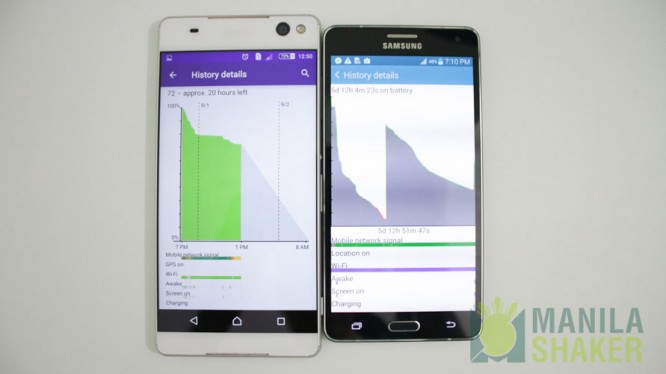 The Xperia C5 Ultra is a huge tribute to the Z3+, when it comes to battery, because of its 2-day battery life, with 2950mAh battery capacity. As for the Galaxy A7, it carries a 2600mAh battery capacity. After a standard battery test, the Xperia C5 Ultra's excellent 2- day battery took its job seriously, with the latter lasting a day, upon continuous video loop of an HD movie, while the A7 was able to hang in there for 9 hours.
Galaxy A7: 9 hours
C5 Ultra: 1 day battery life (heavy use)
See also: Samsung Galaxy A7 VS A8 Comparison, Camera Review, Benchmarks
Speaker and Audio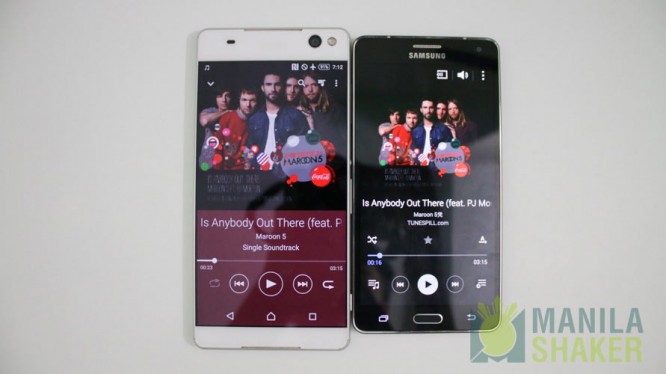 Volume-wise, the Xperia C5 Ultra and Galaxy A7 was a close as it can be and with little to no difference in audio quality and clearness. Honestly speaking, there wasn't any major difference between the two in live audio and we were shocking surprised with the audio results.
For us, both devices are a good at what they do in audio and should satisfy anyone who's looking to share their tunes with the world.
See also: Samsung Galaxy A7 VS A7 (2016) Specs Comparison; What's new and changed?
Price and verdict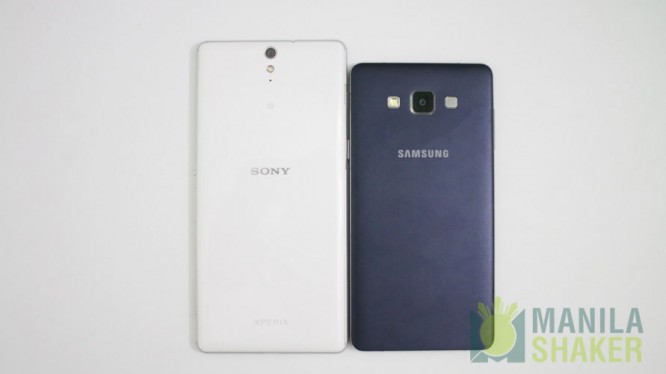 For pricing, the Xperia C5 Ultra is relatively cheaper, with its Php 19,190 price range and despite being almost a year-old device, the Galaxy A7, priced at Php 24,990 still has a pretty hefty price, even through online stores. So, honestly, the C5 Ultra is a better buy.
What do you think of our comparison? Share us your thoughts on the comments section below. We'd love to hear your thoughts regarding our comparison. And also, check out our video comparison, starring none other than the Xperia C5 Ultra.

Specs/PH price

Samsung Galaxy A7 specs, PH price, features

Sony Xperia C5 Ultra dual specs, PH price, features

Display
5.5-inch 1080p Super AMOLED display, 401ppi
6-inch 1080p IPS LCD display BraviaEngine 2, 367ppi
Size
6.3mm thickness, 141g weight
8.2mm thickness, 187g weight
Color
Pearl White, Midnight Black, Champagne Gold
Black, white, mint
Protection
Cornings Gorilla Glass 4
Scratch-resistant glass
Chip
Qualcomm MSM8939 Snapdragon 615 – A700FD
Exynos 5 Octa 5430 – A700F
MediaTek 6752 octacore chipset
Graphics
Adreno 405 GPU – A700FD
Mali-T628 MP6 GPU – A700F
Mali-T760MP2 GPU
Processor
Quad-core 1.5 GHz Cortex-A53 & quad-core 1.0 GHz Cortex-A53 processor – A700FD
Quad-core 1.8 Cortex-A15 GHz & quad-core 1.3 Cortex-A7 GHz processor- A700F
8 x 1.7GHz Cortex-A53 processor
Memory
2GB of RAM, 16GB of internal storage, microSD card up to 64GB
2GB of RAM, 16GB of internal storage, microSD card up to 128GB
Main Shooter
13MP rear shooter, autofocus, LED flash
13MP rear shooter, AF, LED flash
Multimedia
1080p video recorder
1080p FHD video, HDR
Front facing shooter
5MP selfie shooter, 1080p video recorder
13MP selfie shooter, 1080p video, LED flash
Connectivity
LTE, WiFi n, BT 4.0, GPS GLONASS, FM Radio with RDS; recording
WiFi a, BT 4.1, GPS, NFC, dual-SIM 4G LTE, FM Radio
OS
Android 4.4.4 KitKat, upgradable to v5.0.2 (Lollipop)
Android 5.0 to be updated to Android 6.0 Marshmallow
Software features
Ok google, Android TV
Xperia UI (close to stock Android experience)
Battery Capacity
Non-removable 2600mAh battery
2950mAh battery
Ports and charging
microUSB v2.0
microUSB v2.0, MHL
Released date
January, 2015
September
Official price
Php 24,990 (16GB) in lazada Ph
Php 19,190 from Sony PH| bought device from onestoptech
Where to buy
Any Samsung store and online stores nationwide
Online stores like lazada, onestoptech and official retailers, Sony PH store
Related posts and reviews