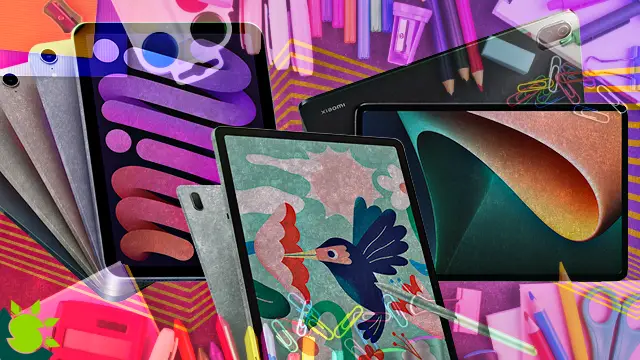 When looking for the best tablets for school, you need to think about a lot of things, like whether you need power or flexibility, or if cost and a good mix of apps are more important.
All of these things and more are included in this list of the best tablets for your studying journey. When making this list, I took into account the size and resolution of the touchscreen, whether or not it works with a stylus, how well it's made, and whether or not it has an attachable keyboard.
---
Surface Pro 9 – Best Substitute for Laptop/PC
Similar to the iPad Pro, the Microsoft Surface Pro 9 is a capable tablet that, with the click of a cover that combines a keyboard and screen, can be transformed into an adequate desktop computer. 
The 5G model is a good choice you are looking for a quality web-browsing, cloud-based tablet for online classes and writing; however, there are cheaper tablets on this list that can do this as well.
Price starts at 
₱
75,000
Specifications
12th Gen Intel Core i5-1235U processor | 12th Gen Intel Core i7-1255U processor

Weight: 0.9g

Dimensions: 28.7 x 20.8 x 0.93 cm

RAM: 8GB | 16gb | 32GB LPDDR5

Storage: 256GB / 512GB

Screen size: 13-inch PixelSense Flow Display
Pros
Intel Core i5 and i7

Runs entire software

Big Screen
Cons
---
Samsung Galaxy Tab S8+ – Best Android
The base model of this option comes with a S pen and 128GB of storage. Which is a great deal because you don't have to buy extra products or memory. It has a 12.4-inch AMOLED screen that makes the screen big and bright. The battery life lets you work or watch for hours, and when it does run out, it charges fast too.
Price starts at 

₱45,000
Specifications
Qualcomm SM8450 Snapdragon 8 Gen 1

Weight: 567g

Dimensions: 285 x 185 x 5.7 mm

RAM: 8GB | 12GB | 16GB

Storage: 128GB | 256GB | 512GB 16GB 

Screen size: 12.4" Super AMOLED Display
Pros
S-Pen available

Large Storage
Cons
---
Amazon Fire HD10 – Best Affordable
I am aware that tablets offer a great deal of portability when it comes to learning, but we are all aware that they can be very expensive, right? You are in luck since there are models like the Amazon Fire 10 that can assist you with your academics while still being affordable for students like you because they are designed specifically for your needs. Because of its diminutive size, it is not only convenient for transporting, but also suitable for use by younger children, since it gives a hold that is both more comfortable and more stable. 
Price starts at ₱9,500
Specifications
Mediatek MT8183 Helio P60T

Weight: 465g

Dimensions: 247 x 166 x 9.2 mm

RAM: 3GB

Storage: 32GB | 64GB

Screen size: 10.1 inches IPS LCD
Pros
Affordable

Great Camera Position
Cons
Poor screen quality

Amazon ecosystem-locked

Storage
---
HP Chromebook x2 11 – Best 2in1 Tablet
The HP Chromebook x2 11 is a clever little Chromebook that offers the best of both worlds; it is a tablet that can be used for note-taking, web-browsing, video streaming, and digital art; yet, when its sleek keyboard is snapped into place, it can convert into a respectable laptop that can be used for writing and productive work. This Chromebook delivers the best of both worlds.
Price starts at ₱31,000
Specifications
Qualcomm® Snapdragon™ 

Weight: 583g

Dimensions: 25.25 x 17.66 x 0.75 cm

RAM: 8 GB LPDDR4x-2133 SDRAM

Storage: 128 GB eMMC

Screen: 11.00 inch IPS LCD
Pros
Solid performance

Excellent battery life

Robust design
Cons
Trackpad can be very sensitive

Limited ports
---
Apple

Air (5th Gen, 2022) – Best Tablet Overall
Taking notes is an important study job for most students. The iPad Air from Apple is great for this because it is small and light but still has all the features of a regular iPad. With the iPad Air, you can take notes and arrange them in any way you want, so you'll have a method that works well for you and is easy to use. 
Price starts at ₱35,000
Specifications
Apple M1 Octa-core

Weight: 461g

Dimensions: 247.6 x 178.5 x 6.1 mm

RAM: 8 GB

Storage: 64GB | 256GB

Screen: 10.9 inches Liquid Retina IPS LCD
Pros
Highly Durable

Good Performance

Great Software
Cons
Apple Pencil and Keyboard are separate from purchase
---
It is important to keep in mind that the tablet that is best suited for you will differ depending on the individual needs and preferences that you have. Selecting a tablet that you take pleasure in using could have a beneficial impact on the amount of work you get done with it.
Do you want to use a laptop instead of your tablet in the classroom? You might find our post to be of some use to you.
Back to School Laptops you can Choose from
I hope that you have the most successful journey possible as you pursue your education!