Purchasing a gaming laptop is not inexpensive, and it is not enough to have a bunch of powerful hardware. However, they also have to be reliable, durable and have a screen that can withstand years of unforgiving travel without damage.
There is no denying, however, that the convenience of gaming laptops continues to make them one of the most popular PC products. This is because you can play all your favorite games while on the move.
You should pay close attention to your prospective gaming laptop's GPU, processor, and SSD. If you aren't willing to break the bank, you will probably have to make some compromises.
In addition to performance and price, these five products offer the best balance between reliability, pricing, and performance for their respective categories.
Razer Blade 15 — OVERALL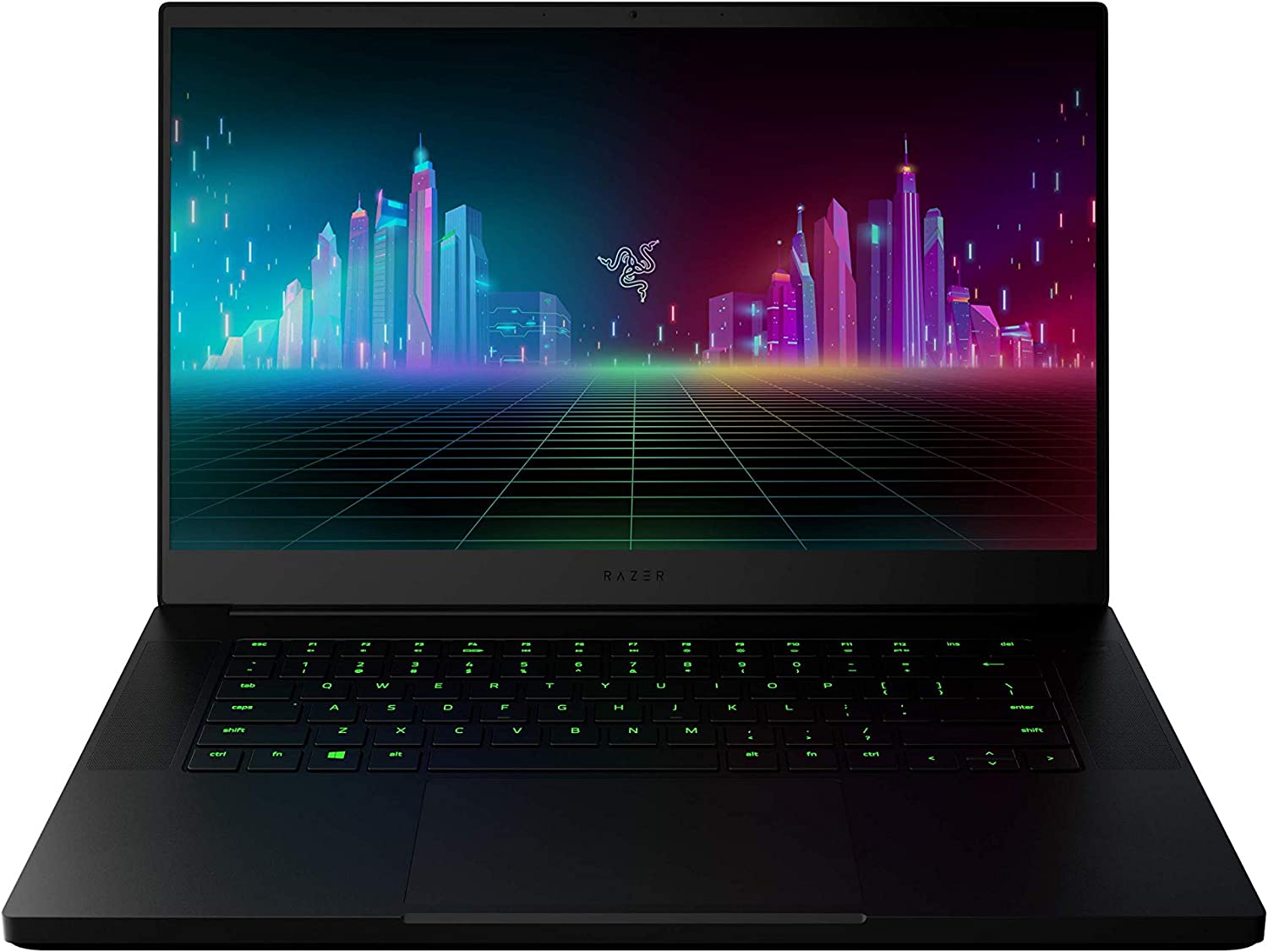 The Razer Blade 15 continues Razer's tradition of producing high-quality gaming products. We recommend purchasing the GeForce RTX 3070 Ti with the Intel Core i7 processor to make the most of your money.
As one of the best gaming GPUs available, the RTX 3070 Ti can handle today's most demanding games without a hitch. Featuring a 15.6-inch QHD display, 240Hz refresh rate, and buttery smooth performance, it's compatible with desktop computers.
To complete the package, there is an endless list of specifications. In an intricate aluminum chassis, 16GB of RAM, a 1TB SSD, and a vapor chamber cooler are packed, and it is hard to find a better-looking laptop.
Despite its price, the Razer Blade 15 is a great gaming rig!
PRICE: 
MSI Katana GF76 — BUDGET GAMING
Known for high-end gaming laptops with the excellent build quality and generous ports, MSI excels at making high-end gaming laptops. They are trying to enter the budget laptop market with the Katana series while still retaining some of that quality and design flair.
It looks like the Katana is much more expensive than it is. The laptop treads the line ideally between cyberpunk and a work-friendly laptop without being audacious. While the keys don't have a changeable backlight, it looks understated and is a good choice for gamers.
Moreover, this system has a 17.3-inch screen, which is a great bonus for this price. If you prefer a smaller screen size, MSI offers a 15.6-inch model of the Katana, which isn't incredibly thick or bulky.
PRICE: 
Acer Nitro 5 — UNDER $1,000
Acer's budget-friendly laptops pack a lot of firepower within an affordable budget. You won't find a better product in this price range than the Acer Nitro 5, even though some shortcuts were taken to keep it below that mark (for instance, 256GB SSD).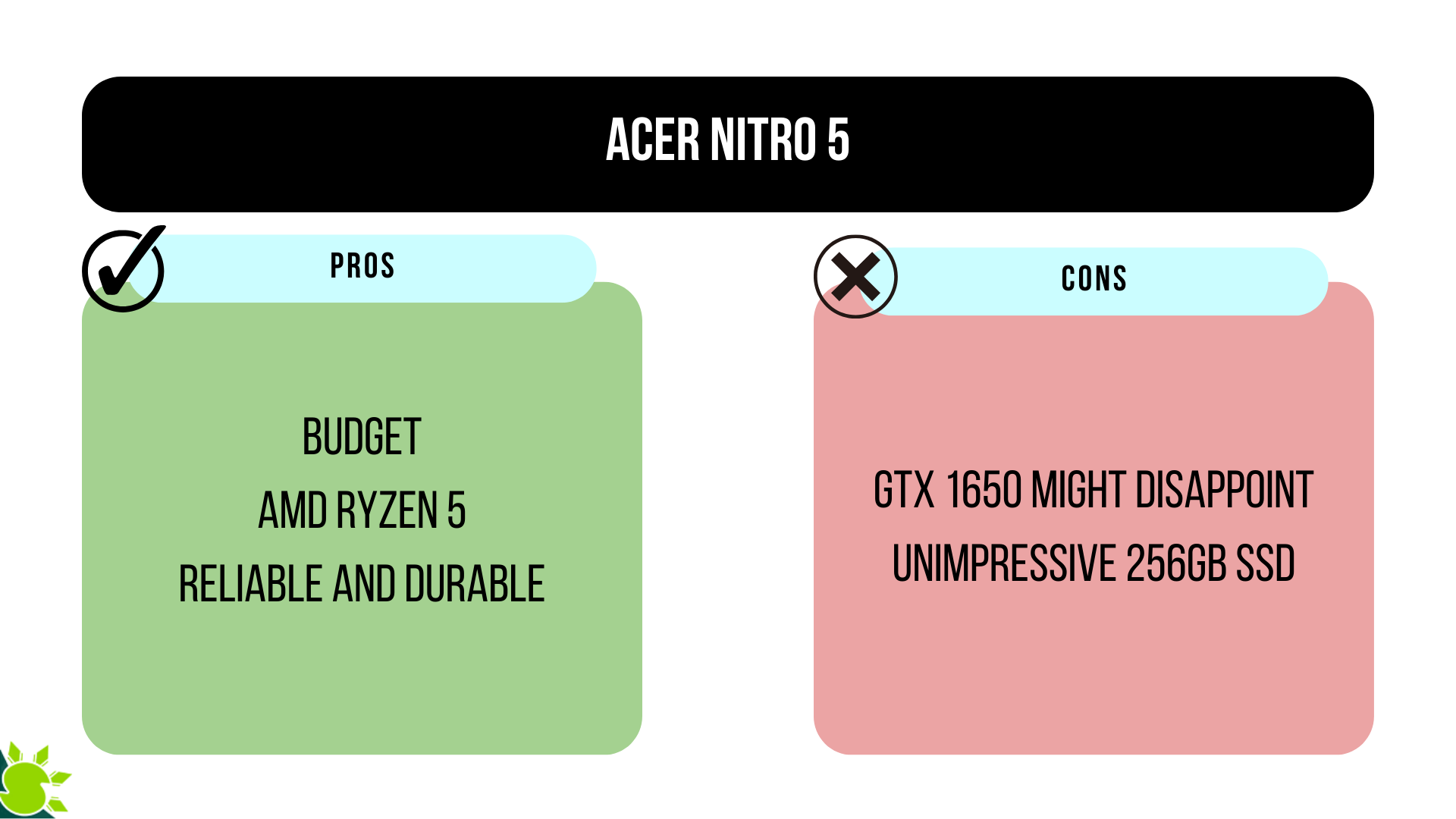 Nitro 5 doesn't come with the RTX 30 series GPU, but it does have the GTX 1650. A 15.6-inch FHD display and a highly rated last-gen graphics card should make this card more capable of handling today's most popular games on medium or high settings.
While its ultra-aggressive "gamer" design will take some getting used to, Acer continues to make reliable products. Red backlit keys accent the all-black design, and you're sure to draw attention if you use it in the library or cafe.
PRICE: 
Acer Aspire 5 Slim — UNDER $500
There are a couple of sacrifices, including the Vega 3 GPU, which cannot run anything above low settings. Almost no modern game is likely to run smoothly on the GPU – although a few last-gen games might run fine with settings lowered. It's worth buying the Aspire 5 Slim if you primarily play indie games with lower graphical loads.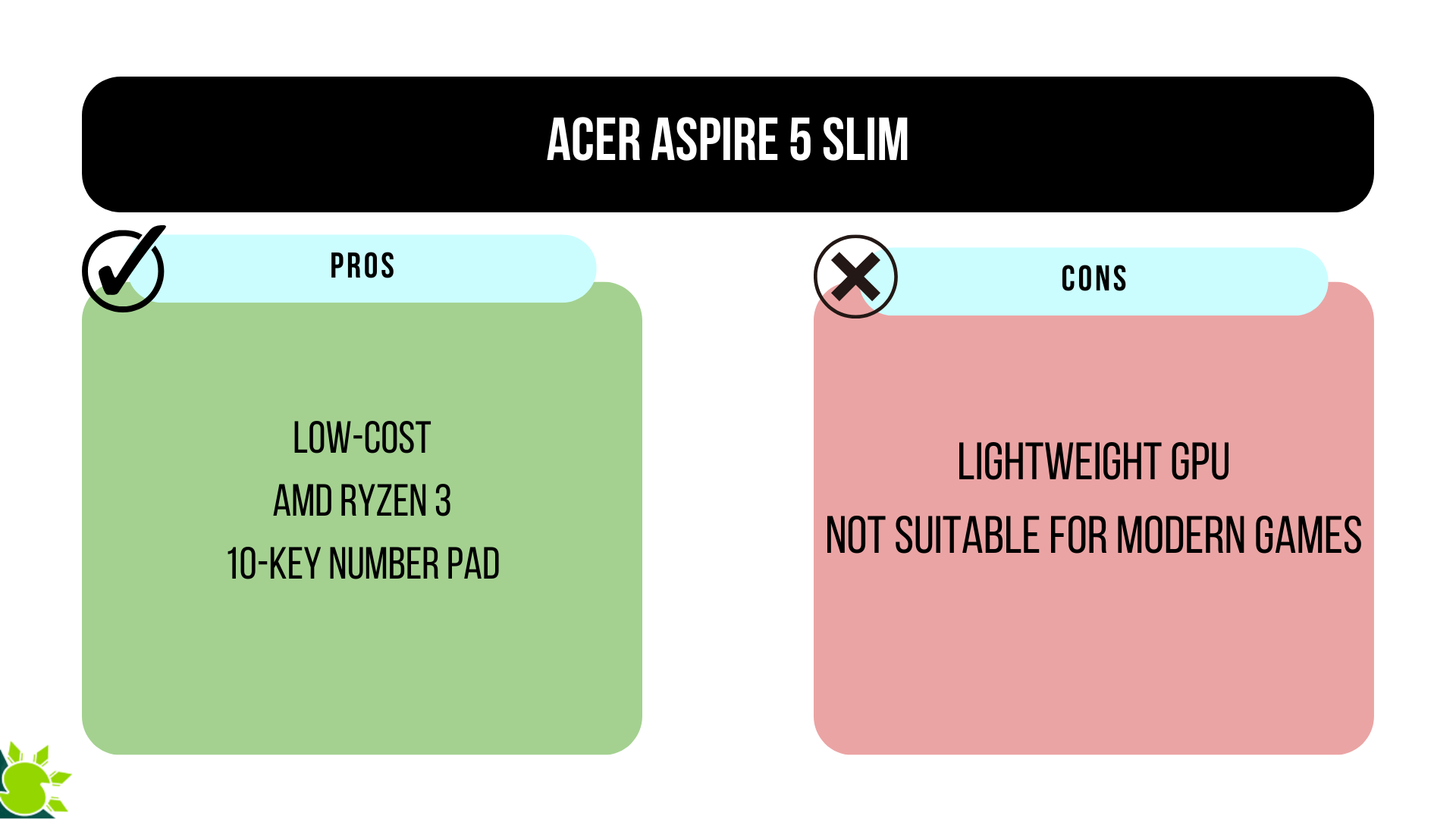 Despite its Vega 3 graphics, the Acer Aspire 5 is a solid laptop. Ryzen 3 CPUs remain an affordable option for low-end gaming, 4GB DDR4 memory lets you multitask, and a full HD display wraps it up for a premium experience.
The Aspire 5 is an excellent choice if you don't mind playing games from another era, but if you prefer modern gaming, it is recommend saving up for another laptop on this list.
PRICE: 
Razer Blade 17 — POWER EFFICIENT
Performance and mobility are usually the critical characteristics of top gaming laptops. While 15.6-inch laptops are generally the right choice for balance between performance and size, there's no denying that 17-inch gaming laptops feel fantastic in comparison.
Gaming laptops up to 17 inches are ideal for people who do not have an external monitor connected to their desks. Those uses are ideally met by the Razer Blade 17, which is priced well enough to make screen size a matter of personal preference rather than an expense.
When you're not gaming or playing lighter titles, the 14-core i7 CPU guarantees significantly reduced power consumption. If you're browsing the web on the 12th Gen's CPUs, you'll find your battery lasts much longer than you would expect from a machine with these specs.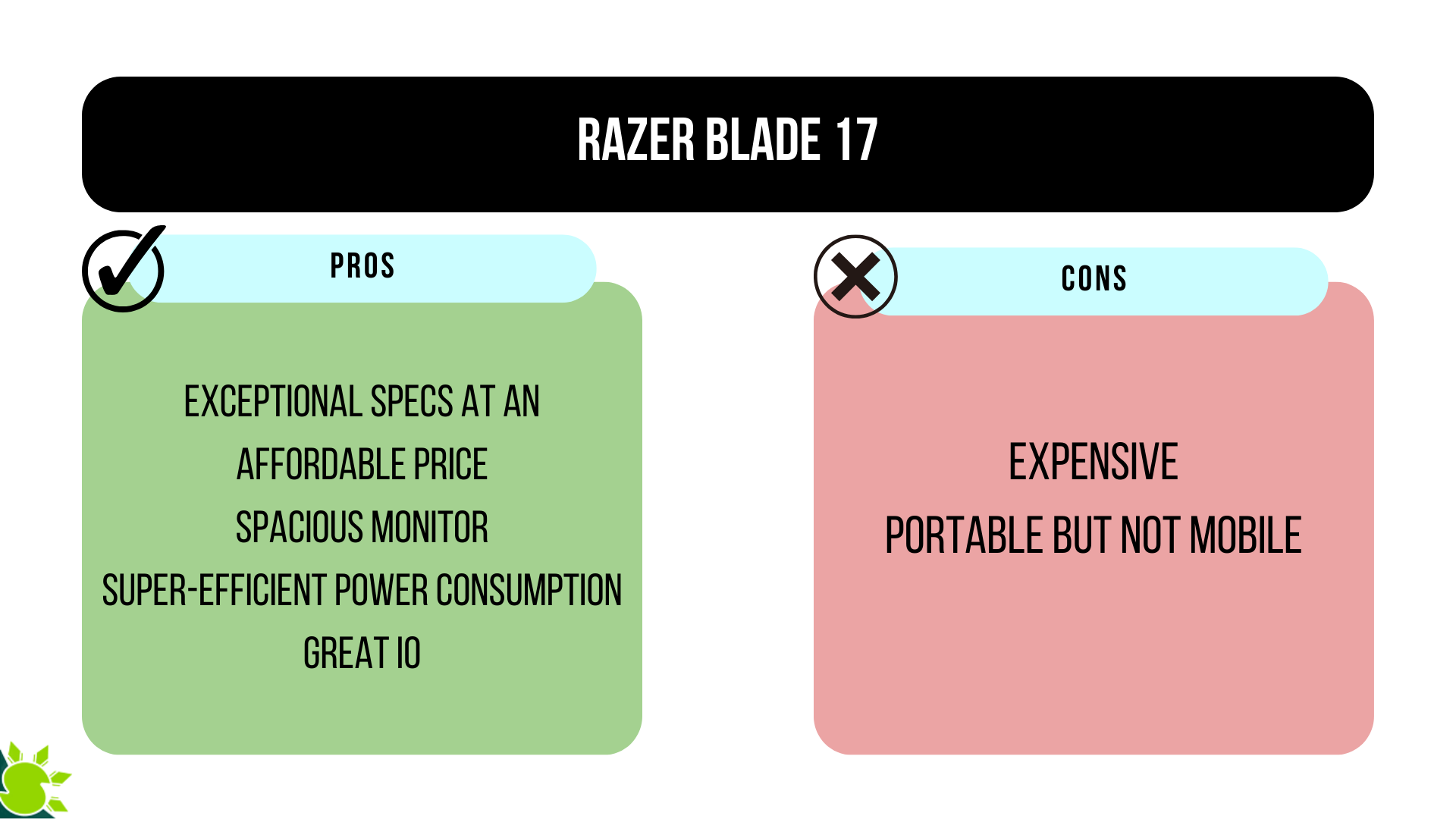 Likewise, the upcoming 17's GPU 3070 Ti isn't significantly faster but consumes much less power than the older 30-70. As a result, you can expect a quieter gaming laptop with longer battery life. In this case, both parties benefit.
As a final note, there are many premium features on the Blade 17 that make it stand out from cheaper laptops with similar core specifications. Unlike most PCs, it has an HDMI 2.1 port, and this method can output an external monitor or TV at 4K 120hz.
The Razer Blade 17 has two Thunderbolt 4 ports and an SD card slot, making it an excellent option for content creators.
PRICE: