The selfie-centric smartphone, Xiaomi Redmi S2 have been aggressively teasing people with its best feature. It has been reported that among the Redmi smartphones, this device is the best in shooting selfies.
Now that Redmi S2 finally made it's way here in the Philippines, we'll test if it really is a selfie superior in the budget category.
| | |
| --- | --- |
| SPECS | Xiaomi Redmi S2 |
| Display | 5.99″ 18:9 display (720 x 1440) IPS LCD |
| Dimensions | 160.7 x 77.3 x 8.1 mm, 170g |
| Chipset | Qualcomm Snapdragon 625 |
| CPU | Android 8.1 Oreo with MIUI 9 |
| GPU | Adreno 506 |
| Memory | 3GB of RAM / 32GB storage or 4GB of RAM / 64GB |
| Connectivity | Wi-Fi 802.11 b/g/n Bluetooth 4.2, A-GPS, GLONASS, BDS, USB 2.0 |
| Battery | Non-removable Li-Po 3080 mAh battery |
| Price | Php 7,990 |
Design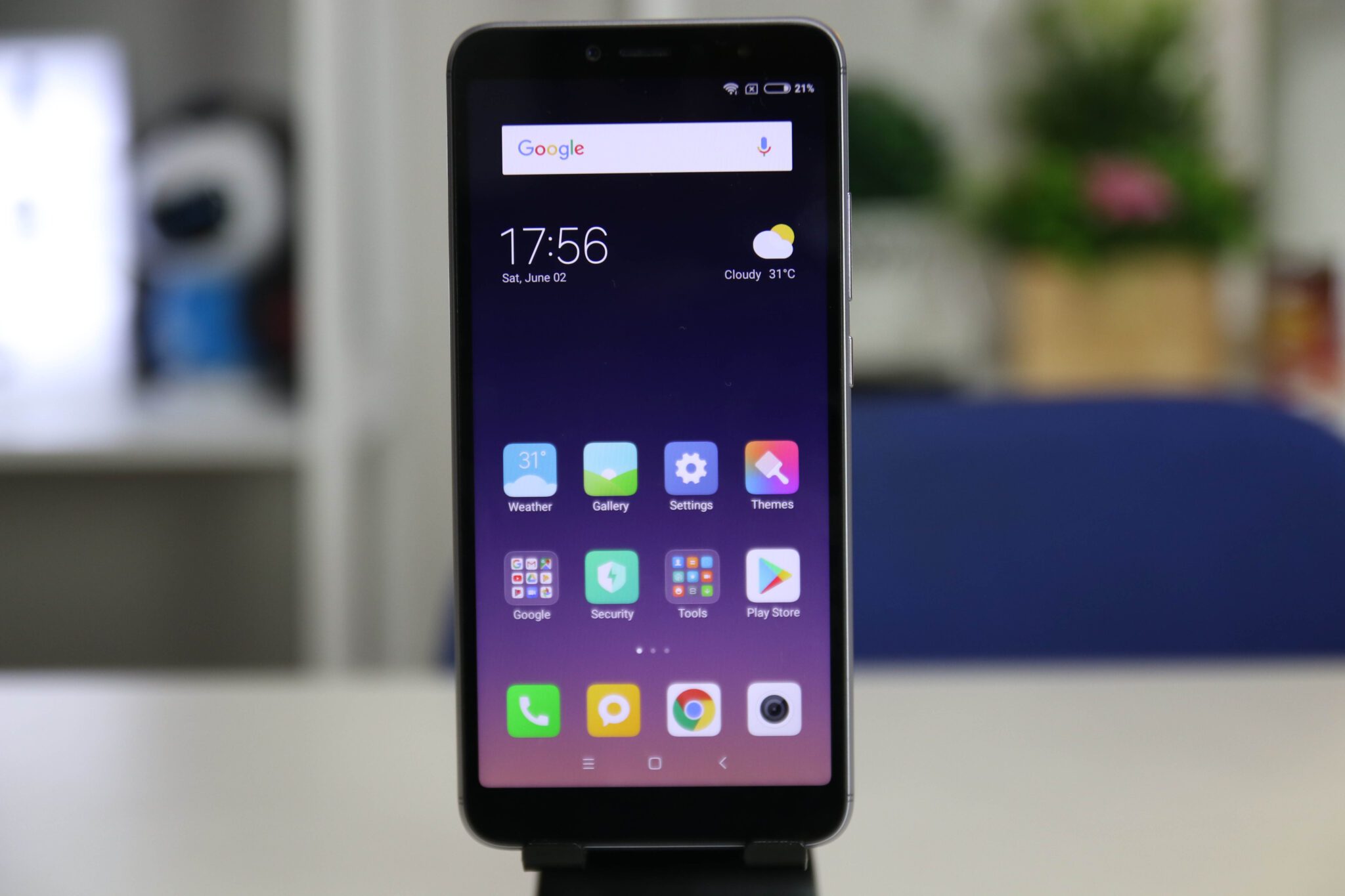 At first look, you don't think this device costs Php 7,990 because of the trendy design and premium feel upon holding it. It is built with a full metal with two antenna lines at the top and bottom. Aside from that, you will see the vertically aligned dual camera setup with a LED flash placed between the camera sensors, the rear-mounted fingerprint scanner, and the Xioami logo embedded at the bottom part.
Looking at the opposite side is the narrow forehead and chin to provide a great visual experience. You'll see the 5.99-inch screen with 18:9 aspect ratio which is great for watching videos and playing games as well.
The Xiaomi Redmi S2 dimension measures 160.7 x 77.3 x 8.1 mm and weighs 170g. The top portion has the headphone jack and a microphone. Looking at the sides you'll see the power button, volume rocker and a sim tray that houses a dual sim and microSD card. Lastly, the bottom portion has a speaker grille and USB 2.0 charging port.
Display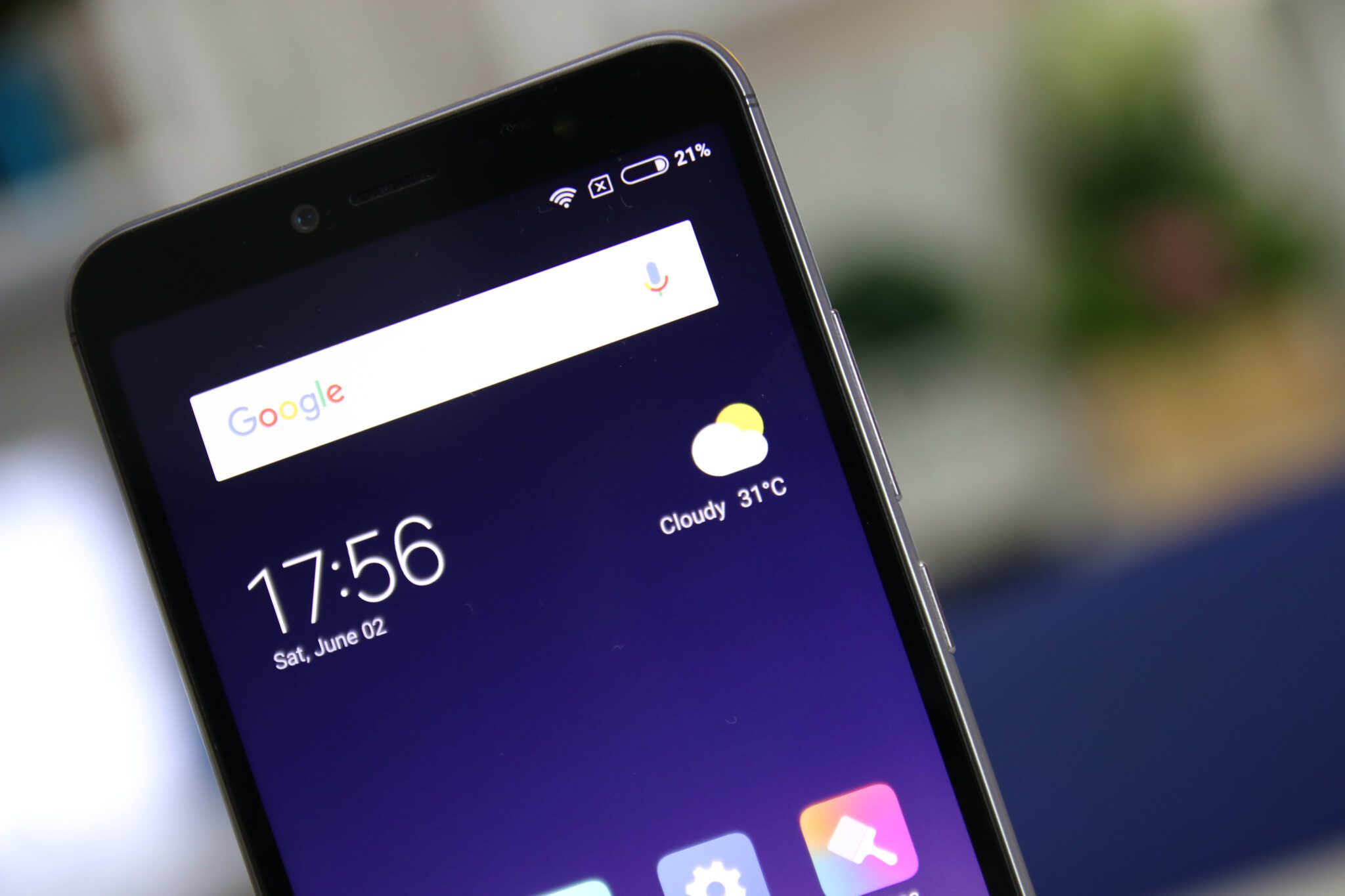 Xiaomi's camera-centric smartphone features a 5.99-inch IPS LCD display with an aspect ratio of 18:9 and screen resolution of 720 x 1440. Though this phone is not that vibrant, you will still be satisfied with your viewing experience. Good enough to binge-watch your favorite series.
If you're uncomfortable with the screen's color, Xioami provided us an option where you can easily adjust screen's contrast and colors (Settings > Display > Contrast & Colors) There's also an option called Reading Mode, so if you're the kind of person that uses the phone mostly on reading articles then this option is perfect for you. (Settings > Display > Reading Mode) It reduces the display's blue light emission so that spending too much time on your won't lead to visual fatigue.
We also took the Redmi S2 outside to see if it'll still be clear under broad daylight, and as what we've observed, it is not as bright as what we all want, but it is decent to see enough.
Camera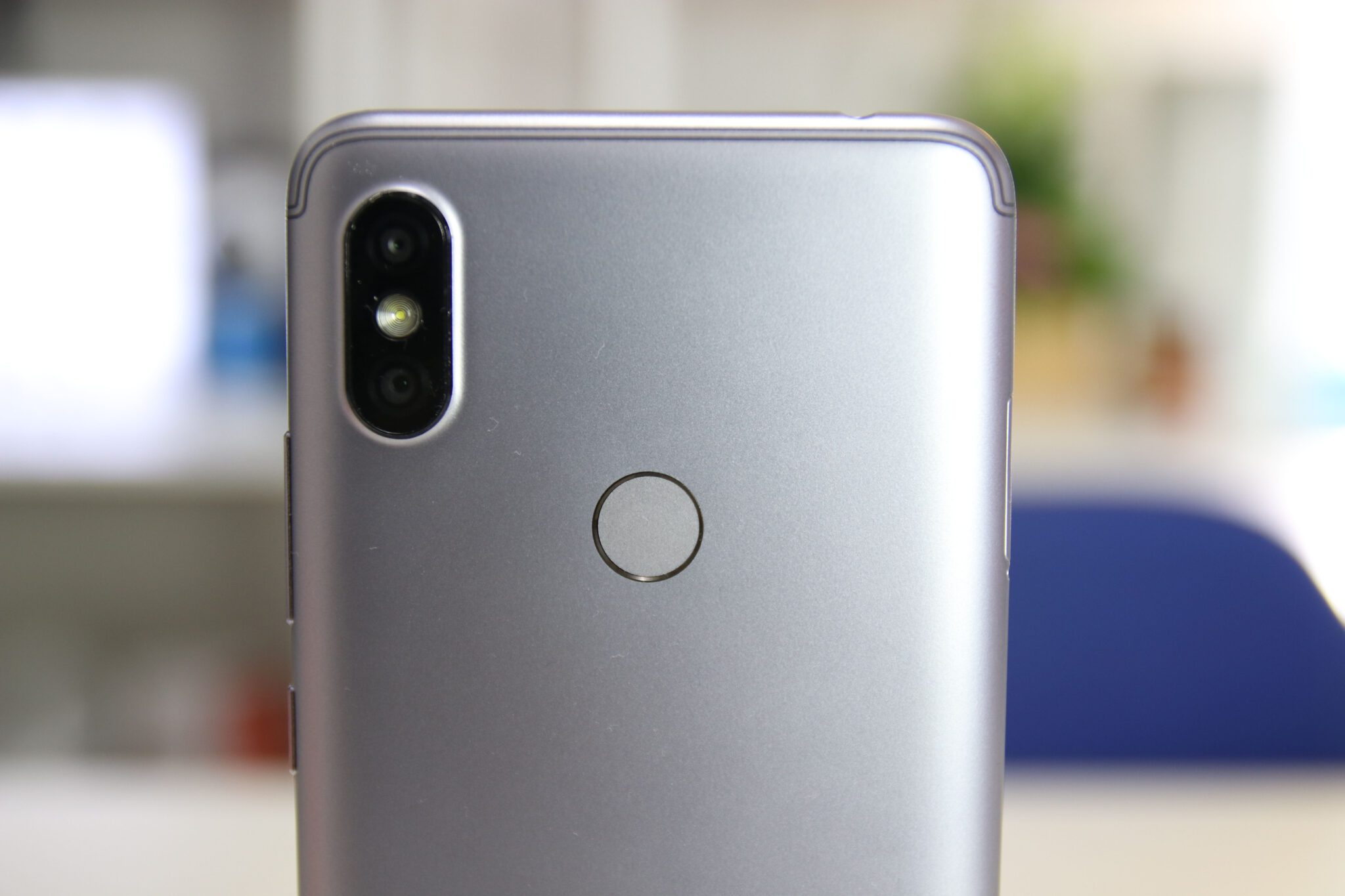 | | |
| --- | --- |
| Rear Camera | Dual: 12 MP (f/2.2, 1.25μm, PDAF) + 5 MP, gyro-EIS, phase detection autofocus, LED flash |
| Front Camera | 16MP, HDR, LED flash |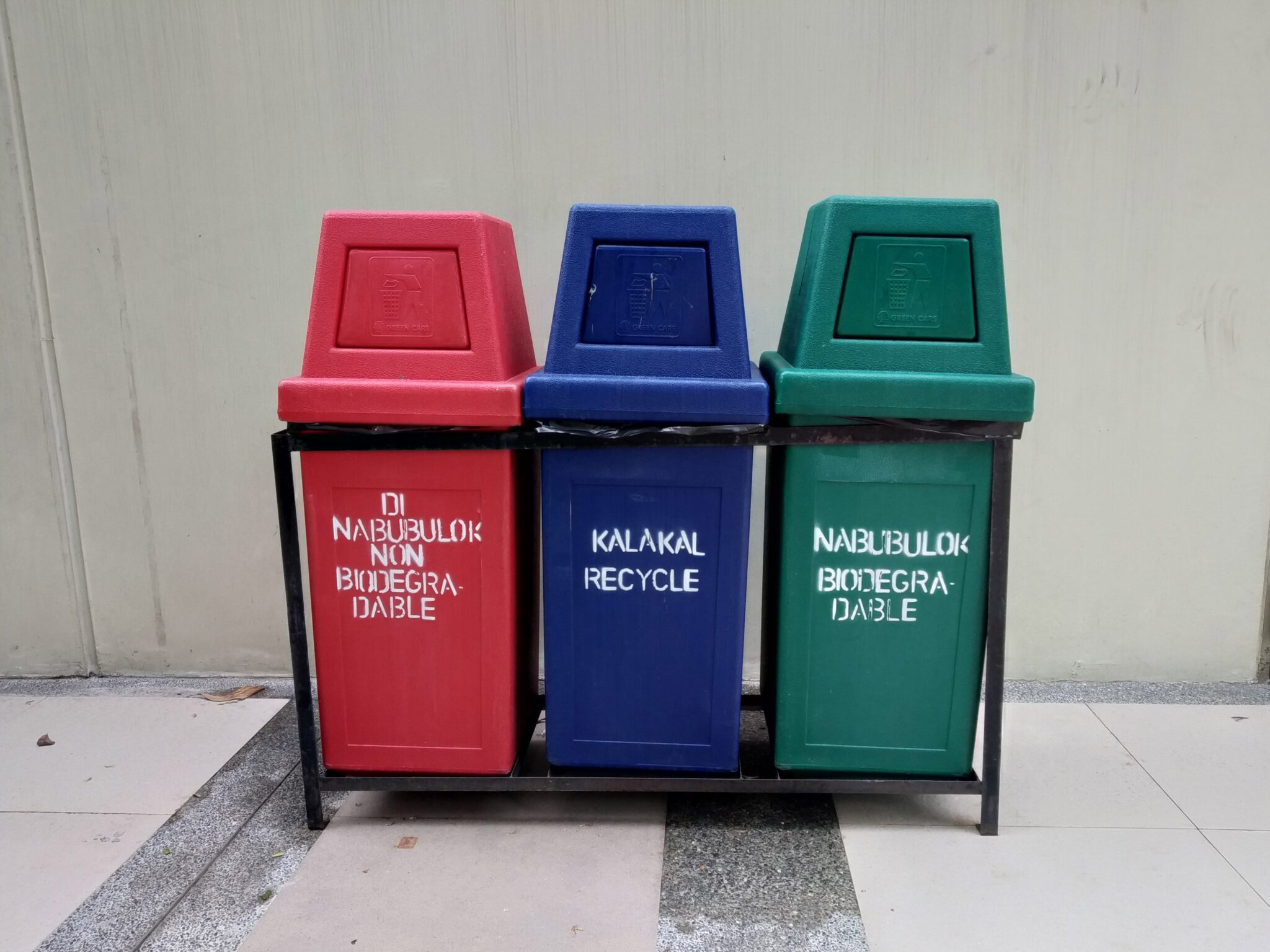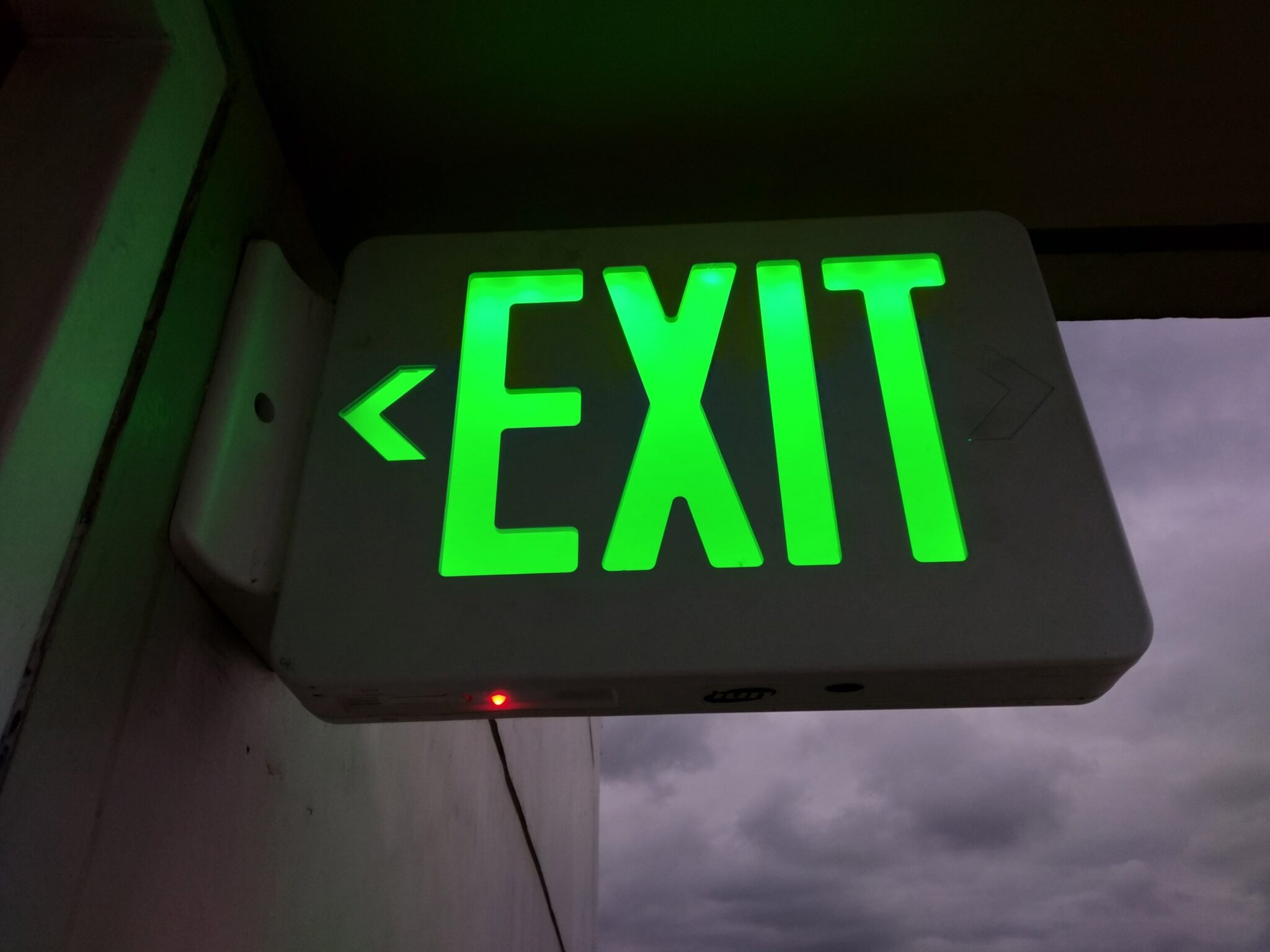 These two photos above show the HDR mode used on rear camera, as what you can see it shows nice take on colors which is expected when this mode in on use. The first photo has a close accuracy because the sky was gloomy when it was shot but still, the color popped out nicely. Meanwhile, the second photo was shot on dusk hours. It may not be detailed in the dark parts, the green color looked vibrant thanks to the light inside the sign.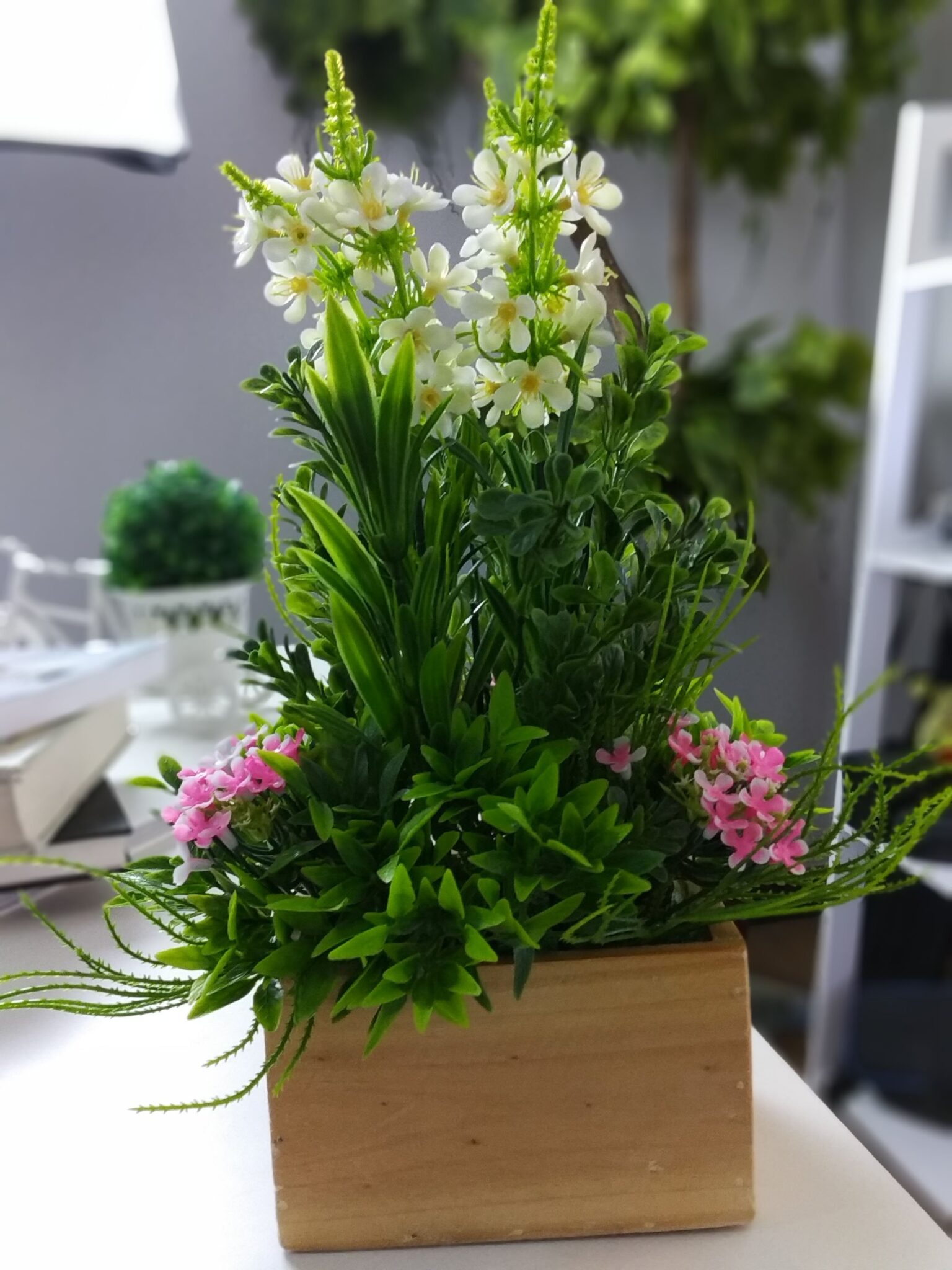 Next to that, I will show you is the portrait photos shot in a different place. The first was inside, meaning the lights used are artificial. Looking at the edges you'll see that there are flaws in the modes' image reading capabilities, however, the vibrant color and details made up for it and it's forgivable considering that rear camera isn't their top priority. The second was taken outside at dusk time, it rendered soft surfaces of the plant which may be because of the lighting situation.
Going back to portrait mode, it took the image poorly because of flower didn't stand out which was supposed to be portrait modes' purpose. You cannot really tell that it was focused on the flower unless you take your time looking at it.
Yes, this is kind of photo that you'll post on your Instagram, what I liked here is that lights aren't that scattered as what I've expected on every budget smartphone before. But then, I noticed huge improvements including on this phone which is great. However, I will not say that this shot is perfect because the yellow tone is burning especially looking at the ceiling.
I'm quite surprised that this photo is actually almost accurate on color rendering which is impressive on a budget phone. Also, the details are not that sharp because some texts aren't clear however, it's there. It's clear enough to recognize the products even though there are parts that are overexposed because of the bulbs.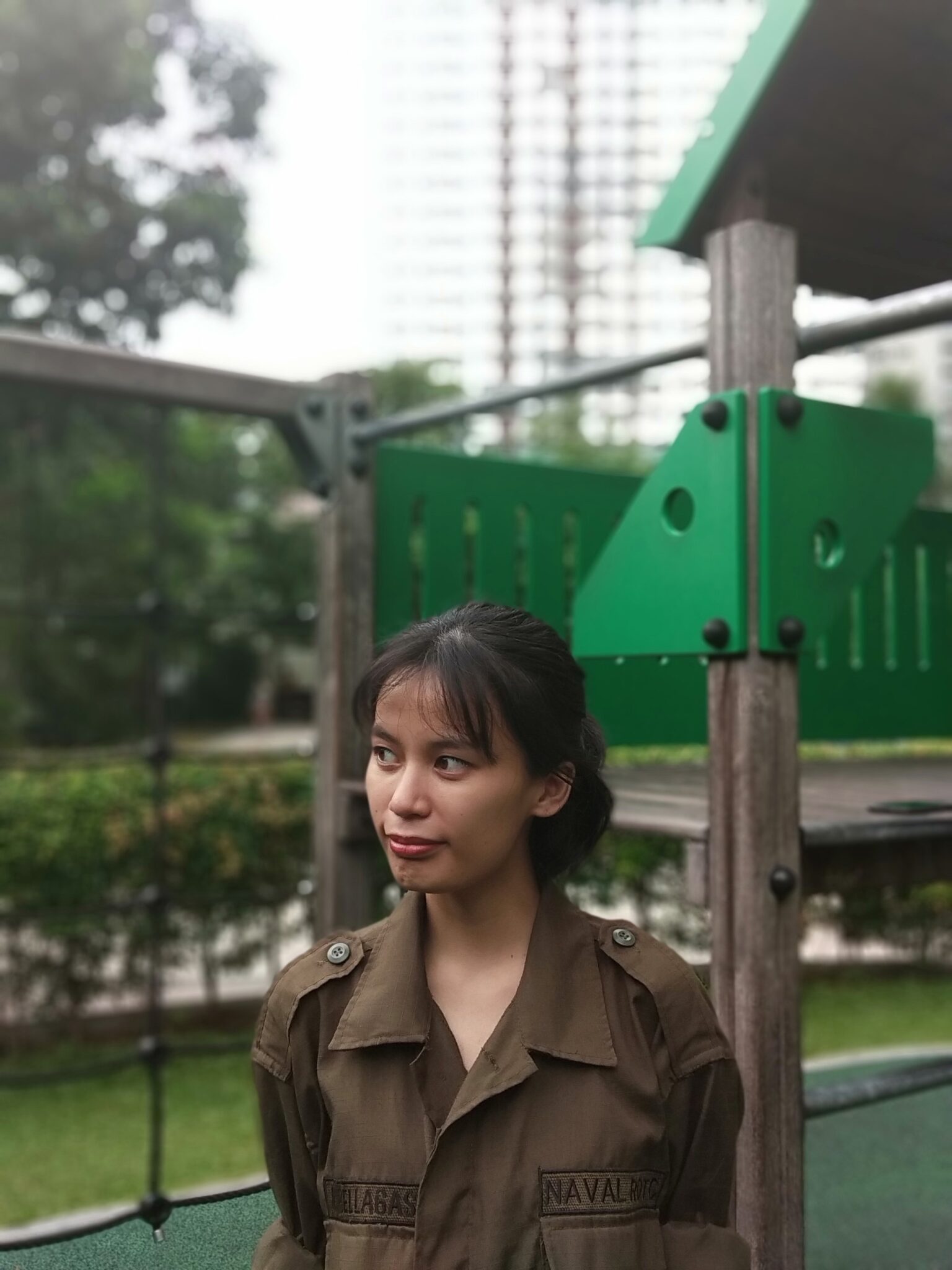 Looking back on the shot of the subject at the convenience store, I mentioned that it has a good level of color accuracy. I said it because as you can see subject's clothing changed, from navy green it became brown. It's interesting because the surrounding is also close to its real color except the clothing.
Now judging the portrait mode, it's also poor in my opinion. I don't have many problems on the subject's edges, however, the blurriness of the background is not consistent on some parts. There is a portion that is too much blurred while the lower part is not.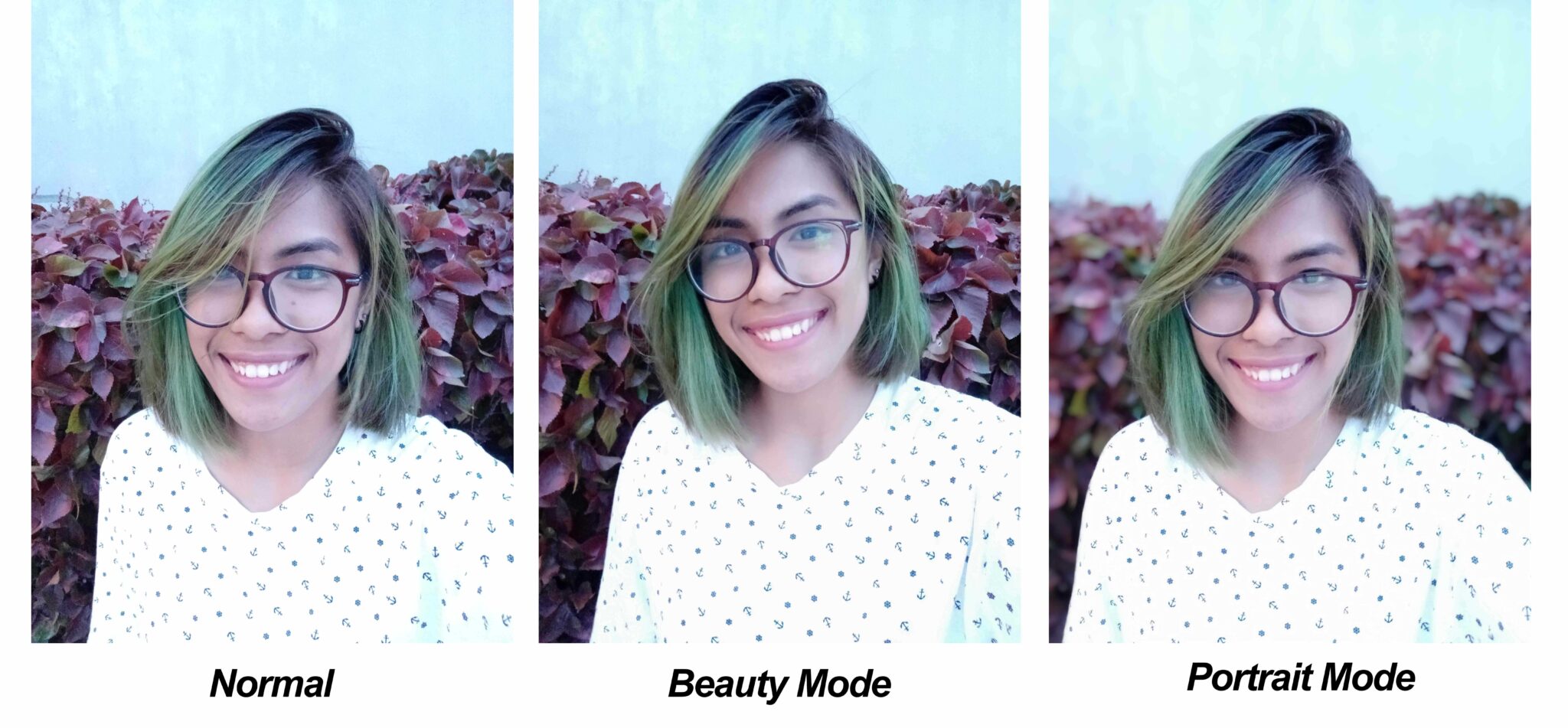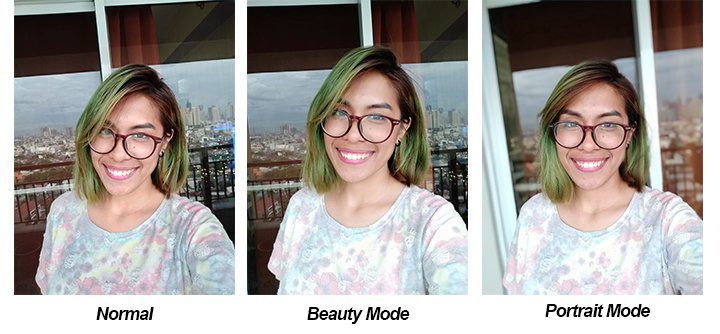 I took selfies in two different lighting situations and I liked how it turned out every selfie. All you need is a good lighting to also get a good selfie, otherwise, for example inside your house under the fluorescent bulb, it will turn out pale looking.
Using the three modes, the beauty is fine because it isn't as obvious as the other photo editor app. Lastly, I tried the portrait mode, it was okay but then it not as crisp as what we want it to be. The tips hair of the subject is also blurred.
User Experience
The Redmi S2 is powered by Qualcomm Snapdragon 625 octa-core processor along with Adreno 506 GPU. It runs the latest Android 8.1 Oreo with RAM and storage variants 3GB of RAM / 32GB internal storage and 4GB of RAM / 64GB internal storage that can be expanded with microSD cards.
As I was looking through the phone's settings, I bumped into an option called Second Space. It is where you can use another space on the same device.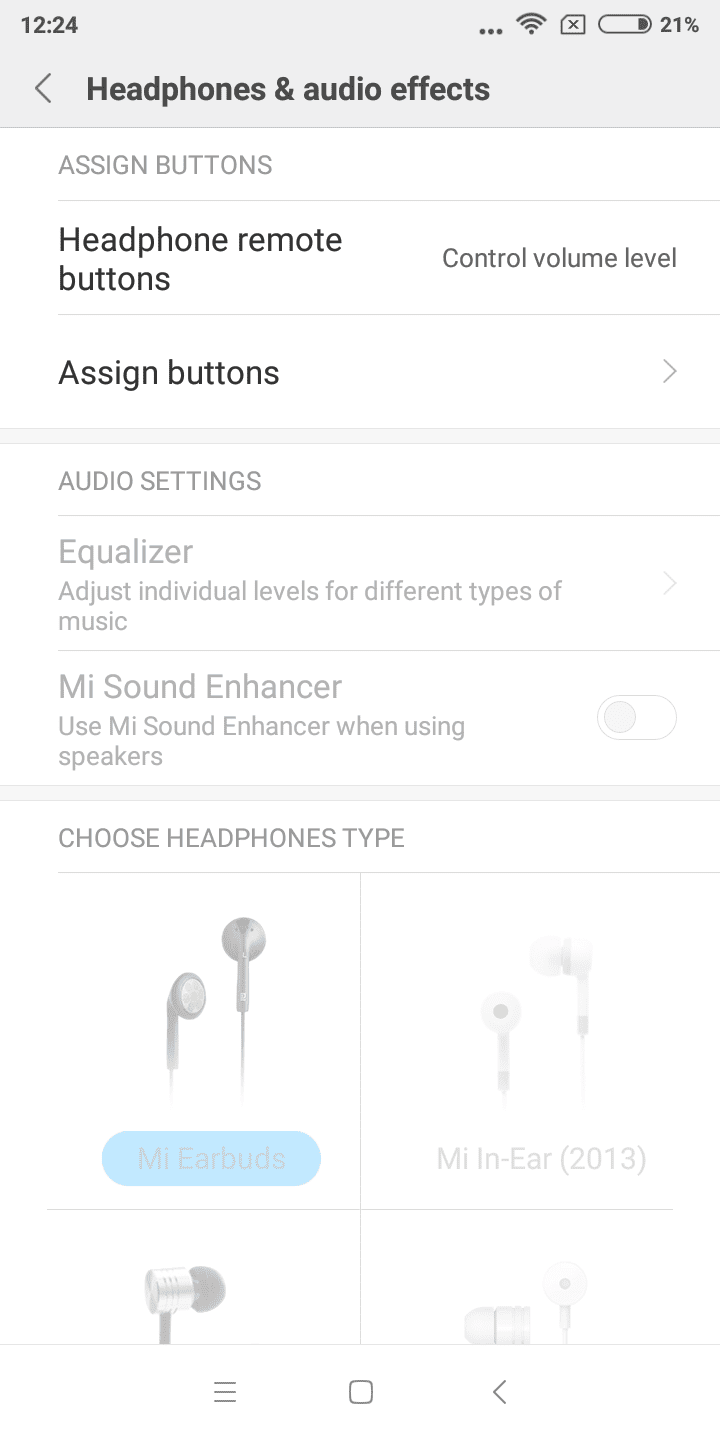 Aside from this, there's also an option where you can use the phone as a remote control on another device. Also, there is an option where you can customize your sound experience and what's cool about using a Xiaomi device is that you can choose which earphone/headphone device you're using to listening music.
As for the security feature, the fingerprint scanner works fine. I tested if I can still open the phone with a wet finger, but I didn't receive a response on unlocking the phone.
I also tried playing games, one of these is the Mortal Kombat X. It took me 4 attempts to finally play the game smoothly. I had problems opening the app, luckily when we opened and started playing games, it went all fine. There are no lags in-game.
Benchmarks
We tested the Xiaomi Redmi S2 using the following benchmarking tools and here are the results: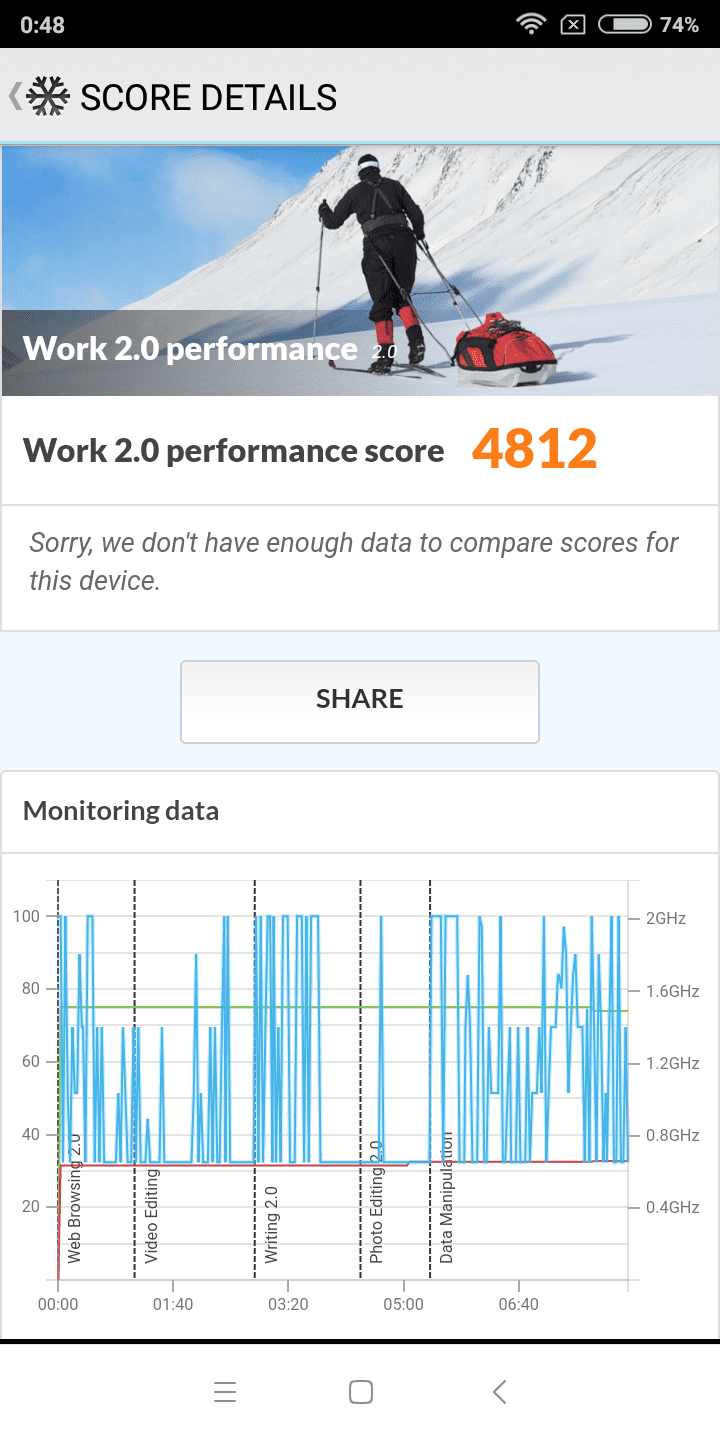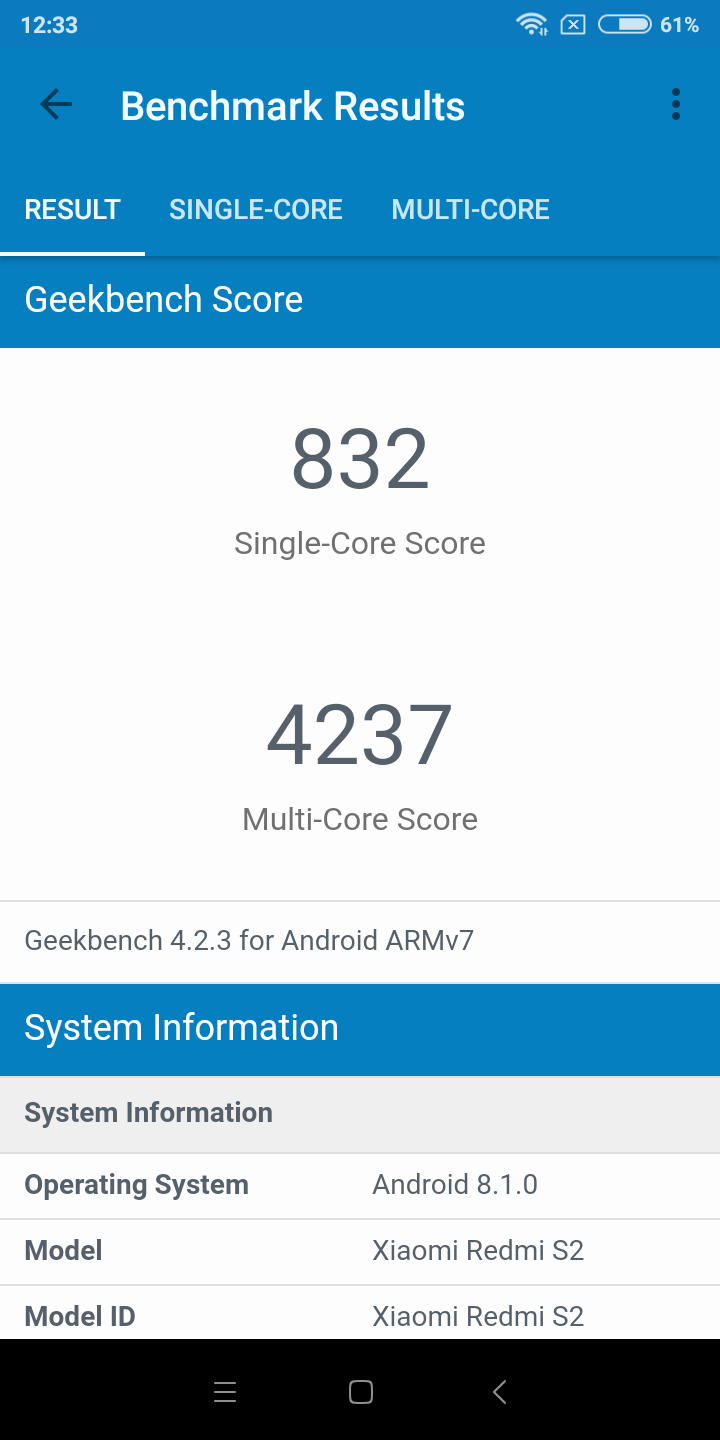 | | |
| --- | --- |
| Benchmarks | Xiaomi Redmi S2 |
| Antutu | 77668 |
| Geekbench (single-core) | 832 |
| Geekbench (multi-core) | 4237 |
| PCMark Work | 4812 |
Battery
For a battery capacity of 3080 mAh, using this smartphone for browsing, watching videos and gaming. Though it took me 2hrs and 30 mins because it doesn't support fast charging which is okay considering it's not that expensive.
I've used the phone mostly on watching videos and browsing on social media and it took me 16 hours to completely drain the battery. I'd say that this smartphone has an average battery capacity for a budget smartphone.
| | |
| --- | --- |
| Battery | Xiaomi Redmi S2 |
| Battery | 3080 mAh |
| ManilaShaker Battery Rating | 16hrs |
| Charging Time (20-100%) | 2hrs 30mins |
Audio
Playing music with phone's speakers on is loud enough to be heard in the huge room. It produces clear audio that is decent when you just want to listen to music or play games. You can listen for yourselves.
Verdict
For those people who like tall screen because they're into watching and browsing and also do not want to spend a lot on expensive devices then this phone is perfect for them.
I'm quite impressed with the quality of the front-camera though it shouldn't be a surprise because that's what the Redmi S series are for. However, as a user that just want to stick to cheaper phones, this is more than okay.