With Qualcomm finally unveiling their flagship SoC, Snapdragon 855, we now have the chance to pit it against the competition – Samsung Exynos 9820 and Apple A12 Bionic. As we enter 2019, these flagships boast their AI capabilities but as we compare them side-by-side, what could be their respective advantages?
Snapdragon 855 vs Exynos 9820 vs A12 Bionic Specs Comparison – CPU, GPU, AI
Specs 
Apple A12 Bionic
Exynos 9820
Snapdragon 855
Process (node)
7nm
8nm
7nm
CPU
2x Vortex 2.5GHz + 4x Tempest 1.6GHz
2x Exynos M4 + 2x Cortex A75 + 4x Cortex A55
1x Kryo 2.84Ghz + 3x Kryo 2.4Ghz + 4 Kryo 1.8Ghz
GPU
Apple Quad-Core GPU with lossless memory compression
Mali-G76 MP12
Adreno 640
RAM
 LPDDR4X @ 2133MHz
LPDDR4X
LPDDR4X @ 2133MHz
NPU
Second-Generation Octa-Core Neural Engine
Single NPU
Single NPU(4th gen)
Image Signal Processor (ISP)
Dual ISPRear: 12+12MP

Front: 7MP

Dual ISPRear: 22MP
Front: 22MP
Dual: 16MP+16MP
Dual ISPRear:20 MP dual camera
Front/Back: 32 MP single camera
Bluetooth
5.0
5.0
5.0
Charging
USB-PD (15W+), Wireless Charging
Samsung Adaptive Fast Charge, Fast Wireless Charging (Qi & PMA)
Quick Charge 4+
Modem
Intel 7560 4G LTE Modem 1Gbps (DL) / 150Mbps (UL)
LTE-Advanced Pro Cat.20 8CA
2Gbps (DL) / Cat.20 3CA
316Mbps (UL)
LTE Cat 20 2Gbps (DL) / 316Mbps (UL)
Video Recording
4K @ 60fps
8K@30fps, 4K@150fps – 10-bit
4K HDR – 10-bit
Display
4K HDR 60fps
WQUXGA (3840×2400),
4K UHD (4096×2160)
4k HDR
Storage
NVMe
UFS 3.0, 2,1
UFS 3.0
Others
Wi-Fi a/c, 4×4 MIMO
Samsung Knox, DRAM encryption, Wi-Fi 802.11 a/b/g/n/ac
Wi-Fi ax/ad/ay, up to 4×4 MIMO, 8K playback, 360-degree (VR)
Samsung isn't ready yet for 7nm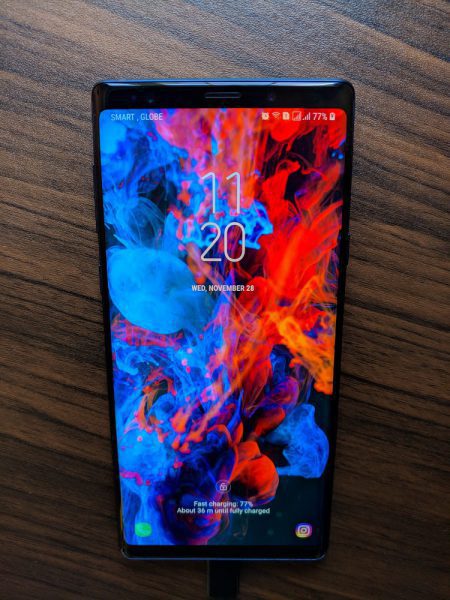 For some reason, Samsung opted for an 8nm process. While the difference on paper seems to be small compared to the more efficient 7nm process, we'll have to see and test for ourselves whether or not it affects the overall efficiency of a device.
With the two sporting an 8-core model, the Snapdragon 855 differs by having a unique 1 + 3 + 4 core setup as opposed to the Exynos 9820's – 2 + 2 + 4. It's hard to know which of the two setups is better but Qualcomm is boasting here its efficiency when it comes to low-power consumption like web browsing, playing music, and standby mode. On the other hand, A12 Bionic is using (2+4) six cores but we do know how powerful and efficient it is — currently the most powerful [benchmarked] SoC.
When it comes to overall performance (CPU & GPU), it's hard to pick a standout between Exynos 9820 and Snapdragon 855 until we can compare them side-by-side. What's more important to look at — is the way software will utilize the raw power of each SoC — in which the A12 Bionic is doing a great job for the past several years.
>Upcoming Snapdragon 855 processor Android Phones
>5 Things To Get Excited About The Snapdragon 855
Apple lags behind mobile data connection
While Apple supports up to 1Gbps/150Mbps (DL/UL) speed, it lags behind Samsung and Qualcomm's 2Gbps/316Mbps. We might not be able to fully utilize those peak speeds but we sure do appreciate the added benefit of better coverage when in dense areas via its 4×4 MIMO method of transmitting signals.
AI continues to be the trend while 8K is knocking on the front door
At this point in time, it seems like the battle for the camera isn't just about the number of sensors. Instead, computational photography or AI matters the most when it comes to which has the better image/video output. So far, we have seen the prowess of Apple iPhone Xs when it comes to photo and video and gives it a lead gap against its competitors (with the Pixel 3 as an exception). So, it's interesting how the Snapdragon 855 will respond especially with its 4th gen AI software giving it a big leap from the 845.
>Apple iPhone XS Max takes second spot on DxOMark
>Apple iPhone XS Max vs Huawei P20 Pro – Flagship Comparison
In terms of video recording, Exynos 9820 is a step ahead with its full support for 8K @ 30fps capture. While the Snapdragon 855 supports 8K playback ONLY for VR purposes. Although the industry is still transitioning to 4K, having the option to record in double the resolution means better image quality. Even more impressive is the 10-bit quality of 4K of up 150fps! Qualcomm also supports the same in terms of 4K recording (though, we're unsure yet if it goes up to or beyond 150fps).
And then we have the modems…
The Exynos 9820 and Snapdragon 855 are 5G-capable but don't come with 5G modems out of the box. Instead, separate flagship phone models of the aforementioned SoC will come with dedicated 5G modems. Except for Apple which continuously ignores 5G noise until the next iPhone iteration.
>Smartphones expected to feature 5G in 2019
>Samsung Galaxy S10 shown in render with selfie camera holes and 5G
Which is the best flagship SoC of 2019?
Each SoC has their own advantages — The A12 Bionic chip still leads the pack when it comes to performance and efficiency but lacks the features that the Exynos 9820 & Snapdragon 855 offer such as 8K capability, HDR capture support, and faster download/upload speeds. Qualcomm comes close in features as well as matching the performance level of Apple, at least, based on a leaked benchmark.